Is Forex Trend Hunter a viable option to go?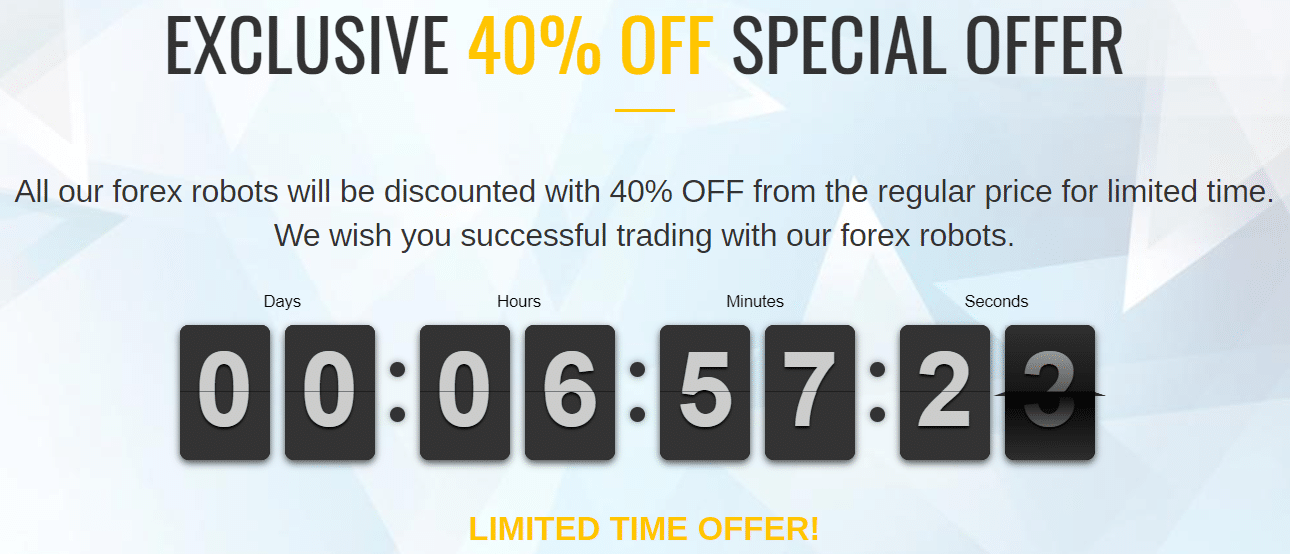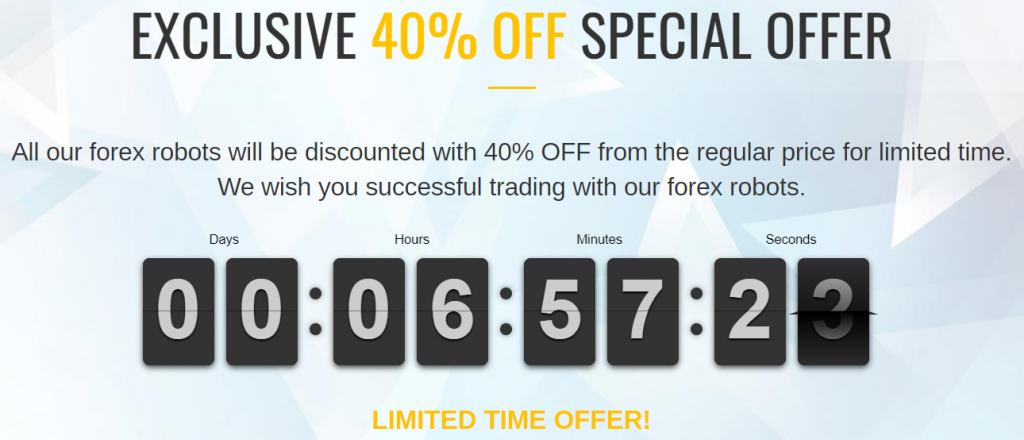 As usual, an Automated Forex Tools' presentation starts with a time offer.
Trend Hunter has got a version 5.3. It was improved and optimized for the latest market conditions. It supports 5 currency pairs: EUR/USD, EUR/JPY, GBP/JPY, USD/CAD, and USD/JPY. The new version of Forex Trend Hunter shows better results. The robot has been designed "especially for the needs of ordinary forex traders, yet also used successfully by many professional traders," devs said. It's the best trend-following EA.
The list of robot features includes:
fully-automated trading;
fully customizable;
money management;
works with all brokerage companies;
recovery system;
broker protection.
Backtesting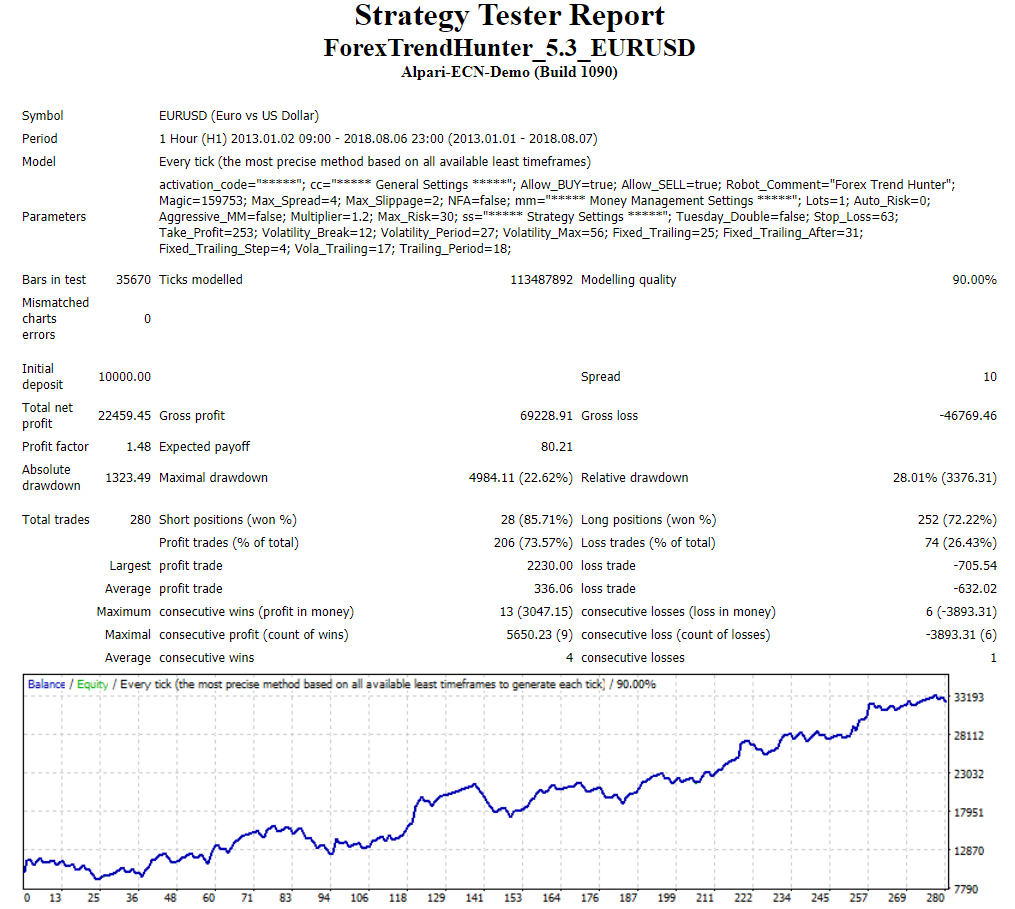 There provided two backtest for each of currency pairs. It's a EUR/USD symbol at the H1 time frame. The quality of modeling was 90%. The initial deposit was $10000. The total net profit was $22459 for five years. The profit factor was 1.48. The win-rate was between 85% and 72%. The max drawdown was 22%.
3rd-party verified trading results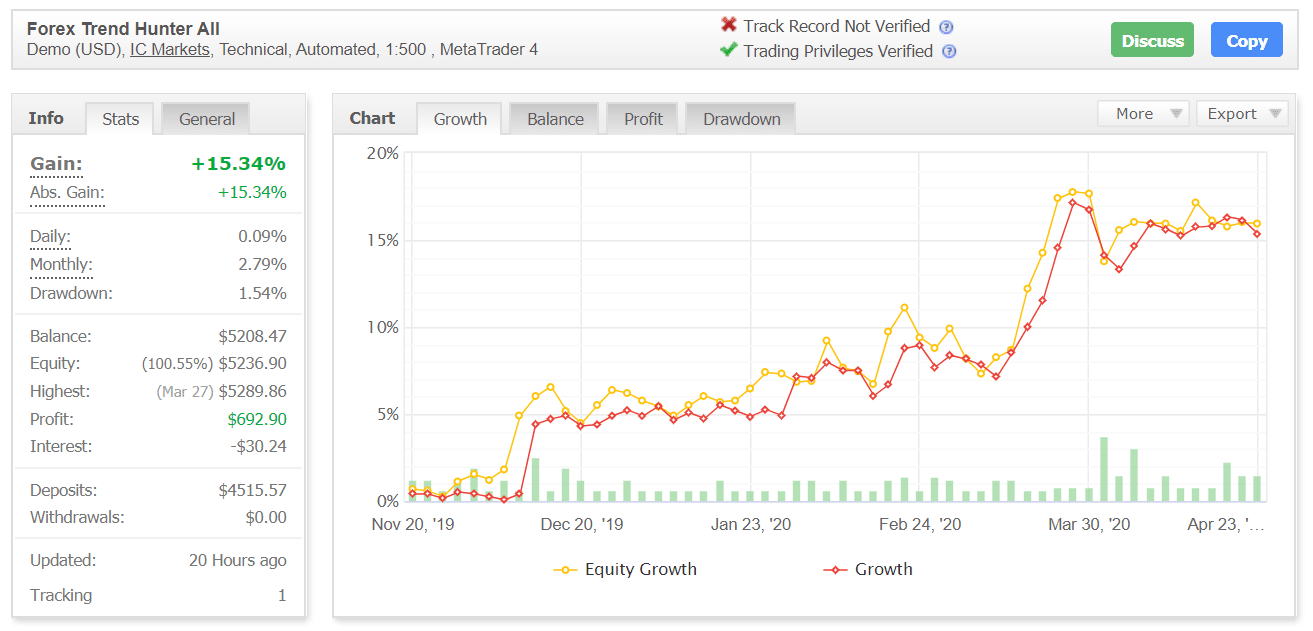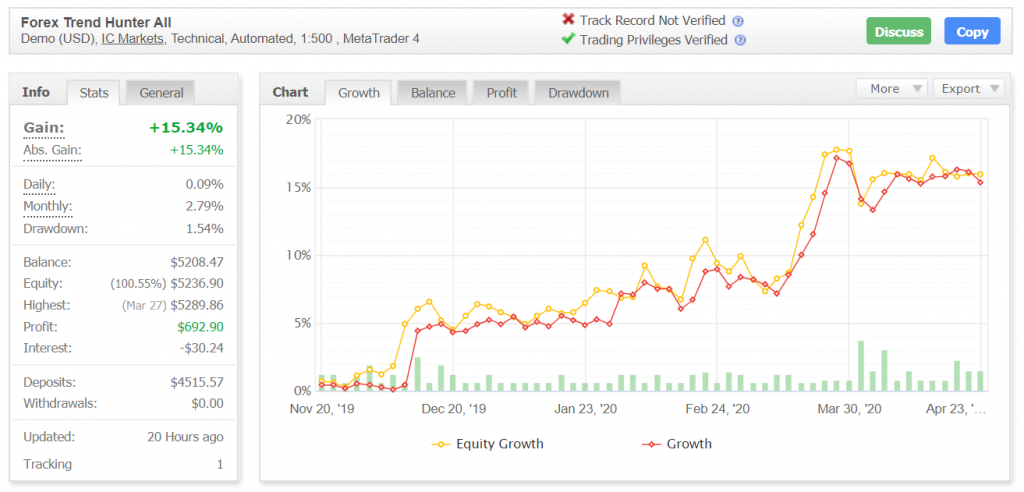 It's a demo USD account at IC Markets, with 1:500 leverage on the MetaTrader 4 platform. The monthly gain is 2.79% with an extremely low max drawdown 1.54%. The account has been funded in November 2019. During the period, the robot provided +15.34% of the total gain.


The robot traded 92 trades with 1709 pips. The average win ($38) is wise bigger than the average loss (-$19.45). The average win-rate is quite low and equaled 43% for longs and 56% for shorts. The average trade length is 3 days. The profit factor is good and equaled 1.73.


It trades five symbols as been told. The most profitable was EUR/JPY and the most tradeable was GBP/JPY.


It mostly trades during the European trading session.


We don't know why but Monday trading is not allowed.


The robot runs with a 1% risk level.


The account has got a high level of transparency, so we can see even open trades.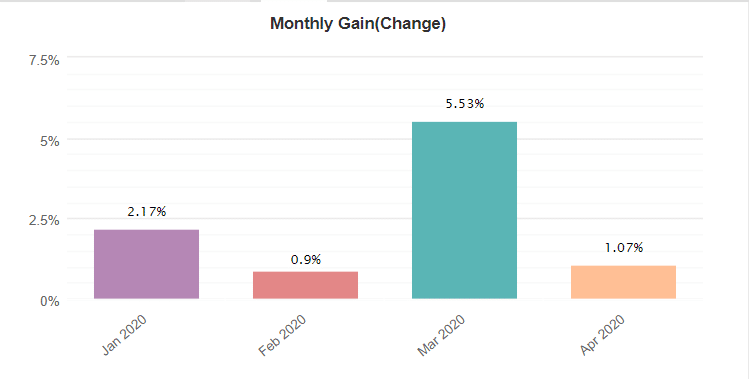 As for the low-risk robot, these results look good, not solid or bad, but averagely good.
Pricing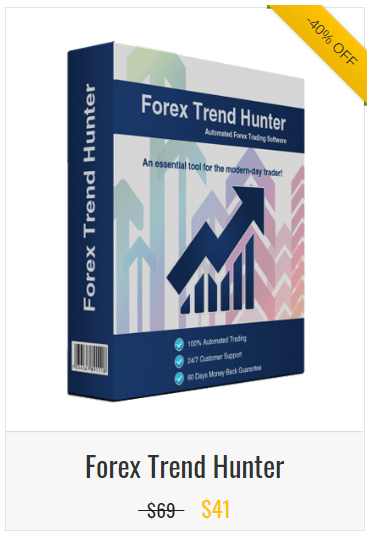 The main package costs $41 instead of $69. It includes one real account license, two demo account ones, support and updates, and a 60-day money-back guarantee. As usual, the devs provide an opportunity to try the robot at the demo account. This one is allowed for running at two demo ones.
Summing up
Pros
Well-known design agency
Setting well-explained
Features well-explained
Backtests provided
3rd-party verified trading results provided
Good profit with 1% risks
High level of account transparency
Cheap price
-40%OFF available
Demo trying available
A 60-day money-back guarantee
Cons
No real trading results
Low win-rate
It opens trades extremely rarely
On Monday the robot doesn't trade. Why?
Cheap price

So, it's a robot. We don't know for sure what strategy (-ies) behind the system. We can just notice that robot trades during the European trading session and keep trades open for days. In general, it doesn't matter. You can try it completely for free running a 6-months demo license for two accounts. If you don't like what everything goes just delete it from the account.