We've got a short presentation of FXAutoPips. They started the presentation with an explanation of the average spreads problems when you start using a scalper: "the fact, that they earn 2-4 pips from a trade, creates a lot of problems, in particular compatibility with brokers, and often the inability to achieve such results on live accounts." FXAuto Pips is a nighttime trading robot, that earns about 14 pips for a trade.
Not a scalper.
Compatibility with any broker.
The minimum deposit is, as low as, $26.
The lot size is 0.01.
USD/CAD symbol supported.
No martingale trading.
Compatibility with other EA at the same account.

Backtests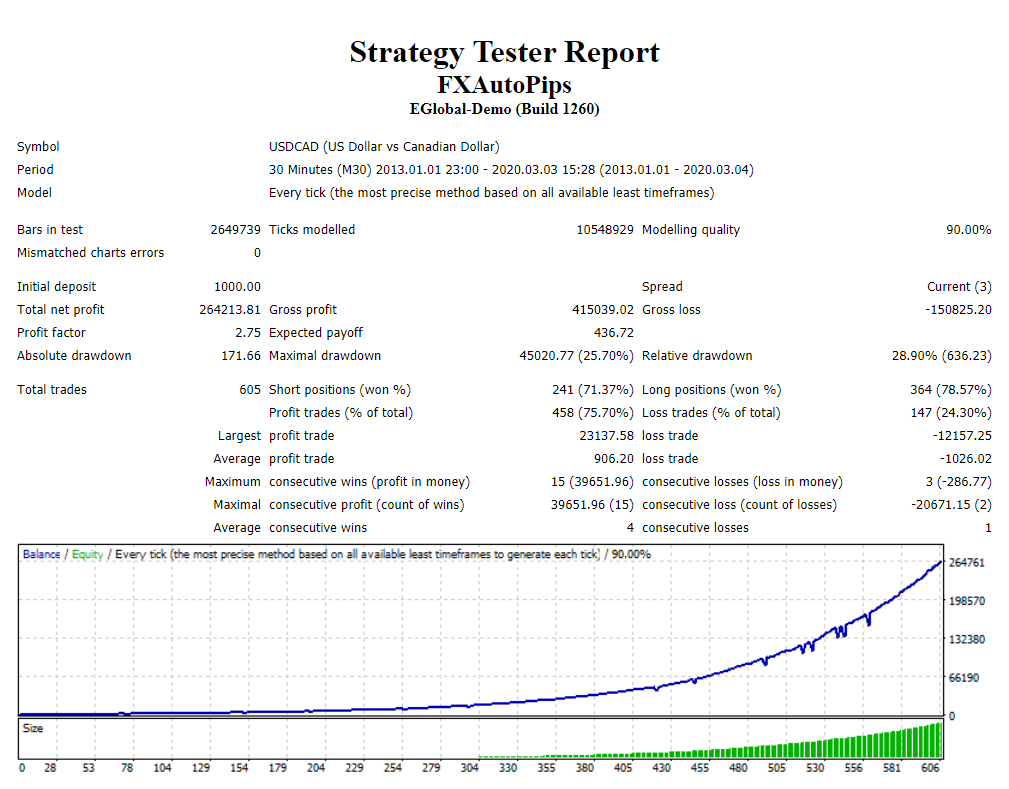 A single currency pair become just a single backtest. The robot tested at the 30M time frame. The initial deposit was $1000. The total net profit was $264K. The profit factor was high and equaled 2.75. The max drawdown was 25.7%. The average win-rate was between 71% and 78%.
The 3rd-party verified real account trading results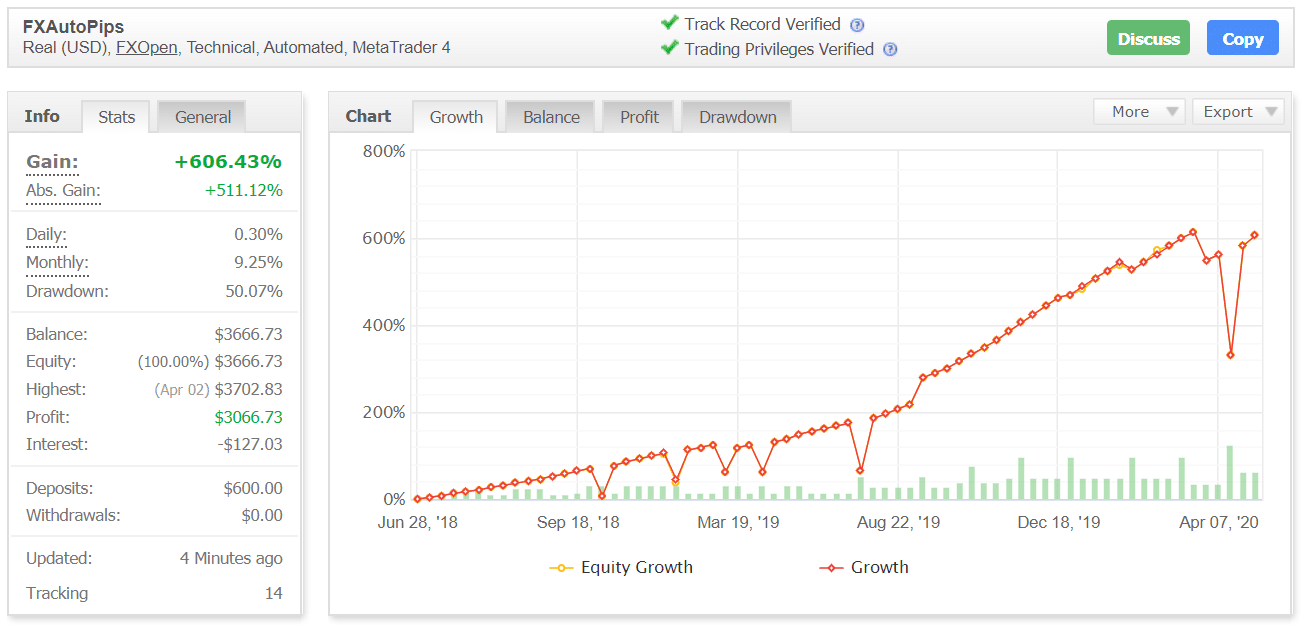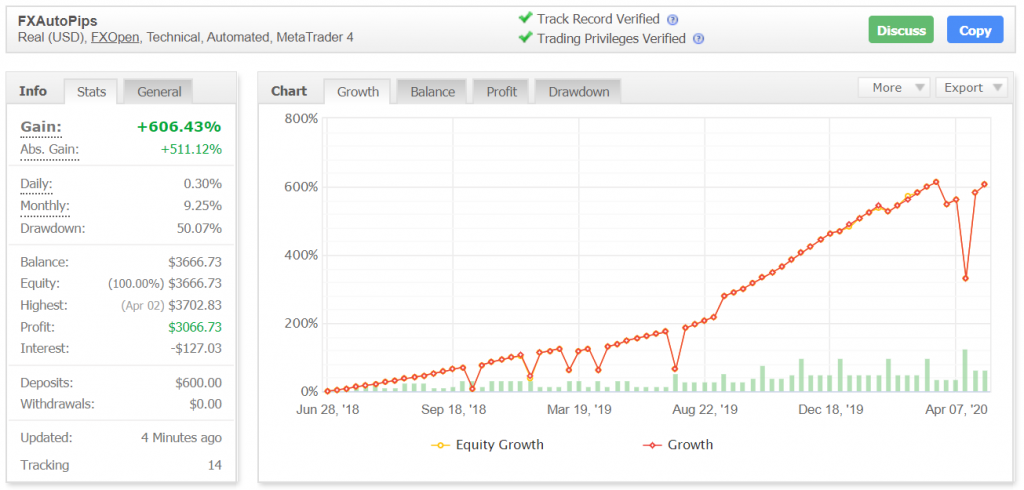 So, We've got a real USD account on FXOpen. The robot trades without leverage on the MetaTrader 4 platform. The monthly gain is 9.25%. The max drawdown os 50.07%. For an account with leverage over 1:200, it's a death.

There have been traded 94 deals with 841.5 pips. Long positions win rate is 73%, short one is 63%. The profit factor is 1.82.

As you can see, there's a problem with trading shorts.

The robot trades with extremely high risks. So, for the average risks, you can receive even 9% of the monthly gain.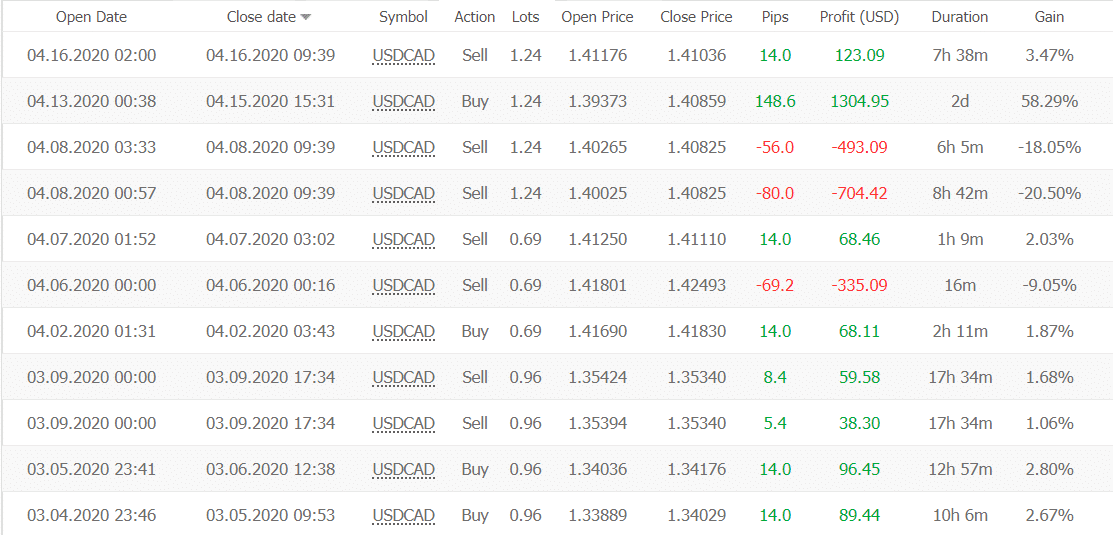 The risk level has been increased several weeks ago.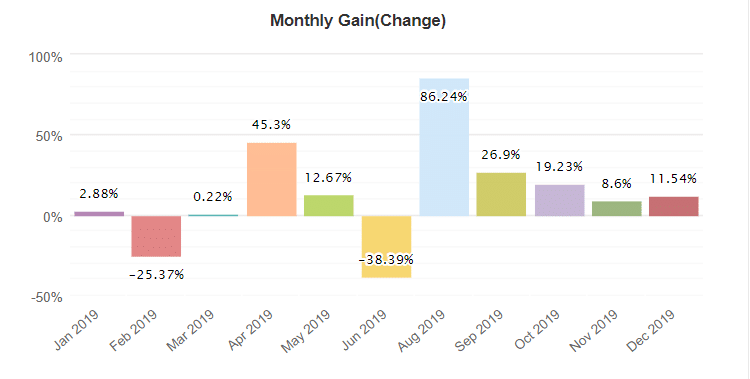 The profit varies depending on the set risks.
The offer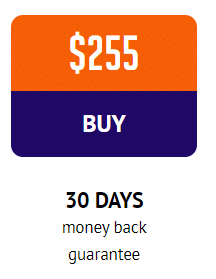 FXAutoPips costs $255. We'll receive a one-lifetime license, user manual, free updates, and support. The devs provided a 30-day money-back guarantee.
Summing up
Pros
The low requirement to the minimum deposit
The 3rd-party verified real account trading results provided
Good profit
Solid "profit factor"
Cons
The huge max drawdown
Little trades traded
Shorts position ended with losses
Trading with high risks
Medium price

As we can see, the robot is ok. It can be profitable, but we've got a lot of "but". The max drawdown is huge and hasn't ended the account just because of no leverage. a lot of investors and traders wouldn't like to use risks like that in order to get 9% of the monthly profit. At least, the devs charge not so big price and provide a 30-day money-back guarantee.