Forex Truck is a newcomer in the market and just like most fledgling robots it also claims to offer a great deal. It works on both MT4 and MT5 and is compatible with all Forex brokers. Let's take a closer look and find out whether this robot is worth anyone's time and money or is it just another one of the numerous scams that have riddled traders.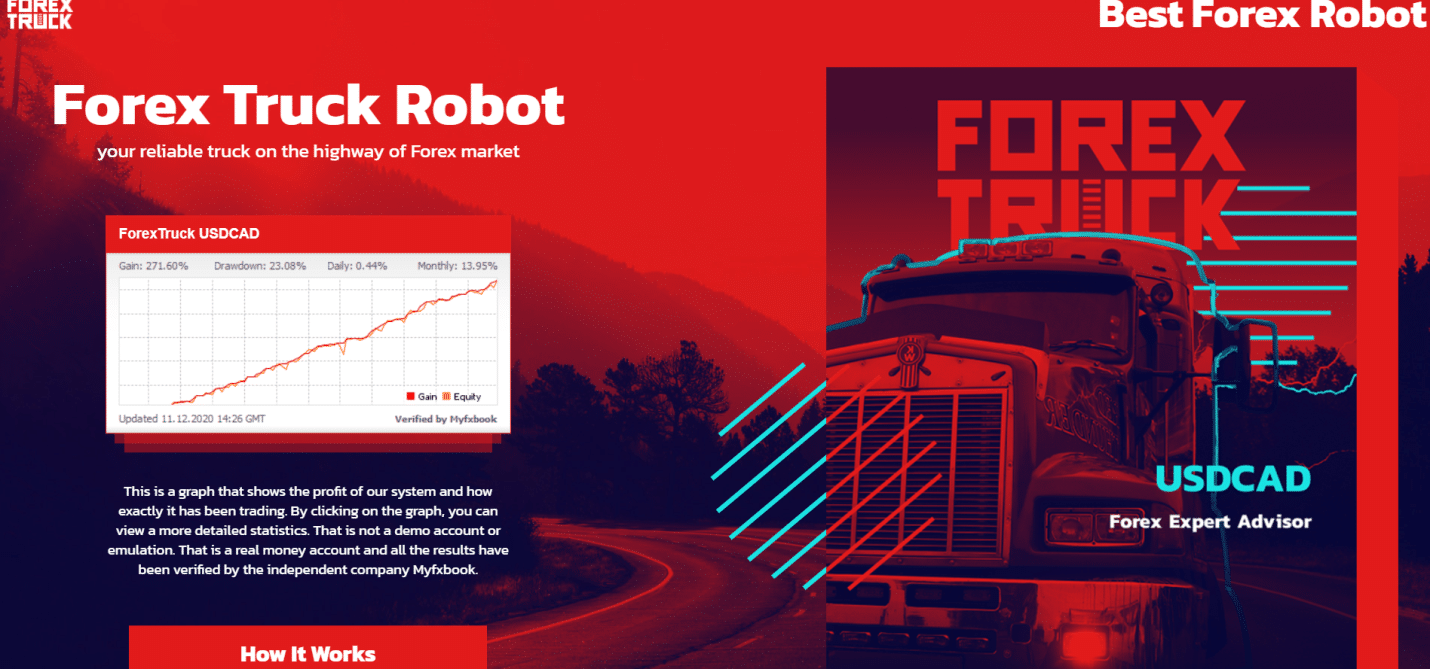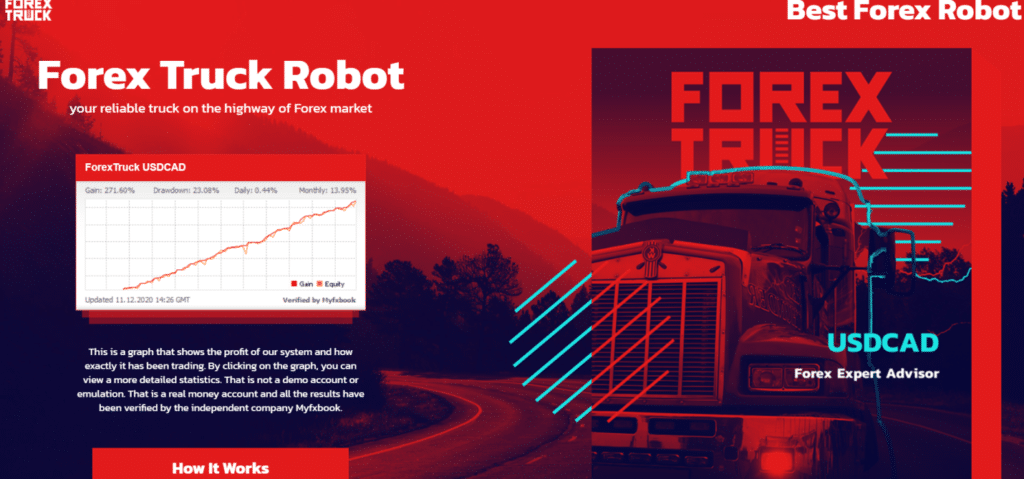 What does the Forex Truck offer?
We were disappointed in finding that the robot developers hadn't provided any information on where they are based and who they are. The robot trades the USD/CAD pair, which is a major currency pair, meaning that it has a fair spread and high liquidity.
Its website is well-designed but doesn't provide much information worth talking about. All that you can find are a few statements about its strategies, backtesting results, and how to purchase it. There are no more edifying details and it is hard to figure out whether this is something that users should be paying for.
How to start trading with Forex Truck
The robot is priced at $277 and has a 30-day money-back guarantee. Its trading strategy utilizes a 'block' feature. According to this strategy, the robot opens up multiple orders to hedge its positions in case the market contravenes.
There are two such blocks that work in conjunction. The first one figures out points of entries and opens one or two trades at a time whilst monitoring the market changes. In the case of the markets shifting, the trades are closed and profits/losses are taken.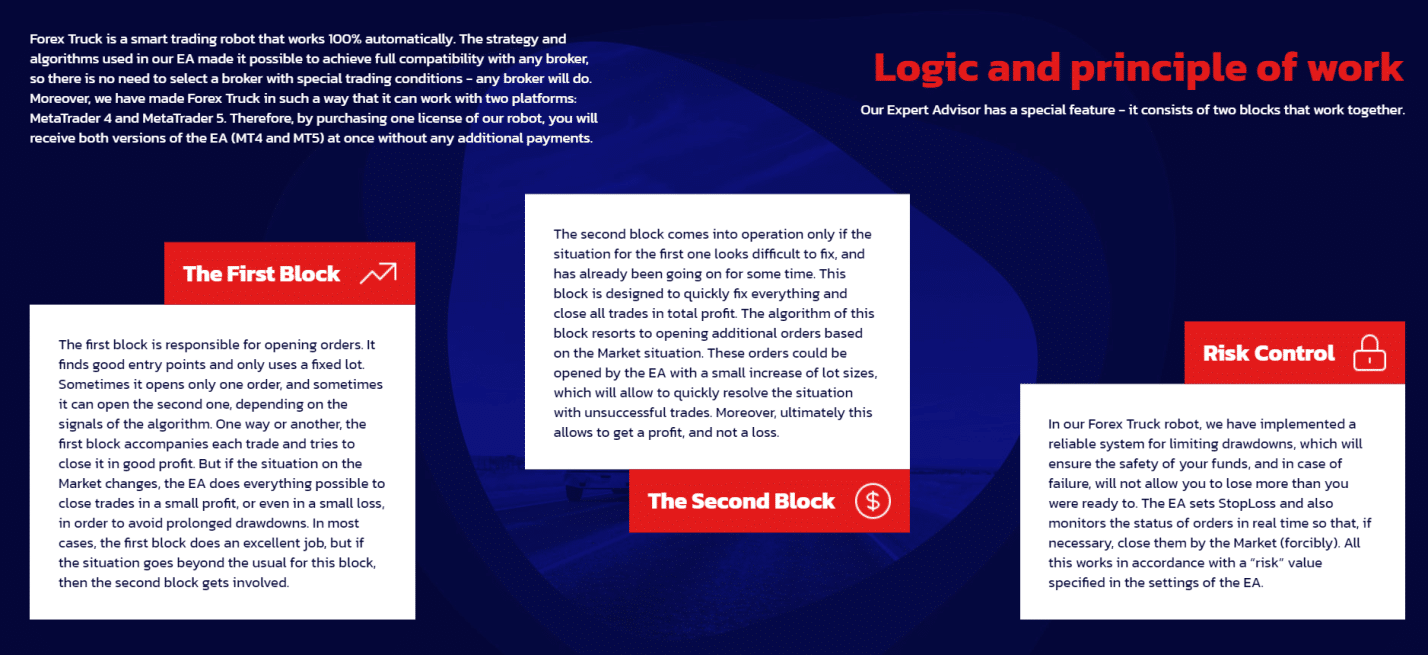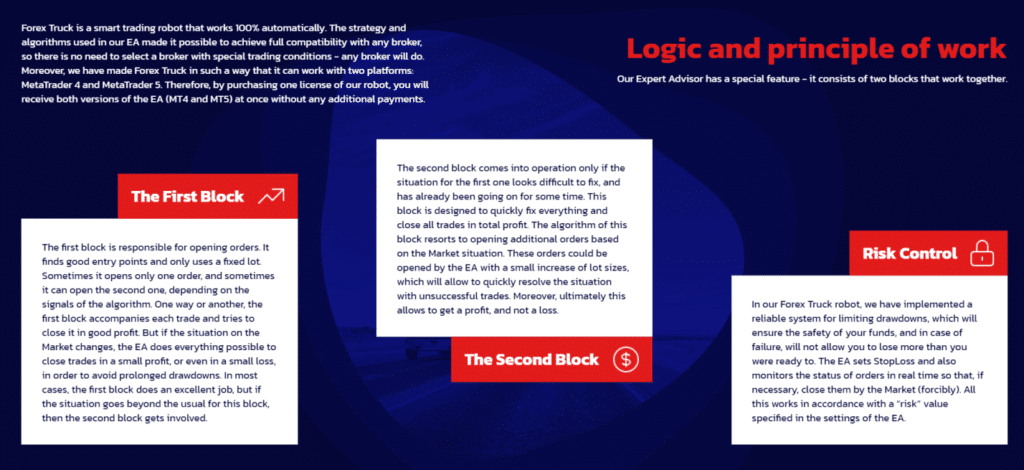 This is done to ensure that there aren't any sustained drawdowns. If the first block fails, the robot goes forward with the second block to assess and fix the trade. All this looks like a martingale or hedge approach that makes up for larger losses.
They don't exactly say it as such and their statements are quite unclear. Furthermore, no additional information is relayed regarding the time-frame at which this strategy works best. The recommended balance that one would require is $1000.
Forex Truck Backtests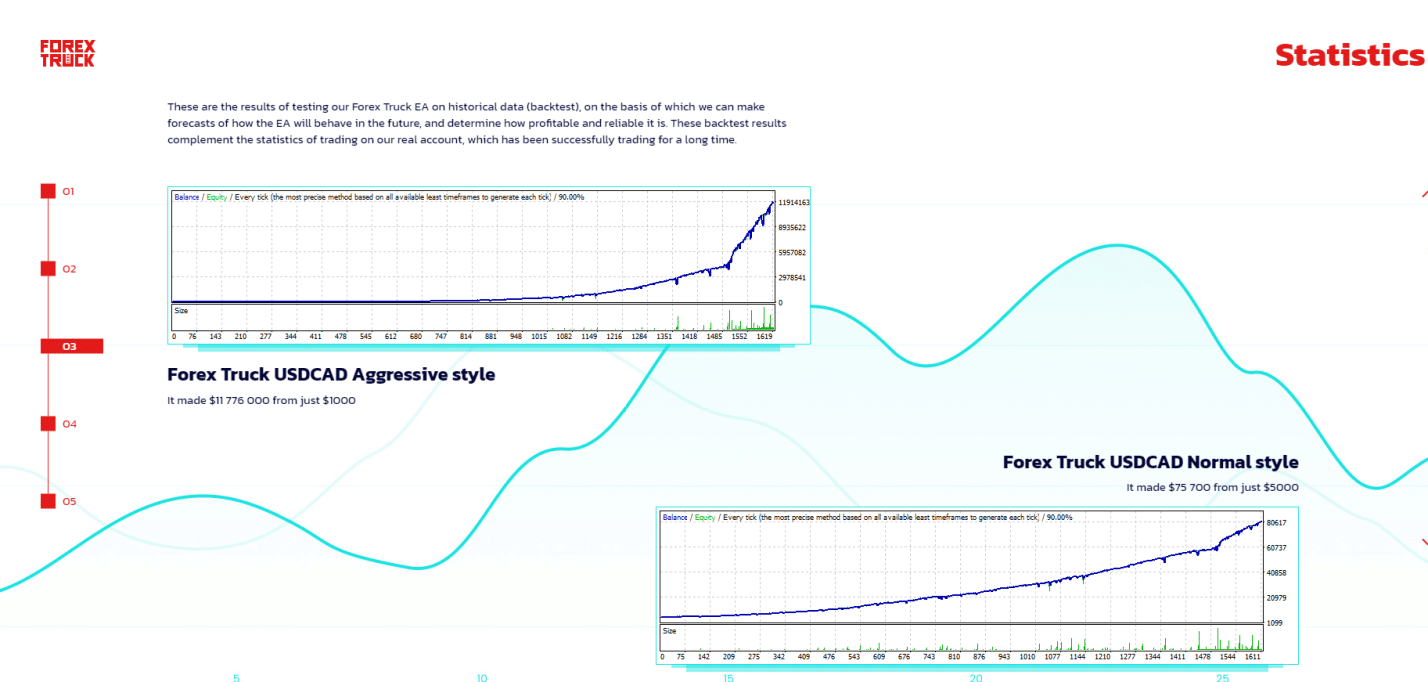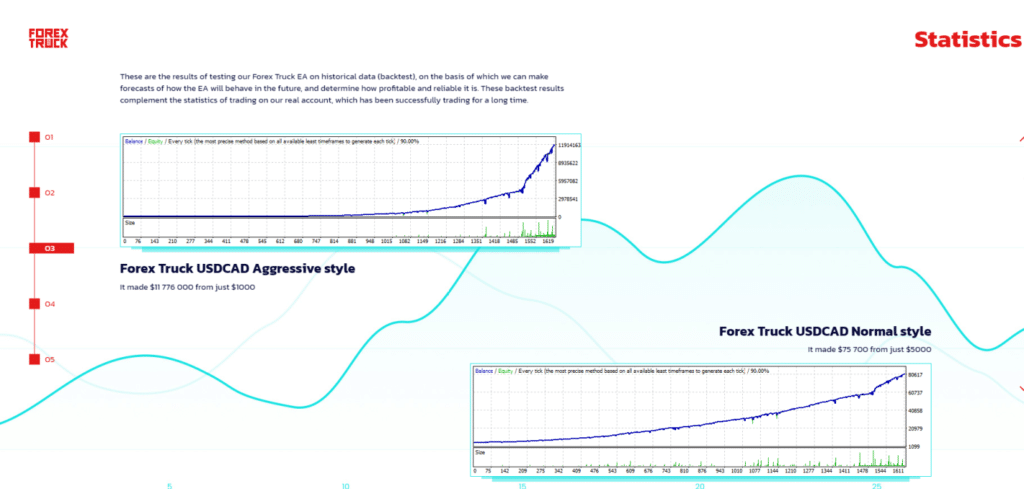 There are some backtests done by the developers in both aggressive and normal styles. Though these tests are shown to have been run for over 5 years, their modeling quality is only limited to 90%. Traders know that anything under 99% modeling quality means that the results are not quite reliable and accurate.
Trading Results
On its homepage, the robot provides results from only a single live account that was opened on 16th January 2020. It has had a drawdown of 23% after placing 175 trades with two days being its average trade length. Plus, it has a total gain of +271%. The average loss is higher than the average win by more than a few pips. But, it must also be kept in mind that the past performance shouldn't be seen as an indication of future success.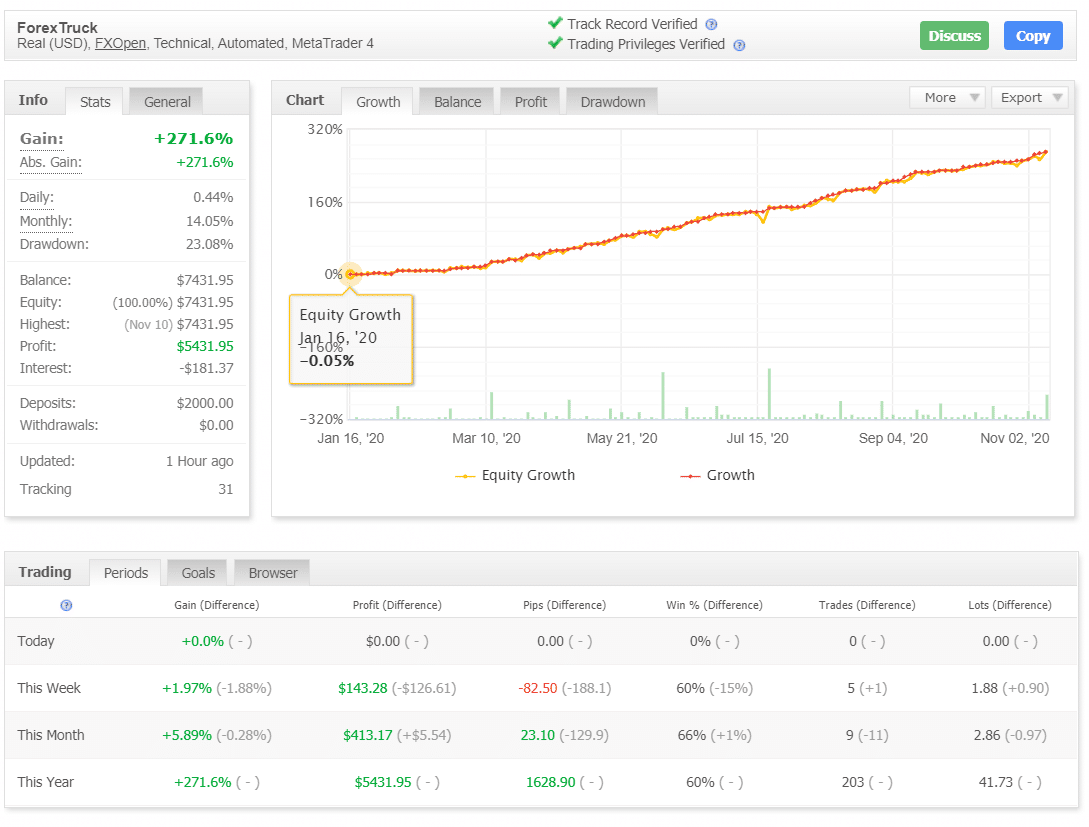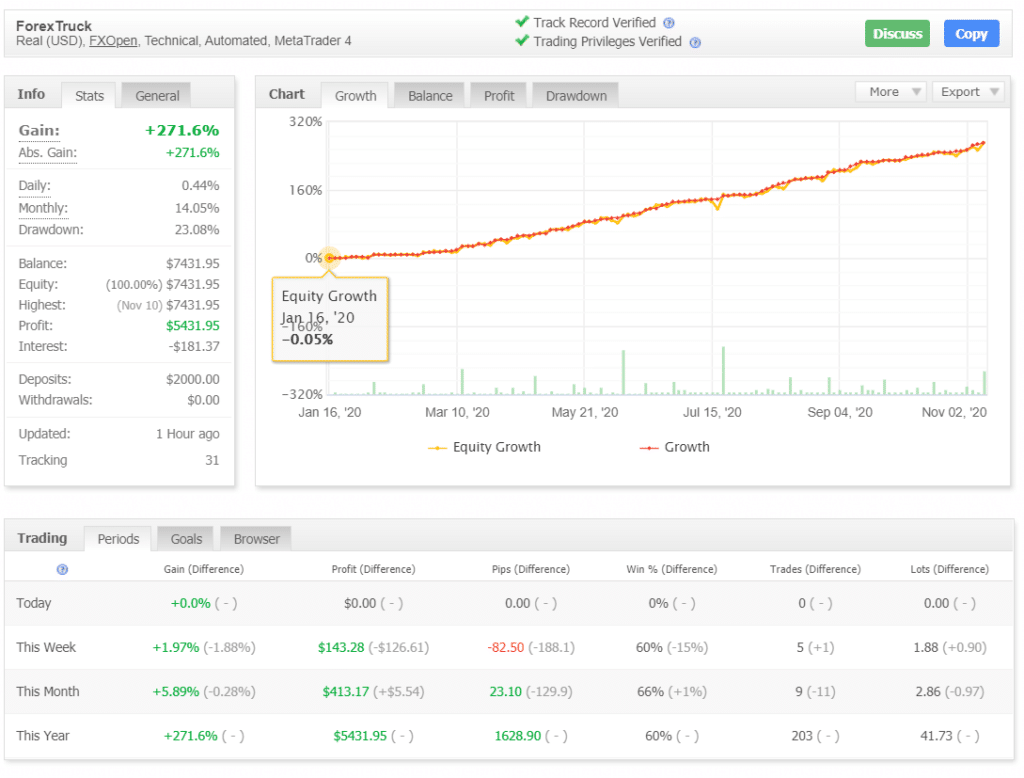 The problem here is that since the robot runs on algorithms, it doesn't take into account the dynamic conditions of the political sphere as well as major financial events that impact the market. Such unpredictability cannot be programmed into a robot and it is almost impossible for such robots to be consistent in the long-term.
Do the risk control mechanisms work?
The developers have not missed any opportunity to mention time and time again how their 'block' feature trading strategy limits drawdown. It works based on the 'risk' value that one specifies in the settings so that one doesn't lose more than one can afford to. But, even though such a mechanism exists, a prudent trader would rather optimize the settings and time-frames to customize the set files that are suited to their trading preferences and goals.
People Feedback
Given how recently the robot has come to the market, it is understandable that it doesn't have any presence in the community yet. It also means that traders have been careful not to jump on the wagon just yet and give this robot a try, especially since it doesn't have anything promising to deliver so far. Perhaps, with time and some major tweaks, it could appeal to traders, but as things stand now, it is not something that traders would be looking to buy.
Summary
Advantages
Has a live Myfxbook trading account
Decent gains
Disadvantages
Is highly priced
No presence in the community
Vague trading strategy
Forex Truck is not a robot that we recommend to traders. It is too new and doesn't have the wherewithal to deliver on its promises just yet. No trader would want to let an algorithm-based robot, such as this one, handle his/her precious capital. Though we will keep a close eye on this robot and see how it fares in the future, right now it doesn't make the cut.