In today's review, we take a look at a much-talked-about EA in the industry – FX Fortnite EA. It promises completely automated trading on the MT4 platform, simplicity of use, and round the clock support. The EA is still in its early days as it was registered only in September 2020. And, the great news is that it doesn't make ungodly claims to lure in potential users, but does it offer enough? Let's find out.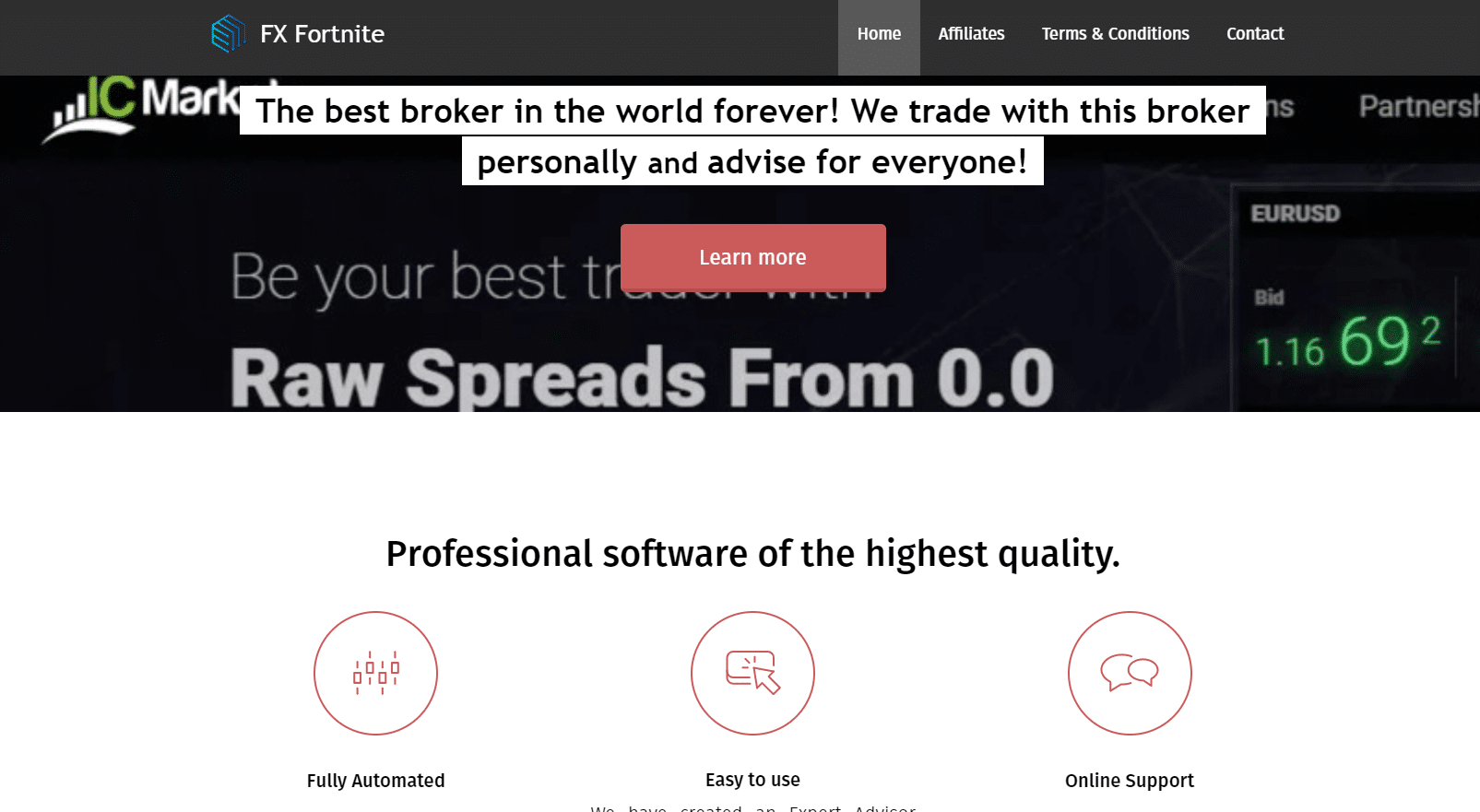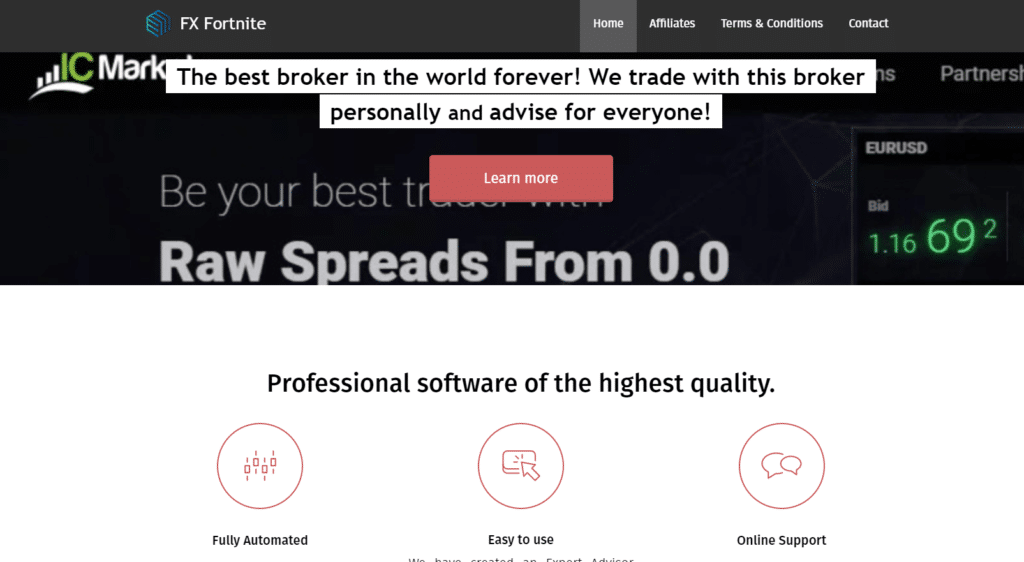 What does the EA offer?
The website is quite simple and straightforward and the homepage isn't too crowded. We are provided with just enough information about the strategies utilized as well as the licensing options. But, the minimalism of the website also means that we are not provided any information about where the developer is from.
One can glean that part from knowing that the website's server is based in the Czech Republic. Other than that, no additional data regarding the developer's name or experience is relayed. The lack of info is indicative of the fact that the EA is a mere fledgling as of yet. And, the lack of transparency does make it difficult for us to trust them.

Thankfully, however, we do know that it utilizes a combination of Trend/Hedge strategy with High/Middle/Low settings. This strategy works best on EUR/CHF on the H1 time-frame as mentioned on their website (image above).
As for whether the strategy is legit, we can't be sure. They claim that theirs is a 'lookback straddle approach,' which doesn't sound like anything. Either the wording is too convoluted or they're not providing us with real insights.

How to start trading with FX Fortnite EA
| | | | | |
| --- | --- | --- | --- | --- |
| Forex EA | Pairs | Trade Timeframe | Leverage | Package prices |
| FX Fortnite EA | EUR/CHF | 1h | >1:100 | $149, $199, $249 |
For the Bronze package that is for $149, users will receive a single license of the EA that will allow them to trade only one pair. This can be an issue as there aren't a lot of setups for a single pair and the EA will remain idle most of the time.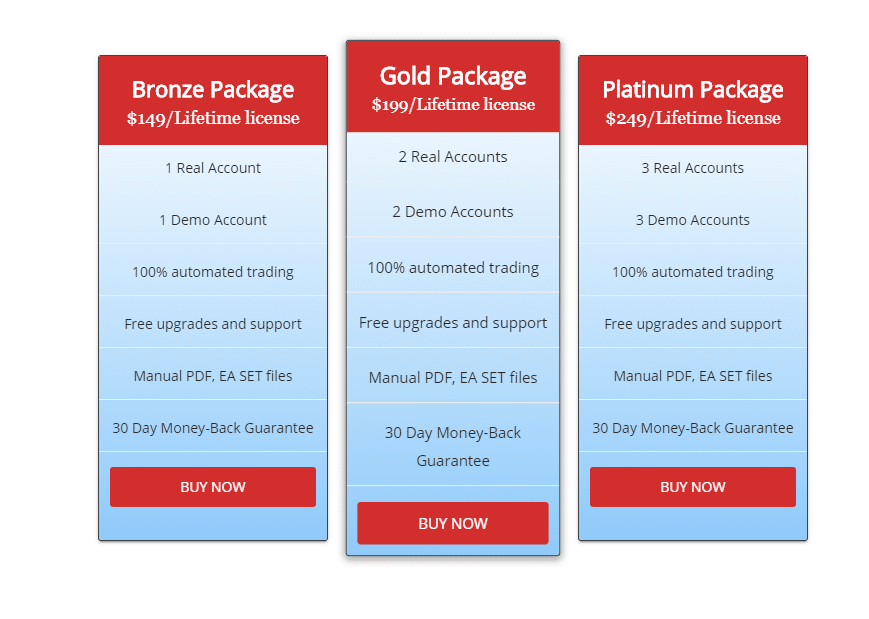 All three plans provide free upgrades, manuals for installation, EA, and SET files. The main difference between the three accounts is that with the Gold and Platinum packages, one can run more than one account. It requires a balance of no less than $1000.
FX Fortnite EA Backtests
There are backtests on three different risk settings, High, Middle, and Low, as given on their website.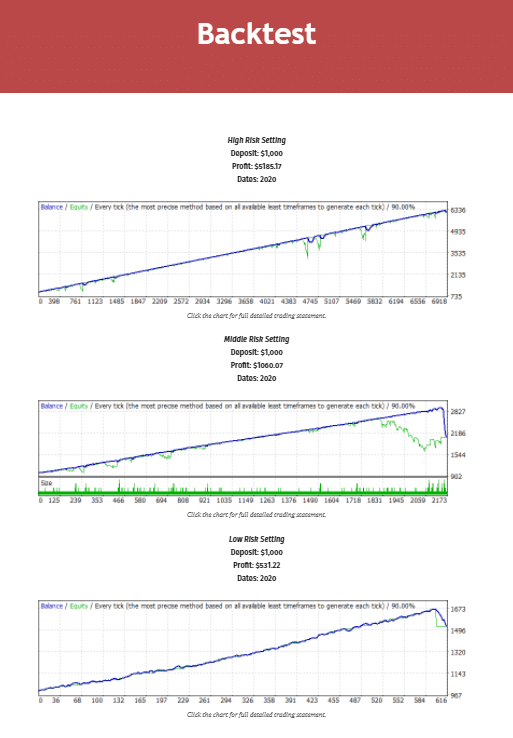 All three of them had a modeling quality of no more than 90%, which is not something that you'd expect an EA developer to publish, knowing that anything below 95% is not even considered worthwhile. On top of that, their relative drawdown has been about 37%, which is quite high for any trader unless they are looking to throw caution to the wind. Although it is commendable that they've stayed transparent with their backtests, their EA needs major work if users are going to purchase it.
Trading Results
The live trading results of this Forex robot are on par with the backtest. Its account has been active since August and, as of writing this review, the returns are at about 96%. The number of trades placed in a day is 14.3 with an average trade length of 2.1 days. And, the results are, no doubt, impressive. But, these are still early days and we'd like to keep a close eye on it and see how it fares as market trends change over time.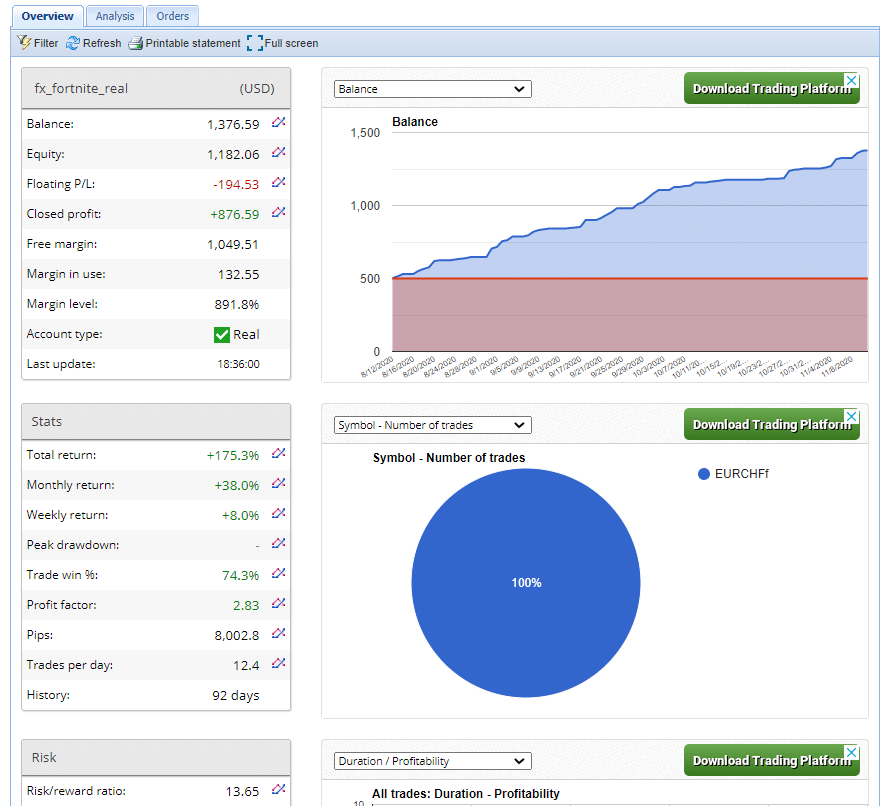 Additional things to know
While trading results look impressive, it must be noted that the vendor hasn't had verified Myfxbook accounts. We would have liked to see the account on Myfxbook as it enables other traders to verify it. On top of that, the EA executes basic grid trading that isn't very helpful, for it is something that traders can also do manually. Nevertheless, the results are of a very small time period and we'd have to wait and see how they age.
People Feedback
Having the feedback of other traders on third-party sites who have tried this EA is essential to our review. However, we could not find many reviews by traders who've used this EA. We believe this is mainly because it is still a very young EA that still has a long way to go in building its community presence. Until that happens, we cannot come to a conclusive decision.
Wrapping Up
Advantages
Decent price
Impressive first results
Disadvantages
Not transparent with its information
Too early for results to be legit
Basic grid trading
FX Fortnite EA, though it is still in its nascent stage, has impressed with its backtest and trading results. However, there is a lot of room for improvement in terms of transparency and tweaking its trading strategies. Moreover, since it is still early days, we do not recommend this EA to traders just yet. In time perhaps, we'd take another look at FX Fortnite EA to see where it stands.