This Forex robot review is dedicated to a newly launched robot called FX LUCKY PRO. According to its developer, the robot was developed 'to always close our positions in total profit'. With the help of its unique trading algorithm, the robot can trade using several sessions, which allow significantly increase the profitability of the robot. The main goal of the company that stands for this EA is to help traders 'achieve incredible trading results' by using FX Lucky PRO. Could they achieve their goal? Let's find out the answer in our FX Lucky PRO review.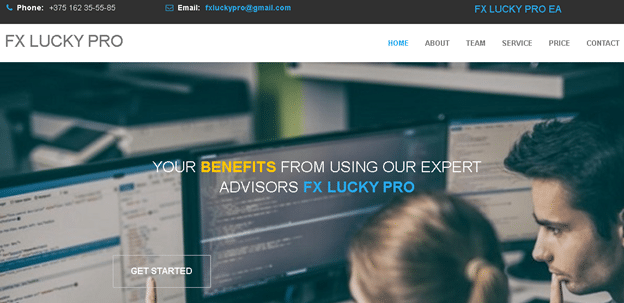 Is FX Lucky PRO a Good Forex EA to Invest?
The developer of FX Lucky Pro points of the main features that as he thinks make the robot a good investment opportunity:
The robot uses special algorithms for opening and closing trades, which allows closing their position in total profit
Using several logics, their unique trading algorithm can significantly increase the profitability of the robot
Their robot was designed for the long-term trading period
The robot can work in different market conditions
Their robots come with free updates, a guarantee and refund policy
The dev says us that FX Lucky Pro uses only proven trading strategies
The robot uses the Scalping strategy to lose trading positions with optimum profit
The robot constantly scans and analyses market condition to find the best trading opportunities
EA has a money management feature

A robot features a Stop-Loss protection

FX Lucky Pro has volatile market protection. The system rarely opens trading positions during high market volatility periods with sharp price gaps

After 5 years of testing, the robot has shown that it can provide stable profits over the long term
Traders are provided with 24/5 customer support
How to start trading with FX Lucky Pro
This EA comes in 2 different packages: Basic ($107) and Standard ($127). Both packages include 100% automated trading, free updates, and a lifetime license. The difference is in the number of accounts included: The Basic Package includes 1 Demo and Real account, while the Standard package provides 2 Demo and 2 Real accounts.
The vendor recommends trading with reasonable risk to not harm their account balance significantly when a large loss occurs
The minimum trading balance to start trading with FX Lucky PRO is $200 (0,01 Lot)
They recommend trying the EA on the Demo account before you switch to real-money trading
FX LUCKY PRO Backtests
The good thing about FX Lucky Pro is that its dev shares their backtest report on their sales page: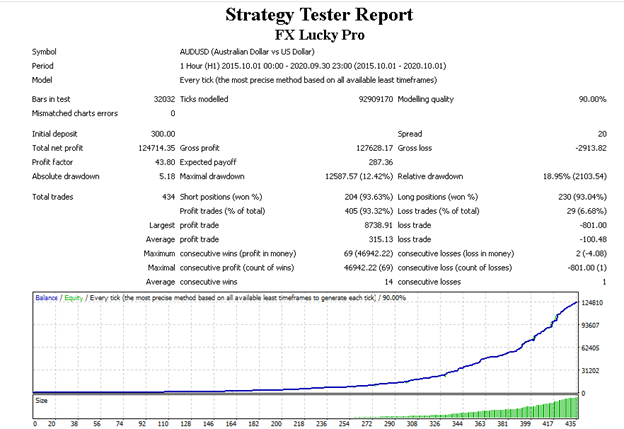 Backtesting started on October 1, 2015, and ended in 5 years, on October 1, 2020. The robot traded AUD/USD on H1 timeframe with 90% modeling quality. It was deposited at $300. The robot traded 434 trades and won 405 out of them, which represents 93, 32%. For 5 years of trading, the robot has brought $124714 of profit. Its profit factor was enormously high and equaled 43, 80. Its win rate for short positions equaled the win rate for Long positions 93, 04% and 93, 63%. Its maximal drawdown was low – 12, 42%.
Trading Results
The FX Lucky PRO company provides live trading results verified by fxblue to prove the effectiveness of this trading platform.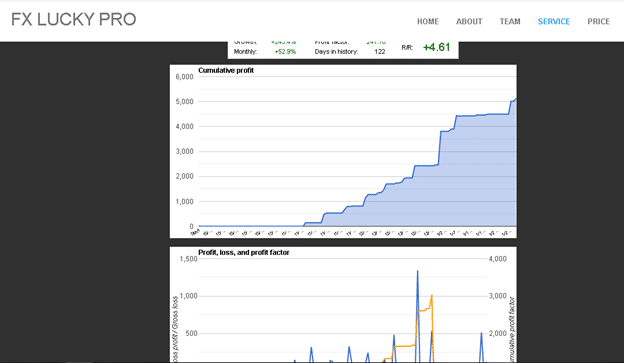 Let's analyze how this EA works.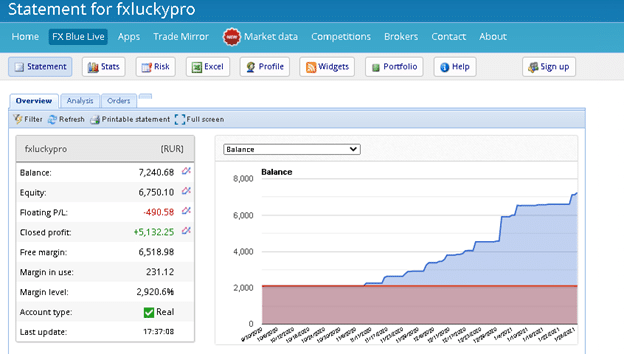 The robot runs a Real RUR account. This account was added on fxblue on January 19, 2021, and was deposited at $2,108.43. For less than 1 month of trading, the robot has brought over $5K of profit. The margin lever is high and equals 2, 920.6%.
The total gain equals 237,1%, the monthly return is 52,9%, and the weekly profit is 10,6%. The robot trades the only AUDUSD. Its peak drawdown was -0,3%. Its win rate is extremely high – 94, 9%. The profit factor is enormously high – 241, 16. The average trade frequency is 0.3 trades per day. The account is online for 122 days.


Its risk-reward ratio is 4, 61. An average trade length is 32 hours and 7 minutes. An average win (139, 29) is 13 times higher than the average loss (-10,68).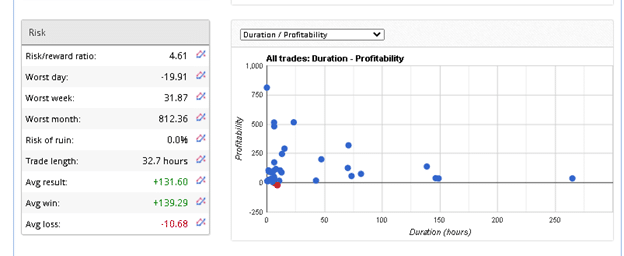 There is a 44,4% chance of losing 10% of the trading account balance: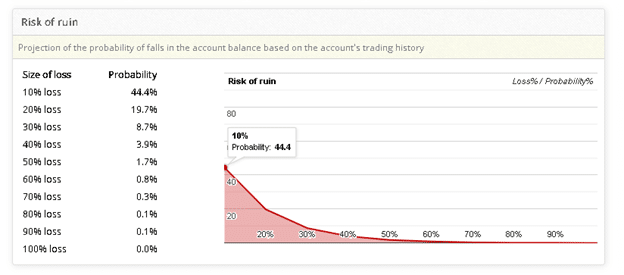 It trades mostly the BUY direction -35 trades.

It uses only one trading strategy:

It trades 5 days a week. The most profitable day for trading is Wednesday – $1689.

In comparison with December 2020, trading results of January 2021 have decreased twice:

Lack of Vendor Transparency
Oddly, but having provided traders with a detailed product presentation, the vendor hit the most important info – he told us nothing about himself, his team, location, and trading experience they have on the Forex market. It is a red flag for FX Lucky Pro.
To get in touch with the FX Lucky PRO team, traders need to fill out an online contact form, send an email to [email protected] or call +375 162 35-55-85.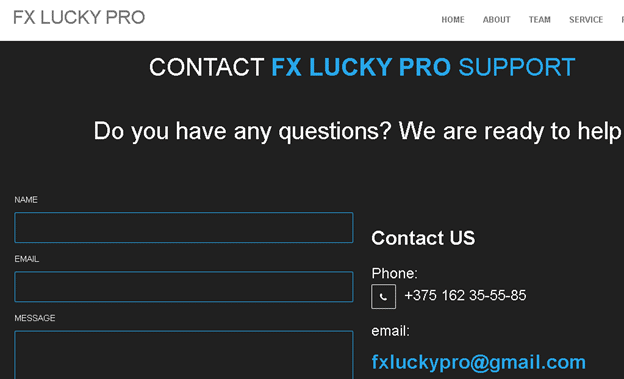 People Feedback
We've found their page on FPA. Unfortunately, FX Lucky Pro has neither rating nor customer reviews. Odd as for a robot that shows good trading results.
Summary
Advantages
Backtest results were provided
Live trading results provided
Affordable pricing
Disadvantages
Lack of vendor transparency
No setting details provided
No money-back-guarantee provided
Summary
This EA is a discussable Scalper. Although it is a newly launched EA, we were impressed with its trading results the EA has achieved for less than 1 month of trading. However, we do not like the fact that the dev tries to hide its identity from us. He did not provide setting recommendations and said very little about its strategic approach. Lack of customer reviews proves that it is too early to say something about this EA. We need much time to see and monitor how the robot will perform in the long run.