FX Hunter Wealth is a Forex signal service provider that generates more than 15 swing signals every month, and a pips target of more than 100. It provides a daily update of live trades and assists its users in gaining profits while taking small risks. Additionally, this Forex EA has a smooth interface and promises its users the best experience.
But, can you really trust this signal provider to bring you profits in the Forex market? It claims to be suitable for novice traders with no experience who can enjoy lucrative returns. But, in order to verify these claims, we must analyze each and every aspect of this Forex EA.
Is This a Forex Signal Provider You Can Trust?
The official website of FX Hunter Wealth has sections dedicated to fund account, signals, contact, order flow, etc., but in order to access some of these, you need to sign up. This company was launched in 2013, and the developer goes by the name of Dave. He reportedly has several years of experience in the Forex market and is a licensed trader.
No information is provided on his location, however, and we don't know whether he works alone or has a team of experts assisting him. Dave seems to have been featured in the top 10 in various competitions on websites like Tradingview, MQL5, and Forex Factory. There is no way we can verify these claims, however.
FX Hunter Wealth allows its customers to diversify their portfolio and thus reduce the trading risks. It deals in various currency pairs like GBP/NZD, EUR/AUD, AUD/USD, EUR/USD, etc. And, the strategy used by this system for generating signals includes volume analysis and market liquidity, but no further details about the strategy are revealed.
How to Start Trading With FX Hunter Wealth


The pricing plans offered by FX Hunter Wealth are quite affordable, with the user having to pay $150 for an initial couple of months and then $125 on a monthly basis. You also have the option of choosing the annual plan that costs $999, but if you are signed up with IC markets, you can use the system for just $499 per year.
This Forex signal provider generates long-term signals with high stop loss. They are generated by a thorough analysis of the market volume, price, and profit. Users have to join a Telegram group in order to receive the signals and in this group, they also get training materials and frequent updates on the market so that the trades can be executed more efficiently.
FX Hunter Wealth Backtests
Dave does not provide any backtesting data to corroborate his claims of high-quality signals and huge profit margins. By going through backtesting results, we can get to know key parameters like profit ratio, spread, etc. We cannot possibly complete our assessment without backtesting data and we hope the developer provides this information in the future.
Trading Results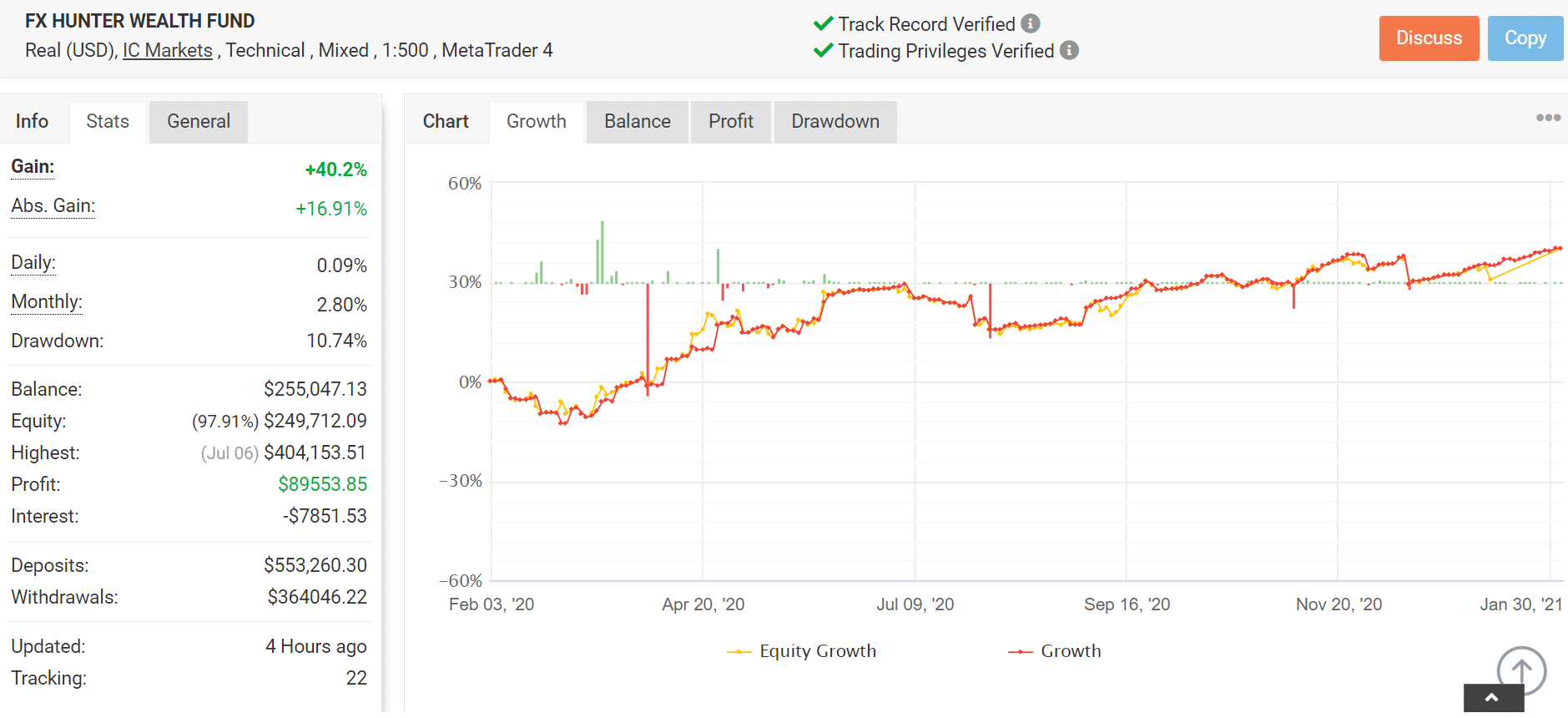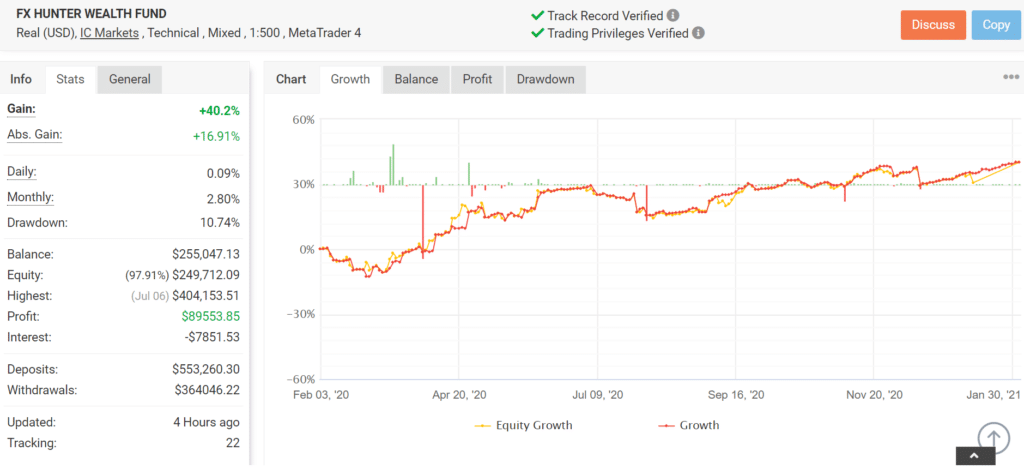 FX Hunter Wealth provides us a live trading account on Myfxbook running on the IC Markets broker. This particular account runs on the MT4 platform and has a leverage of 1:500. The account was launched on Feb 03, 2020 and has an absolute gain of 16.91% for deposits of $553,260.30.
Since its inception, this account has made 2030 trades, winning 1346 out of them, thus bringing the profitability to 66%. The drawdown is a low 10.74% and the profit factor of 1.25 is quite standard for a reliable Forex EA.
Further investigation reveals that the account did not perform too well in December 2020 when it managed a gain of -1.2%. Nevertheless, in Jan 2021, it bounced back with a gain of 5.49%. Currently, the gain for February stands at 0.58%.
Customer Support
Customer assistance forms a key part of any Forex signal providing company. FX Hunter Wealth provides reliable and quick feedback to its clients. You can find the contact page on the company's website. Plus, you can reach them through email, which is [email protected] However, there are no phone numbers, live chat, or social media contacts available for this company.
People Feedback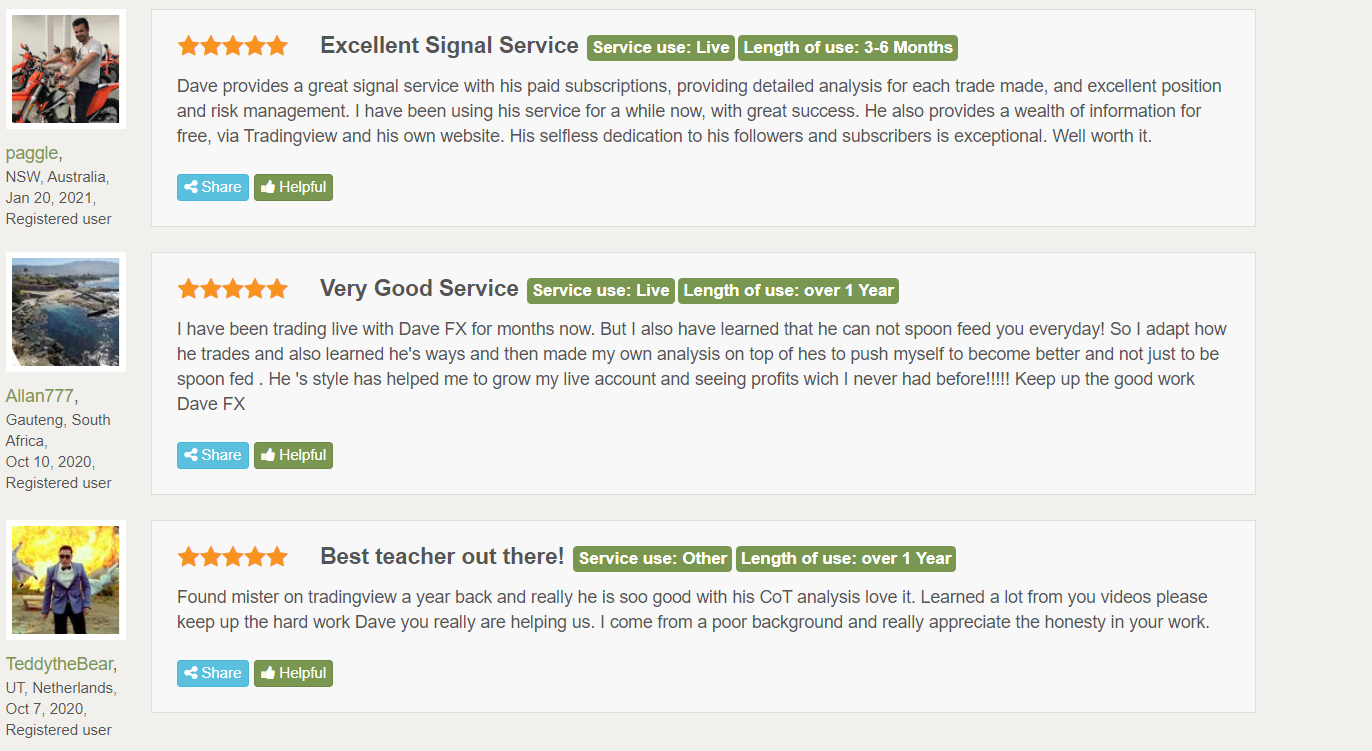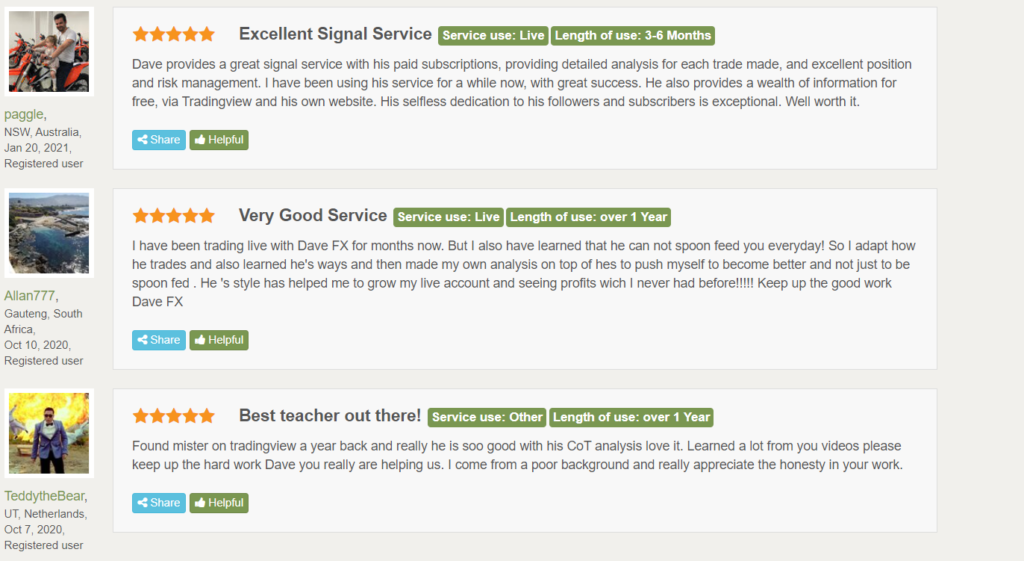 We found several user reviews on Forexpeacearmy about FX Hunter Wealth and they are overwhelmingly positive. Users have praised the market analysis done by the developer and gotten satisfactory results from this Forex EA. They have also stated that the service provides a lot of information about trading and assists the users every step along the way.
Such positive reviews are likely to increase the confidence of potential investors. They tell us that this is a trustworthy system that generates high-quality signals on a consistent basis.
Summary 
Advantages
Verified trading results
Signals guide is provided
Managed account service
Disadvantages
Lack of information about the strategy
In conclusion, we feel that this is a profitable system that you should definitely consider investing in. The only major drawback we found was the lack of technical details about the strategy, but other than that, there are not many negative things to say about this Forex signal provider. Since there are several user reviews corroborating the claims made by the developer, we think this is a Forex EA you can rely on.