A Forex robot that works automatically throughout the day, FX Oxygen also promises a consistent monthly profit of 20%. As per vendor claims, it has a successful history of trading on a live account and has also shown great results on a backtest conducted for 10 years. Nevertheless, it will be wise to independently verify these claims in order to perform an objective assessment of the system's reliability.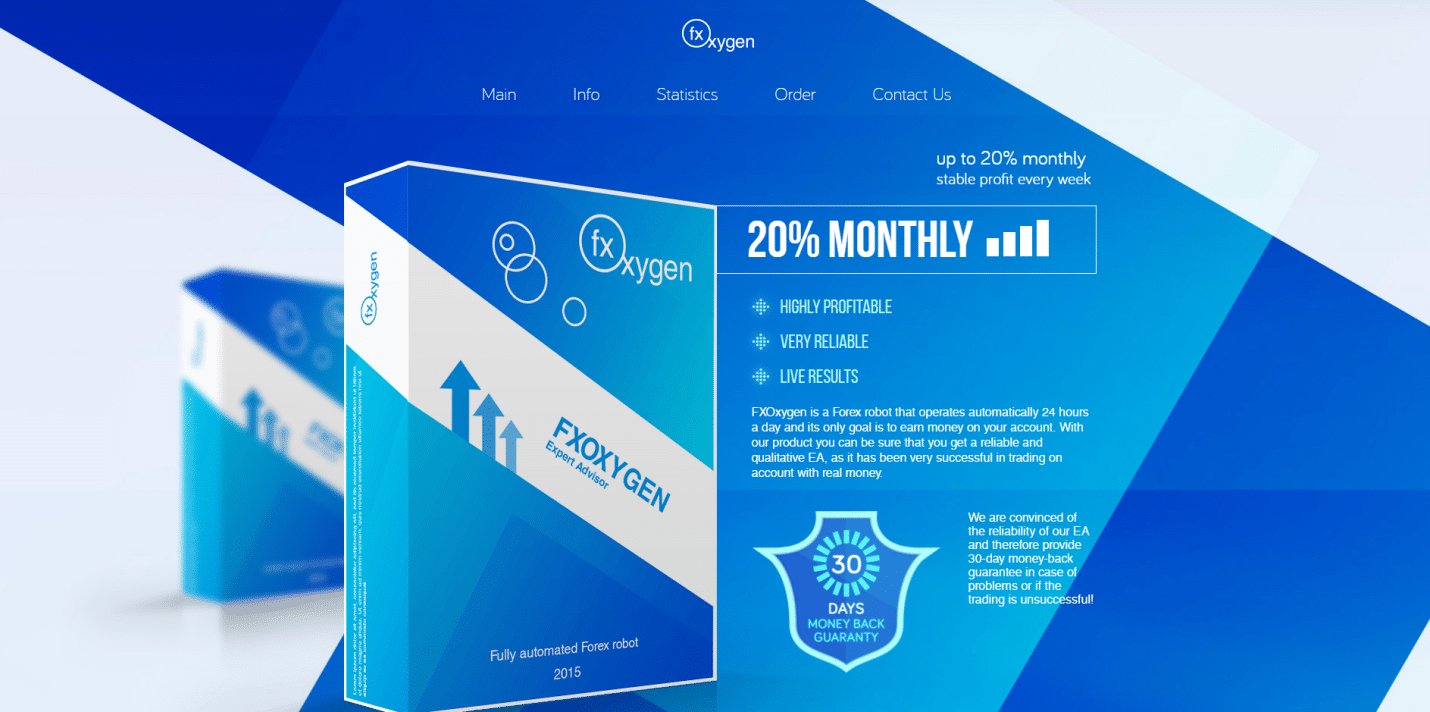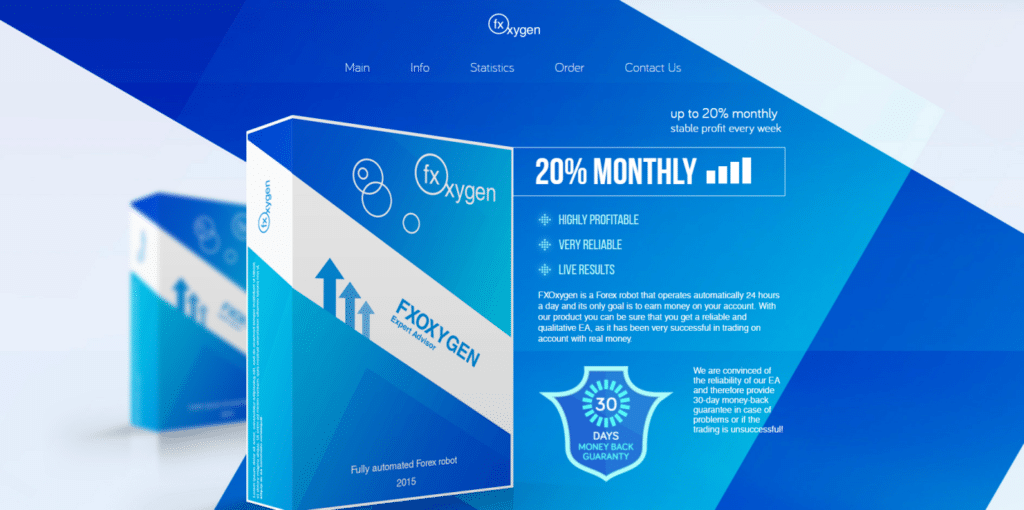 Can You Trust This Forex Expert Advisor? 
On FX Oxygen's official website, we have been provided with an extremely brief and unimpressive presentation covering some important aspects of the robot, while leaving out a few others. The introduction and pricing details are followed by live statistics verified by Myfxbook, and a couple of backtesting results for two different currency pairs. Finally, there is a contact form for sending a message to the service team.
There is little or no information on the website about the developer company, so we don't know what kind of background these people have or whether they have built similar systems in the past. No physical address is provided for the company and not even an email address can be found. As such, we must say we are quite disappointed as far as vendor transparency is concerned.
This Forex EA trades in the EUR/USD and USD/JPY pairs, and the vendor claims that it was tested using company money for 2 months before it was released on the market. There is no mention of the trading strategy used for generating profits, which is odd. We expected to get an idea about how the robot analyzes the market, gauges the strength of a trend, etc., but unfortunately, no explanation is provided by the seller. Some Forex traders might take the overall lack of information as a red flag.
How to Start Trading With FX Oxygen
FX Oxygen is originally sold at $295, but the vendor is currently offering it at a discounted price of $210. It has been claimed that the first 500 copies of the robot were sold at this discounted rate. To us, this seems like a cheap way to attract customers.
This Forex EA has two modes, namely Highly profitable and Reliable, but no explanation has been provided for them. It can be assumed that one trades with a medium to high-risk level, while the other one takes a more conservative approach. When you buy the software, you also get access to all future updates.
The vendor provides a detailed user manual along with the product, so you can know about how to install it, and how to change the various parameters as per your trading style. FX Oxygen has a responsive customer service team who can offer you support on a 24/7 basis. It should be mentioned that only a single lifetime license is provided to you when you purchase this robot.
FX Oxygen Backtests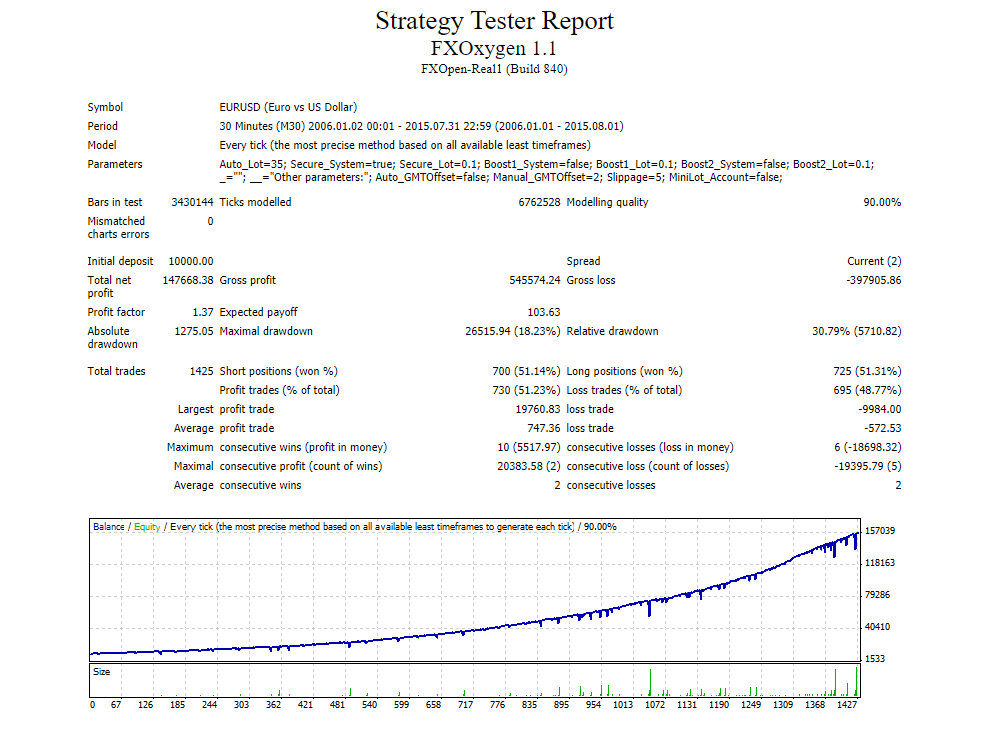 Here we have the backtesting data for the EUR/USD pair, generated as a result of trades placed from January 2006 to August 2015 with an every tick model and a modeling quality of 90%. With an initial deposit of $10,000, a total of 1425 trades were placed, out of which the robot managed to win 730, thus representing a win rate of 51.23%. As a result of all the trades placed in this backtest, a total profit of $147668.38 was generated.
It should be noted that the relative drawdown for this backtest was 30.79%, which is a bit high. It tells us that there is a moderate chance of suffering from a loss while trading with this robot. The profit factor was 1.37, which is quite decent, but nothing remarkable.
Trading Results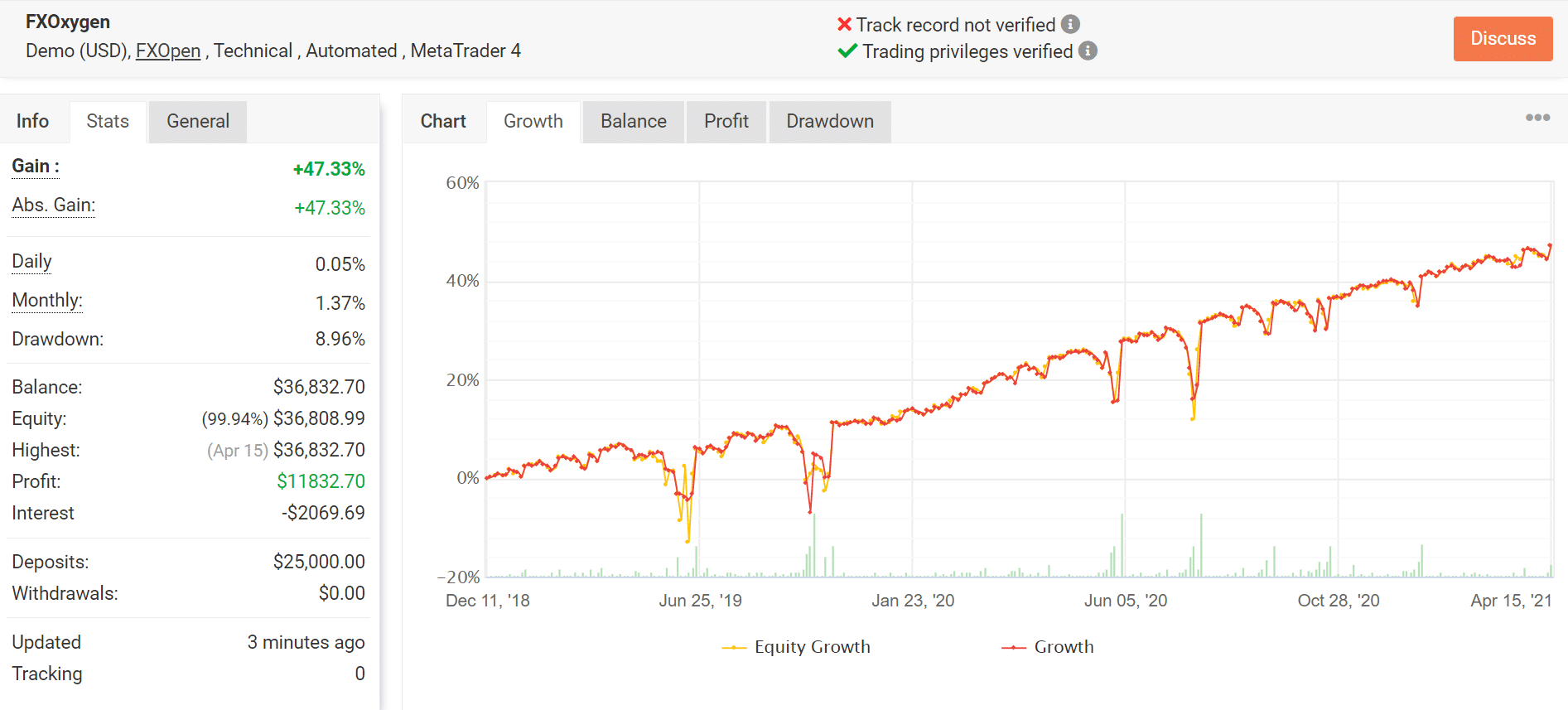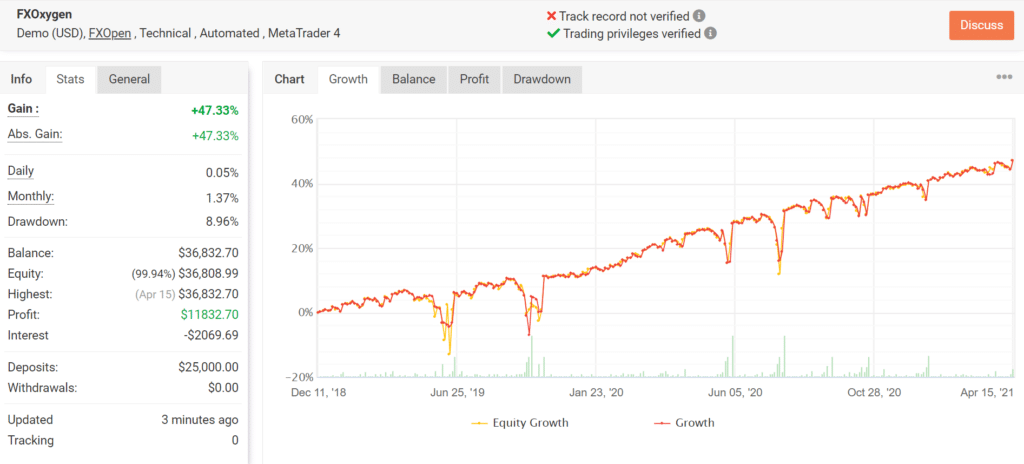 This is a demo account on Myfxbook showing the trading results for FX Oxygen. It has a monthly profit rate of 1.37%, which is a bit low compared to the 20% promised by the vendor. After placing 400 trades, it has generated a net profit of $11832.70 with a win rate of 51%. The account has a profit factor of 1.33 and a low drawdown of 8.96%.
Other Notes
FX Oxygen has a policy of 30 days, in case the robot is not able to generate enough profits in that time. But for a user to receive a refund, they must have placed the trades using the recommended settings and suffered from a drawdown exceeding 50%.
People Feedback
We couldn't find any user reviews for this Forex EA on the web. It is quite evident that it doesn't have much of a reputation in the market.
Wrapping Up
Advantages
Live trading results and backtesting data shared
Disadvantages
Lack of vendor transparency
Lack of strategy insight
Monthly profit not as high as claimed
Summary
Although FX Oxygen has provided live trading results and backtests, they are not impressive enough for us to trust in a system that does not provide any strategy explanation and has no past record of manufacturing Forex robots.