How good is FXSecret Immortal?
As we can see from the box, the robot has been designed in 2019 and got 3 strategies on the board. FXSecret has been introduced as a "private community of successful traders that provides the best-automated solutions for trading on Forex Market". The company has been established in 2012, but a robot design has been started in 2009.
The devs told that the robot has combined three systems, but there was nothing about patterns or strategies behind them. They told, "It is possible to choose in the settings of the EA whether to use all three systems or a certain number of them if needed." For us, it's nonsense, because how do people decide that one of the strategies doesn't fit them? By a number of the strategy?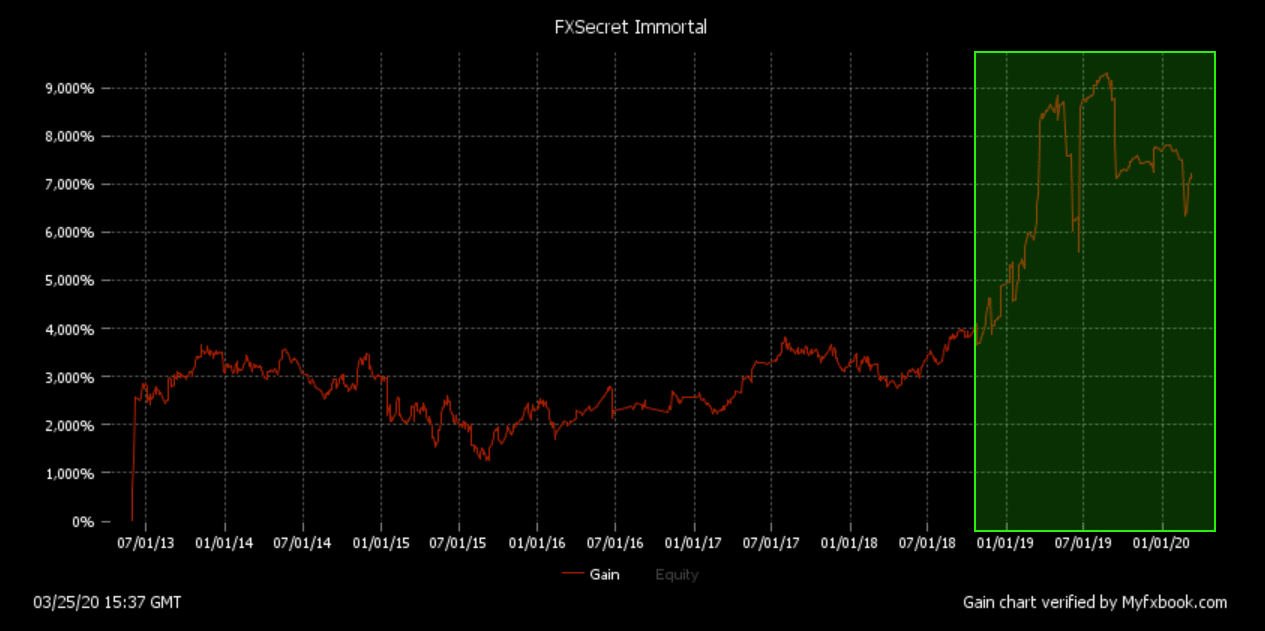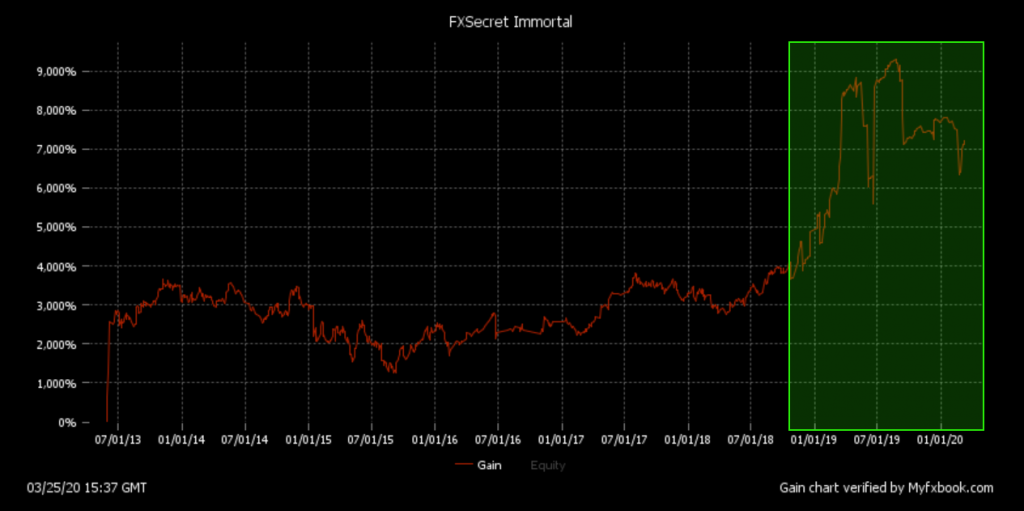 The devs explained these fails by they've improved well-worked algorithms. It's a lie.
The robot designer said "Now that we are confident and sufficiently convinced … we are ready to offer this combo system to you. … and the results of its trading you can see starting from April 2018."


Just take a look at this madness. It's an impossible level of risk.
The minimum deposit for "reliable" trading should be $1400. For aggressive trading, it'd be $700.
FXSecret account trading results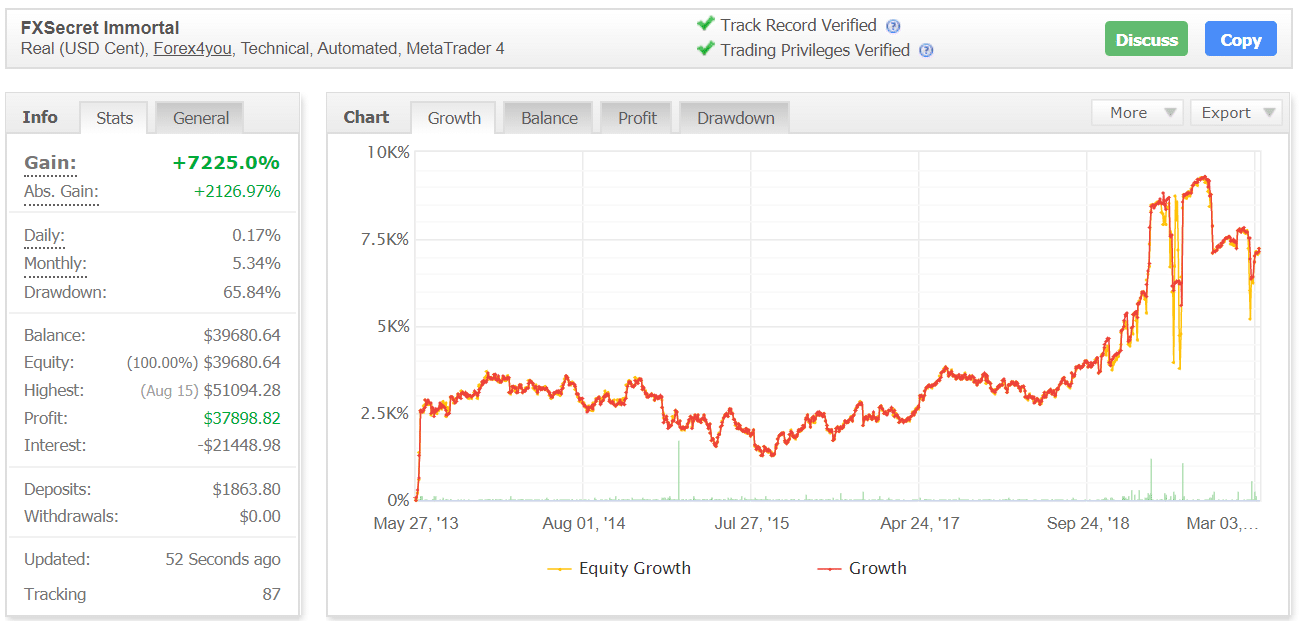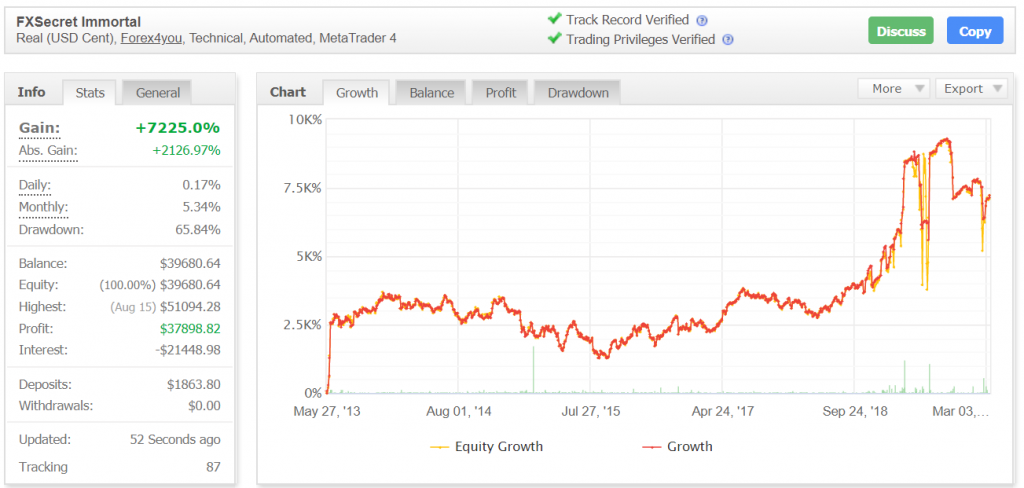 First of all, it's noticeable that they use the Cent account instead of a real USD one. The robot provides just 5.34% of the monthly gain with max drawdown 65.84%. If they traded with leverage that would be zeroed an account. FXSecret Immortal trades through Forex4you broker on the MetaTrader 4 platform.


There have been performed 2107 deals with 2141 pips. The win-rate is impossibly low and equaled 53% for longs and 50% for shorts. So, here's the question. What strategy we should disable to increase the win-rate: the first, the second, or the third… or it would be better to turn off all of them and don't buy the robot? The profit factor is 1.13.


The EA focuses on trading the EUR/USD currency pair.


As we can see from the chart, some of the hours have got very low win-rate.


Once again, it's the risk of ruin intel.


The last performed trades have been two weeks ago.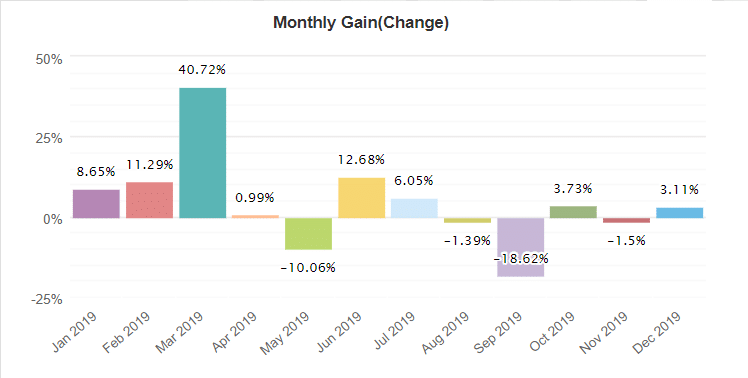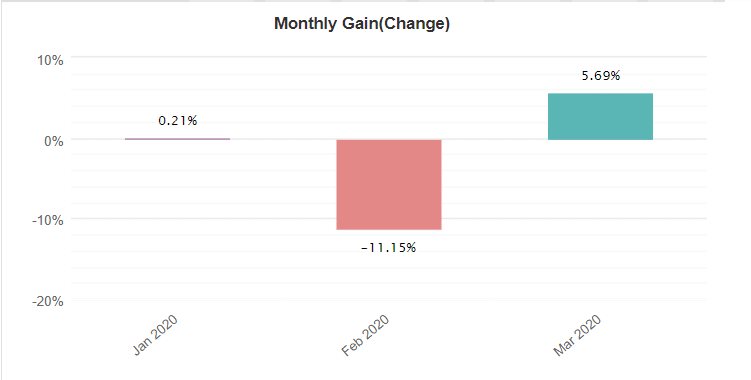 The robot trades completely unpredictably.
Pricing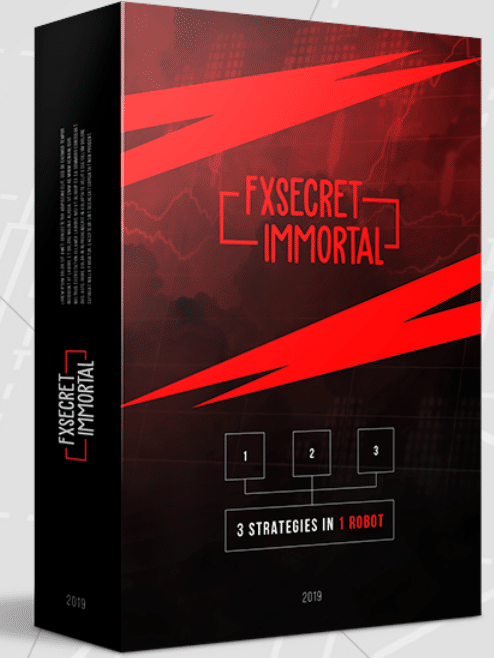 FXSecret Immortal costs $550 and provides us with one license for the real account, changing account online unlimited, settings for easy set up (what does this mean?), and lifetime support 24/7.
FXSecret Immortal Robot Summary
Pros
Real account trading results
One currency pair trading
Cons
No strategies explanations provided
No settings explanations provided
No backtests provided
No money-management and news filter settings explanations provided
Very weak trading results
Completely unpredictable trading results
Trading with an extremely high risk
Extremely low win-rate
Extremely low "profit factor"
Extremely high max drawdown
The robot can easily lose 7 trades in a row
One currency pair trading
Overwhelmingly high price
No money-back-guarantee provided
No demo accounts provided
No people feedback across the web
No free updates

The list of the cons told for itself. We can see the robot that should be paid $550. High-risk trading with no leverage on the cent account is not a thing that should convince us to buy a robot. It a completely unpredictable bad-designed robot. The last results showed that 7 deals can be closed with losses, but one with increasing lot size can cover the loss, but, oh man, it's not smooth trading. The devs provided no demo accounts, so, we won't even try it, as well as, there's no 30-day money-back guarantee for us to be covered.