FXZipper's one-page presentation seems familiar to us. This design usually is powered by Forex Store robots. There are many presentations that seem like mirror copies of each other. Let's try to figure out how good the robot is.
Is this robot a viable option?
We don't think so. The robot experienced some months with solid losses. January 2021 shows that this month can be closed with a loss again. The presentation looks poor and not quite informative.
Let's talk about strategy:
It's a scalping strategy robot.
It can cut out little profits for each trend.
It works with eight pairs: AUD/USD, AUD/CAD, USD/CAD, GBP/USD, GBP/CAD, GBP/AUD, EUR/CHF, and EUR/CAD.
The system can cover itself from a broker. So, it won't disclose that there's a scalper.
How to start trading with FXZipper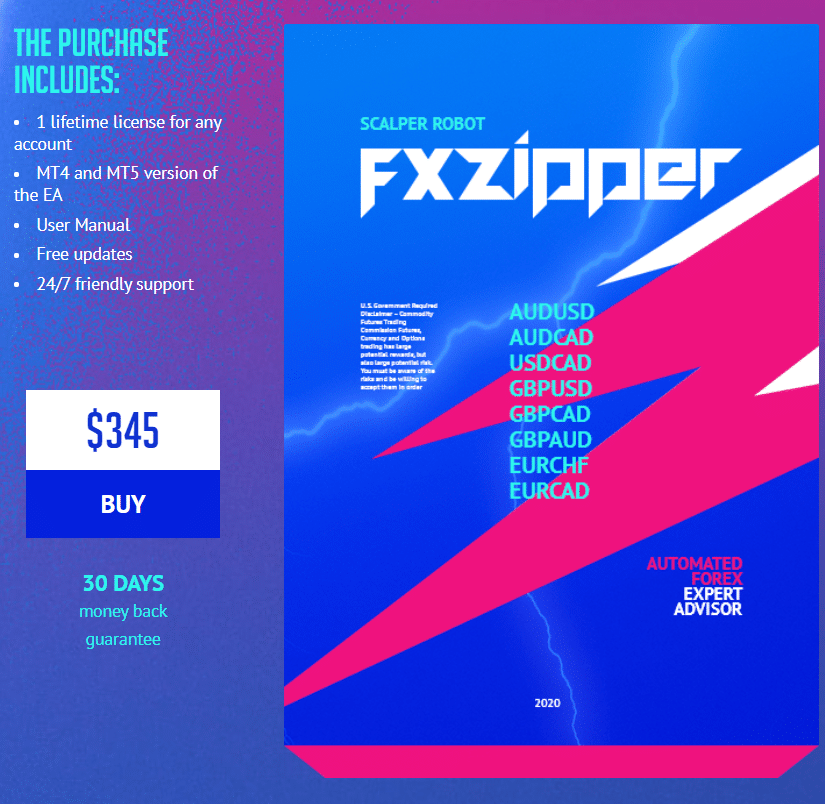 FXZipper costs $345. The package includes: allowing trading on eight symbols, one license for a real account, MT4 and MT5 version of the software, user guide, free updates, upgrades, and 24/7 welcome and knowledgeable support. There's a 30-day money-back guarantee if:
The EA doesn't work properly on our account, and they can't do anything
A drawdown on your account exceeds 35%.
FXZipper's features:
It closes deals asap after reaching profit levels.
It's a broker-friendly, as the developer mentioned, trading solution.
The average profit is around 6-12 pips a deal.
An average trade length is from 15 minutes to several hours, not more.
There's a special feature that allows postponing the opening of a trade by signal if it has become unprofitable due to a sharp price increase, requotes, or a fleeting increase of spread.
The robot requires an ECN account with low spreads to be profitable.
FXZipper backtests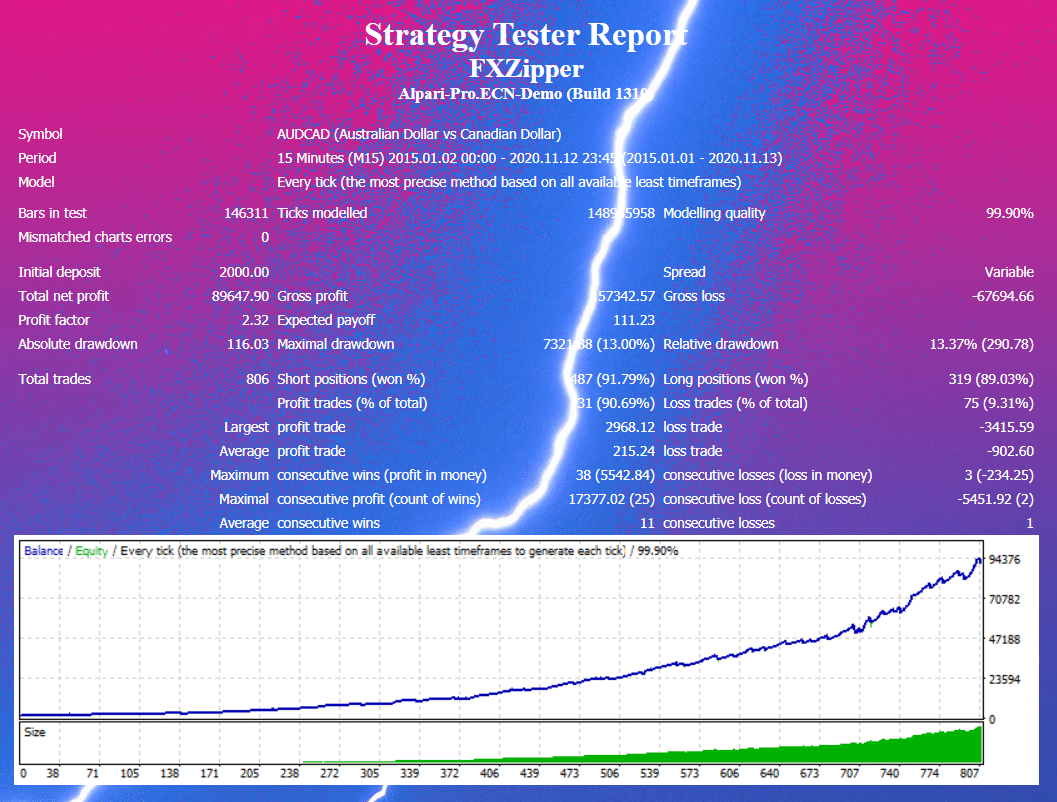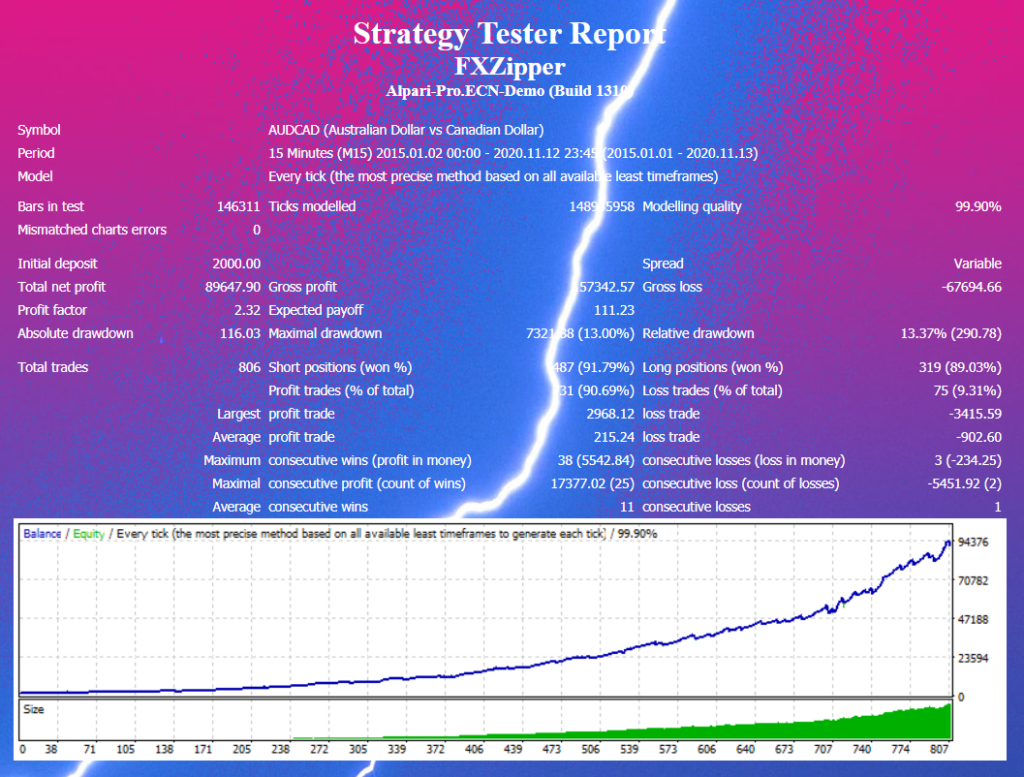 We've got backtests for each symbol. It's AUD/CAD on the M15 time frame. The robot used data for six years. The modeling quality was 99.90% with variable (real broker) spreads. There were 146311 bars in the test. An initial deposit was $2000. The total net profit has become $89647. The Profit Factor was 2.32. The maximum drawdown was only 13%. There were 806 deals closed. The win-rate was 91% for Shorts and 89% for Longs. The win-streak was eleven deals.
Trading results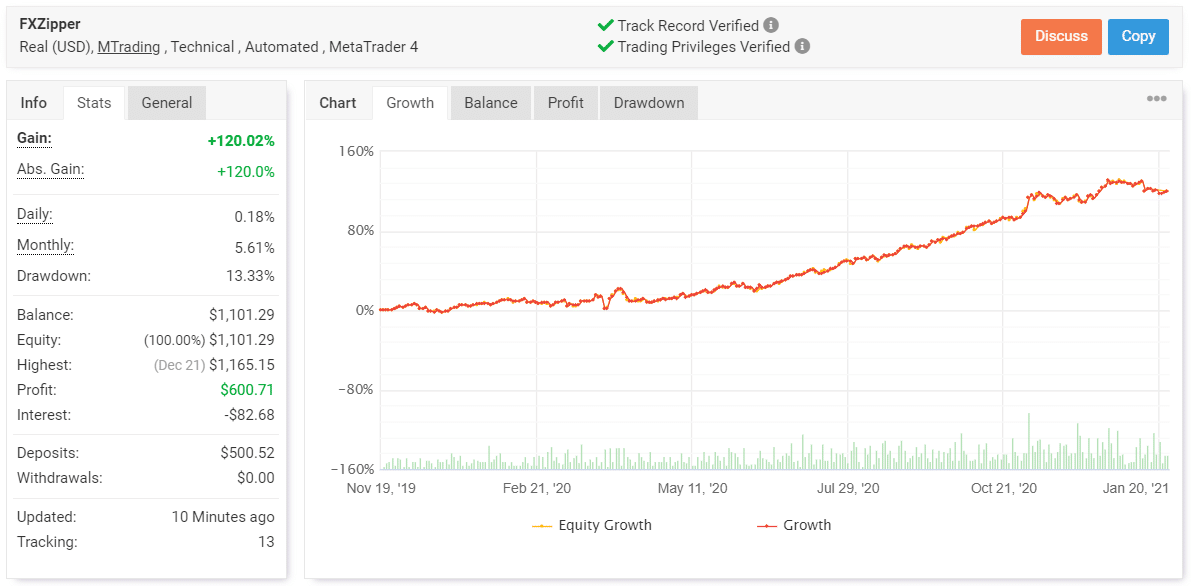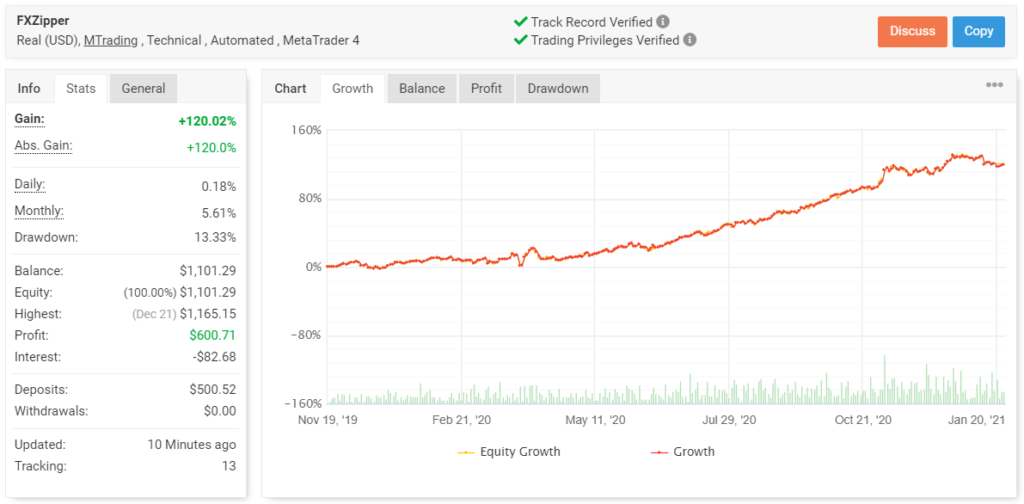 FXZipper runs a real USD account with its name on the MTrading broker automatically on the MT4. The robot uses technical indicators to spot a trend-trading opportunity. The account has a verified track record. It was created on November 19, 2019, and funded at as little as $500.52. Since then, the absolute gain has become +120.02%. An average monthly gain is +5.61%. The maximum drawdown was acceptable – 13.33%. The account is tracked by thirteen traders.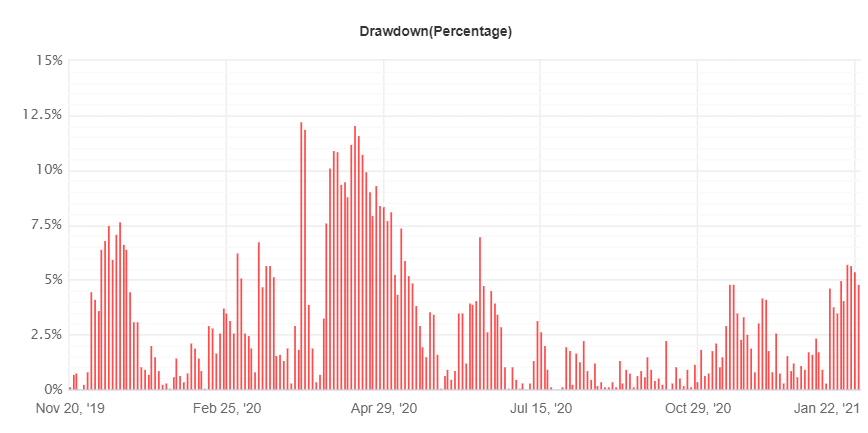 The robot trades with consistent and long-term drawdowns.


The robot closed 691 deals with 1698.8 pips. An average win trade (7.84 pips) is three times fewer than an average loss trade (-22.90 pips). The average win-rate is 82% for both directions: Long and Short. The average trade length is over seven hours, not less than three ones, as the devs said. The Profit Factor is 1.45.


The most frequently traded currency pair is EUR/CHF – 141 deals. This pair is the most profitable too – $283.65.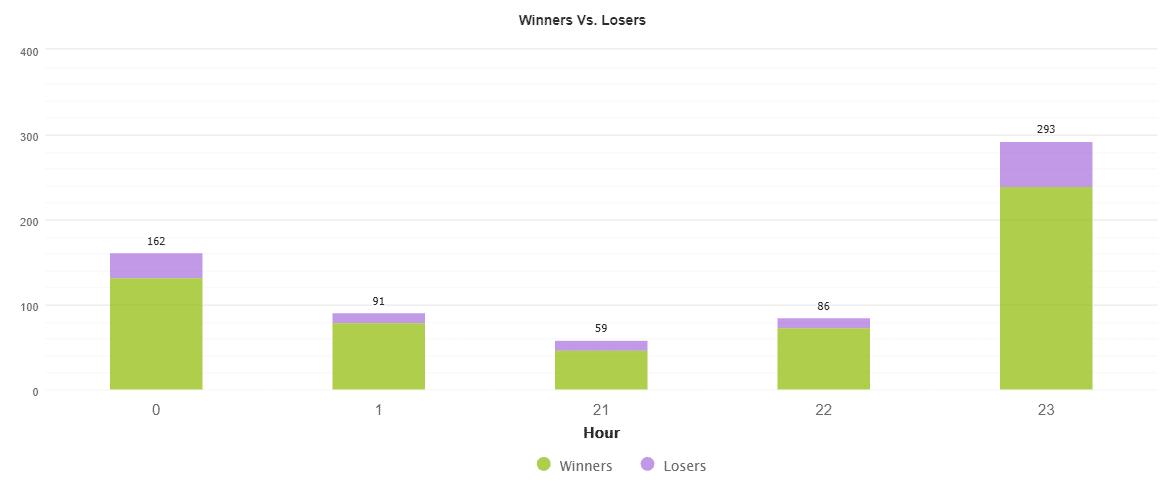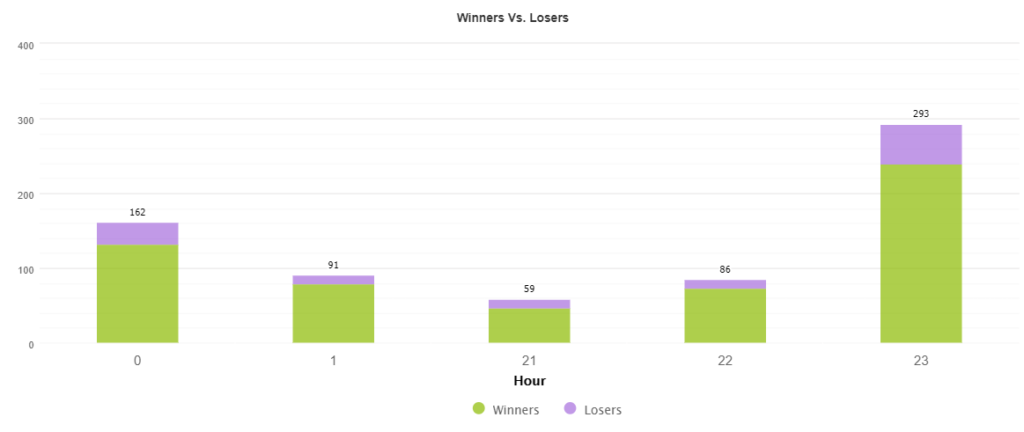 As we can see, the EA scalps during the evening-night when the market is calm down.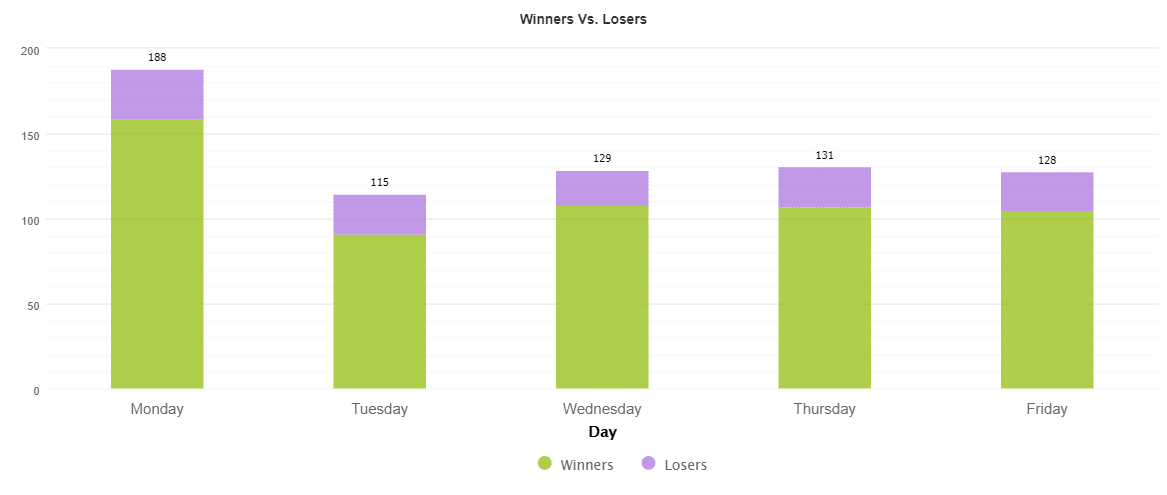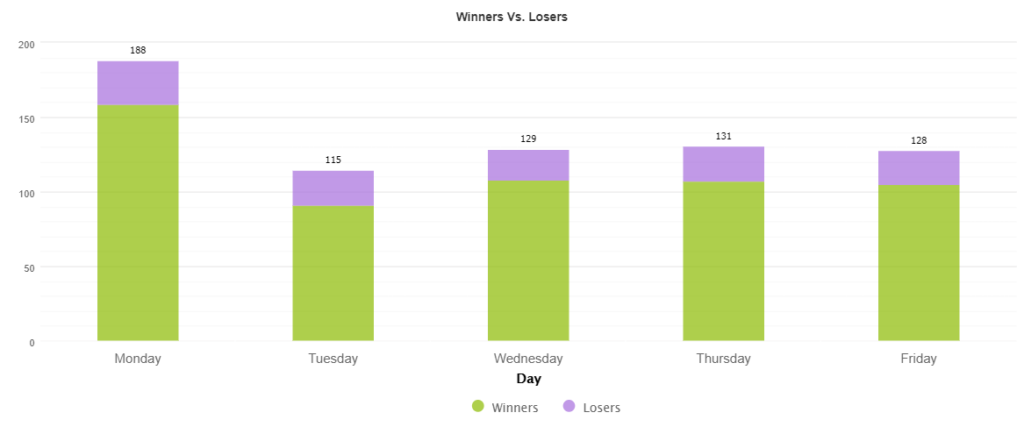 It's weird that Monday is the most active day (188 deals).


The EA runs the account with acceptable risk to the account balance.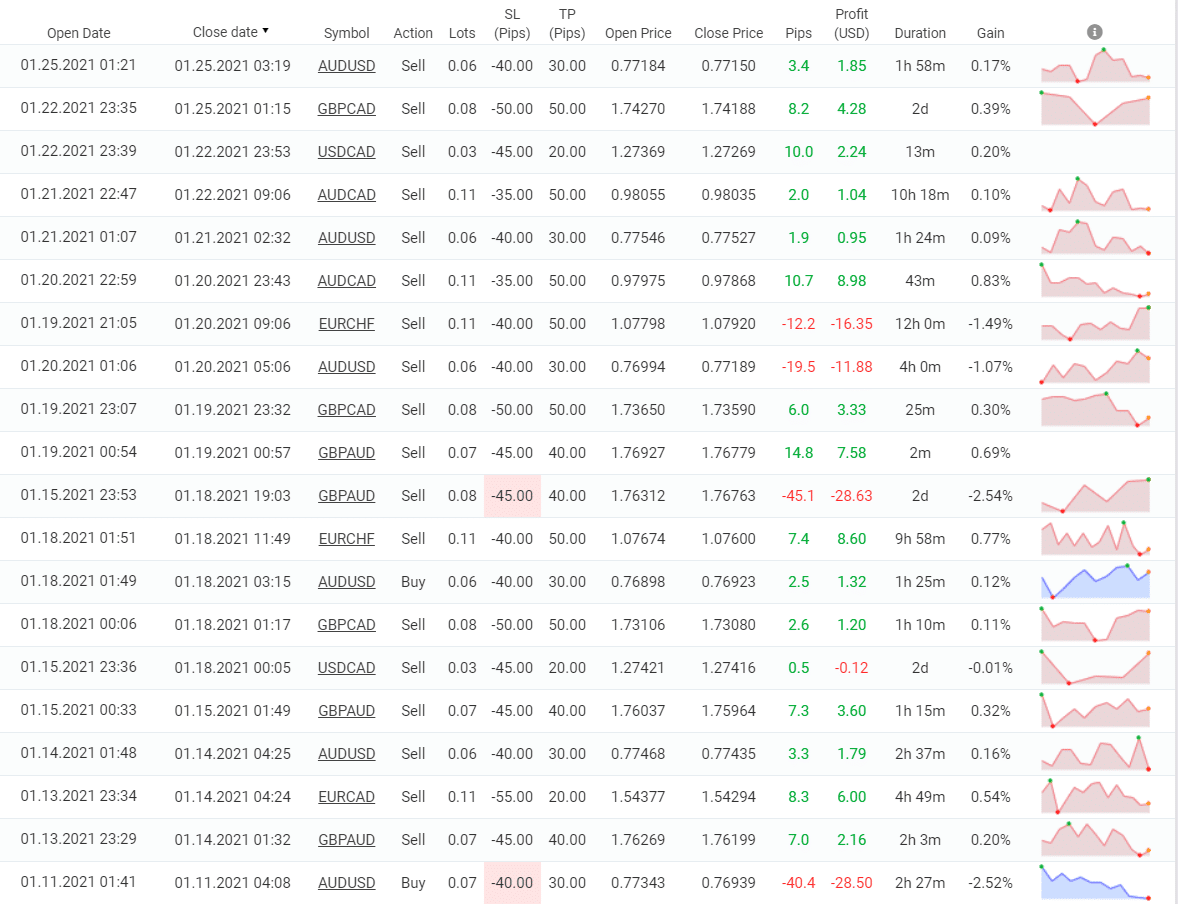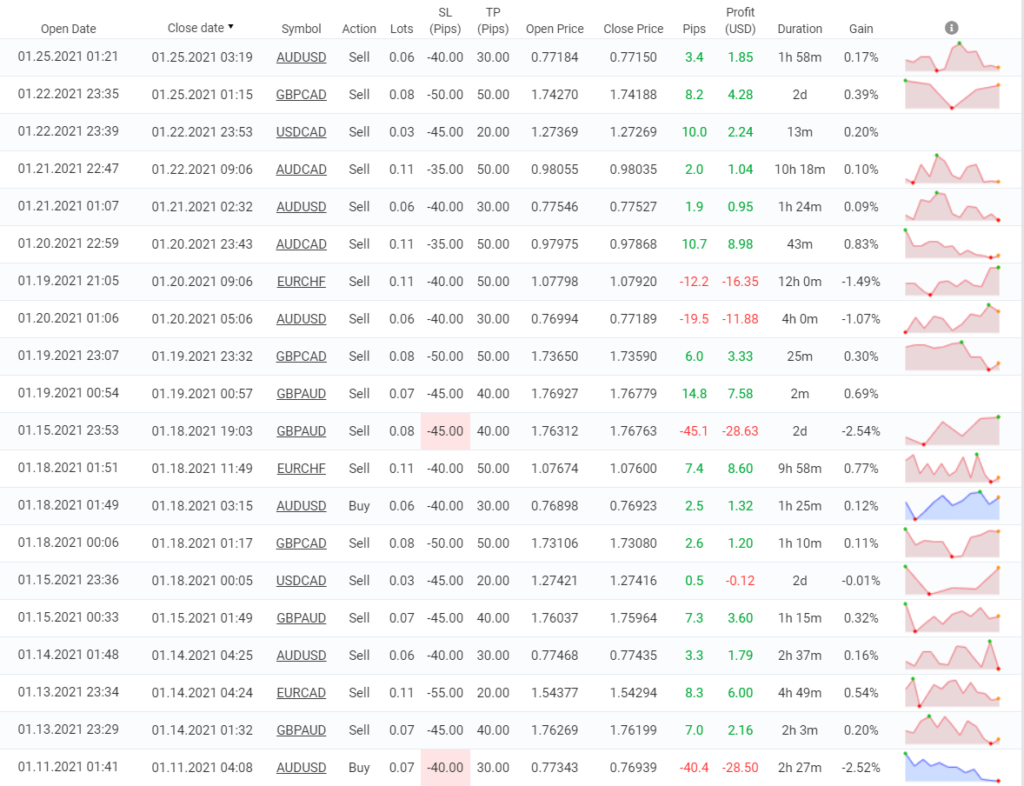 As we can see, FX Zipper has never reached the TP levels but ended with SLs quite often.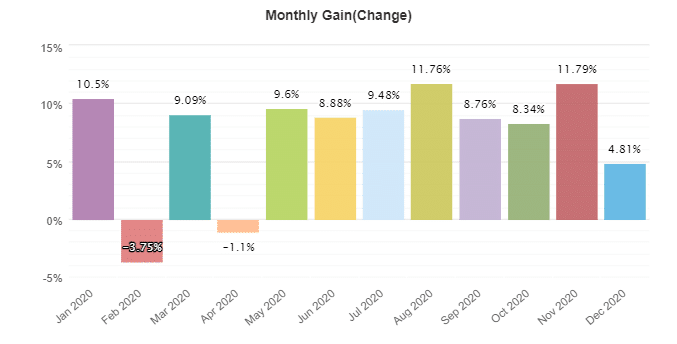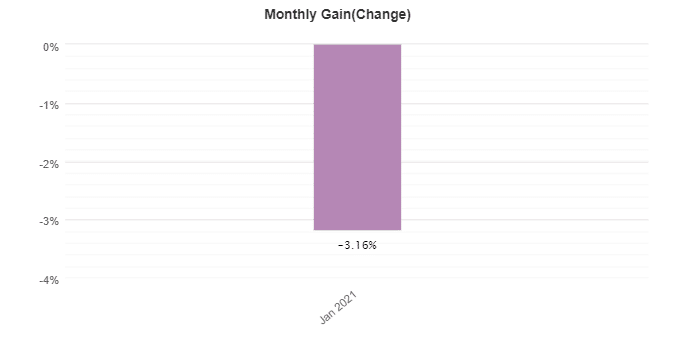 The robot has closed for several months with losses. If January 2021 is lost too, we have to check its trading performance for half a year, not less.
Other notes


This robot is "powered by Forex Store" too because even having several months lost, the EA still has an R-rate. All robots that don't belong to Forex Store lose this badge immediately.
People feedback
There are no testimonials on the sire, Forex Peace Army, Trustpilot. As for a robot that has been working since 2019, it's awkward. Where are all respectful or angry clients?
Wrapping up
Advantages
Strategy details explained
Backtest reports provided
Trading results provided
Money-back guarantee provided
Disadvantages
A short presentation that lacks od details
No settings explanations provided
No team revealed
Martingale is on the board
Medium pricing
No people feedback across the web
Summary
FXZipper is a Trend and Martingale strategies based robot. The presentation lacks much information to make a wise decision. Trading results showed that the robot is profitable, but not every single month. If you start trading from a lost month, recovering can take two-tree months.