Gold Scalper Pro is an expert advisor that works with XAUUSD. The devs claimed that "GOLD Scalper PRO is One of The Most Successful Expert Advisors for trading on GOLD(XAUUSD)." We are here to check everything up.
Is this robot a viable option?
Trading results showed that the system isn't stable and can't be a professional trading solution for us.
How to start trading with Gold Scalper Pro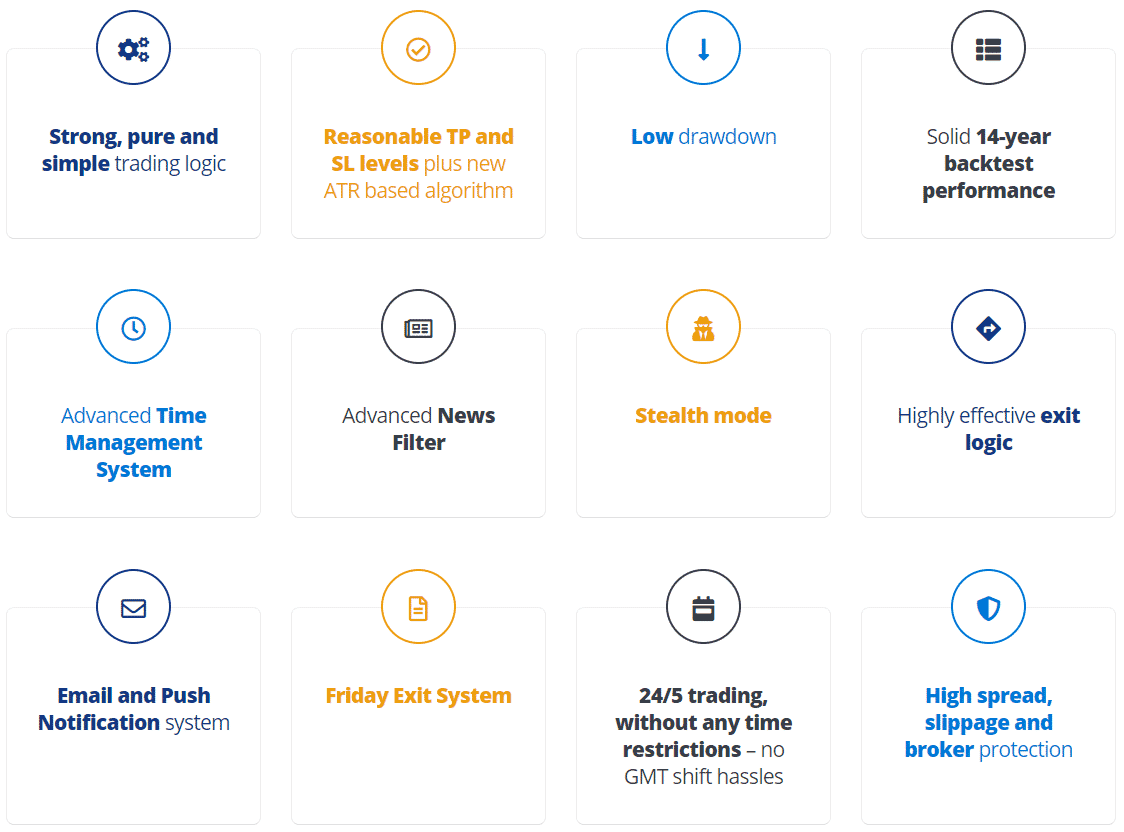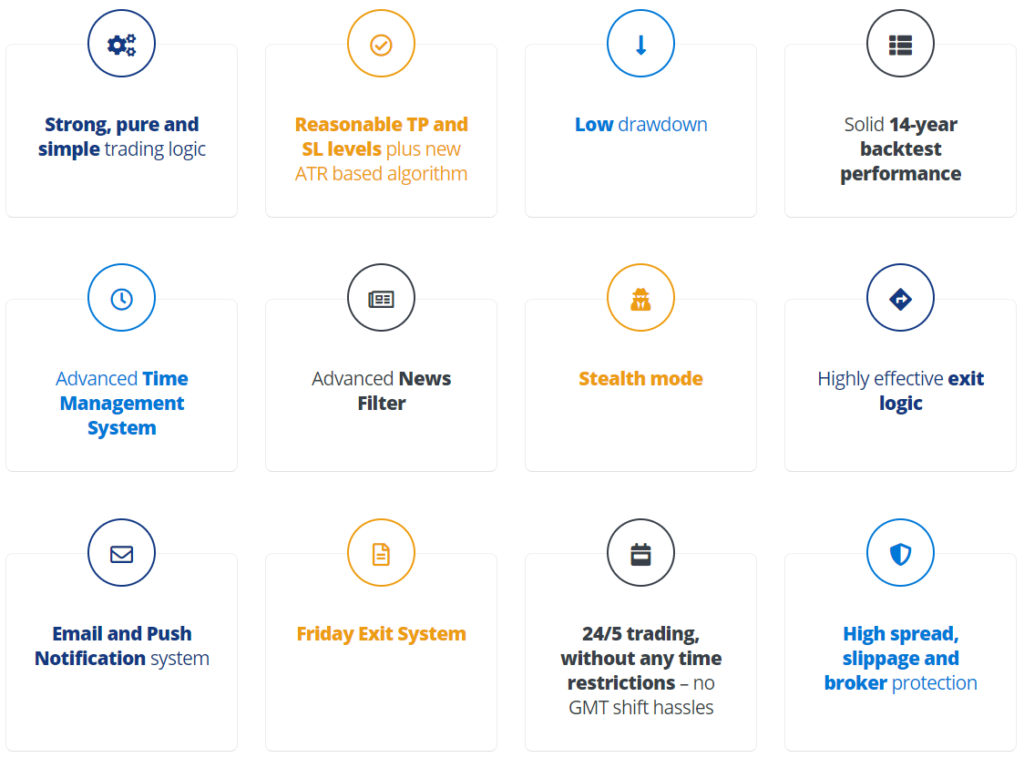 The system has an extended presentation that allows us to understand if the system is a good solution to use it on a real account.
Gold Scalper Pro allows us to work automatically on the terminal.
No extra effort is needed from our side.
It doesn't use the following strategies: Cost Averaging, Arbitrage, Grid, or Martingale.
There's a "strong, pure, and simple trading logic."
It performs a scalping strategy following a trend.
The system cover deals with SL and TP levels.
It knows how to decrease drawdowns.
It was tested on the 14-year of the tick data.
There's a news filter that allows us to trade when we want.
There's a broker protection applied as well.
We have an effective exit logic.
There are Email and Push Notifications.
The Friday Exit System closes deals before weekends
There are other features implemented: high spread, slippage, and broker protection.
MT4 and MT5 platforms are good to go.
The lot size can be 0.01 per each $1000.
The risk can be from 2% to 10% on each open order.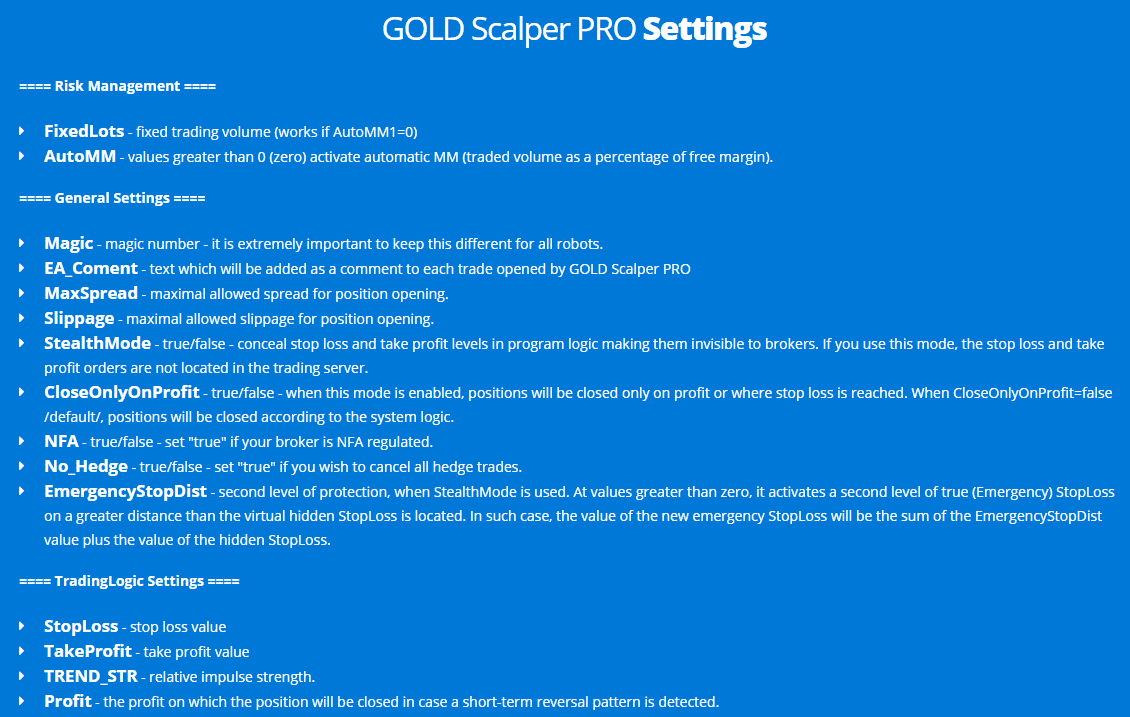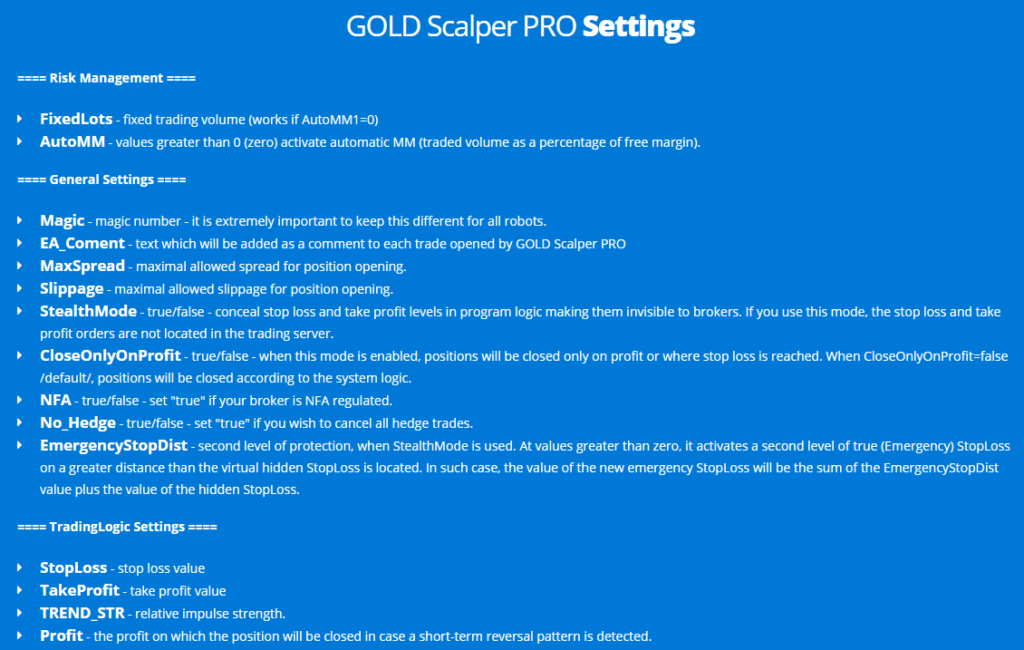 As usual, we have a full list of settings.
The system can be used on MAC OS and Windows OS.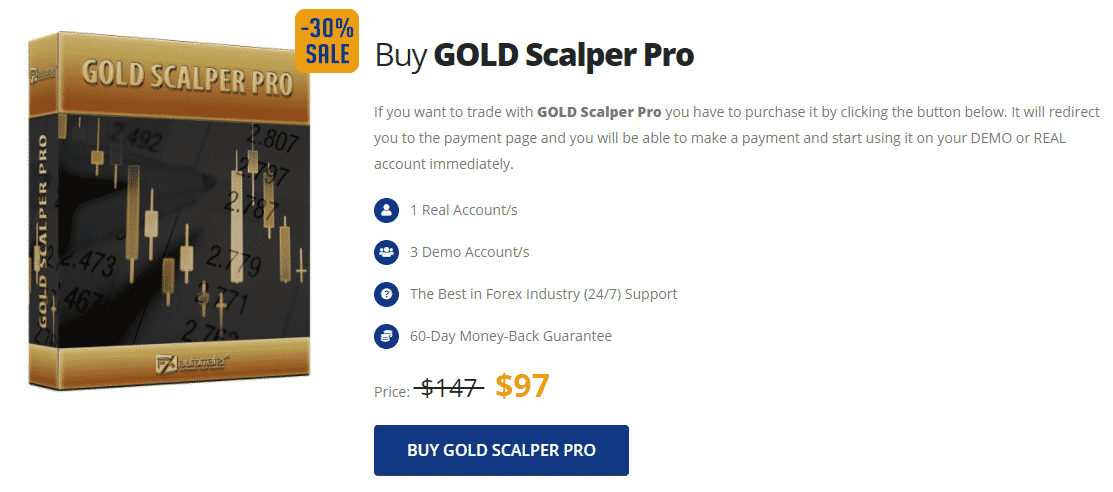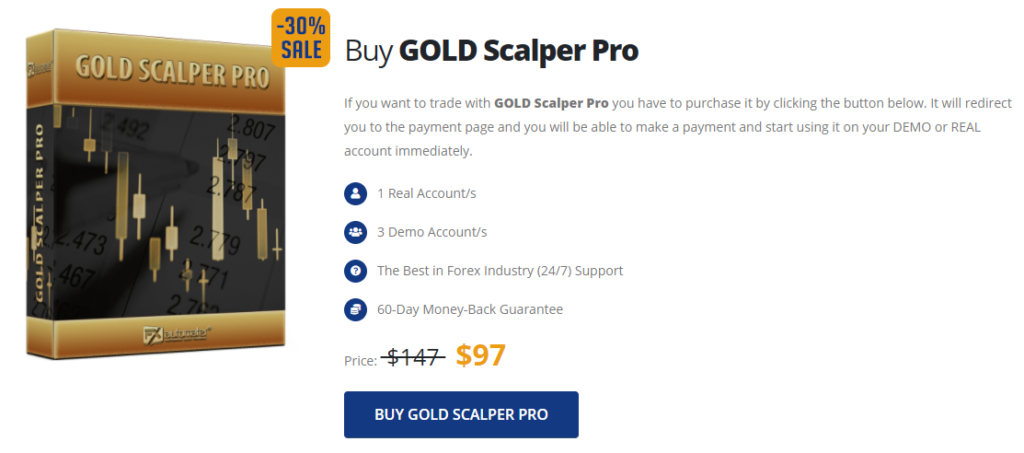 The price is still the same, $97. There's a -$50 OFF. We can enjoy a single real account and three demo accounts licenses. We can rely on 24/7 support and a 60-day money-back guarantee.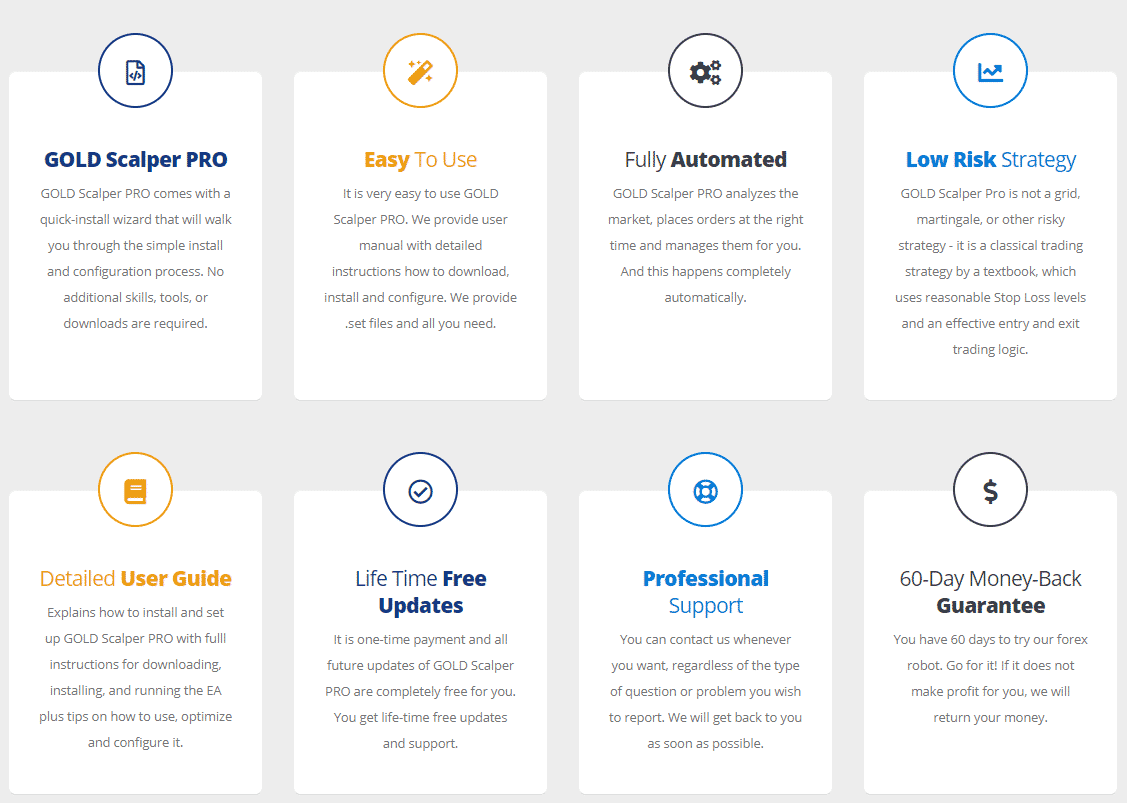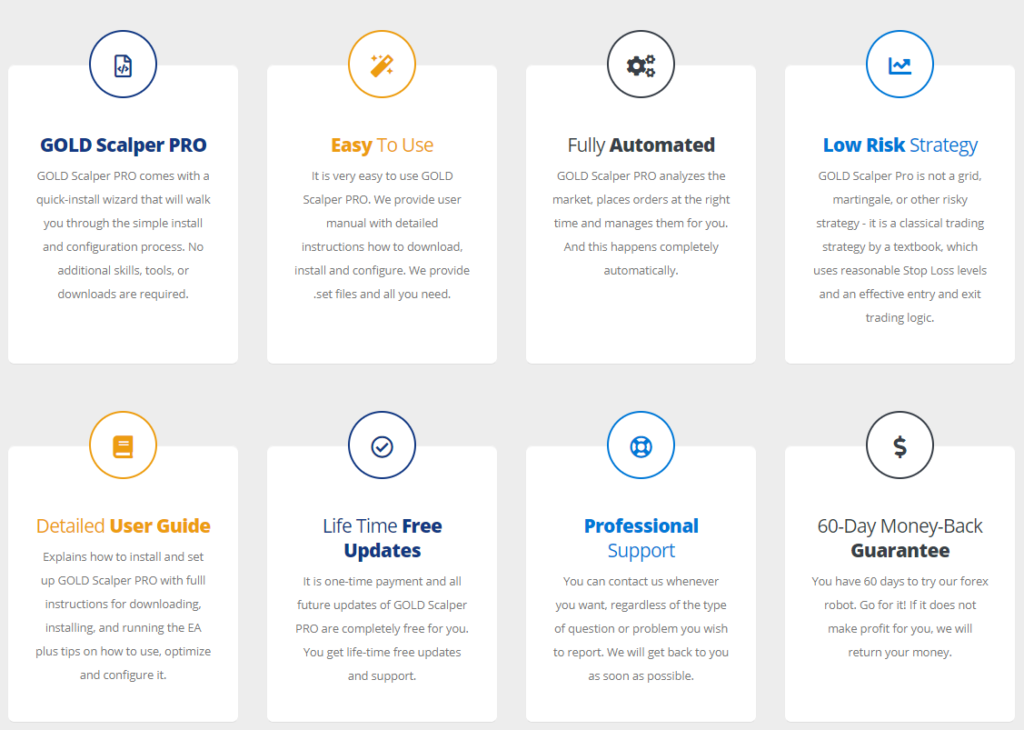 We can rely on the following extras like free updates and upgrades.
Gold Scalper Pro backtests
The presentation is featured by a Gold backtest report on the M15 timeframe. The devs picked tick data from 14 years. The modeling quality was 90.00% with 200 pips spreads. An initial deposit was $1,000. The total net profit has amounted to $924,389. The profit factor was 2.43. The maximal drawdown was 8.85%. Gold Scalper Pro has executed 1313 orders with an accuracy of 84% for short and 86% for long trading positions.
Trading results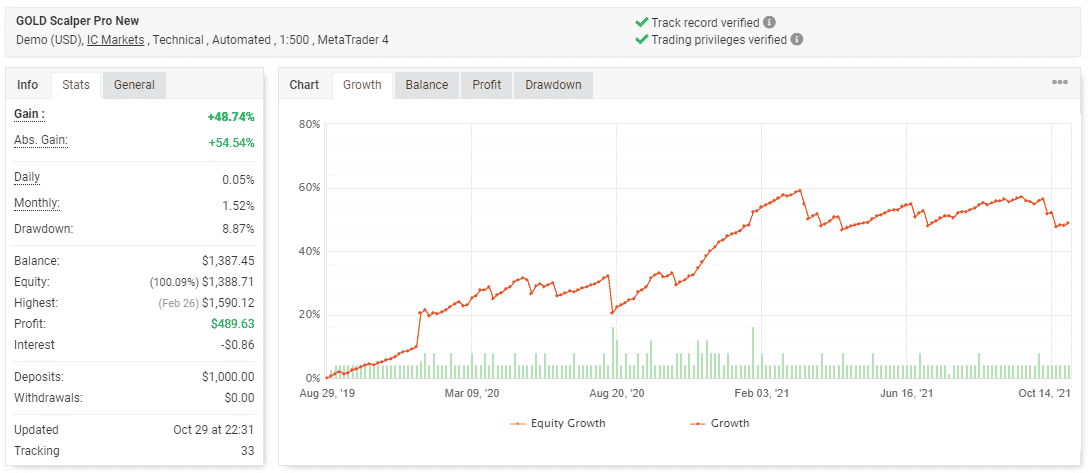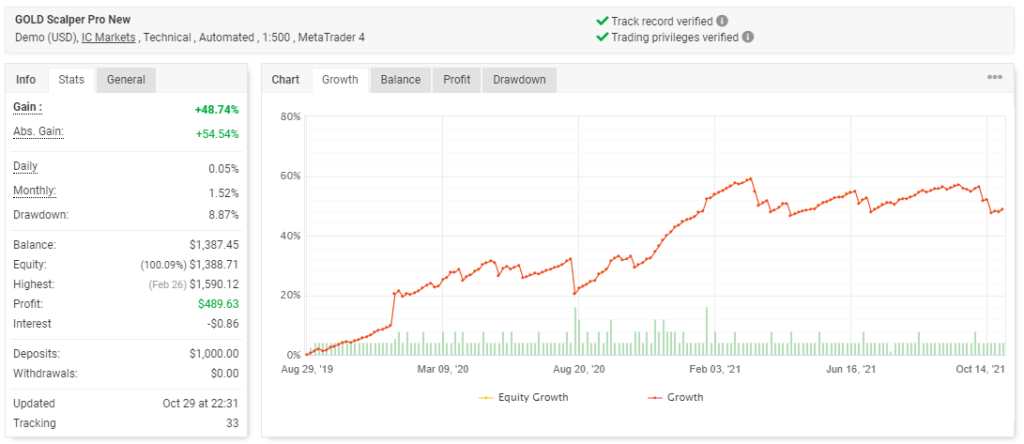 We have the system running a demo USD account on IC Markets automatically with 1:500 leverage. The platform was chosen as MT4. The account has a verified track record and verified trading privileges. It was created on August 29, 2019, and deposited at $1,000. Since then, the absolute gain has become 48.74%. An average monthly gain is 1.52%. The maximum drawdown is 8.87%.


There were 219 deals with 14,552 pips executed. An average win is 222.54 pips when an average loss is -754.17 pips. The win rate is 89% for long and 80% for short trading directions. An average trade length is 4 hours and 35 minutes. The profit factor is 1.61. It's an average number.


The system prefers trading the short direction over the long one.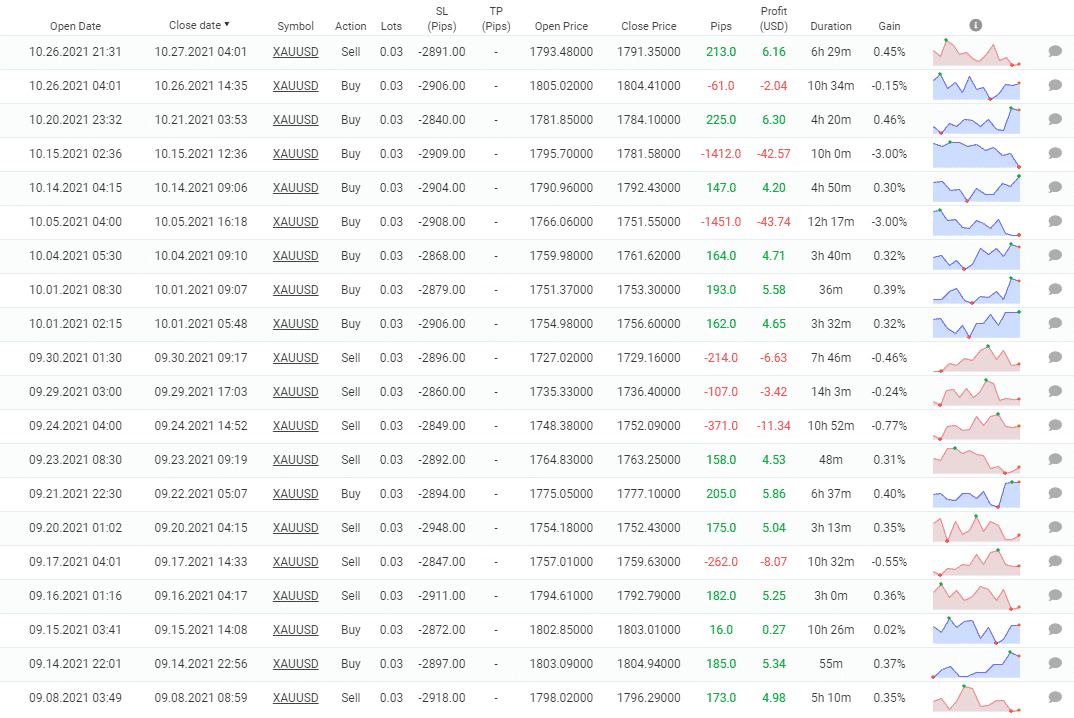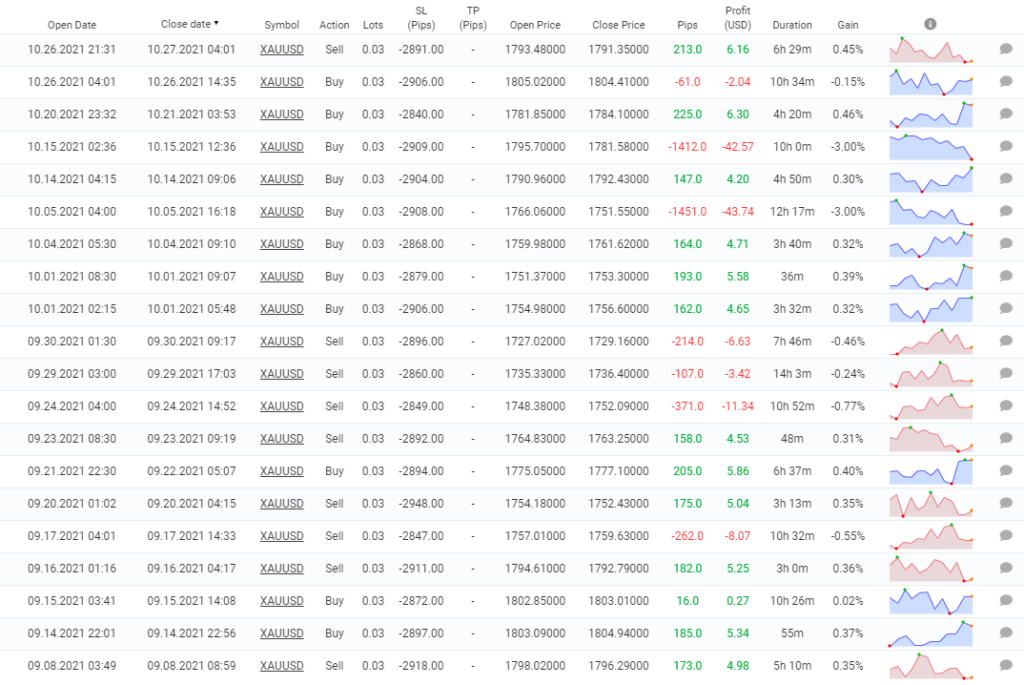 The advisor has deep stop loss levels. It's absolutely unfriendly.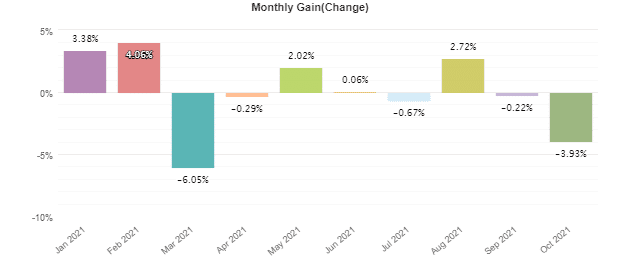 Monthly profits show that the system is going to become a scam.
Other notes
We wait for an update. We are sure that the robot should be updated ASAP or it will just wipe the account.
People feedback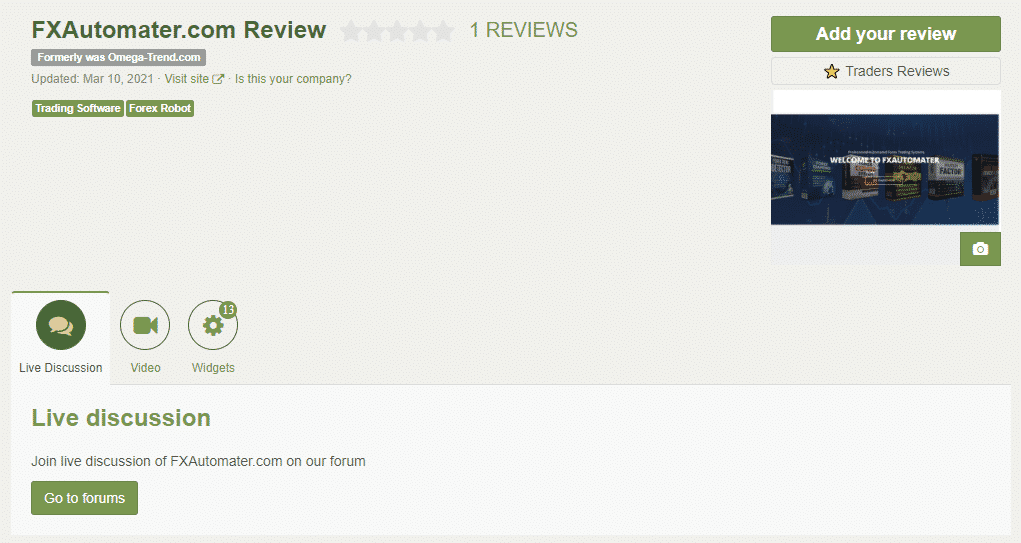 We have a page of FXAutomater on Forex Peace Army deployed. We have a single review and no trading accounts connected.

We have a neutral comment about the system and other functionality.
Wrapping up
Advantages
Strategy explanations provided 
Backtest reports shared
Trading results provided
Refunds supported 
Disadvantages
No risk advice given
The system doesn't work stable 
Gold Scalper Pro is a Gold-based trading advisor that works almost with no success on a demo account. We have no testimonials either that could help us to understand how the system works on people's accounts.