FXAutomater introduces Grid Master Pro as one of its most effective EAs. This FX Robot boasts of improved performance due to the additional features that ensure higher returns. Focused on the GBPUSD pair, this MT4 tool can be optimized for other currency pairs too. It is common knowledge that grid-based approaches are not appealing to traders due to the high risk involved. But the vendor assures that with proper trade settings and risk management, it is possible to boost performance.
Is This a Viable FX Robot to Use Now?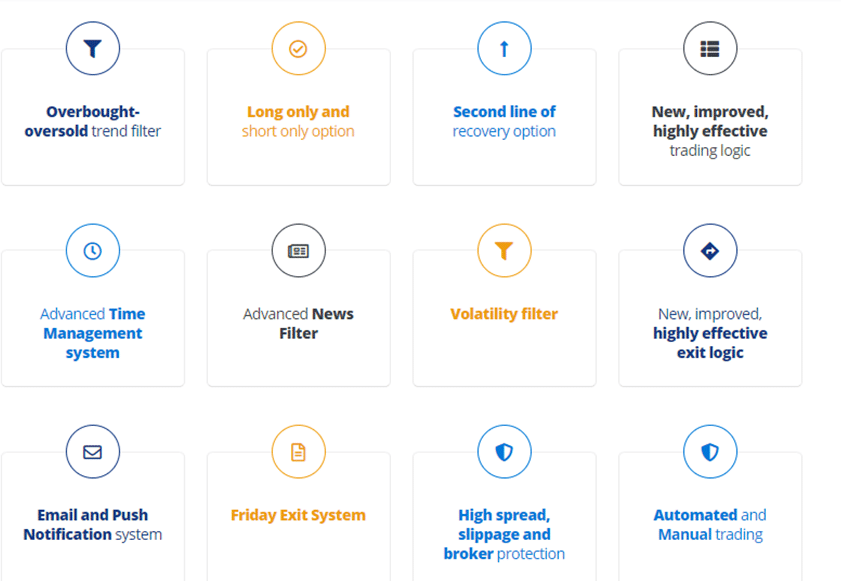 While the official site does not reveal the developer or team behind this EA, it mentions that a profitable trading approach is used mainly for the GBPUSD pair. Grid-based recovery and precise entries are part of the strategy used along with the second line of trades for protecting from huge losses. As per the vendor, a high-frequency scalping is followed during a narrow price range and a distant drawdown compensating trades in case of reversal of market movement are used by the EA.
Important features include Trend filters, long-only, and short-only trade options, recovery of trades as a second line of approach, effective trading logic, advanced news filter and time management, volatility filter, and effective exit logic. This FX robot also offers slippage, broker, and high spread protection and has a push notification and email alert system. Both manual and automated trading can be done.
How to start trading with Grid Master Pro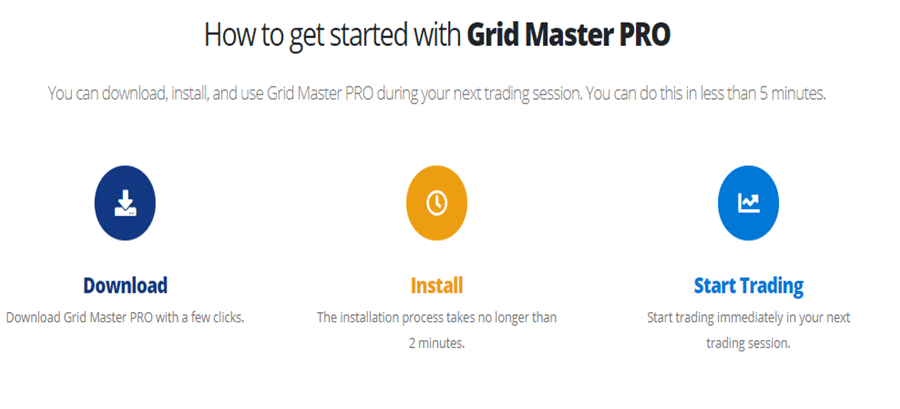 The recommendations by the vendor include a minimum amount of $1000 for the startup capital and recommended capital of $3000. A timeframe of M15 is used and the default settings are of a reasonably aggressive level.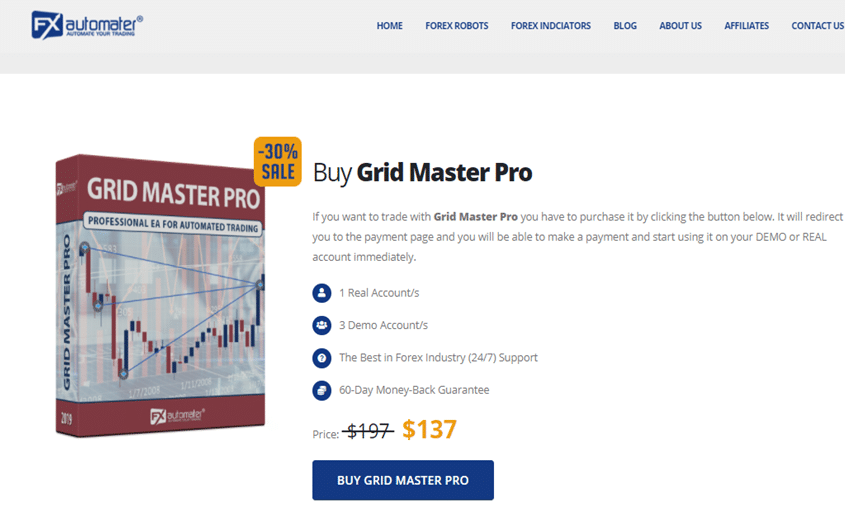 You need to pay $137 to purchase this FX robot. The pricing includes a single real account and 3 demo accounts, 24/7 support, and a 60-day money-back guarantee. A detailed user manual helps to download and install the FX EA along with tips on optimizing and configuring the system. Free updates are provided.
Grid Master Pro Backtests
Backtests are provided by the vendor for the GBPUSD pair from 2009 up to 2019. Here is a screenshot of one of the tests: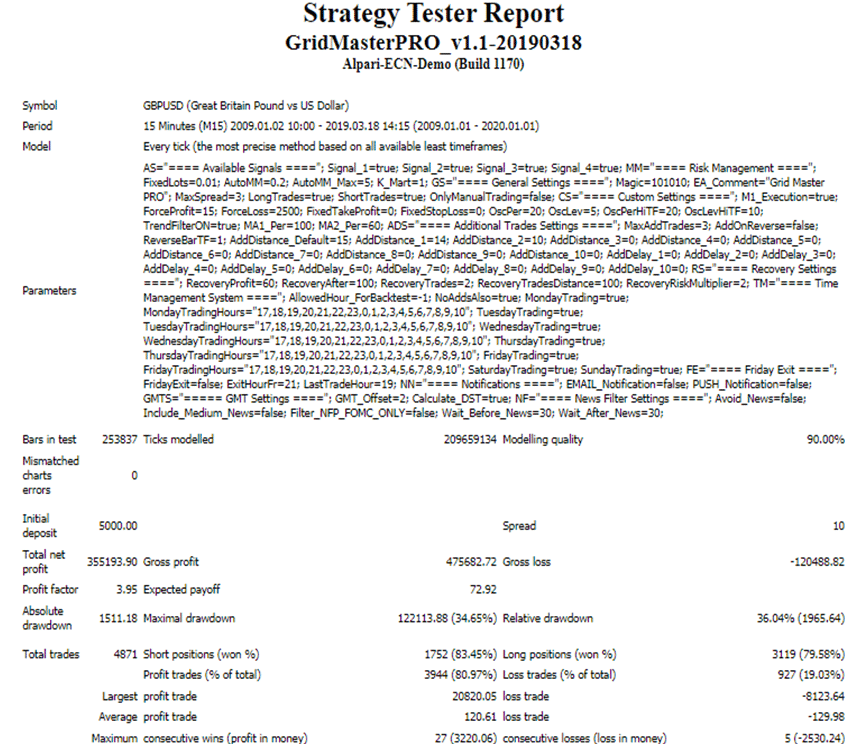 From the above strategy tester report, we can see that the modeling quality of 90% is used, which is not sufficient to know about the details like the spread, slippage, and commission. A total profit of 355193.90 is shown for an initial deposit of $5000. The maximal drawdown is 34.65%, and the profit factor is 3.95. While the profitability is 80.97% the high drawdown is of concern here.
Trading Results
Myfxbook verified trading results of a real USD account are provided by the vendor. Here are a few screenshots of the results: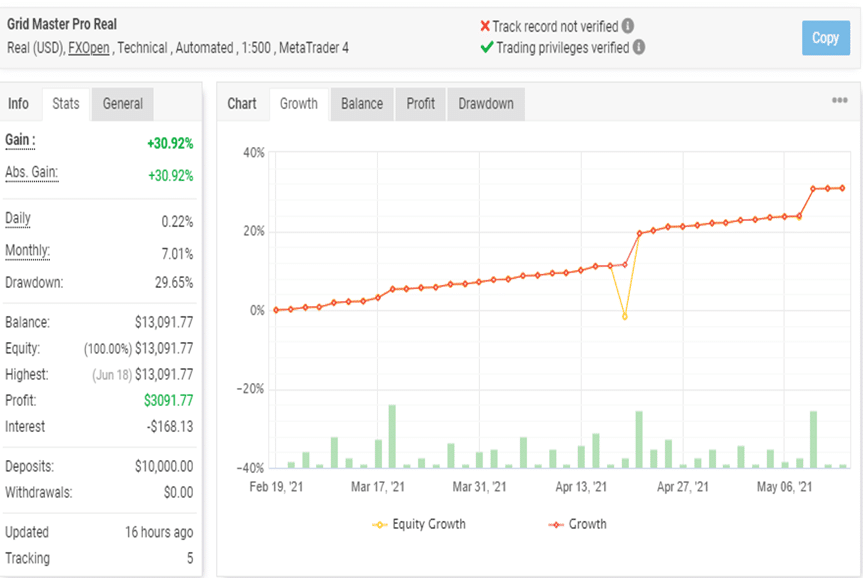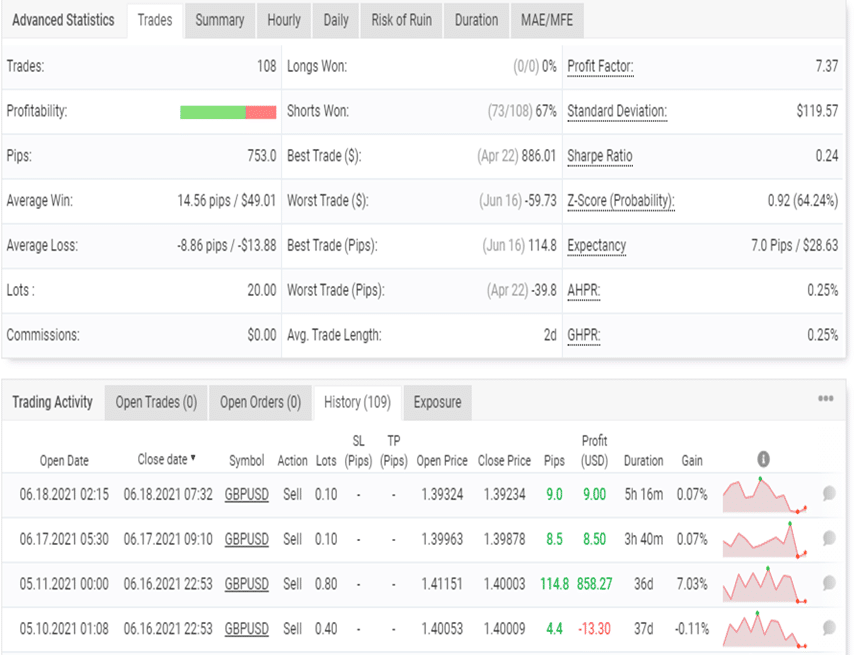 From the trading stats, we can see that the automated account uses a leverage of 1:500 and shows a similar value of 30.92% for the total profit and absolute profit percentage. The daily and monthly profits are 0.22% and 7.01% while the drawdown is 29.65%. For the trading started in February 2021, a total number of 108 trades have been executed with a profitability of 68%.
The profit factor value is 7.37 and lot sizes used for the trading range from 0.10 up to 0.80 which we feel is very high and can be very risky for the account. Compared with the backtests the profit values for the real account are higher while the drawdown is lower. But the lot sizes used are high for both accounts.
People Feedback
No feedback from users of this EA is present on reputed sites like Forexpeacearmy, Trustpilot, etc. User reviews help to know about the trading approach used, its efficacy, and the support provided. With the lack of user reviews, it is clear that this is not a popular FX robot despite the claims of the vendor that it can provide high returns.
Summary
Advantages
Fully automated EA with manual feature
60-day money-back guarantee
Disadvantages
Grid and scalping approaches are used which can be of high-risk
High drawdown and huge lot sizes are used
Vendor transparency is not present
Summary
Grid Master Pro is promoted as a risk-free trading system. But our analysis of the backtests and the real account trading indicate that a high-risk level is used. The high drawdown value and huge lot sizes are definite signs of a dangerous trading approach that can blow up accounts in no time. This is the reason many traders stay away from the grid approach. Vendor transparency is not present which is another downside that makes us suspect that this is an unreliable system. The lack of sufficient options for customer support is another shortcoming that the vendor should address. While the price looks affordable, the risk involved in using this EA prevents us from recommending this Forex robot.