HAPPY NEURON is a Forex EA trading in more than 25 currency pairs. It determines the shift in market sentiments based on financial networks and promises to generate profits consistently while placing a certain number of trades every week. HAPPY NEURON is a relatively new system that has been live for only 77 days, so we need to thoroughly assess all of its aspects in order to determine its efficacy.
Is HAPPY NEURON a Forex EA You Can Trust?
The vendor makes a short presentation on the official website, outlining the main features of the robot, while also detailing the recommendations about operating systems, timeframe, pairs, risk settings, etc. Live performance results are presented for three different risk levels, while there are separate FAQ and Blog sections where you can find the answer to all your queries.
It seems the website also has a contact form and a chat system through which you can communicate with the service team at your convenience. The presentation looks quite professional, however, we don't have any real information regarding the identity of the developers. While we know that the product comes from the Happy Forex team that has developed other systems in the past, we were hoping to find something more specific.
Using this system, you can trade in all kinds of pairs, such as USD/JPY, USD/CHF, NZD/USD, NZD/JPY, NZD/CHF, GBP/USD, GBPJPY, and various others. It seems, apart from the really exotic pairs, this Forex EA doesn't place any restrictions on the Forex trader.
We have little or no information regarding the trading strategy employed by HAPPY NEURON, and some of the more technically-minded traders might be disappointed by this. The trading strategy certainly reveals, to a certain degree, the capacity of an automated system to generate profits consistently, and we hope to find some details about this in the days to come.
How to Start Trading With HAPPY NEURON
HAPPY NEURON is available for 349 Euros, and upon paying this amount, you get access to an unlimited number of demo real accounts. Moreover, you get a bonus pack of 10 Forex EAs free of cost. In case a user has purchased the full pack expert advisors already, they get a discount of 30%. There is a 30-day money-back guarantee offered by the vendor, and your license gets renewed for free after the initial month.
HAPPY NEURON is a fully-automated system that is compatible with all brokers and can be easily installed by a layperson. It works on Linux, Windows, 7, 8, 10, and Mac OS. You can use this robot to trade in the H4 timeframe via the MetaTrader 4 platform.
The recommended minimum deposit amounts are based on the level of risk you are willing to take. $5000 is the recommended deposit for conservative risk with a normal account and for micro and cent accounts, the amounts are $500 and $50, respectively. If you are using the normal risk setting, you should make deposits of $3500, $350, and $35 for normal, micro, and cent accounts. For aggressive risk, these amounts are $2000, $200, and $20, respectively.
HAPPY NEURON Backtests
The vendor has not provided any backtesting results for HAPPY NEURON, so we have no way of finding out how the system would perform on historical data. Most Forex traders look for backtesting results while investing in a Forex EA and the absence of said results will no doubt serve as a red flag for them.
Trading Results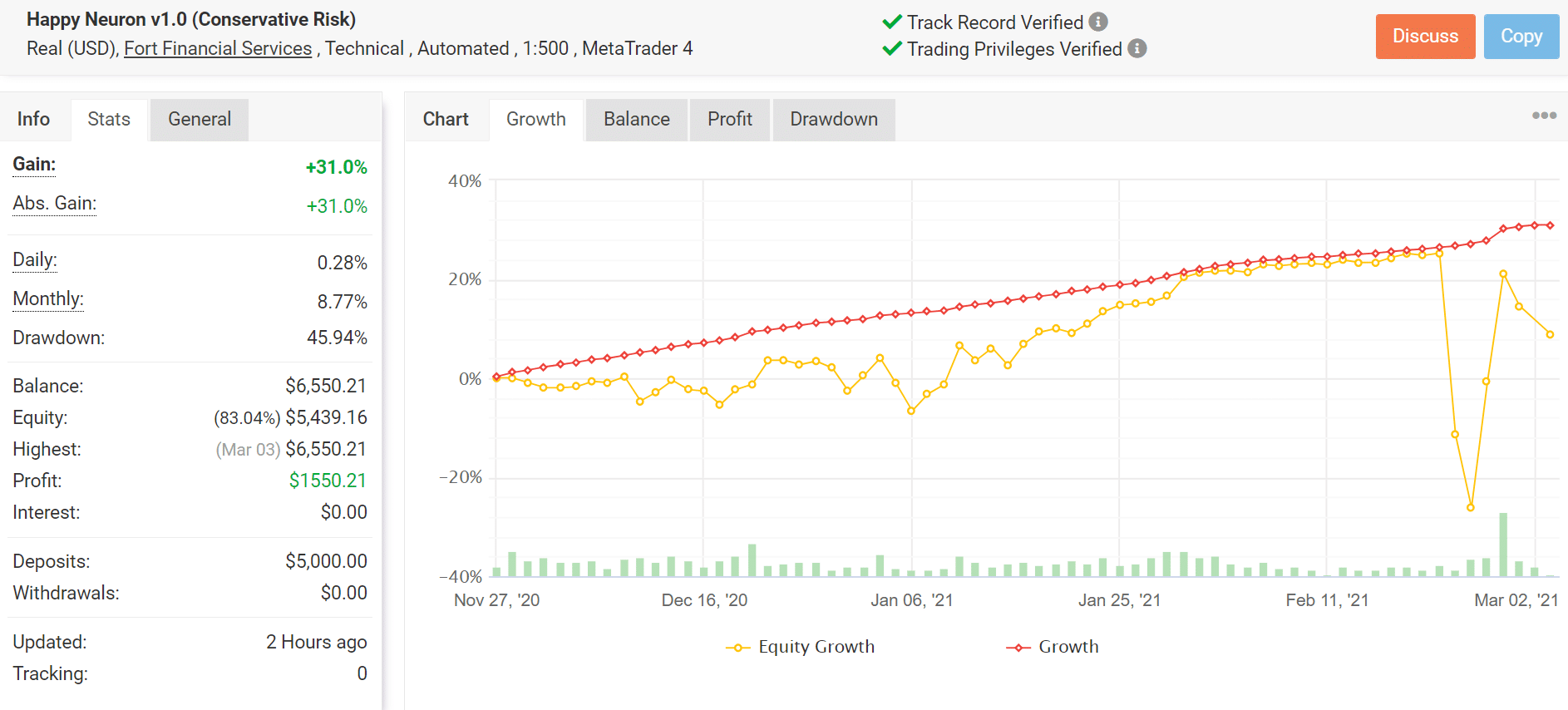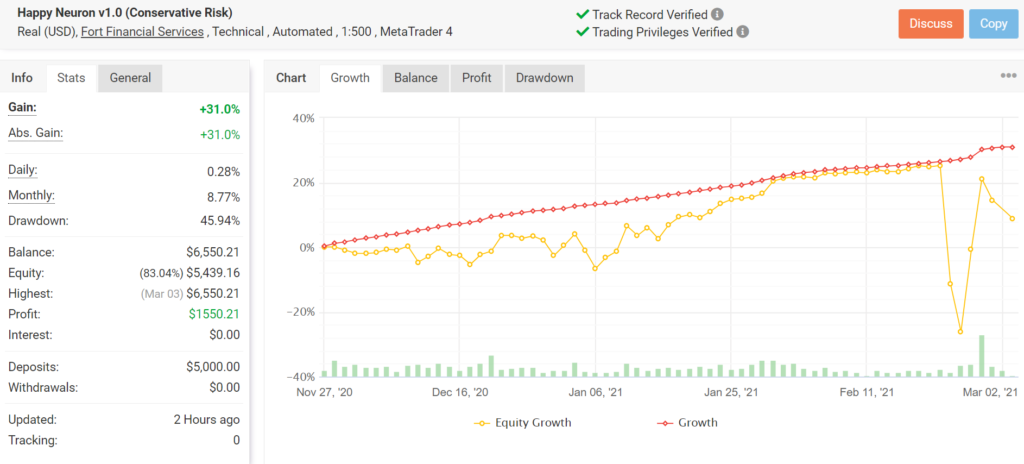 The vendor has provided live trading results for three different accounts on Myfxbook, each having a different risk level, but here we shall discuss the one trading with conservative risk. It was started on November 27th, 2020, and to date, 2214 trades have been placed through it. Out of these trades, the system has managed to close 1872 in profit, which represents high profitability of 85%.
86% of long trades and 82% of short trades have been won by the system, with the average win being 14.86 pips/$1.92. It has a high profit factor of 1.76, but the drawdown of 45.94% is a bit too high, according to us. Nevertheless, it looks like a reliable system that provides an average monthly gain of 8.77%.
People Feedback
We don't have any user reviews available for HAPPY NEURON on third-party review websites. The presence of positive customer reviews is always a positive sign for a Forex EA because it shows that it is a reputable system that people trust. Hence, we think this system hasn't managed to build a reputation for itself yet.
Summary
Advantages
Live trading results are provided
Trades in 25 currency pairs
Can be used with all brokers
Disadvantages
Backtesting results are not available
No information on trading strategy
Lack of customer reviews
In the end, we would like to say that investing in this system comes with its fair share of risks, but that does not mean that this is a scam. If you are not particular about the trading strategy or backtesting data, you can consider using it.