Happy Power is a newly launched Forex EA that uses a 100% automated strategy for extracting profits. It works with both Metatrader 4 and Metatrader 5 platforms and claims to find the best trading opportunities with the help of artificial intelligence technology. However, the true measure of this system's efficiency can be determined by performing an in-depth analysis of the various performance aspects of the robot.
Is This the Forex Expert Advisor You Need?
Currently, there is a bonus offer for this Forex EA where you can get an additional 10 robots completely free when you purchase Happy Power. If you are already a customer and have purchased the Full Pack EAs, you can enjoy a discount of 30% on this product.
On the official website of Happy Power, the vendor briefly describes what the system is about and how it works. Then, we have a list of the main features, along with a list of recommendations. The live trading performance of the robot, along with multiple backtesting results are also shared on the website.
This is a product from the Happy Forex team which is known for building robots like Happy Way, Happy Trend, Happy MartiGrid, Happy Market Hours, Happy Gold, Happy News, etc. The company is located in Germany and it has been supplying automated Forex trading systems to traders for more than 5 years.
Happy Power specializes in the EUR/CHF currency pair. No explanation is provided for the trading strategy used by the robot for dealing in this pair. The absence of strategy insight may come as a major disappointment to some of the traders who are very particular about technical details.
How to Start Trading With Happy Power 
You can purchase Happy Power for 325 Euros, which is not exactly a cheap price tag for a newly-launched Forex EA. The vendor provides a 30-day money-back guarantee for this product, on the condition that the system underperforms. In case the drawdown for your trading account exceeds 25%, you will immediately receive a refund, provided you have traded with the recommended settings.
This robot finds the most profitable entry points in the market with the help of artificial intelligence technology. Its market algorithm is able to adapt to changing conditions and it has learning elements that help it improve its performance over time. Since it has a reinforcement machine learning functionality, you don't need to use labeled input and output pairs with it.
Happy Power supports all ECN brokers and can perform autodetection of quotes for up to 4 or 5 digits. It is an easy-to-install system that is compatible with any broker. A fully automated EA, it works on Linux, MAC OS, as well as Windows 7, 8, and 10. You can use it with the Metatrader 4 or 5 trading platforms, for the M30 timeframe. The vendor recommends starting with a minimal deposit of $1000.
Happy Power Backtests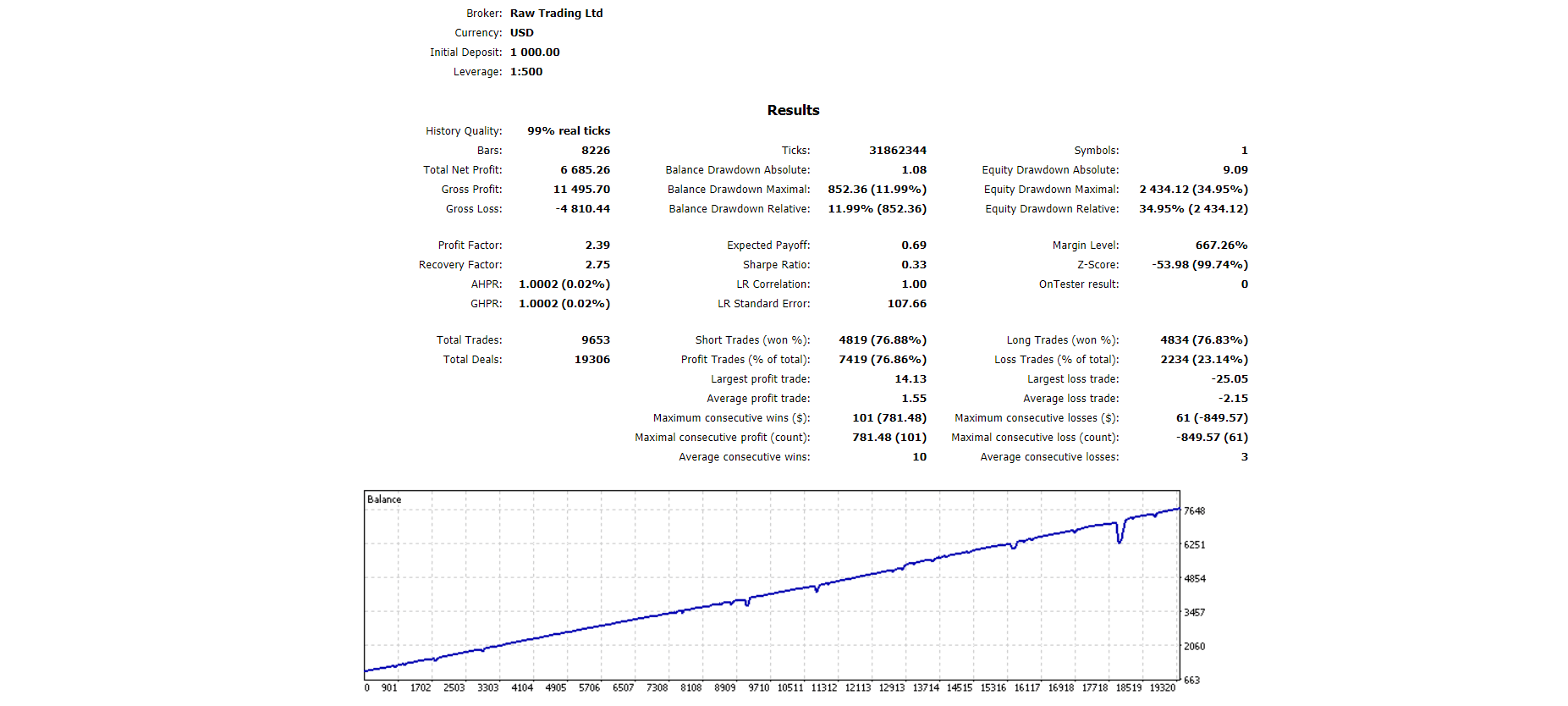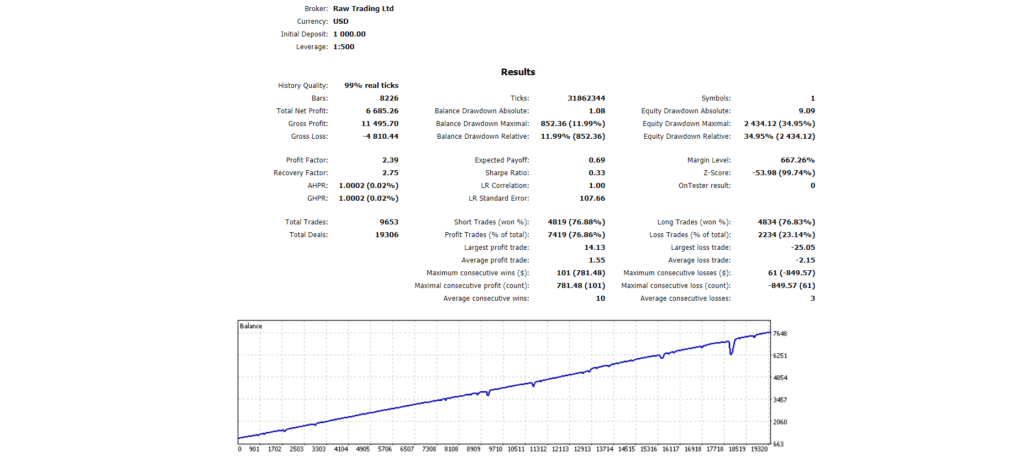 This is a backtesting result for Happy Power where the trades have been placed using a high-risk setting. The test was conducted from 2020 to 2021, and in this time 9653 trades were placed by this robot. Out of these, 7419 were won, which represents a decent win rate of 76.86%. The drawdown of 34.95% is too high, nevertheless, and it makes us think that trading with this system may lead to sizable losses if you are not careful.
Trading Results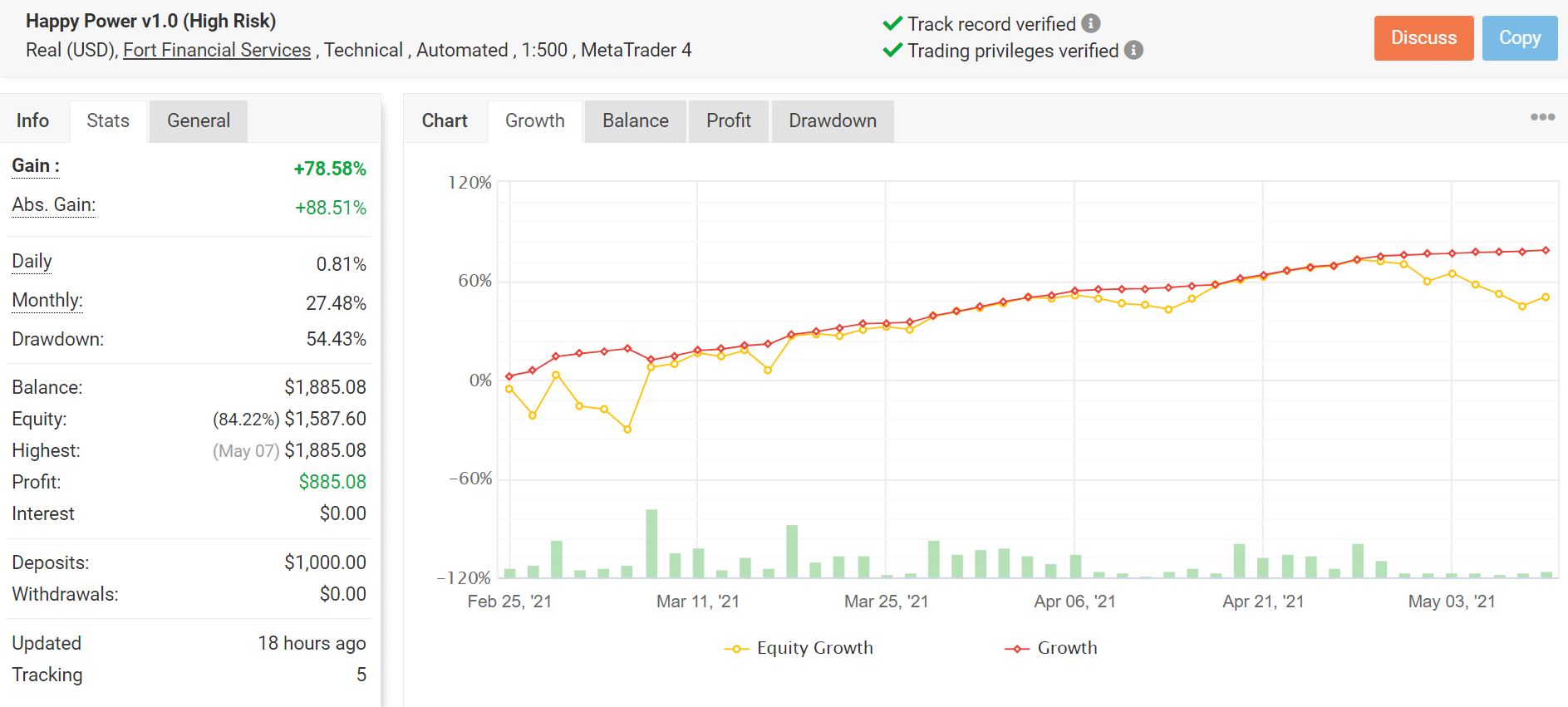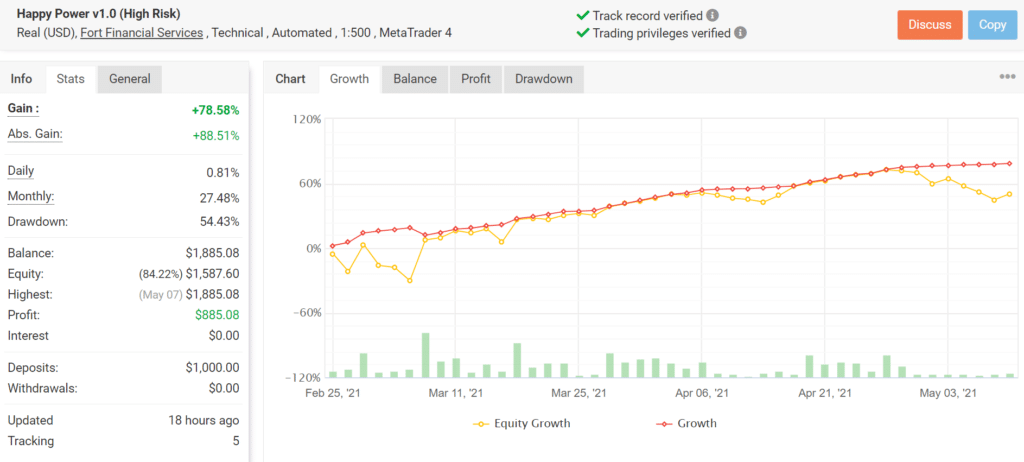 This is a live trading account for Happy Power, verified by the Myfxbook website. It has been active since 25th February 2021, and to date, 1171 trades have been placed through it. Currently, the net profit generated through this account is $885.08, while the daily and monthly gains are 0.81% and 54.43%, respectively. This account has a decent win rate of 77%.
Here also, we can see an extremely high drawdown of 54.43%. This is extremely concerning, especially when the vendor has stated that a refund is provided for accounts having drawdowns exceeding 25%.
Other Notes
When you purchase Happy Power, you receive a single license for an unlimited number of real and demo accounts. Free updates for the software are provided for all users on a regular basis. This license is applicable for the initial month, after which it is renewed for free.
People Feedback
We were unable to find any customer reviews for Happy Power on the web. This tells us that not many traders are confident about using this system yet and that it does not have a solid reputation.
Wrapping Up
Advantages
Verified live trading results
Money-back guarantee
Disadvantages
Expensive product
High drawdown
Lack of strategy insight
Summary
To summarize, Happy Power is not a Forex EA we can recommend for traders. It is quite overpriced for a new system, and the trading results, as well as the backtesting data, exhibit high drawdown.