Happy Forex was a Slovakia-based company. Now, there is a Germany-based company. They have many products (over twelve) on the board where one of them is Happy Way.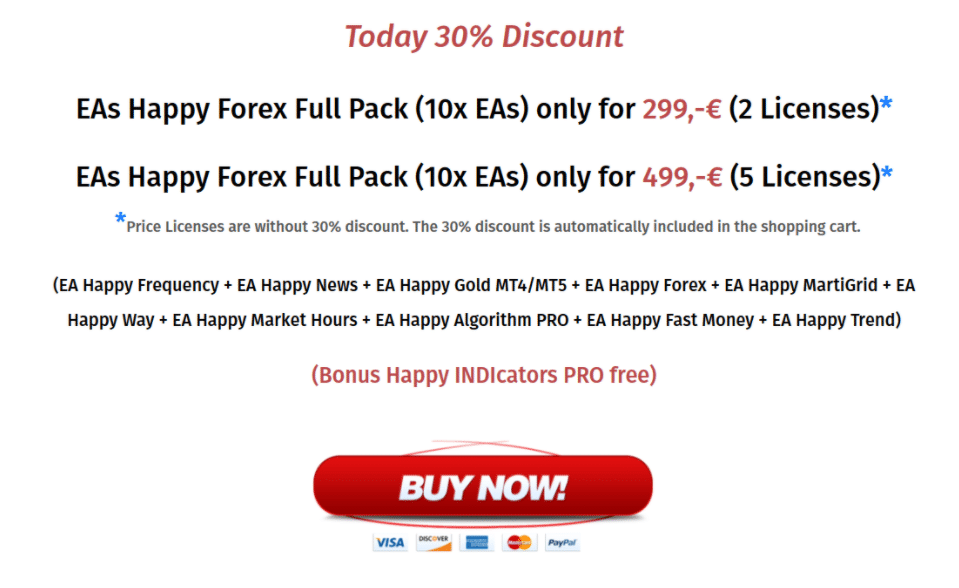 The next we see is a standard offer with a standard 30% OFF. There's nothing special for years.
Is Happy Way a good system to rely on?
It's hard to tell right away. There's a pack of products because you're not allowed to buy one of them. To run ten products, we're allowed to use only two real accounts. So, there'll be a challenge between ten EAs what's better to go live.
Let's talk about functionality:
The robot works on MT4.
It trades USD/CAD, AUD/USD, AUD/CAD, CAD/CHF, and AUD/CHF.
The robot doesn't use technical indicators.
It performs a Grid strategy without Martingale.
We can trade on five digits charts.
The robot works on Windows, Mac OS, and Linux.
The EA supports three types of accounts with minimum deposits:

For a Standard account, we have to have $100k to trade 1 Lot.
For a Mini account – $10k for 0.1 Lot.
For a Micro account – $1K for 0.01 Lot.

The robot trades on the H1 time frame.
The robot supports trading on ECN-accounts.
How to start trading with Happy Way
To get started, we have to follow the next steps:
We have to register on an MT4 broker.
We have to fund the account if it's real.
We have to buy a product.
We have to download the MT4 terminal.
We have to download a product.
If we attach to real, we have to provide our account number.
We have to attach the EA to the proper chart or charts and set settings.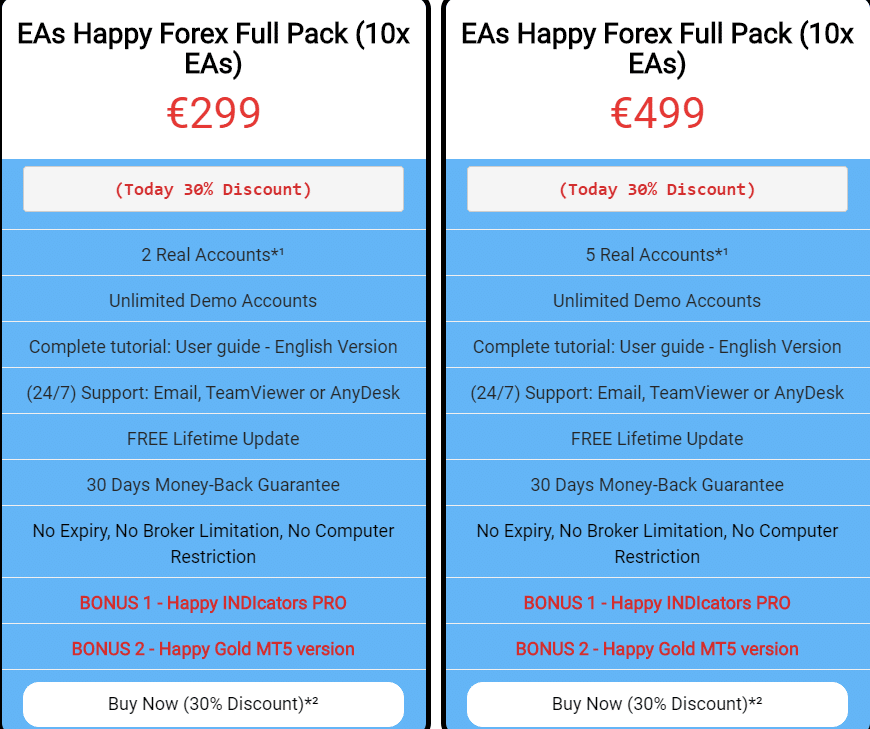 The robot pack has two prices. Both of them include a 30% discount. For 299 EUR, we can trade on two real accounts. For 499 EUR, trading is allowed on five real accounts. Packages include unlimited demo accounts, user manual, support through AnyDesk, TeamViewer, and Email, updates, a 30-day money-back guarantee. There are also Happy INDIcators Pro and Happy Gold for MT5.
Happy Way Backtests
The developers didn't provide backtests. It doesn't allow us to compare previous trading results with the results we can see on the real account.
Trading Results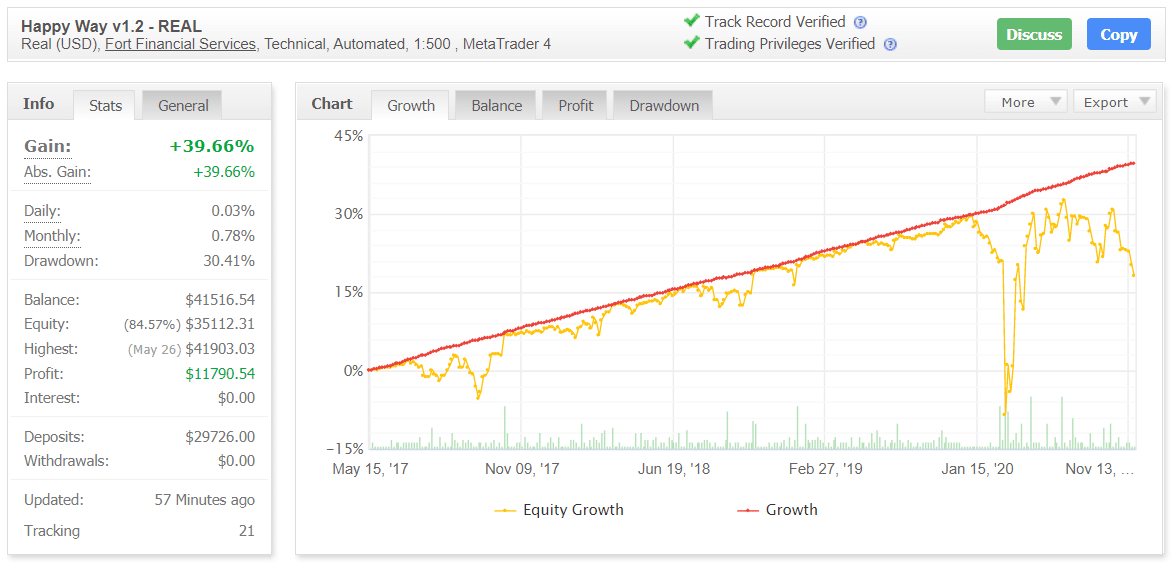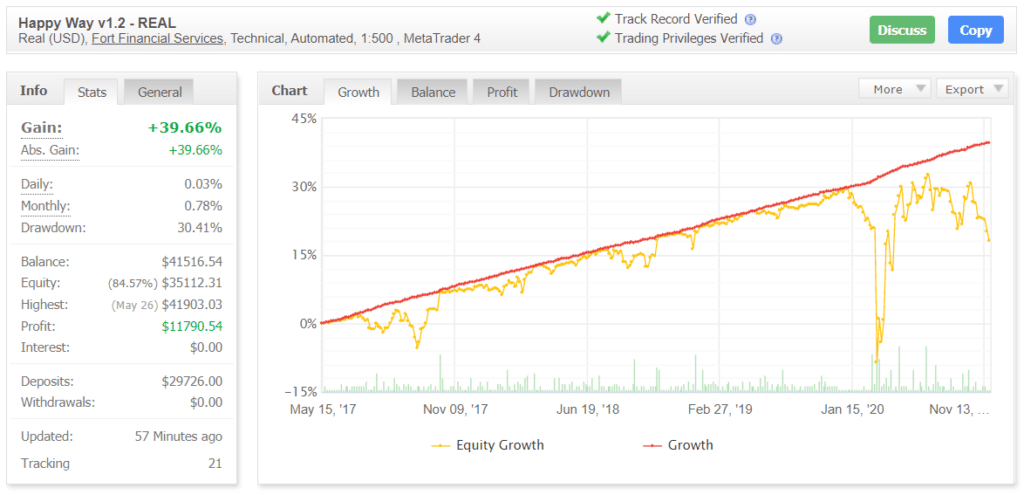 Happy Way runs a real USD account on Fort Financial Services automatically. It uses technical indicators, trades automatically with 1:500 leverage on the MetaTrader 4 platform. There's a verified track record. The account was registered on May 15, 2017, and funded at big money – $29726. Since then, the absolute gain has become +39.66%. An average monthly gain is +0.78%. The maximum drawdown was high (30.41%). Twenty-one traders track the account.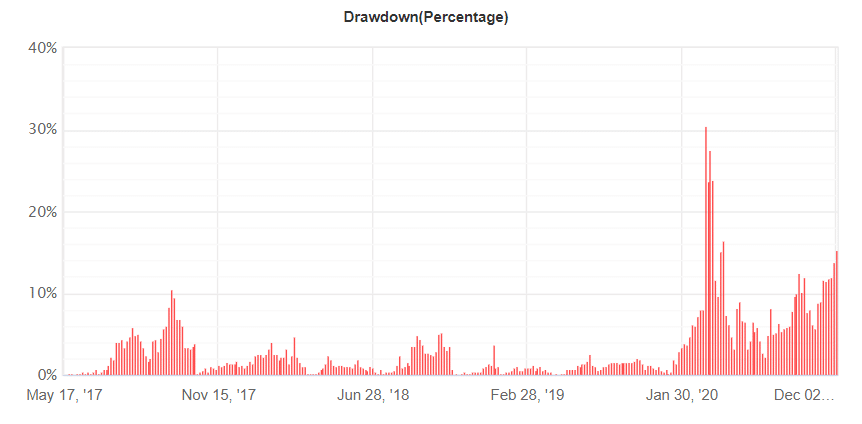 As we can see from a drawdown chart, the EA hasn't received updates in 2020, so the drawdowns became dipper and long-term.


There were 763 trades with 21861 pips closed. An average win (91.58 pips) is just a bit less than an average loss (-103.59 pips). An average win-rate for Longs is 65%, for Shorts – 69%. The average trade length is 19 days. The Profit Factor is 1.89.

USD/CAD is the most frequently traded symbol – 216 deals. The most profitable pairs are USD/CAD ($2738), AUD/CHF ($2649), and AUD/USD ($2386).


The robot focuses on trading the closing of the European session and the opening of the American one.


Monday and Friday are the less traded days.


The robot works with little risk to the account balance.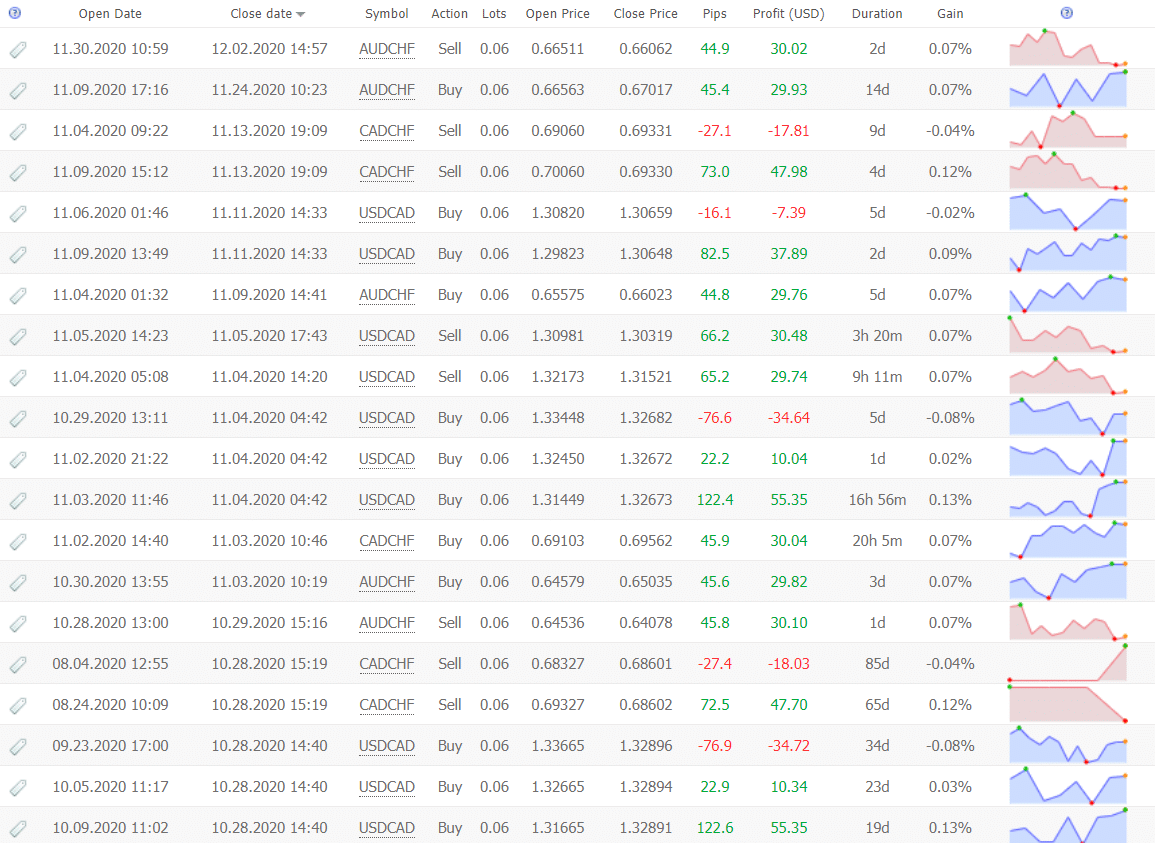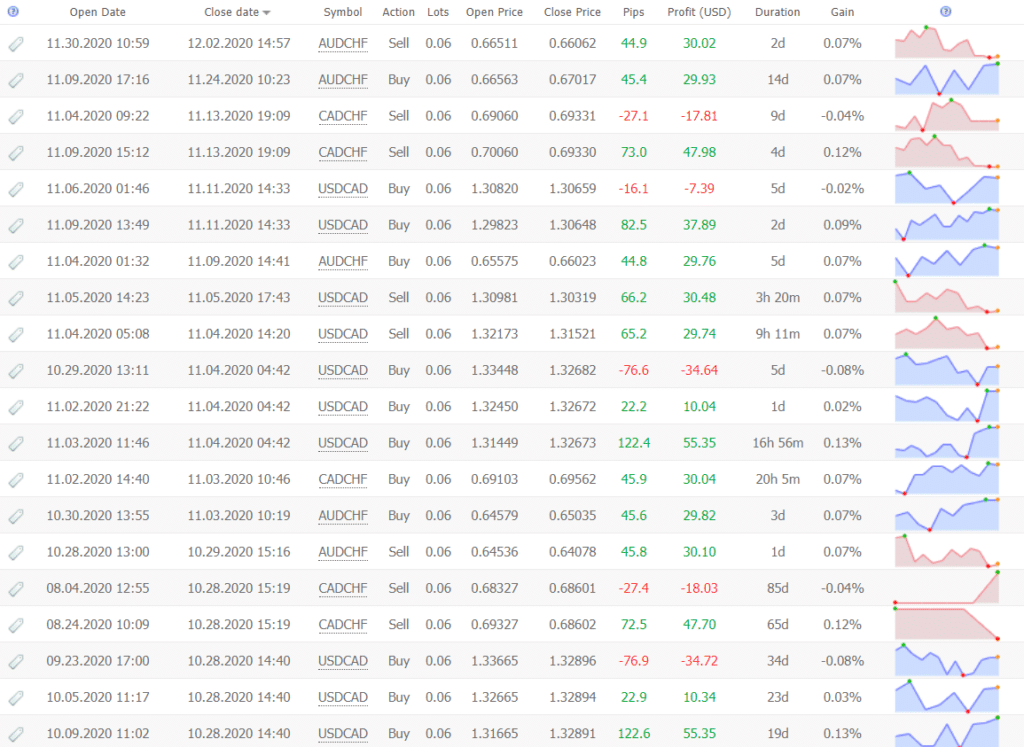 The EA uses fixed Lot Sizes and a Grid of three orders.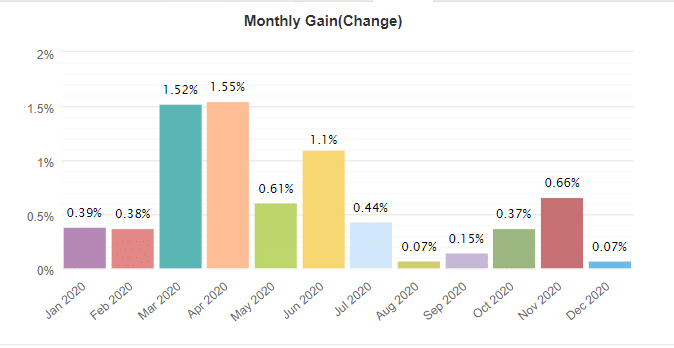 As we can see, there weren't huge profits in 2020. Btw, all months were profitable.
Other notes
Happy's products were designed eight or nine years ago. Most of them are out of the place. The developers didn't provide updates. They united them in one pack where some of the EAs are scams. It's hard to find a really profitable trading solution across this scam if it exists there.
People feedback


Happy Way started the test over nine years ago.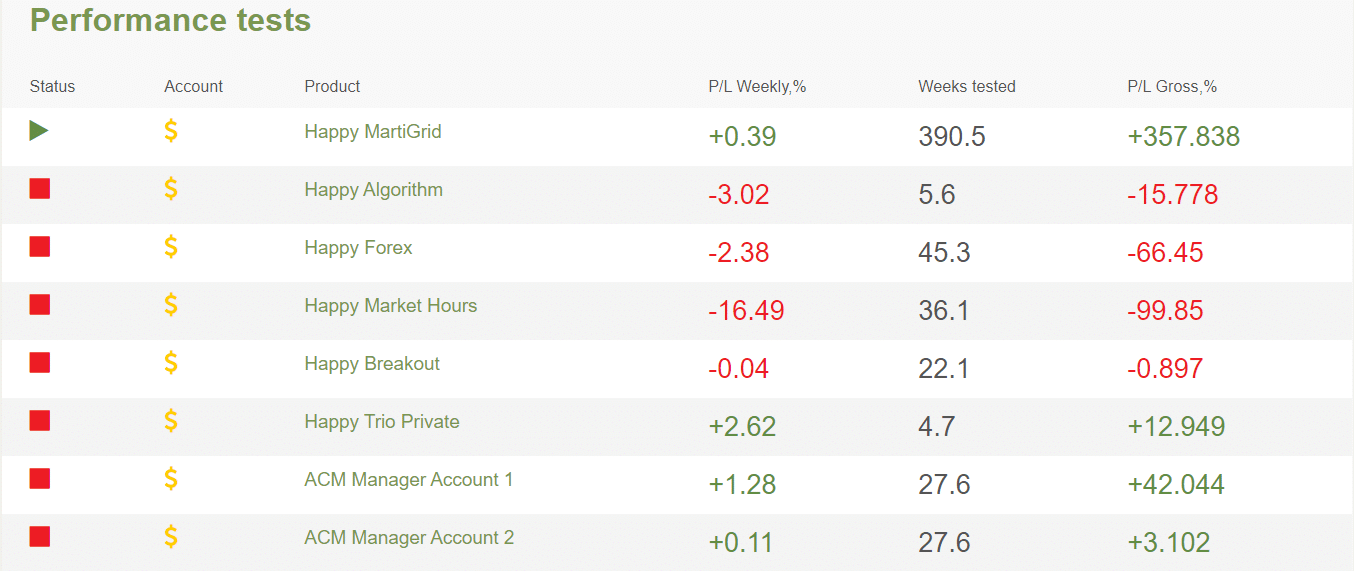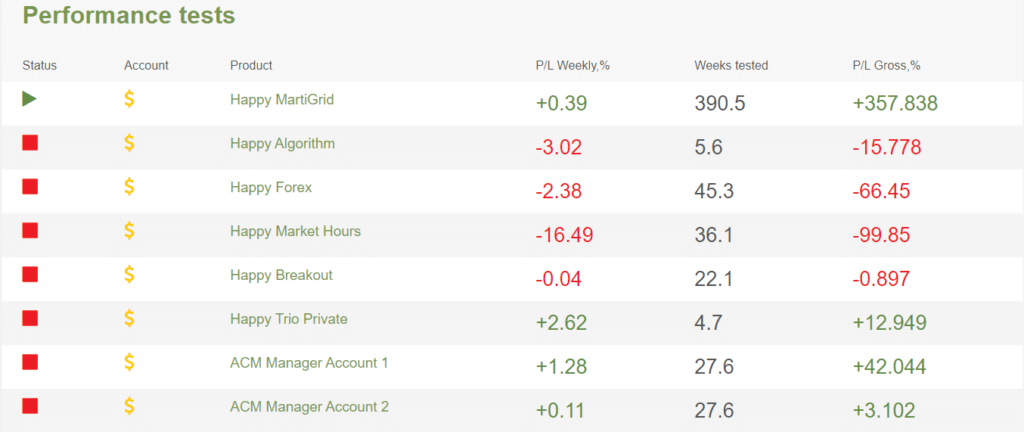 As we can see from the sheet, many other Happy Forex products have their test stopped sometimes with significant losses.


Happy Forex has little feedback – 5 reviews. Based on them, the EA has a 3.75 rate.


There are some positive comments, but they're eight years old and can't represent a current state of affairs.
Wrapping up
Advantages
Well-known EAs designer
The strategy is well-explained
Real account trading results
The real account is long-liver
A 30-day money-back guarantee provided
Disadvantages
No settings explanations provided
No backtests provided
Little profits with huge periods of drawdowns
Lack of people's testimonials
Summary
Happy Way is a Grid-based robot that has been working on a real account for three years. For that long period, the EA has been able to provide little profits. At the same time, it has insane margin requirements. It makes the EA completely unfriendly for many users. Btw, the conservative traders wouldn't like to perform a Grid strategy as a high-risk one on the real account, especially with other robots that work on it. The offer is weird. There are more robots than real licenses. It's awkward.