ICHI SCALPER is a Forex EA that was launched by the Synergy FX company in 2014. It runs on the MT4 platform and uses advanced computations for opening, managing, and closing trades as per the preset strategy. Although it claims to be a user-friendly system promising high performance and stability, we can corroborate these facts only by analyzing every aspect of the Forex EA.
Is This a Dependable Forex EA?
The vendor makes a more or less professional presentation on the official website with details provided about the Forex EA, how it works, risk management, feedback, promotions, etc. Synergy FX is the company behind ICHI SCALPER, and it is based in Sydney, Australia. This organization has some credibility in the Forex market and in 2015, GMFR declared it to be the best Forex dealer in Australia.
While it is said that each member of the developer team has vast experience in the field of Forex trading, we don't know anything about the actual people who developed this software. ICHI SCALPER only trades in the AUD/USD pair, a stable currency that lets you make profits consistently. This is a scalper system that aims to generate profits from a sideways market.
In a sideways market, there is a phenomenon known as the 'whipsaw effect' where the prices swing up and down, ultimately returning to a point close to the previous price-point. ICHI SCALPER takes advantage of this effect to generate gains. Apart from this, no other technical details are available regarding the trading strategy.
How to Start Trading With ICHI SCALPER


ICHI SCALPER is a fully-automated system that operates on the M5 timeframe. It requires a minimum deposit of $5000, which we think is too high. Many Forex EAs let you trade with as little as $100, and we have no idea why the minimum deposit requirement is so high for this system.
The system is easy to set up and has five risk levels you can choose from. Trades are held in the market for several days if necessary. The recommended lot size is 0.01 for every $1000, but this can take the drawdown up to 30%, which is quite high.
You don't need to use a VPS service for this Forex EA and you can easily run it using a PC. Take profits and stop losses are used for risk management, and customer support is available 5 days a week.
ICHI SCALPER Backtests
Backtesting data is important for a Forex EA since it provides us with some crucial parameters using which we can judge the performance of the system. Unfortunately, no backtesting data is available for ICHI SCALPER. This tells us that the vendor does not wish to reveal the true nature of the Forex EA and it certainly creates some trust issues.
Trading Results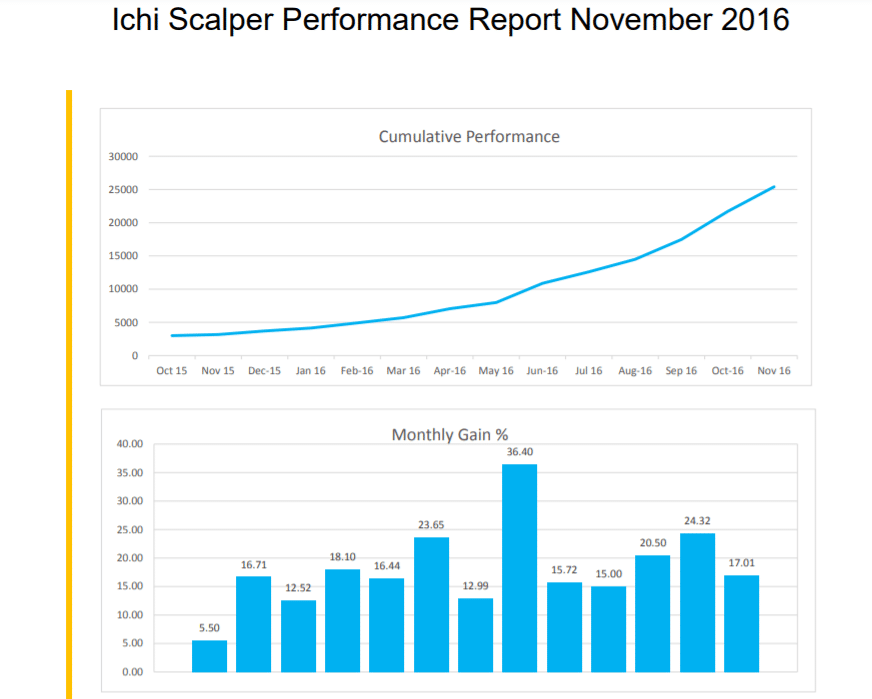 First of all, no trading results are provided on the official website. All we have is a performance report from October 2017 that seems to be a fake report generated through MS Word. As per this chart, the robot enhanced the account balance several times a year.
The profit bars indicated in the chart come with a fair amount of risk and even if they are legitimate, you will face difficulty handling the gains because of high drawdowns. Honestly, the lot size is too big for a live trading scenario, so we think it's highly likely that this is a backtest result or a manufactured piece of data.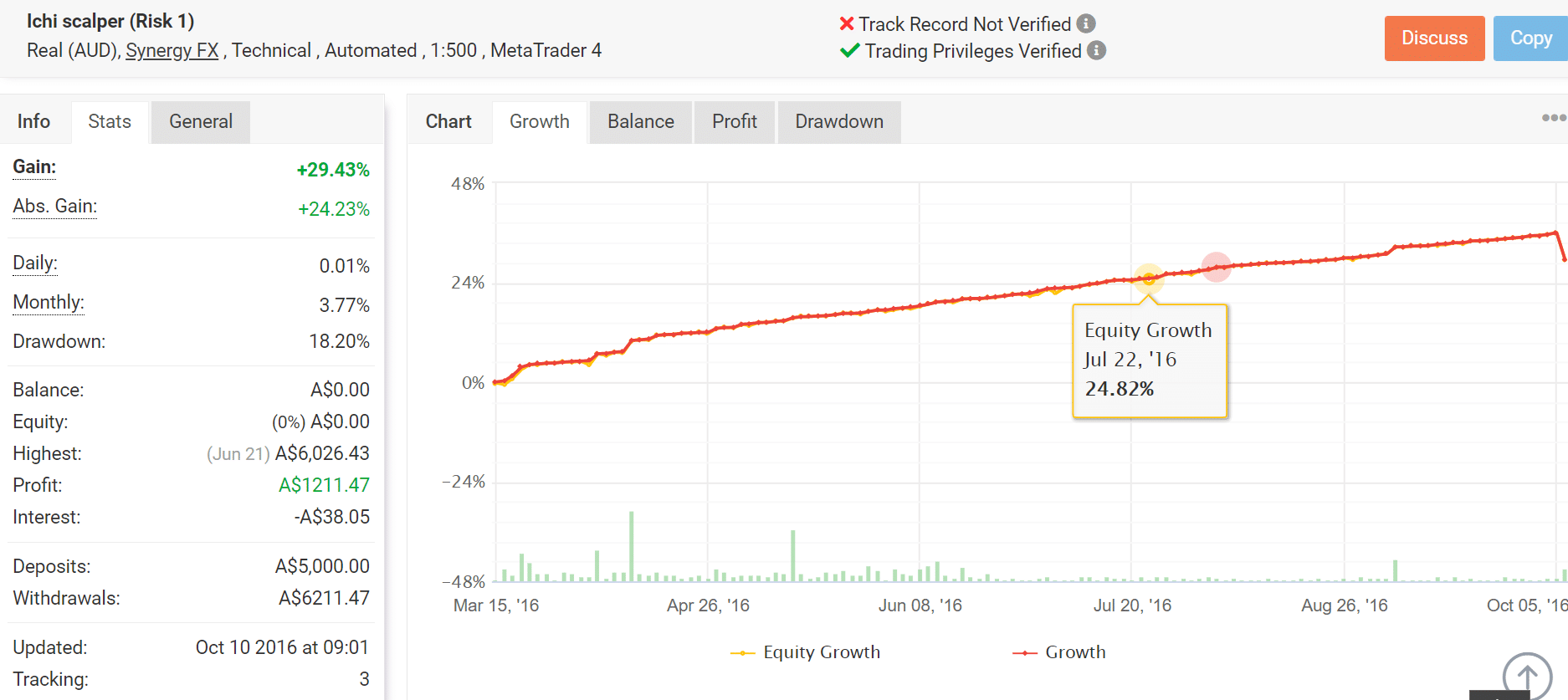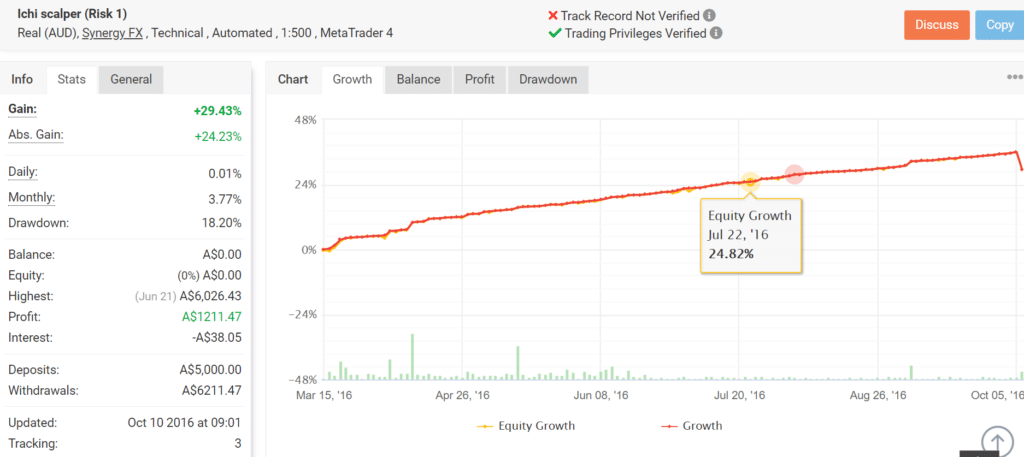 After doing some research, we managed to find an ICHI SCALPER real account on Myfxbook. But, since this was last updated in October 2016, we don't think it is worth discussing.
Interesting Facts
ICHI SCALPER is currently offering a promotion that lets you purchase the software for AUD 999. You need to fill out a web form to seal the deal before it expires. This seems to us like a cheap way to draw in customers and it's not something a reliable Forex EA would ever do.
People Feedback
There are no user reviews concerning ICHI SCALPER or third-party websites like Forexpeacearmy, Myfxbook, and Trustpilot. The absence of user reviews is again a major disappointing factor for a system that already has so many negative aspects.
Conclusion
Advantages
The company behind the Forex EA is a reputable one
Disadvantages
No recent live trading results
Lack of backtesting data
High initial deposit
Summary
In conclusion, we would like to say that this Forex EA shouldn't be trusted. It seems the website has not been updated for a while and the vendor simply doesn't provide enough information about the system that reflects its trading performance. The minimum deposit amount of $5000 is quite unreasonable and there are no verified trading results that show the recent performance of the system.