The pound has reacted strongly post-Brexit against the dollar.
The UK is working to improve competition laws as it advances the digital economy.
Virus cases in the US have decreased drastically since January 2021.
The British pound has gained more than 24% against the dollar since March 19, 2020. The pound owes its strength to robust pandemic response measures such as business support schemes like tax holidays, wage payments by the government, and liquidity support among lenders. Additionally, Britain has stepped up its vaccination program for Covid-19, with up to 15.5 million people inoculated as of February 18, 2021. The country is expected to read its budget on March 3, 2021. The US stimulus is expected to be signed into law by early March 2021.
State of affairs
The GBP/USD crossed the 1.3923 marks on February 18, 2021, last seen in January 2018. The UK government set the deadline for easing new Covid-19 restrictions on March 31, 2021, with the speed of reopening dependent on vaccination and low cases. On March 8, 2021, economic ease is expected after the country went on a third national lockdown since January 4, 2021. In the global vaccination stage, only Israel has surpassed the UK in administering initial vaccine doses.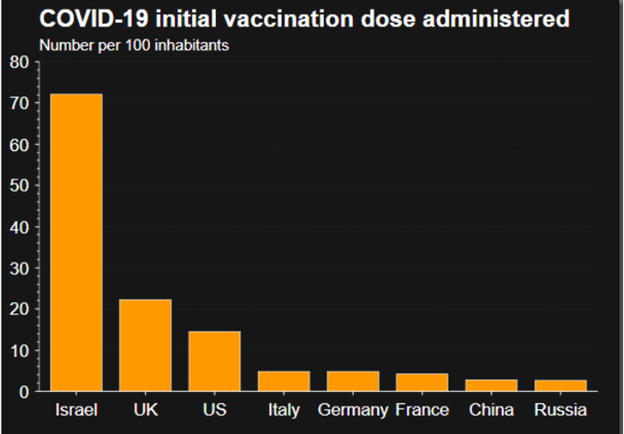 The pound has also taken the Brexit weight off its shoulders. UK legislators are now working to reform the competition laws to boost consumer confidence to increase spending. Further, proposals have been made to decrease business costs in the wake of an improving digital economy.  
In 2018, the UK government had started to reduce the business costs, especially the red-tape requirements, to shed £9 billion. These measures included health and safety (H&S), consumer protection standards, and environmental quality control. However, this intention led to an additional £8 billion in costs that left businesses reeling in losses. Brexit brings along complicated export styles that also involve delays in shipping. However, improved competition laws and lower business costs will help companies recover post-pandemic, with an increase in prices being reported in Q1 2021.
January 2021 saw a rise in the UK's consumer price index (CPI) to 0.7% MoM from 0.6% in December 2021. The CPI had declined 86% since 2011 when it was 5%.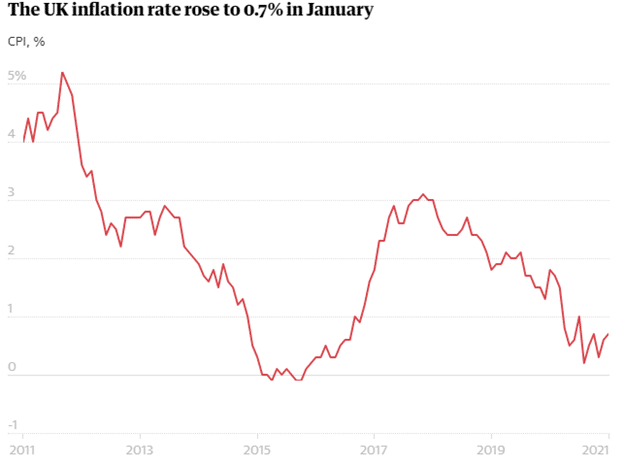 Rising food and good household prices pushed up inflation numbers in the UK, with retailers opting to leave out discount measures. At 0.7% inflation is still 1.3% below the 2% threshold.

According to the Office for National Statistics, payroll numbers are high, with the unemployment rate at 5.0% as of Q4 2020.   
US virus concerns
The US has seen a significant decline in Covid-19 cases from a high of 300,000 new cases in January 2021 to 70,000 as of February 18, 2021.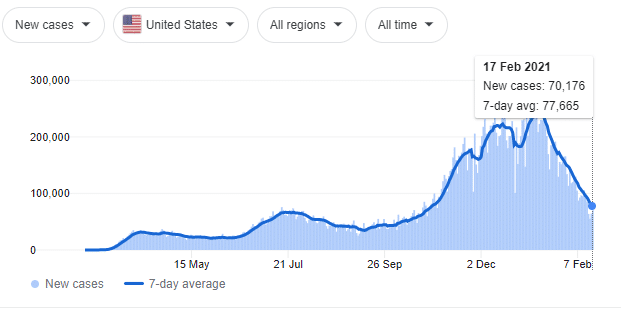 The US government is working hard to manage the virus, with the CDC good close to $200 million as down-payment to track the new variant. President Biden had promised to issue 100 million doses in his 100 days in office, but that record will be surpassed by the end of March 2021. Up to 36.6 million doses have been issued in his first month in office.   
Technical analysis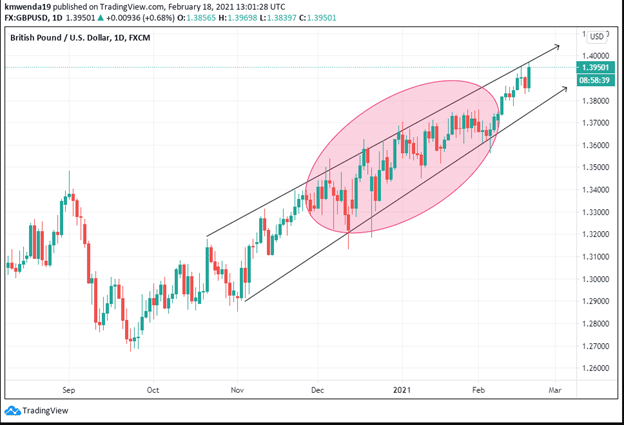 The GBP/USD trading pair has faced high volatility since Q4 2020. The market trendline contracted upwards from December to February 2021. The pair found new support at 1.38508. We may see psychological support at 1.4044. The 14-day RSI shows an overbought signal at 75.952, with the stochastic RSI already at 100.00. The 200-day SMA is at 1.3844, and the EMA at 1.3842 in agreement with our analysis.