Redshift is a fully automated Forex EA that promises an exceptionally high rate of profitable trades for Intraday Trading. Like many Forex EAs flooding the market these days, it claims to bring you profits while using an efficient strategy. But, you won't know whether to trust this system or not until you get a clear idea regarding its features, live trading results, customer reviews, etc.
Is This The Forex EA You Need?
Redshift has no official website and all the information on it can be found on its MQL5 page. The developer behind this Forex EA is a person by the name of Marco Solito who is based in Italy. He has developed other systems like Blueshift and Dark Venus in the past and seems to possess some experience in the Forex market.
But, apart from what's mentioned on the MQL5 profile, we don't know anything about the developer or his credentials. Using this Forex EA, you can trade in currency pairs like USD/JPY, AUD/USD, USD/CAD, GBP/USD, and EUR/USD. It trades on the M15 timeframe and recommends using the ECN broker for placing trades.
The vendor mentions that the system does not employ risky strategies like Martingale or Grid for placing its trades. Take Profits and Stop Losses are used for risk management, and the strategy is said to start with market order in trend following and counter trend and involves the MACD indicator. Apart from this, there are no further details available on the strategy, which is disappointing, since many Forex traders look for technical details while investing in an expert advisor.
How to Start Trading With Redshift
Redshift is available for $498, but you can get it for a month by paying $398. Considering the fact that this system was published on 31st December 2020 and has little or nothing to back up its claims, we think this is an exorbitant amount. You can certainly get yourself a reliable Forex EA providing live proof of its trading for much less.
This Forex EA recommends leverage of 1:10 and a minimum deposit of $100. Its settings include Magic Number, which represents the ID of the orders and maximum spread. You also have the option of changing money management settings like risk percentage and lots, with the former being activated only when money management is enabled.
There are different indicator settings for MACD and the trading time settings are adjustable. Plus, the only way you can get support for this system is by contacting the developer directly on MQL5.
Redshift Backtests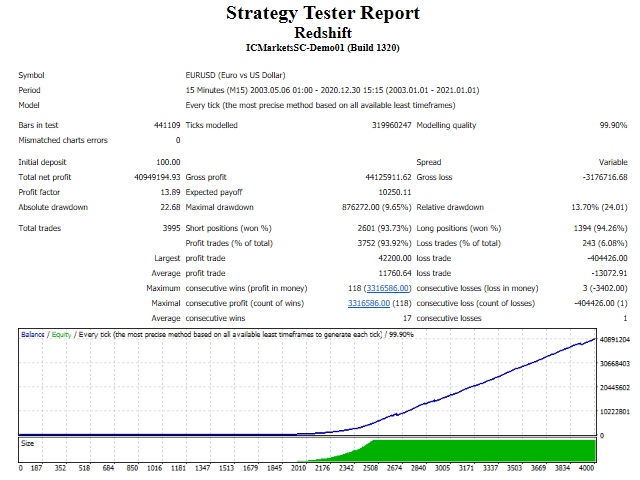 The vendor has provided us with backtesting data on a number of pairs, but here we shall look into the EUR/USD pair. As you can see, the test was initiated with a deposit of $100 and the spread was variable. After making a total of 3995 trades, Redshift managed to earn a gross profit of $44125911.62. This brought the profit factor to 13.89.
From this backtesting data, we can also see that 93.92% of trades made by this system were profitable. It has won 94.26% of long positions and 93.73% of short positions. Moreover, while there were only 3 consecutive losses, the number of consecutive was 118, which tells us that this system performed really well on historic data.
Trading Results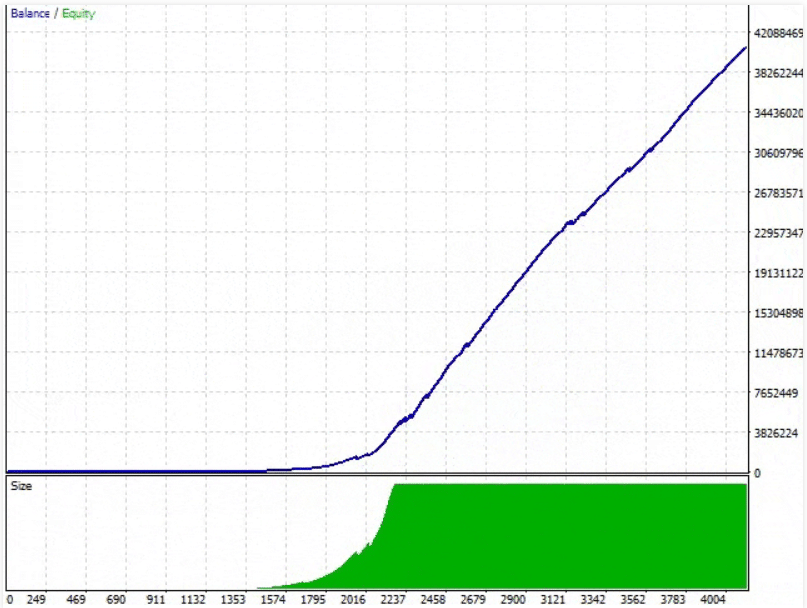 Live trading results are something every serious Forex trader looks for. They reveal important details about a Forex EA, like its recent performance, profit factor, drawdown, etc. Unfortunately, the vendor has not provided any verified live trading results for this system.
When it comes to judging the efficacy of a Forex EA, backtesting results are simply not enough. Just because a system performed well on archival data, doesn't mean it would do the same in a live market. While there is a video showing live trading on the MQL5 page, we have no way to tell whether this is legit or not.
By conducting additional research, we managed to find a live trading account for Redshift on Myfxbook. But to date, only 4 trades have been placed using this account, so we don't have a large enough sample size available to pass a judgment.
What Else You Should Know
The vendor claims that there is only one copy of this Forex EA left and that's available at $498. After this copy gets sold, the next 10 copies would cost $599. We think this is a cheap marketing strategy meant to lure in buyers and it's not something a reliable service provider would do.
People Feedback
Even after searching a lot, we couldn't find any user reviews concerning this Forex EA on third-party websites, like Forexpeacearmy and Trustpilot. This is hardly surprising though, considering it's a new system that not many people know about.
Wrapping Up
Advantages
Backtesting data is provided
Disadvantages
Lack of verified live trading results
Very little information about trading strategy
Expensive price
Summary
In the end, we would like to conclude by saying that investing in this Forex EA is a risky proposition. There is simply not enough information available for us to trust it. At this price, you can get a much more efficient robot that will consistently bring you profits.