JPMorgan raises Bitcoin fair value.
Cardano bottoms out.
Investor's riskier assets concerns are still in play.
Cryptocurrencies are in the early stages of price recovery if events over the weekend are anything to go by. Strategists at JPMorgan are also of the opinion of a significant upside potential after a severe crash in recent history.
Bitcoin is one of the coins spearheading the recovery after rallying by more than 10%, returning above the $30,000 level. The flagship cryptocurrency has started showing signs of bottoming out after a bounce back from 18-month lows.
Bitcoin fair value
In a note to investors, JPMorgan analysts reiterated that Bitcoin's fair value stands at $38,000 after the recent deep. The price target represents a 22% rally from the current level, which is manageable considering that the coin is already up by more than 10% for the week.
The bullish thesis contrasts CEO Jamie Dimon's dismissal of cryptocurrencies claiming they do not contain any intrinsic value. Dimon has always been a proponent of cryptocurrencies, insisting that they could go to zero on the prospect of being regulated.
The bullish estimates do not come as a surprise given the accumulation that has been taking place after the 50% plus correction from all-time highs. Institutional investors have been jostling for positions with Bitcoin sliding below the $30,000 level, which has acted as a pivotal support level.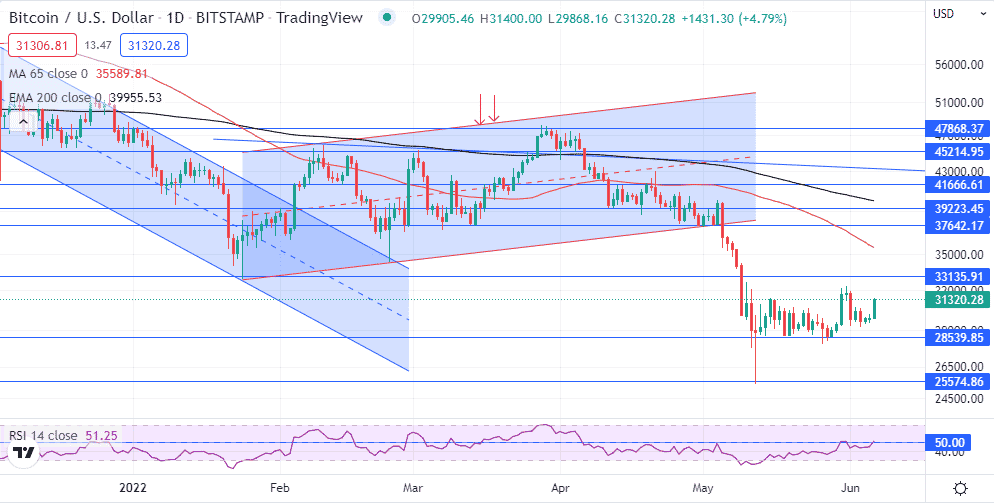 In recent months, the buying spree above the critical level has gathered pace, with short-sellers struggling to sustain sell-offs below the level. While Bitcoin has remained bullish near the key technical level, there is always the risk of the coin edging lower amid the risk-off mood in the market.
Cardano bounce back
Bitcoin is not the only cryptocurrency attracting investment dollars as the broader industry tries to bounce back after months of pounding. Cardano and Ethereum are other high-flying cryptocurrencies attracting investment dollars from institutional investors eyeing discounted assets.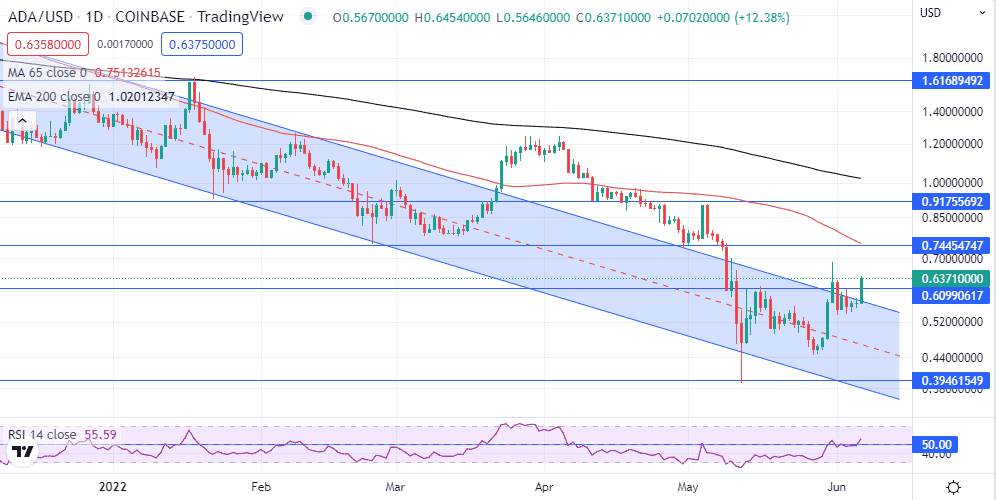 Cardano is already up by more than 40% in recent weeks, underscoring the buildup in using pressure. Bulls are increasingly looking to steer the coin to the $0.74 level, above which it could make a run for the $1 a coin level.
Investors' concerns
Investors have continued to shun riskier investments due to growing concerns about the global economy's outlook. Moreover, the stock market retreating from record highs has affirmed the wave of fear in the capital markets as investors scamper for safety in safe havens.
The raising of interest rates has also fuelled dollar strength, consequently working against the cryptocurrency rally. The dollar rallying to more than 20 years high has forced investors to pursue opportunities around yielding assets such as bonds and treasuries.
Expectations of further rate hikes have continued to fuel dollar strength, all but pilling pressure on Bitcoin and other cryptocurrencies. Amid the rate hikes, there is growing concern that it could continue to pile pressure on the real estate sectors.
Higher interest rates trigger higher borrowing costs as well as an increase in mortgage rates. The result is investors shunning the sector as it is poised to correct from record highs after overheating on the FED, cutting interest rates to record lows in 2020.
Consequently, analysts at JPMorgan have replaced real estate as potential investment assets opting for digital assets that have shed a significant amount of market value and appear to be trading at a great discount.
Final thoughts
It promises to be a pivotal week for cryptocurrencies amid the ongoing bounce back from multi-month lows. Cardano and Bitcoin are looking increasingly bullish as the bounce back gathers steam as institutional investors eye highly discounted digital assets.