Nowadays Forex robots are widely used all over the globe. They carry out a range of automated trading functions, from telling traders when to trade to placing and managing trades on behalf of traders. However, with so many different ATS available on the Forex market, choosing a good running EA is a challenge even for experienced traders. In this Lucky Gold Scalper review, we will tell you about a new expert advisor that launched the mql5 market on March 12, 2021.
The dev says it is focused on the Gold market and adds that its trading approach is based 'on the volatility of Price Action to look for trading signals with a high probability of winning'. To provide you with the right verdict on the system's efficacy and reliability, unbiased analysis of the system should be conducted. Therefore, we've decided to analyze this expert advisor to weigh up the advantages and disadvantages of using Lucky Gold Scalper.
Should You Invest in Lucky Gold Scalper?
Unfortunately, there is no website for the Lucky Gold Scalper. Thus, all the information about the product is provided on the mql5 page. The product description was published on the mql5 on March 12, 2021, by Nguyen Hang Hai Ha, from Viet Nam. Nguyen Hang Hai Ha is a trader at fx88 and has a high 14600 rating among the mql5 community. He has 17 products (Immorality, Sagittarius, Mandala, Cullinan, Monster Scalper, and more) and 4 signals (3 of them are available for free) in his portfolio.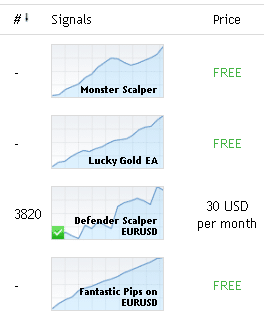 The vendor also provides contact details. Thus, to get in touch with him, traders need to email [email protected]
The robot is focused on Gold trading. Its trading strategy is based on the volatility of Price Action to look for trading signals with a high probability of winning. From its name, we know that the robot performs a scalping strategy. The vendor also says that if the robot recognizes positions with floating losses, it will try to make up for its gains and then close the positions with the smallest loss.
How to Start Trading with Lucky Gold Scalper
For getting started with this EA a minimum deposit amount of $2K is required. It can work in any timeframe. For better and smoother trading, the developer recommends using the EA with ECN or Raw spread accounts and allow hedging. We are told that it is strongly restricted to use this robot with another EA on the same trading account. Traders have to wait until all trades will be closed before they will be able to withdraw their funds or make deposits. The robot supports only one currency pair – XAU/USD (Gold). The vendor also recommends using the robot with a broker with '2 decimal places for the Gold price, for example, 1989.68'.

Interested in the trading system traders can buy Lucky Gold Scalper on mql5.com. A digital copy of this FX robot is sold for $357. The dev also points out that only 7 copies are left for this price and the next 10 copies of this EA will be sold for $399.
There also are 3 rental options: 3 months rent costs $197, 6 months rent is available for $257 (you save 35%) and a year rental price is $297 (you save 63%). Traders can also test the robot on a free demo account before getting started on a real account.
A Money-back guarantee is not included.
Lucky Gold Scalper Backtests
We have a backtest report for Gold (XAUUSD) on the M5 timeframe for 1 year period. Frankly saying, 1 year of backtesting is not enough to test the system properly. The modeling quality was 90%. There were 81078 bars in the test. The initial deposit was $1K. For 1 year of trading, the robot has brought $809 828 801, 06 of profit. The profit factor was high -1, 99. The maximum drawdown was low – 0,96%. It's good for trading. It traded 217821 trades and won 189950 out of them, meaning the win rate of 87, 20%.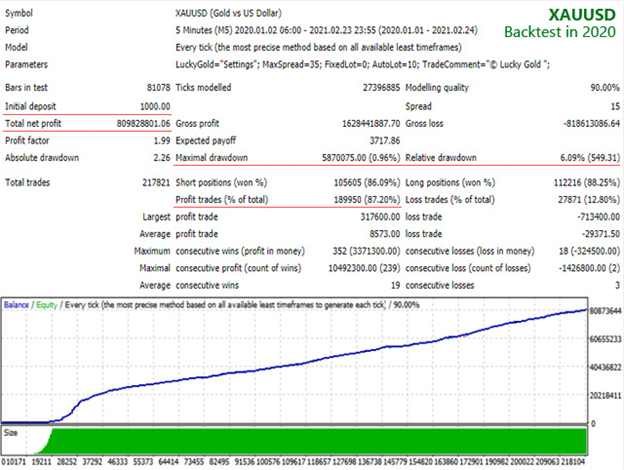 Trading Results
There is a live trading account with signals from Lucky Gold Scalper. We've got a Demo USD account on Tickmill with 1:500 leverage. The account was created on January 26, 2021. Its absolute growth is 154%. The initial deposit was $3K. The win rate is high – 93.3%. Trading activity is also high – 74.1%. The maximum drawdown was 18%, which is acceptable for trading.

This trading account is online for 13 weeks, but it has been actively trading for only 58 days (68, 24% of the total days live). Its net profit is $4626, 24.

The average trade frequency is 191 trades a week. An average trade length is 39 minutes, which is a norm for scalpers. The signals have 27 subscribers.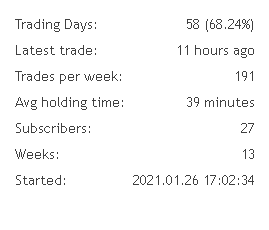 February 2021 results were achieved with high risks to the account balance.

The system traded 6 987 trades and won 93.34% out of them (6 522 trades). The average loss is x10 higher than the average win: $-34.33 and $3.16 respectively, meaning that the risk/reward ratio is 1:10. The recovery factor is 7, 77. It trades both Long and Short positions equally (51.09% and 48.91%). The profit factor is lower than the one we have in the backtest – 1, 29. The maximum deposit load is 7.65%.

Recommendations from the Vendor
The vendor points out that if you do not have enough trading experience or you are green to it, then you should use default settings with initial capital from $ 2000 (better $3K).

People Feedback
The system has a 2,5-star rating based on 5 customer reviews on the mql5 page where the product is sold. There are 3 reviews with 1 star and 2 reviews with 5-star ratings.


These traders are satisfied with the trading results achieved with Lucky Gold Scalper.


Summary
Advantages
Backtest report showed
Live trading results
Ability to test the EA on a free demo account
Rental options offered
Disadvantages
High price
No money-back-guarantee provided
Risky trading strategy on the board
Negative reviews from customers
No setting details provided
High deposit required
Summary
It is a three months trading advisor that works on a $2K or higher deposited account with a high risk/reward ratio. In February, the system traded with high risks to the account balance. Pricing for every 10 digital copies of the EA is constantly growing. The money-back-guarantee is not provided. Therefore, buying this FX EA is a risky investment decision.