MATALINO FOREX EA is a 100% automatic Forex robot that is compatible with the Metatrader 4 trading platform. According to the seller, this EA uses proven strategies to stay one step ahead of the market. This claim, however, needs to be verified independently by analyzing all the different aspects of the system.
Is It a Good Trading System?
The vendor makes a more or less brief presentation on the official website. We have a short introduction to the EA followed by a list of the main features. A large part of the presentation involves marketing language, which makes us think that the vendor is desperate to sell this robot. On the webpage, we also have the link to a live trading account and the pricing details.
There is no information available on the company behind MATALINO FOREX EA. We don't know where this company is based and when it was founded. The vendor has not revealed the identities of the developers and traders, and no physical address is provided on the website. Thus, we are thoroughly disappointed with this EA when it comes to vendor transparency.
You can use this robot for trading in the GBP/USD and EUR/USD pairs. It requires no manual intervention to place trades and as per vendor claims, it can handle risk intelligently by using a winning method. This method is not specified, however, and the information provided on the features is rather vague.
MATALINO FOREX EA analyses the market price with the help of indicators like Commodity Channel Index (CCI), Bollinger Bands, and others. No further information is provided on the trading strategy, which makes it impossible to form an objective opinion about its efficacy.
How to Start Trading With MATALINO FOREX EA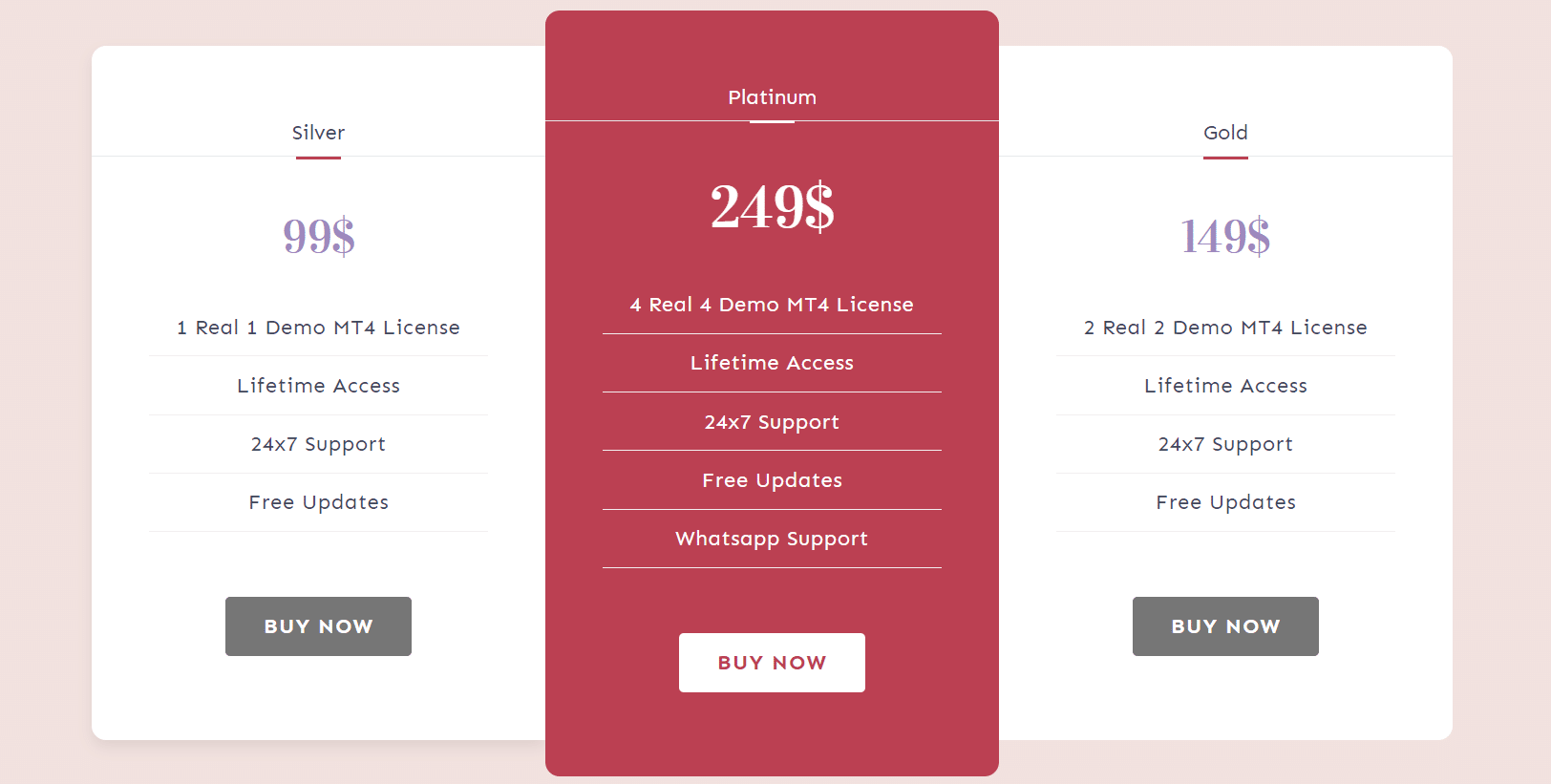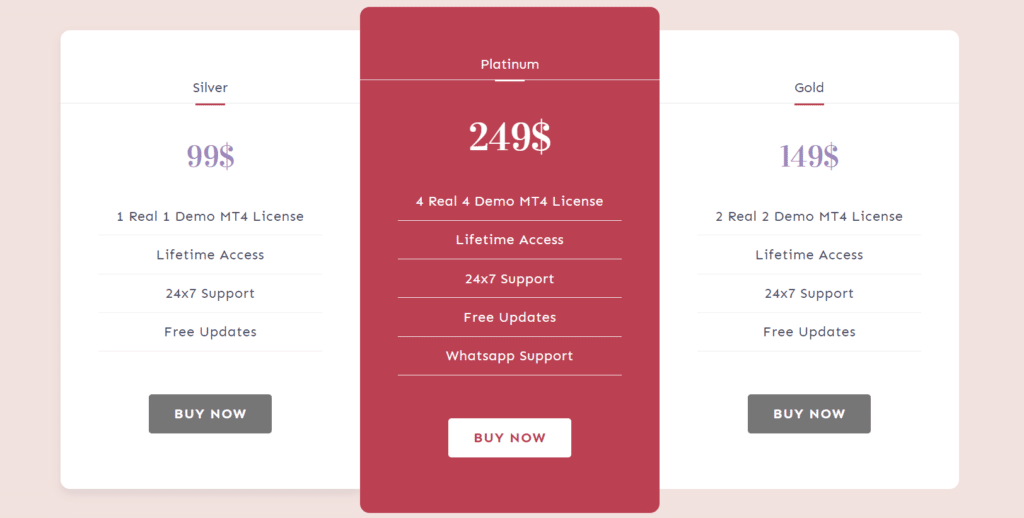 This Forex EA has three main pricing plans called Silver, Gold, and Platinum that are priced at $99, $149, and $249, respectively. All of them provide lifetime access, but with the more expensive plans, you get access to a greater number of real and demo accounts. You can also trail the software for 7 days by paying $7. The vendor offers a 30-day money-back guarantee for this robot.
This EA is suited for trading in the M15 timeframe. According to the vendor, you don't need to master any signals, perform complex analysis, or read complicated charts to use this system. All you need is a brokerage account and a computer with internet access. It is also claimed that it can adapt to the market effortlessly and maintain a win ratio of 3:1. However, we need to verify this claim by analyzing the trading results.
MATALINO FOREX EA Backtests
Unfortunately, we don't have the backtesting data for this Forex robot. Most traders wouldn't risk investing in a system that hasn't been tested using historical data. Developers usually backtest their robots before launching them in the market, but apparently, this vendor is not confident enough to share the results.
Trading Results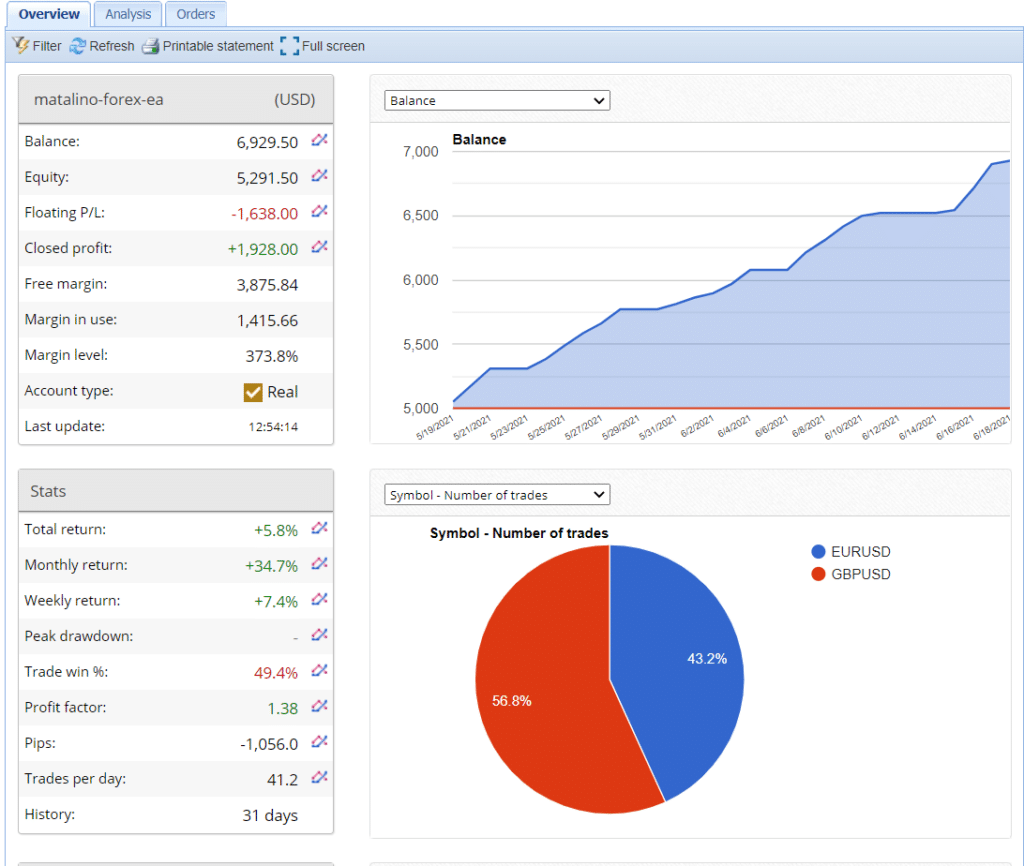 This live trading account on FXBlue has a short trading history of 31 days and a low win rate of 49.4%. To us, the results look unimpressive, as most Forex EAs have a higher win rate than this. A total of 1266 trades have been placed through this account, out of which 607 have been won while 622 have been closed in losses. The daily, weekly, and monthly returns are 1.43%, 7.35%, and 34.69%, respectively.
Currently, the total profit generated through this account stands at $1928. Another thing of note is the high risk/reward ratio of 29.72. This means the system has to have a high success rate to be profitable.
Other Notes
Customer support is provided round the clock for this Forex EA. You can email the vendor directly, or use the contact form provided on the website to get in touch with the service team.
People Feedback
There are no user reviews for MATALINO FOREX EA on websites like Trustpilot, Forexpeacearmy, Myfxbook, and Quora. It is clear to us that this EA does not have much of a reputation in the market at this time.
Wrapping Up
Advantages
Verified live trading results
Money-back guarantee offered
Disadvantages
Lack of strategy insight
No backtesting data
Short trading history
Absence of customer reviews
Summary
MATALINO FOREX EA is not a robot worth purchasing, mainly because it has a short and unsuccessful trading history. Its win rate is below par and the vendor has not shared any backtesting results that show us the historical performance of this system. Last but not the least, we have no idea what kind of trading strategy this Forex robot uses.