Advertised as a 'revolutionary momentum and pullback algorithm expert advisor', Meduza X is an innovative trading tool designed to help traders providing smooth and 'phenomenal performance' on their trading accounts. In this Meduza X review, we will analyze all the important aspects of this trading system and help you decide whether it is what you need.

Is Meduza X a Good Choice for Traders?
This expert advisor was released on December 28, 2020, by Oon Kar Lee from Singapore. Although this EA is sold on MQL5 market and it has not an official website, we could gather some information about the developer. Oon Kar Lee, the developer of Meduza X, has a high 1848 rating on the MQL5 community. He has over 15 years of trading experience. His interest in trading started with Blue Chips Stocks and Penny stock Professional. Last 7 years his interest in Forex. Although he wasn't taught in any Forex school, he tries to convince us that has enough skills and experience to develop an effective and profitable trading system.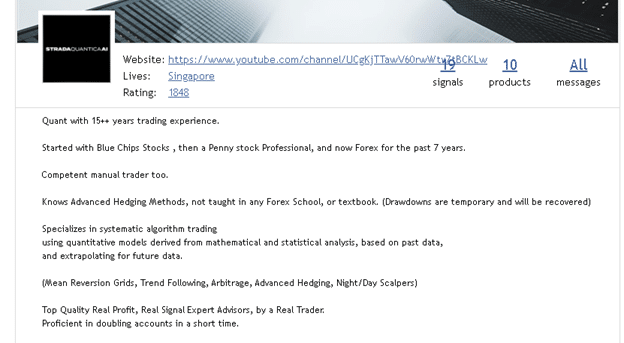 Oon Kar Lee has already developed 10 products that are also sold on the MQL5 market: Performante, Blassik V2, ImmortalX, Corsa, Quantica, Avantador Gold, Market Maker, Delta Neutral, GoldTron, and Meduza X. The price of these EAs is between $249 and $399.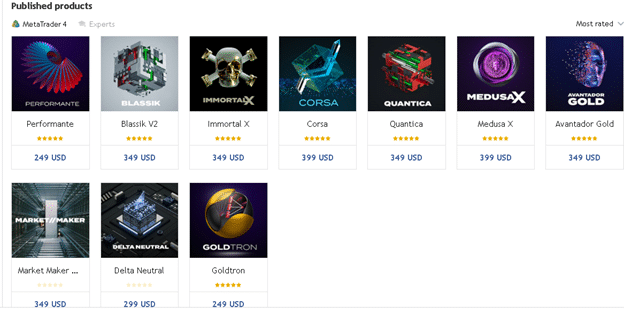 Let's list the key features of Meduza X:
It is an automated trading tool
It specializes in low spread major pairs: GBPUSD and USDCHF
The dev claims their EA was designed to provide 'phenomenal performance' for its users
The average TP is 5 pips
The dev recommends trading 2 currency pairs on the same trading account to grow the account
The robot can be adjusted according to the trading needs of a trader
The robot was backtested from 2016-2020 on GBPUSD and USDCHF with real 99% tick data variable spreads and slippage
It can work on the H1 time frame only
It works on GBPUSD and USDCHF with set files
It has good and safe ROI'
VPS is recommended for smooth trading
It is sold only on the MQL5 market
It is easy to use and setup
Unfortunately, the dev failed to provide a detailed trading strategy description of this robot. What we know is that the robot uses averaging trades and does not use Martingale. It trades 2 currency pairs: GBPUSD and USDCHF on the H1 timeframe. The system also has Trend EMA, RSI, Volatility filters. We'd like to know more about the robot to analyze all possible risks as well as the advantages of this trading system.
How to start trading with Medusa X
As we've already mentioned, Meduza X is available for purchase only on the MQL5 market. It is currently available for $399. The vendor warns us that this price is for the last 3 copies of the software. The next price will be higher and one digital copy of this EA will cost $449. The robot is also available for rent. Its 1 monthly rental is $120 and the three months rental is $250 with 31% OFF. Interested in the software traders can test the robot on a Free Demo account. A money-back guarantee is not included.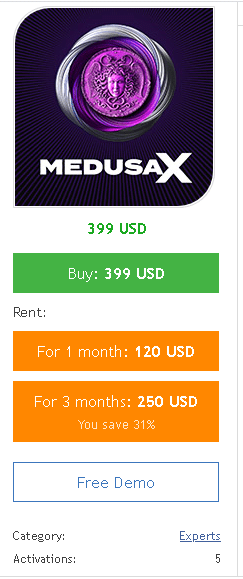 Oon Kar Lee provides a step-by-step guide on how to install the robot:

The minimum account balance to trade with Meduza X is $500. The leverage can be from 1:500 up to 1:2000. The vendor recommends ECN broker with low commission and spread (IC Markets, Forex Chief, or FXTM broker):

Medusa X Backtests
The vendor shares 2 screenshots of backtesting results performed on GBPUSD and USDCHF currency pairs. The deposit on both accounts was the same – $10K. Both of them started and ended on the same date. The difference is in 2 times higher income that was achieved when trading GBPUSD – $64, 903, when the total net profit of USDCHF was $31, 067. Well, let's analyze a GBP/USD backtest in detail.
The robot traded 2 currency pairs: Great Britain Pound (GBP) vs US Dollar (US) on the H1 time frame. It was tested on the four-year tick data with 99, 90% modeling quality. It was deposited at $10K. For 4 years of trading activity, the robot brought 64, 903 dollars of profit. It traded 3421 trades and won 3092 out of them, which represents a win rate of 90, 38%. Its profit factor was high – 1, 86. The maximum drawdown was high – 50.56%. It had only 1 consecutive loss.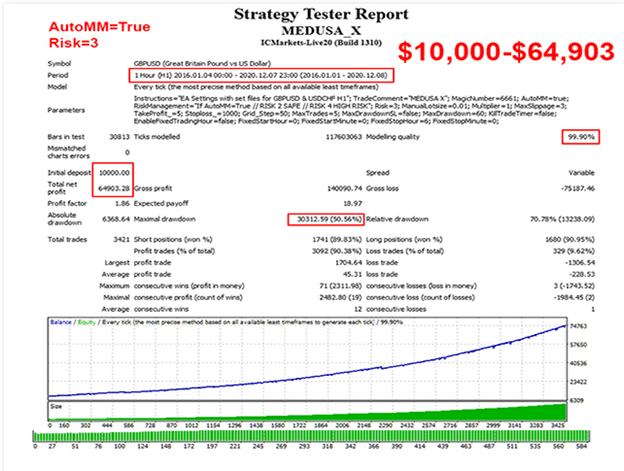 Trading Results
The vendor provides a link to the real account results of Meduza X on MQL5.

This account was created on December 7, 2020. It is active for 14 weeks. Its initial deposit was 500 SGD. The robot trades under IC Markets brokerage. The maximum drawdown is 39.3%. For 3 months of trading, the gain has grown to 59.92%. It has earned 299.60 SGD of profit.
In comparison with January 2021, the trading results of February (8.01) and March (2.15) 2021 have decreased significantly.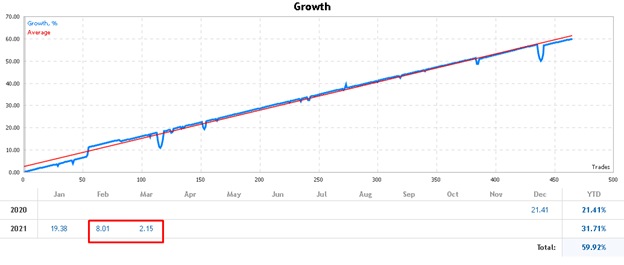 The robot has traded 465 trades and won 439 out of them, which represents 94,40%. Its average loss (-6.60 SGD) is 6 times higher than the average win (1.07 SGD). Its recovery factor is high 8.39. The trading activity is high at 97.77%. The robot performs 39 trades a week. An average trade length is 16 hours. The win rate for Long trades is 49.25% when for Short trades it is 50.75%. The robot had 4 consecutive losses (-35.73 SGD).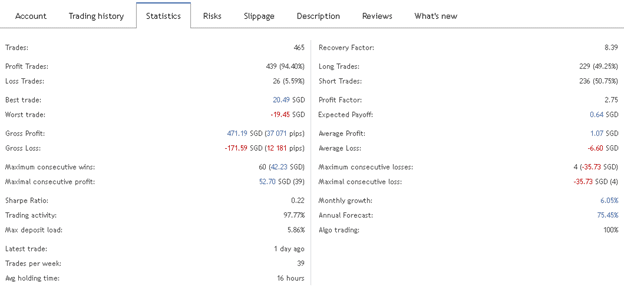 It trades with low risks to the account balance:

We do not like that the robot trades with high drawdowns. Rapid ups and down in terms of drawdown performance are too dangerous for a trading account.

People Feedback
There are 7 customer reviews on MQL5. All of them are positive.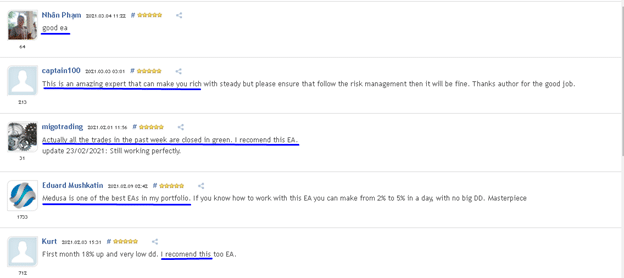 Conclusion
Advantages
We know who the developer is
The vendor has a high rating on MQL5
Backtesting results provided
Real account trading results
Positive reviews from customers
Disadvantages
An undisclosed trading strategy insight
The robot trades with high and steady drawdowns
The minimum deposit to trade with this EA is $500
High pricicing
No money-back-guarantee provided
Summary
Although it is a newly launched robot, its trading results showed that it could trade profitability and with high accuracy. The robot trades 39 trades weekly with an average trade length of 16 hours. It trades 2 currency pairs and works on the H1 timeframe. We can also buy Meduza X signals for 50 USD/month. Although there are 7 customer reviews on the MQL5 market, we couldn't find any customer review on another third-party website like Quora, FPA, or Trustpilot. Probably it is because the EA is too young. As we can see, only 7 copies out of 10 were sold. We assume it is because of its incredibly high price. A Money-back guarantee is not provided and it may be the reason why traders doubt the reliability of this trading tool.