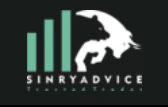 We'd like to talk about Sinry Advice's robot MG Pro EA in our review. It's introduced as the most profitable software they have.
Is this robot a viable option?
MG Pro EA has a solid list of features:
The robot trades fully automatically for us.
It analyzes the market with several inner indicators like Price Action, checking Support, and Resistance levels, Trend.
The system trades AUD/CAD, CAD/CHF, NZD/CAD, EUR/USD, and USD/CAD.
It works on the M5 time frame.
MG Pro EA is the most profitable software of Sinry Advice.
Default settings are enough to be profitable.
It opens and closes trades automatically.
We can expect up to 10% of the weekly profit.
The EA can make stable profits, trading with low risk.
We have to provide our real account to get approval to start trading.
The developers suggest a VPS service to keep the EA online 24/5.
The minimum deposit should be $500 for trading with a 0.01 Lot Size.
We can close deals manually after getting 10-20 pips.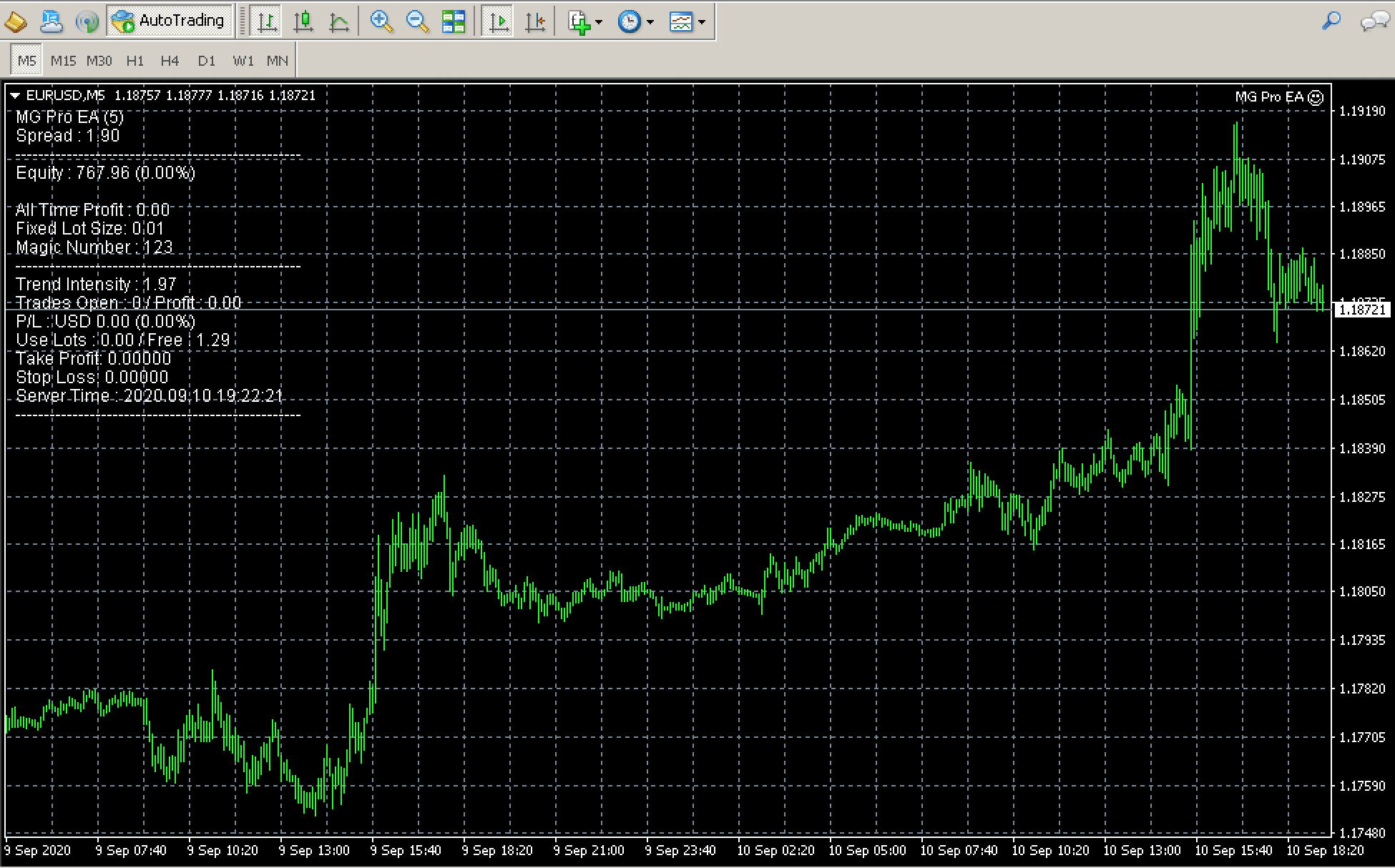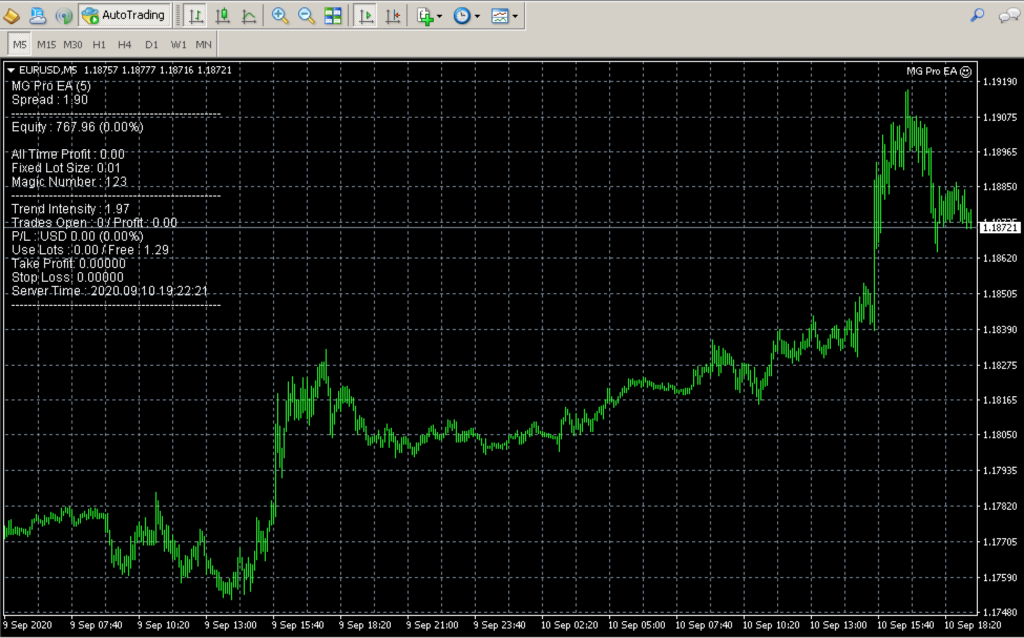 After attaching the robot to a chart, we can see Lot Sizes, Spreads, Magic Number, and others.
How to start trading with MG Pro EA


The offer of MG Pro EA costs $288. The original price was $450. We could rely only on a 14-day money-back guarantee if the EA was not profitable. So, there's no extended refund policy in cases if we don't like it.
MG Pro EA Backtests
The developers decided not to provide backtests reports. So, we don't know how well the system was tested before realizing it.
Trading Results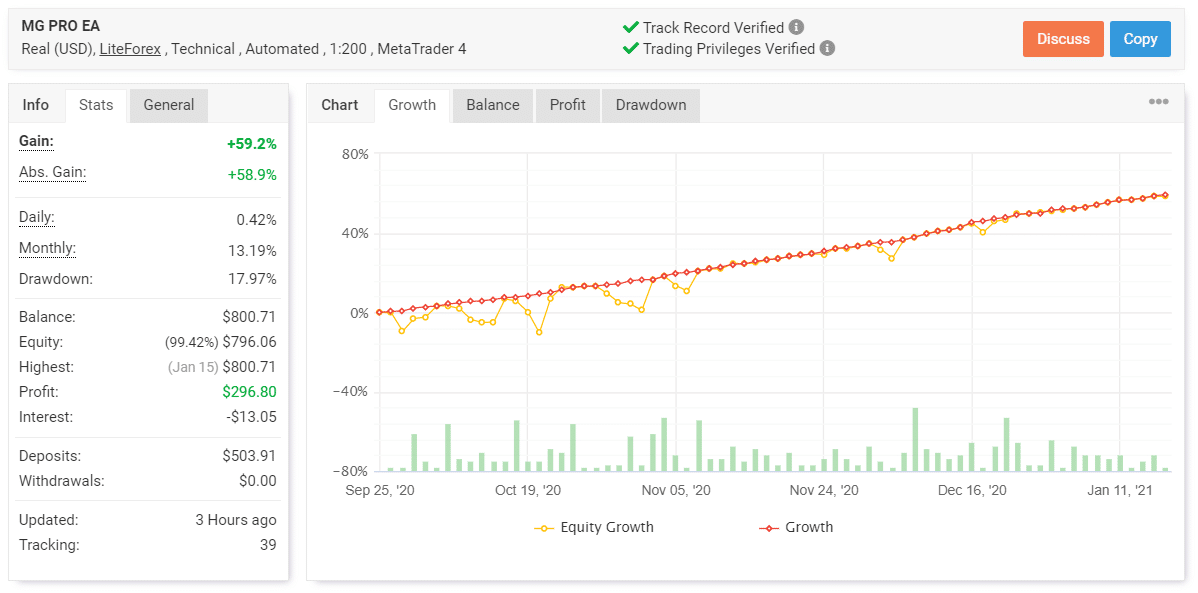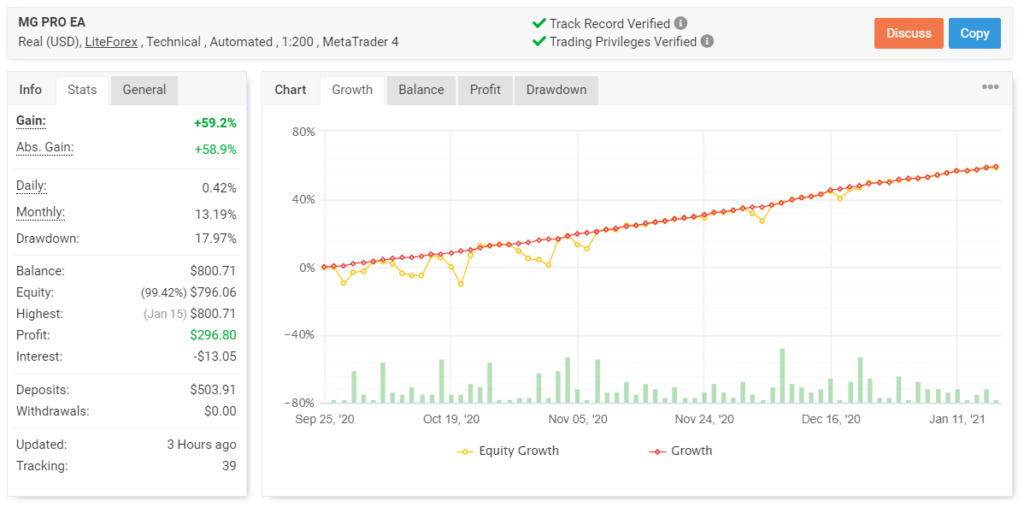 The robot runs a real USD account on LiteForex, using technical indicators and trading automatically with 1:200 leverage on the MetaTrader 4 platform. The account has a verified track record. It was created on September 25, 2020, and deposited at $503.91. Since then, the absolute gain has become +59.2%. An average monthly gain is 13.19%. The maximum drawdown is 17.97. The account is tracked by 39 traders.


MG Pro EA closed 388 deals with 4158 pips. An average win is 25.05 pips when an average loss is -21.29 pips. The win-rate is 70% for Longs and 68% for Shorts. An average trade length is one day. The Profit Factor is 2.23.

The system trades five symbols. The most profitable is EUR/USD $93.66 when the most traded is USD/CAD – 99 deals.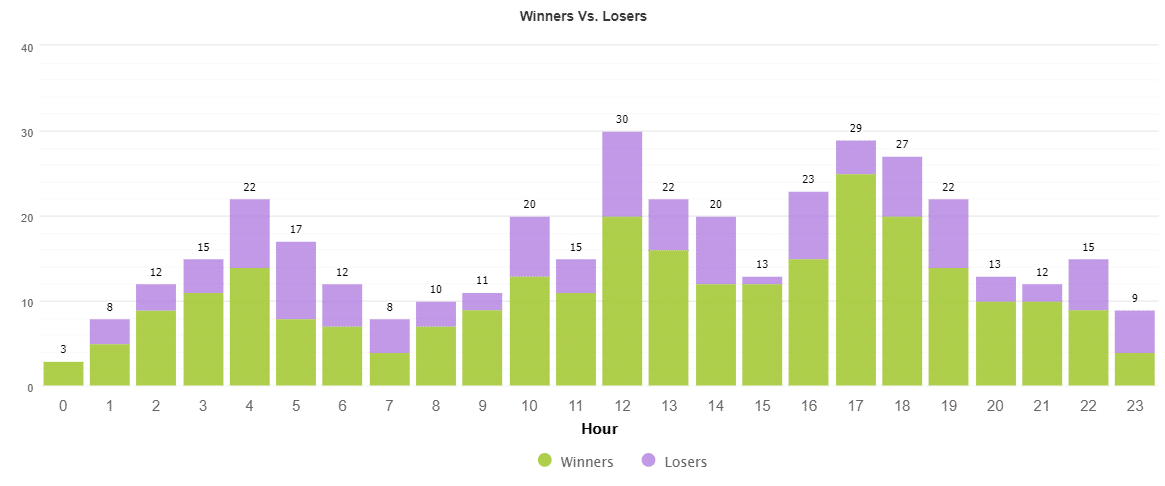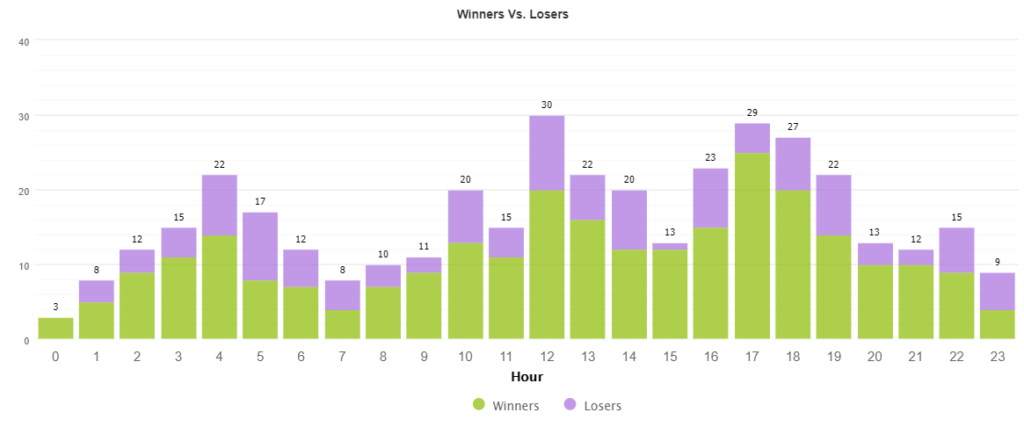 The system focuses on trading during European trading hours.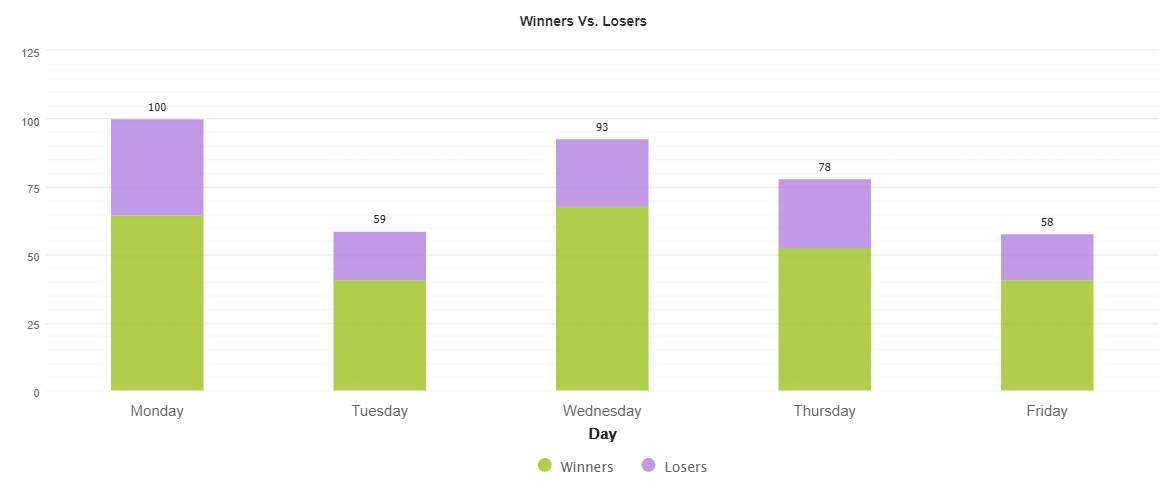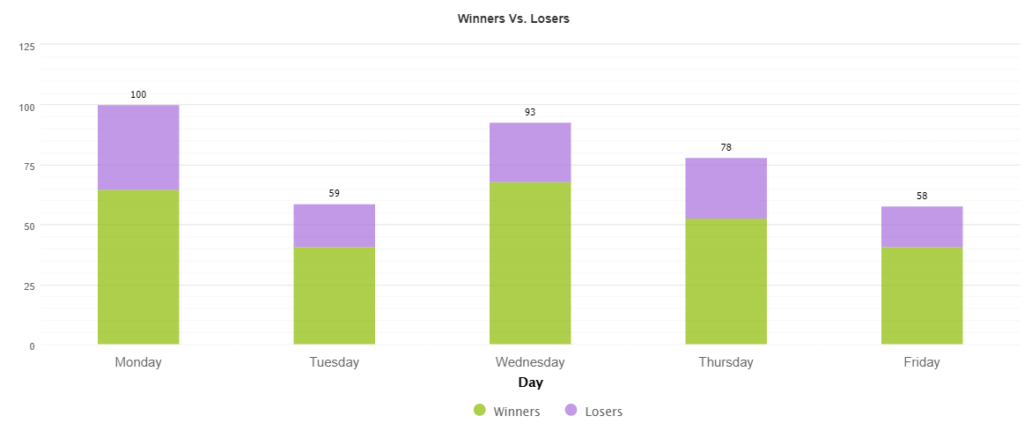 Most-traded days are Monday (166) and Wednesday (93 deals).


The EA runs the account with low risk to the balance.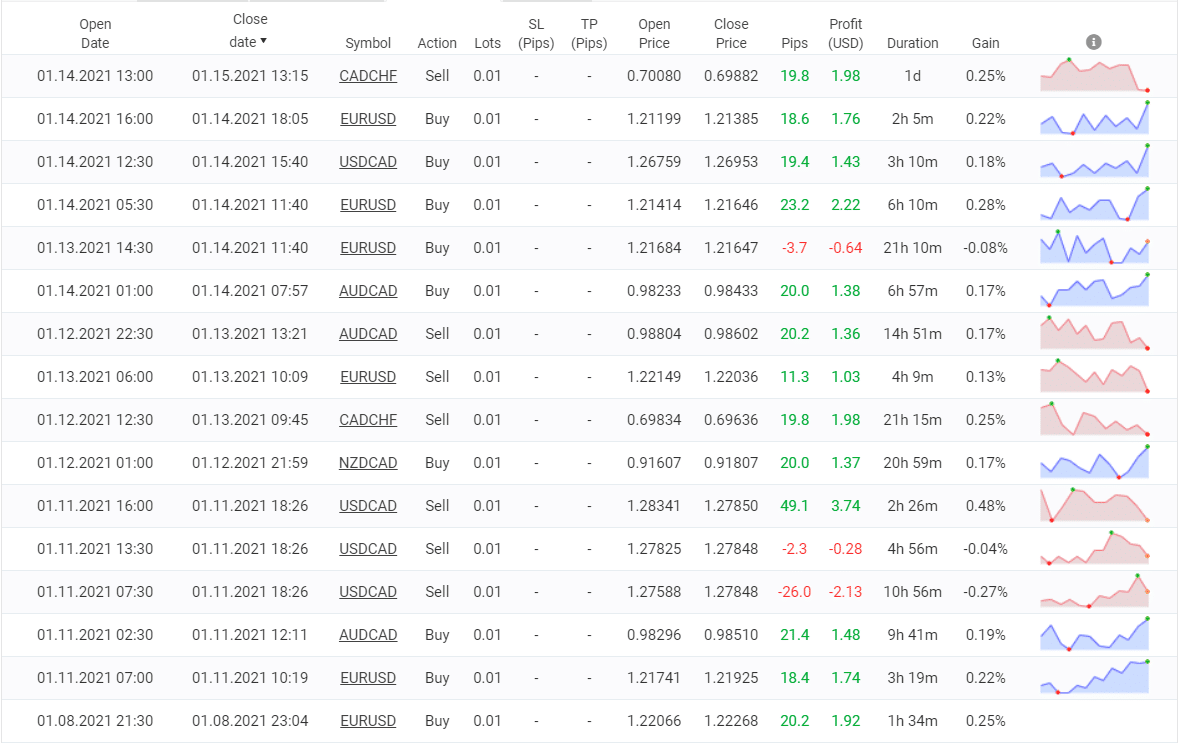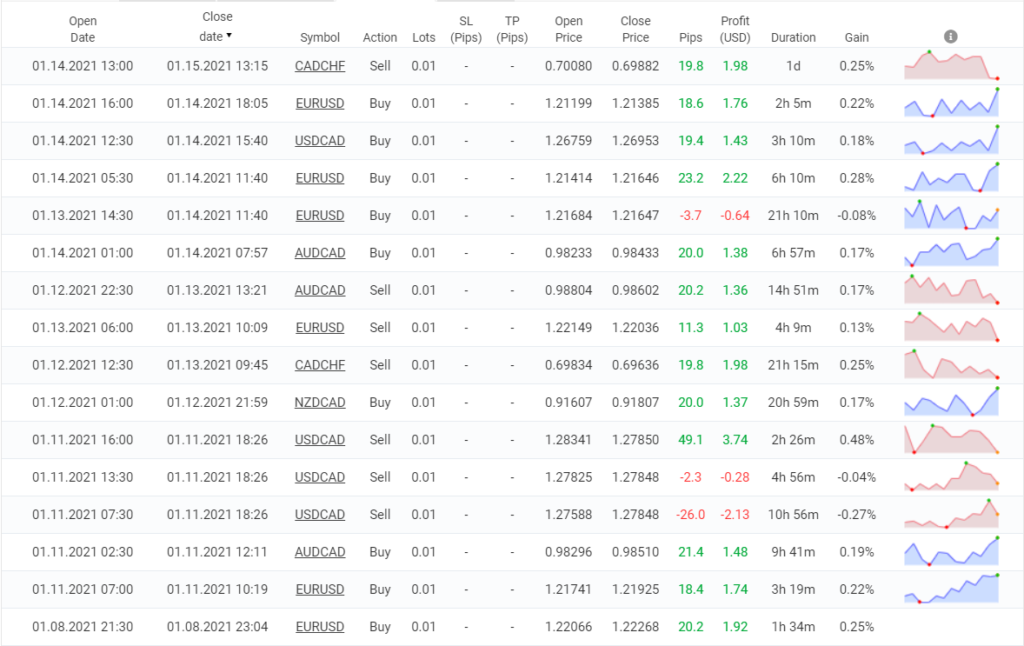 As we can see, there's no Martingale. The software covers SL and TP levels from a broker.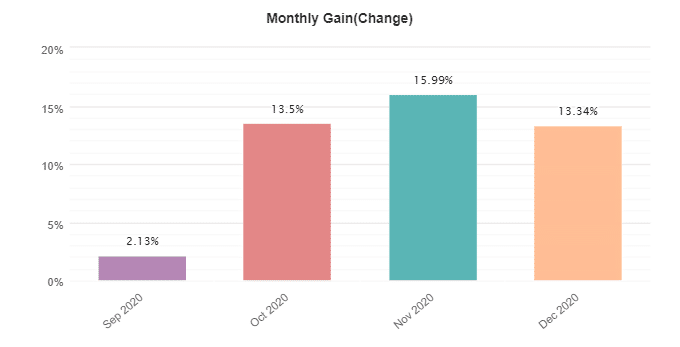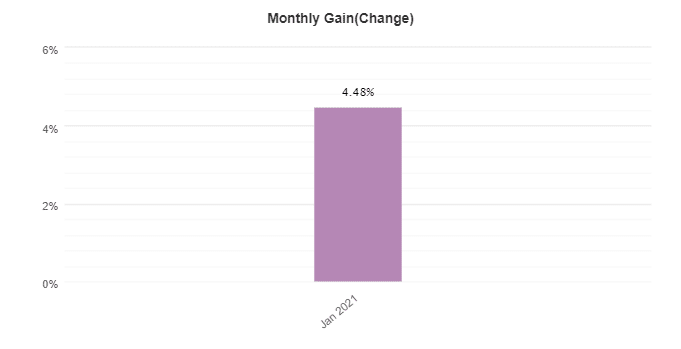 For now, the system is consistently profitable.
Other notes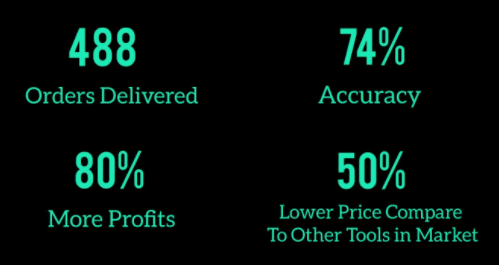 The presentation includes a schema that tells us about 488 delivered orders (we can't check it up), 74% win-rate (68%-70%) in reality, 80% More Profits (compared to what period or product?), and 50% Lower Price Compare to others (who are these others?).
People Feedback
The company doesn't have a profile on Forex Peace Army.

So, this comment could clarify much. The previous account was blown, and "+50% more profits" means compared with the current real account.

There's a comment section on the site. The average rate is 4.9/5, based on 22 reviews.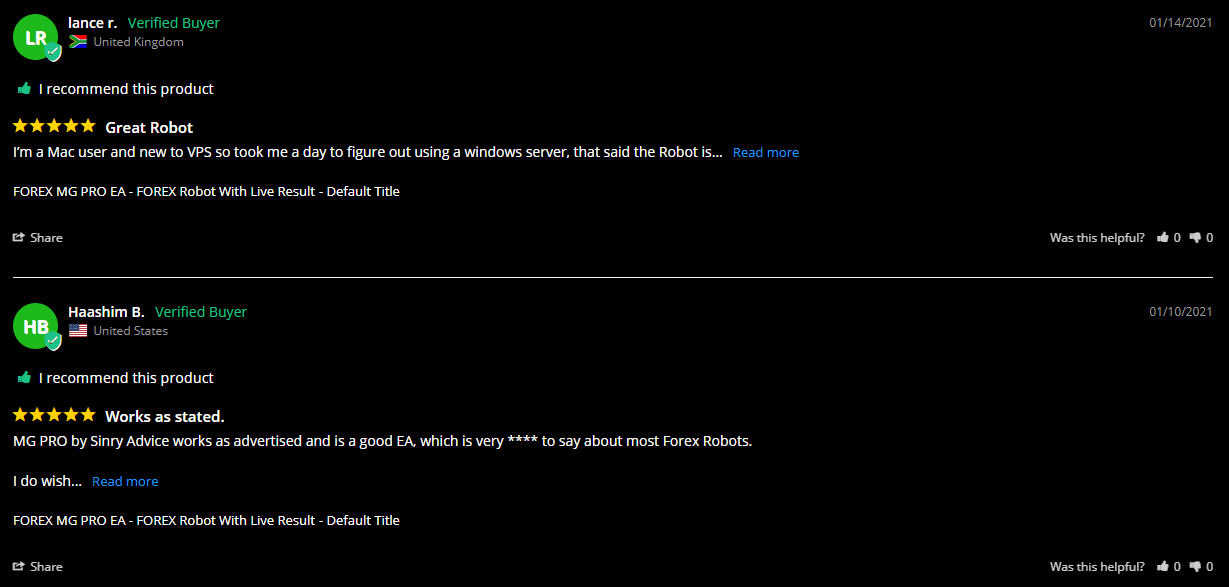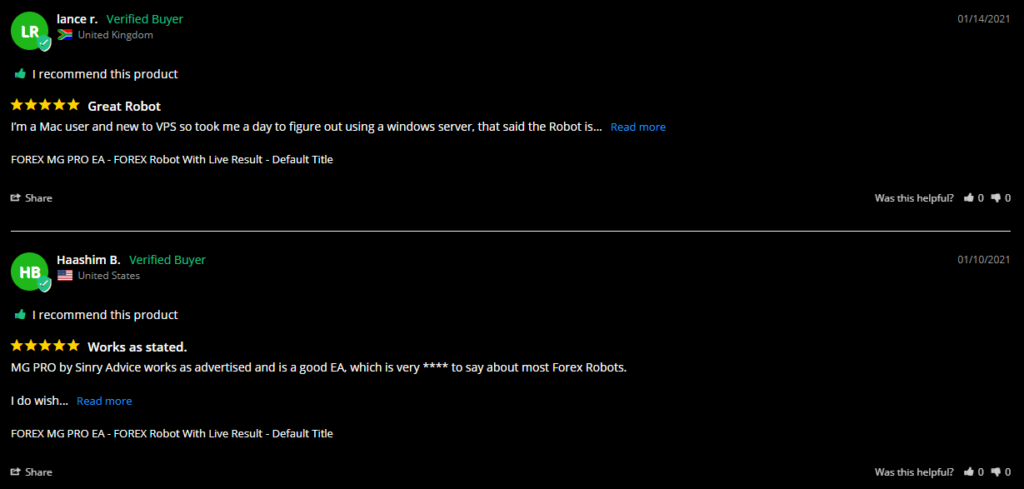 Clients are happy to use this software, according to onsite comments.
Wrapping up
Advantages
The strategy is well-explained
Real account trading results provided
Huge discount provided
The 14-day money-back guarantee provided
Disadvantages
No team revealed
No settings explanations provided
No backtests provided
The robot is several-month old
No free real-account license switch for free
Support provides an answer with a huge delay
Only a 14-day money-back guarantee provided
Summary
MG Pro EA is such a young robot with only several months of trading experience. The developers didn't reveal their team to convince us that they're professionals. The 14-day money-back guarantee is little to check how the EA handles various market conditions. The support looks unprofessional, writing in slang English, and delivering answers with huge delays.