The vendors of Neuro FX Robot claim that their 'awesome' trading system is based on a unique trading algorithm, which is designed 'to cut losses early and allow good trades run to maximize gains'. In their website presentation, they try to convince us that their robot knows when open and close trades, providing fully automated trading which runs on the MetaTrader 4 platform. It was built to exclude any human interference and provide traders with a consistently profitable and smooth trading experience.
In this Neuro FX Review, we are going to analyze a new EA and decide whether it is as effective, profitable, and 'awesome' as advertised.

Is Neuro FX Robot a Good Trading System to Invest?
The overall website presentation lacks vendor transparency and information where it is needed: money-back guarantee details and trading strategy insight. The vendor, who stills to be incognito, failed to provide any sort of information about the trading strategy or strategies behind this robot. Although they say that they do not use Martingale, it does not mean that their EA does not use other risky or dangerous trading approaches.
How to start trading with Neuro FX Robot
The team behind this EA points out the main features, which characterize their robot and, as they think, prove that t is the most 'awesome' EA on the Forex market:
It is a 100% automated EA, built to analyze market conditions, cut losses early, and 'allow good trades run to maximize gains'.
Neuro FX Robot has an inbuilt money management system.
It does not use Martingale for trading.
The EA itself decides when to open and close trades.
The risk management allows auto calculating Lot Size.
It works exclusively on the MT4 platform.
Suits both experienced traders and newbies.
Does not require a high deposit to start trading.
It excludes high trading risks and 'low reward strategies'.
Traders are provided with free updates.
You do not need to disconnect the expert at the time of the news release.
The robot is compatible with all Brokers.
It can work with any account type: ECN, STP, Micro, or Cent.
The EA uses default settings.
Developers recommend using the robot on the GBPUSD chart on the H1 timeframe.
Minimum required deposit to trade 0, 01 Lot Size deals are $100.
The best requirements to trade are 200 dollars for 0, 01 Lot Size.

The Neuro FX Robot is available in 3 different packages: Basic, Regular, and Business: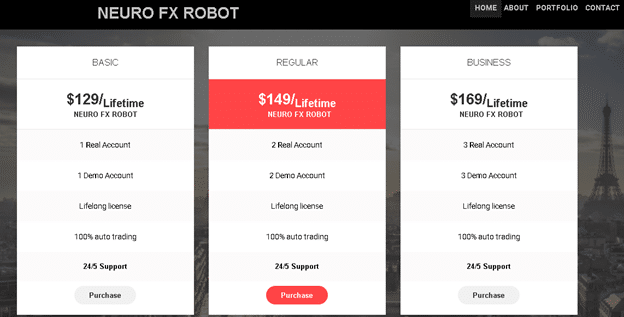 Each package includes a lifetime license, 100% auto trading, and 24/5 customer support. The basic package consists of trading accounts (1 real and 1 Demo) and is available to buy for $129. The Regular pack comes with 2 Real and 2 Demo accounts and costs $149. The Business package costs $169 and includes 3 Real and 3 Demo accounts. There is nothing said about a money-back guarantee and it is sad.
Neuro FX Robot Backtests
The devs provide backtesting results on their sales page: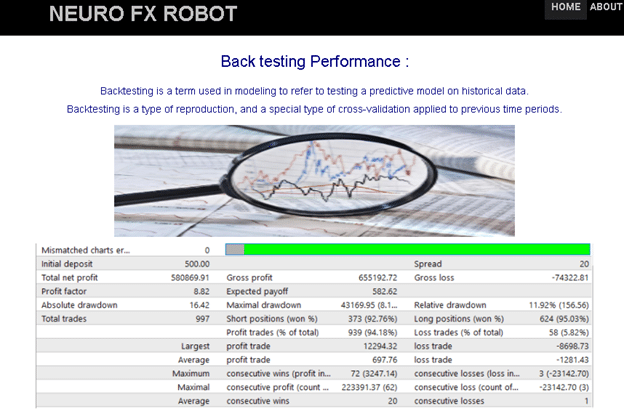 Backtesting started on November 1, 2017, and ended on November 1, 2020. It was a GBPUSD backtest on the H1 time frame. The modeling quality of the robot was 90.00% with 20 pips spreads. The initial deposit was 500 dollars. For 3 years of trading, the robot has closed over $580K of total net profit. The maximum drawdown was 8.18%. Its profit factor was extremely high and equaled 8.82. It traded 997 trades: 373 Short positions and 373 Long positions. It won 939 out of 997 trades, which represents 94.18%. The average loss was twice higher than the average win: $ 697.76 vs $ -1281.43, which means that the robot traded with a risk-reward ratio of 1:2.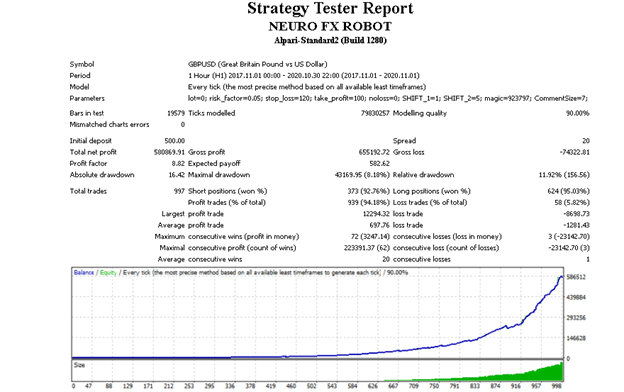 Trading Results
Well, let's analyze one of the most important sections of every robot review – trading results. It is good that the developers provide live trading results on their website. It can mean they have a strong intention to prove the effectiveness and profitability of their trading system.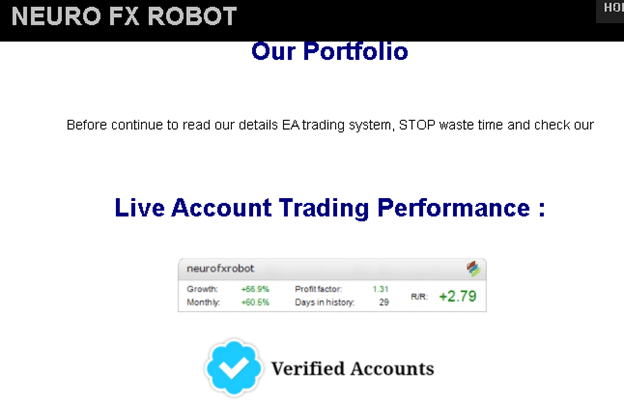 It is a new trading account, which was uploaded on November 17, 2020. We have a Real CNH account that runs on the MT4 platform. The initial deposit was $300. For 2 weeks of trading, it has earned $63 of profit. Now, its balance equals $364.51.
The total net return is over 56%, with a monthly return of 60, 5%, and a weekly return of 11, 9%. The peak drawdown was -30, 4%. Its win rate is 77, 3%. The profit factor is low and equals 1, 31.

The robot has traded 44 trades with 34 winning trades and 10 losing ones. The average trade frequency is 1, 5 trades per day. The average trade length is 8 hours and 33 minutes.

The robot trades only 1 currency pair as it should be:

The risk of ruin is 7.0%. Its risk/reward ratio is 2, 79. The average loss (-20. 70) is 3 times higher than the average win (7, 97).

The robot buys (37 trades) more than sells (7 trades):

The robot trades daily, from Monday to Friday:

The most profitable day for trading is Wednesday, while the worst one – Friday.
The robot uses only 1 strategy on the board:

From November 22 till November 29, the robot has brought the first significant losses (-$3, 44 and -$111, 67 of the net profit):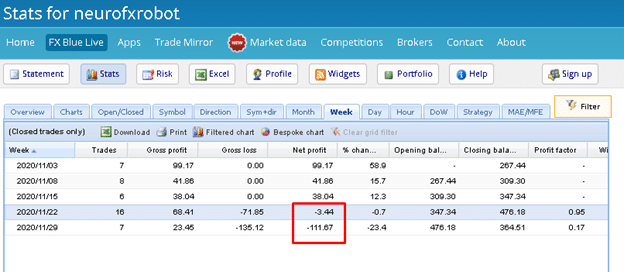 The last 4 days were unprofitable for trading and showed that there is something wrong with the robot: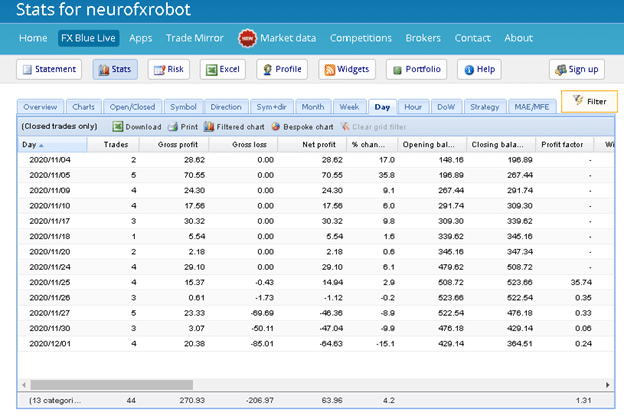 Vendor Transparency
Who is the vendor? Where is he or she located? What is his/her trading experience/history in the Forex market place? Unfortunately, all these questions are still undisclosed by the vendor. It is not a good sign for a developer who has just placed his/her product on the market. It adds neither trust nor reputation to the product being offered to the public.
People Feedback
We have found a Neuro FX Robot profile on FPA. However, there is no customer review: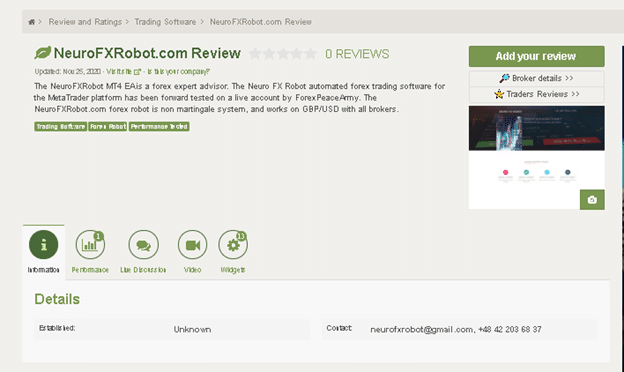 Summary
Advantages
Backtesting and Live trading results provided
Affordable price
Disadvantages
Undisclosed trading strategy
Young trading results
No money-back-guarantee provided
Lack of vendor transparency
Summary
This is a young trading robot and it is too early to say whether it is a good investment solution for traders or not. We have to monitor the trading performance of the robot to see how it will be working in the long term. Until now, taking into account that we know nothing about money-back guarantee, the team that stands for this EA, and the trading strategy behind the system, we are not in a position to recommend this EA to traders.