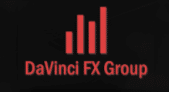 Today's robot to review is Night Hawk. The expert advisor was designed by the DaVinci FX Group company from Russia. The main page introduces EA's features and advantages in general and provides referral links to the supported brokers.
Is this robot a viable option?
It's a discussable EA. We'd like to see its trading performance in the first half of 2021 before making a final decision. Anyway, let's talk about strategy and everything around it:
The EA runs a Martingale strategy as the main one.
There are Grid and Averaging strategies to support the profitability of the main one.
The strategies work consistently profitable on real accounts.
How to start trading with Night Hawk
In this part of the review, we grouped up Night Hawk's features: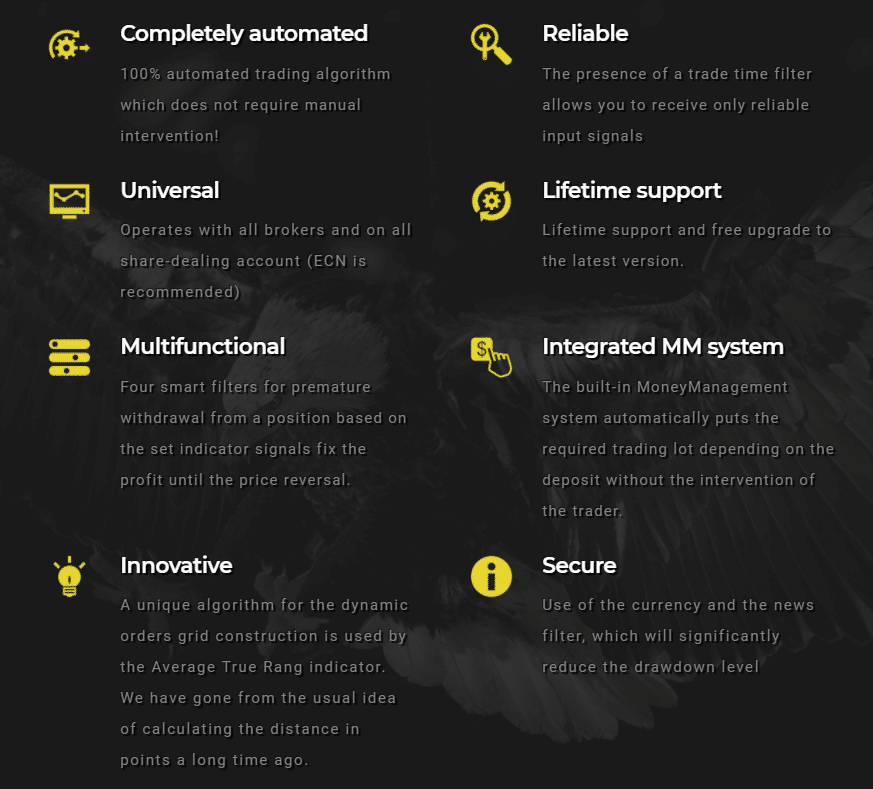 The EA works fully automatically on the MetaTrader 4 platform.
There were backtests on the optimized data with real spreads and slippages.
The robot uses various indicators in its trading activities like Bollinger Band, Commodity Channel Index, and others.
The EA can work through any brokerage house.
We have to run a 5-digit ECN-account to decrease spreads and slippages.
The robot can significantly reduce drawdowns.
The money-management system can calculate Lot Size for us.
Open trades can receive Lot Sizes based on the percent of the risk to the account balance.
The system has a News filter. It covers the EA from opening trades during high-impact news.
There's reliable and welcome support.
The robot will get free updates and upgrades.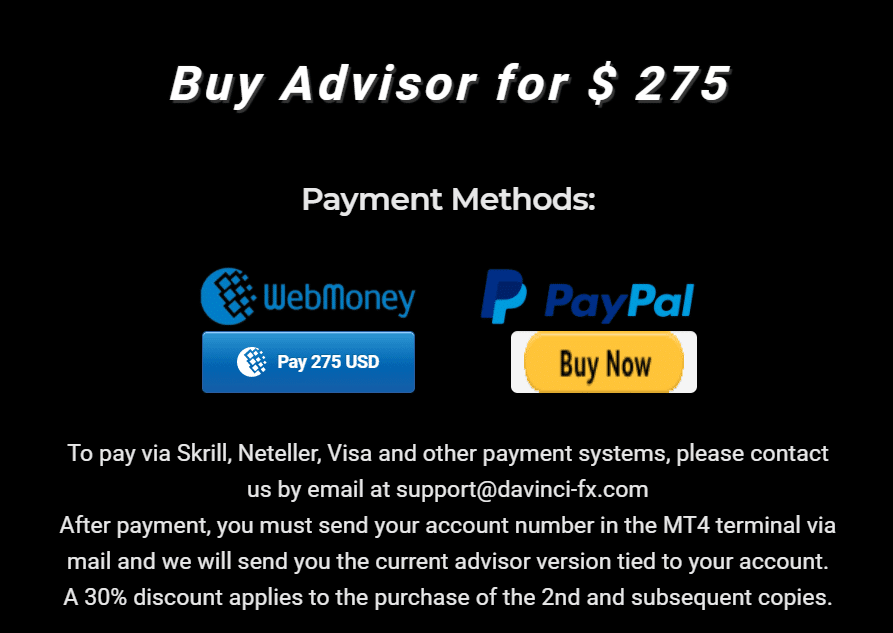 The offer costs $275 without discounts. There's Webmoney for Russian clients and PayPal for the rest.
We can change an account, writing them an email.
There's a 30% discount for the second purchase.
Night Hawk Backtests


It's an NZD/CAD backtest. It was performed from January 25, 2012, until April 16, 2020. The absolute gain has become +519.91%. An average monthly gain was 1.84%. The maximum drawdown was 19.56%. The deposit of $3000 became $18600 of the balance.


The robot closed 652 deals with 8551 pips. An average win was 32.76 pips when an average loss was -42.13 pips. The win-rate was 71% for Longs and 74% for Shorts. The Profit Factor was 2.63.


The Shorts direction was traded almost three times more often (474 deals) compared with the Longs direction (178 deals).


The robot scalped during nights from 8 p.m. until 1 a.m.


The most-traded days were Tuesday (135), Wednesday (152), and Thursday (147 deals).


The backtest was performed with little risk to the account balance. For losing 10% of the account, the EA had to lose 33 deals in a row.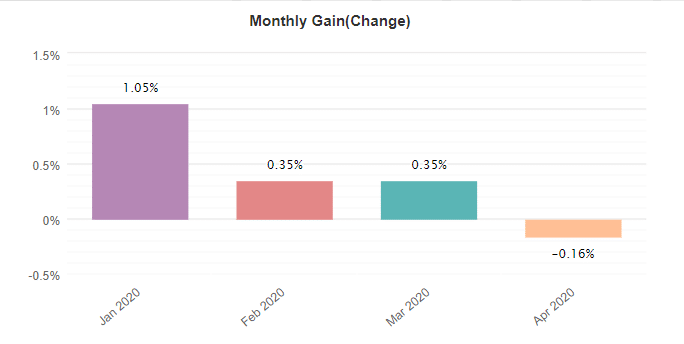 The last month was closed with losses.
Trading Results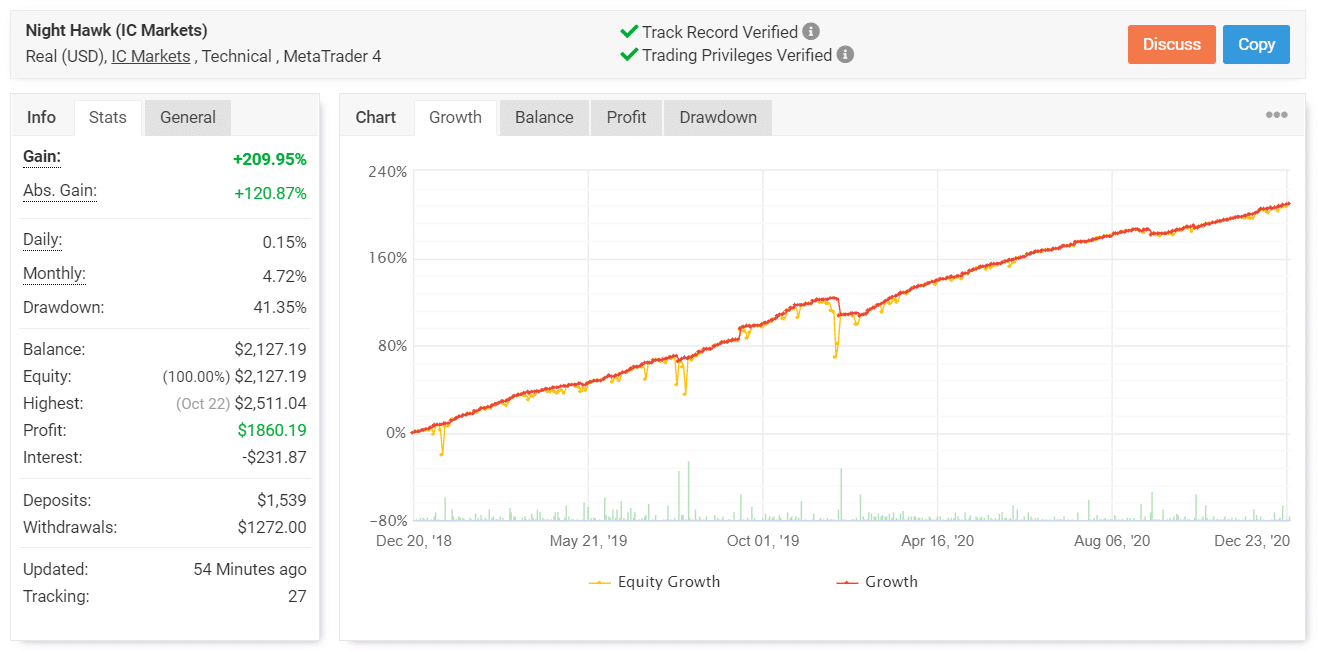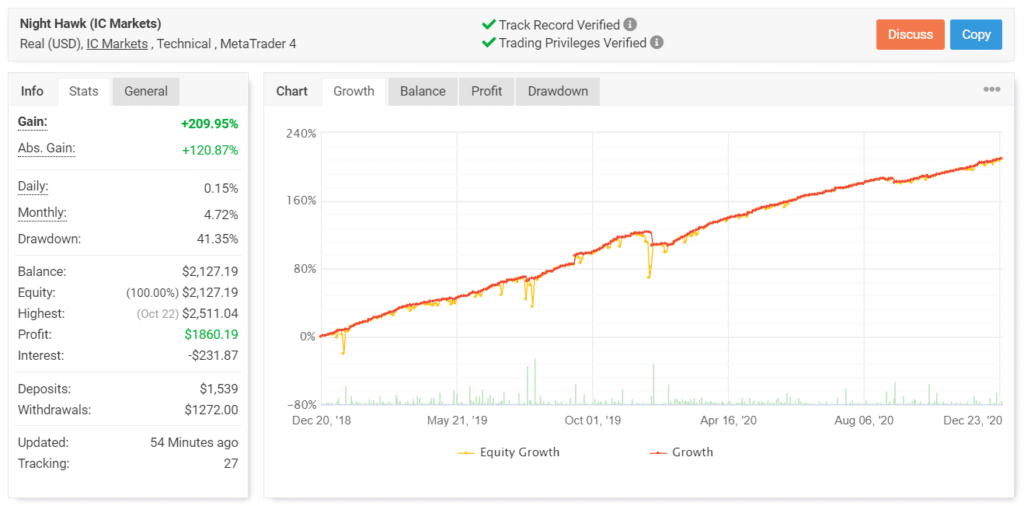 The EA runs a real USD account on IC Markets trading automatically with 1:400 or 1:500 leverage (most likely leverage is high) on the MetaTrader 4 platform using technical indicators. The account has a verified track record. It was created on December 20, 2018, and funded at $1539, and withdrawn at $1272 in total. The absolute gain has become +209.95%. An average monthly gain is +4.72%. The maximum drawdown amounts to 41.35%. This account is tracked by twenty-seven users.


The robot closed 1524 deals with 8376 pips. An average win is 24.11 pips when an average loss is -51.93 pips. The win-rate is 75% for Longs and Shorts. An average trade length is two days. The Profit Factor is 1.74.


The EA works with eight symbols. The most-traded is AUD/CAD – 393 deals and $521.45 of the profits, GBP/CAD – 282 deals and $232.69, and GBP/AUD – 224 deals and $290.92.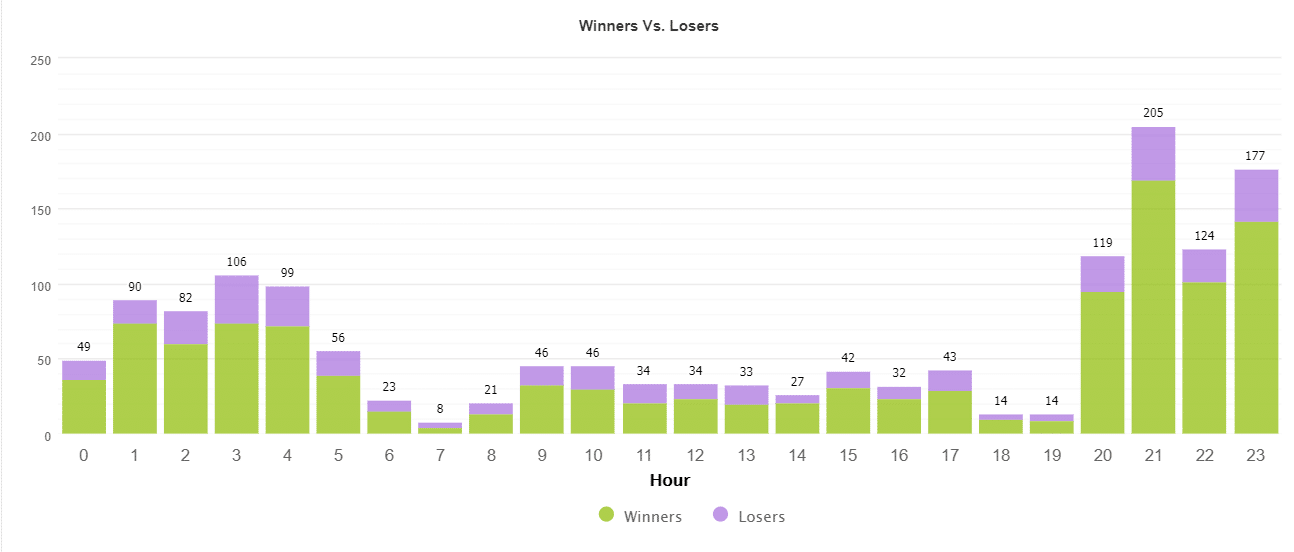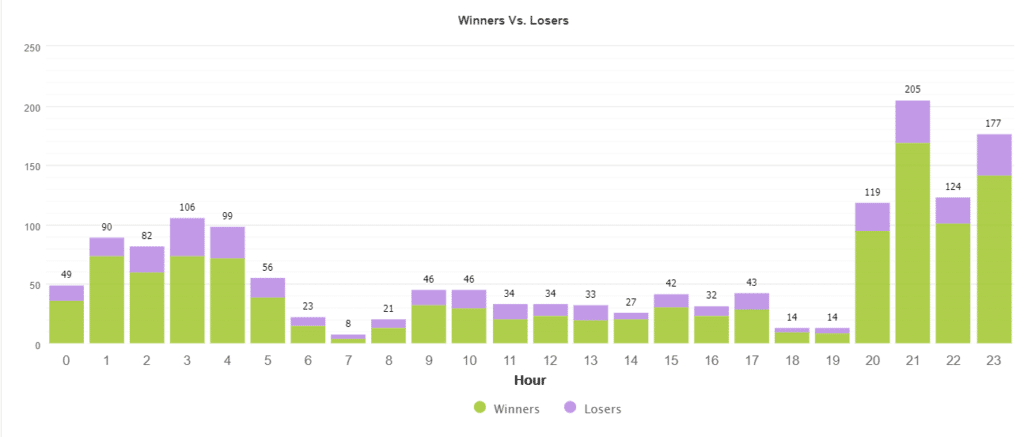 Most deals are opened after 8 p.m. when the markets calm down, and there are scalping opportunities.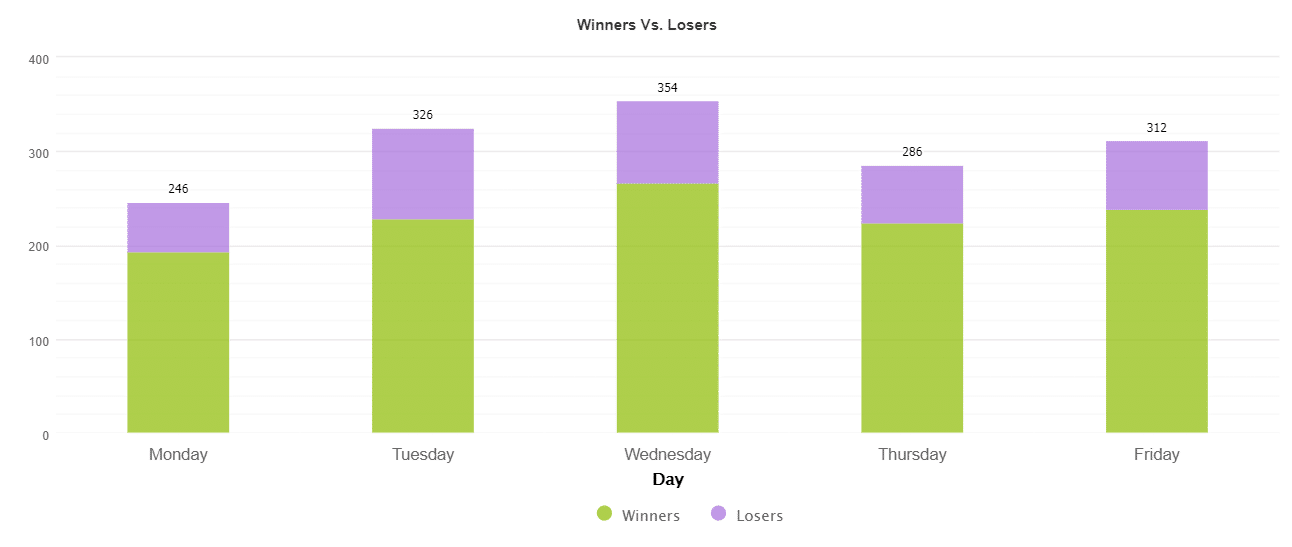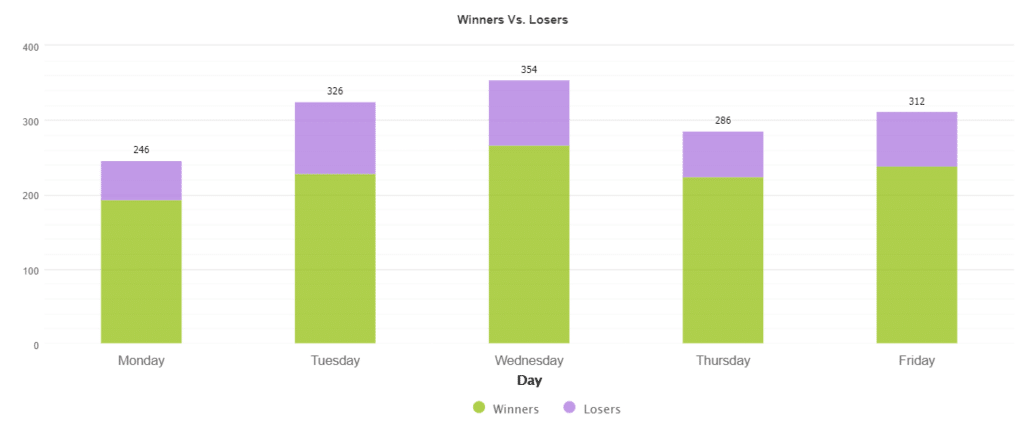 Wednesday (354 deals) and Tuesday (326) are most-frequently traded days.


Night Hawk trades with medium risk to the account balance. For losing 10%, we have to lose 31 deals in a row.


Night Hawk opens Grids of several orders. There are some of them with Martingale Lot Sizes.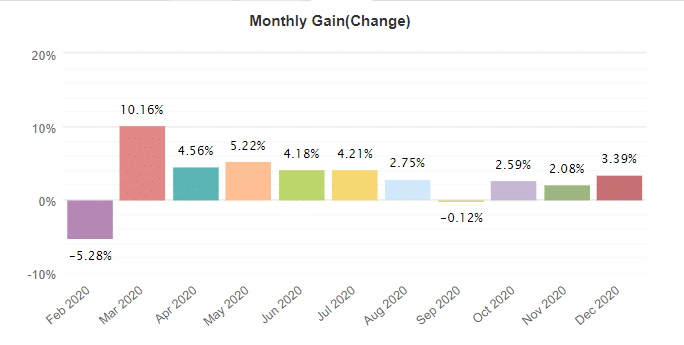 Some months were closed without profits. As for a Grid plus Martingale robot, these profits are little.
Other notes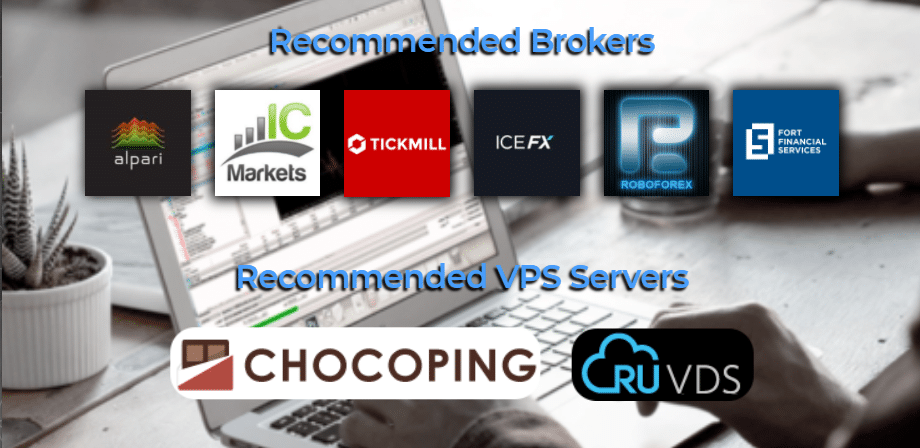 The company offers us to use their referral links for the next brokers: Alpari, IC Markets, TickMill, ICE FX, Roboforex, and Fort Financial Services. There are two VPS services – Chocoping and RuVDS.
People feedback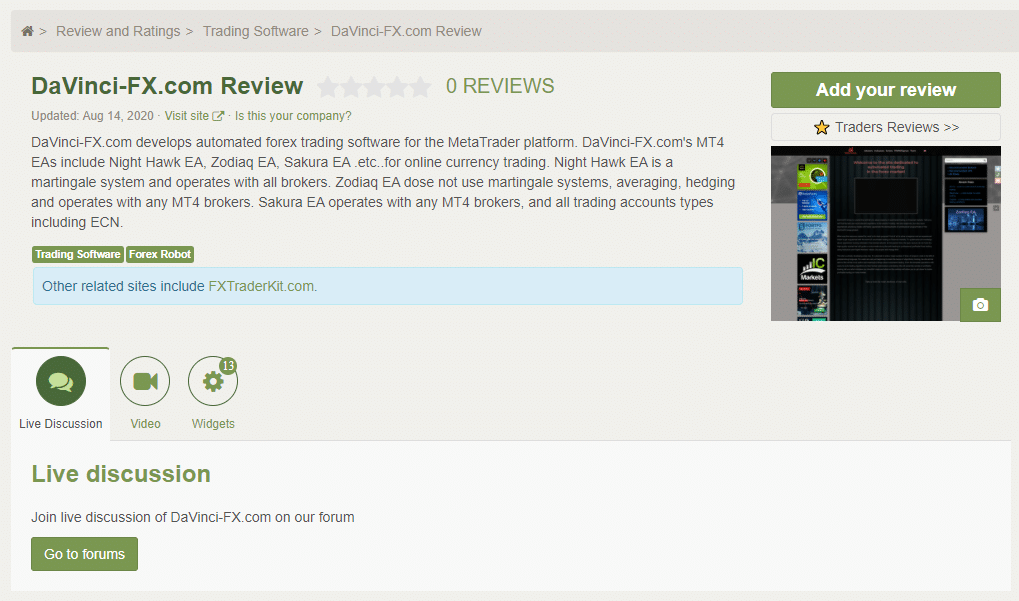 The company has a page on Forex Peace Army. As the service mentions, FXTraderKit is their company too. There are no comments and rates.
Wrapping up
Advantages
Real account trading results
Disadvantages
No team revealed
No money-management advice provided
There's a Grid plus Martingale mix on the board
The EA's profitability is low
Overpriced offer
No money-back-guarantee provided
No people feedback provided
Summary
Night Hawk is a robot with risky strategies on the board. Using Martingale on Grid on the EA with 75% of the win-rate is a bad decision. Several months were closed with losses. They were not huge, but only because of luck. The EA isn't ready to be our key trading solution in 2021. We'd like you to keep checking its trading results because, now, the robot is far from being a safe and sound expert advisor.