Point Zero Trading is a website where you can find several Forex indicators and expert advisors for the Metatrader 4 platform. It promises to let traders gain instant profits by taking advantage of price differences between brokers. The vendor claims that every Forex EA and indicator has been created without rehashing or reusing third-party code.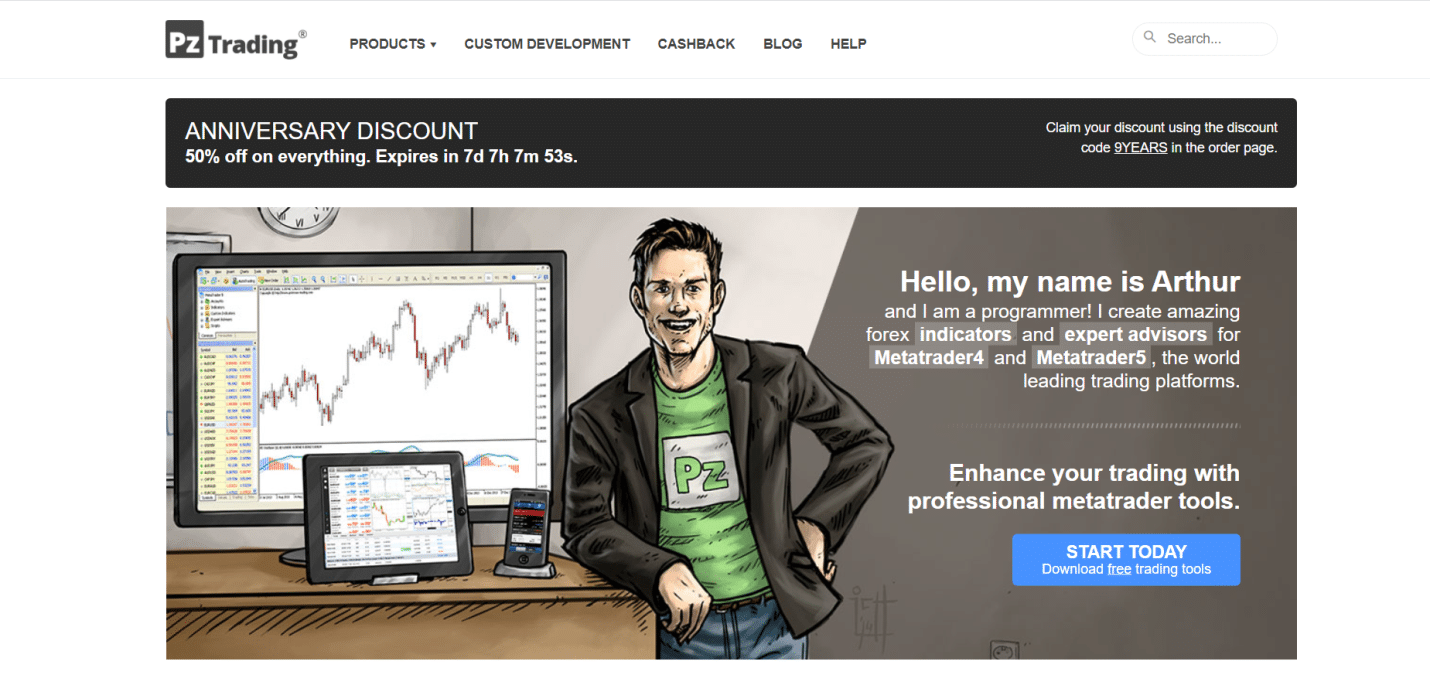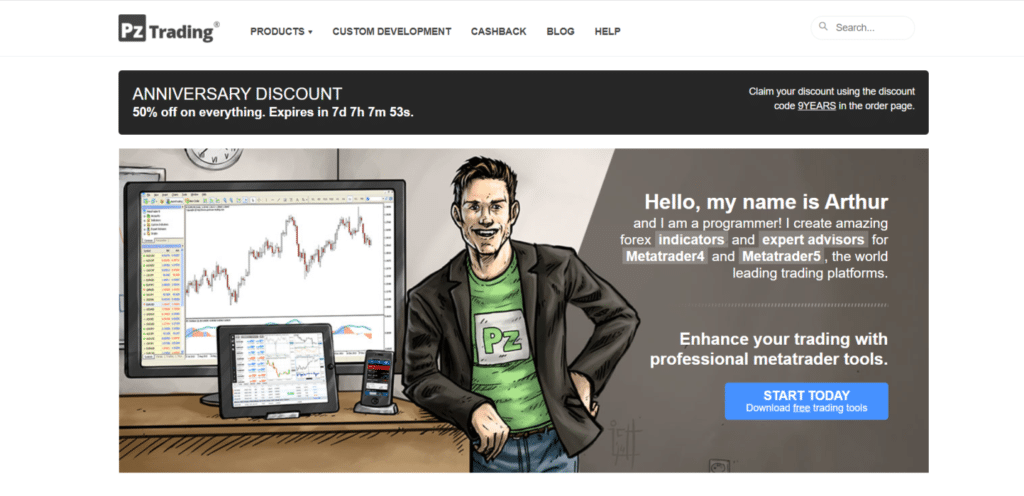 Is This the Perfect Automated System For You?
On the official website of Point Zero Trading, the vendor has highlighted the Anniversary discount offer, by availing which you can get 50% off on all products. All the Forex EAs and indicators sold by the company are listed, along with the advantages they offer. We also have a list of payment methods and several customer testimonials. The vendor also offers Custom Metatrader programming services, where you can get your trading strategy automated.
The founder of Point Zero Trading is a person called Arthur Lopez. He is a private investor and trader with a software development background. As we can see, he has developed several Forex EAs and indicators over the years. That being said, we have no information about the other people in the organization, and it is unlikely that Arthur is working alone. No physical address is provided for the company headquarters either.
The strategies used by the Forex EAs of Point Zero Trading include Hedging, Arbitrage, Averaging, Grid, etc. Detailed explanations of the strategies are provided for each Forex EA, along with user and installation guides. The EAs and indicators are flexible enough to work with different risk levels and trading profiles.
How to Start Trading With Point Zero Trading
Point Zero Trading has several Forex EAs with different prices. The cheapest one is the Gold Trader EA which is priced at $149, and the most expensive one is the Latency Arbitrage EA which costs $499. While some of them are quite affordable compared to the standard market price, we think $499 is too much to pay for a Forex EA, no matter how efficient it is. The vendor also provides a 7-day money-back guarantee for all the products.
Before purchasing one of the expert advisors, you need to open an account with a fast broker platform. After installing the robot, you can load them onto a timeframe and chart of your choice. You can select your own risk settings and start trading manually or let the EA conduct the trades as per the entry and exit strategies.
Point Zero Trading Backtests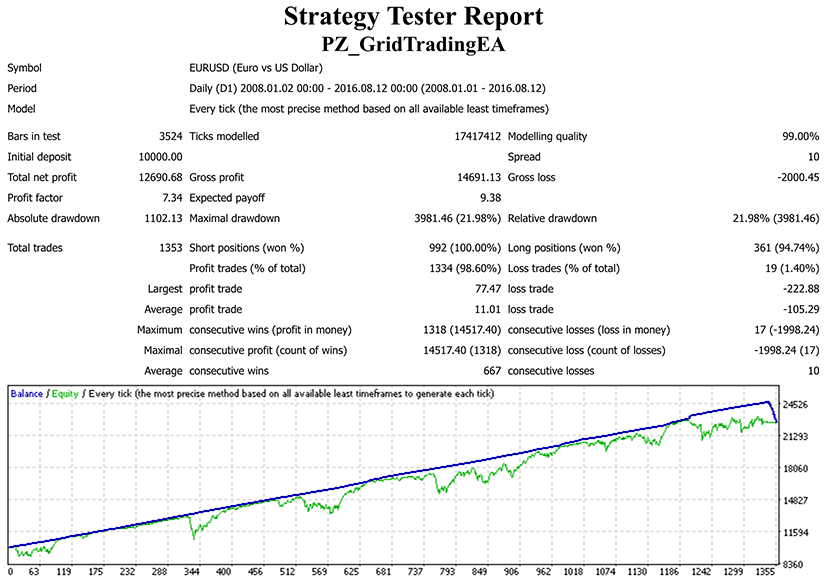 Here we have the backtesting data for the Grid Trading EA sold by Point Zero Trading. This particular test was conducted on the EUR/USD pair from 2008 to 2016 with a modeling quality of 99%. Using an initial deposit of $10,000, a total net profit of $12690.68 was generated by the system.
It is to be noted that the relative drawdown is for this backtest is 21.98%, which can be considered moderate. However, we can see that most trades were closed in profits and there were only 10 consecutive losses. The profit factor of 7.34 is more than satisfactory, and from what we can gather, this Forex EA is capable of generating profits consistently.
Trading Results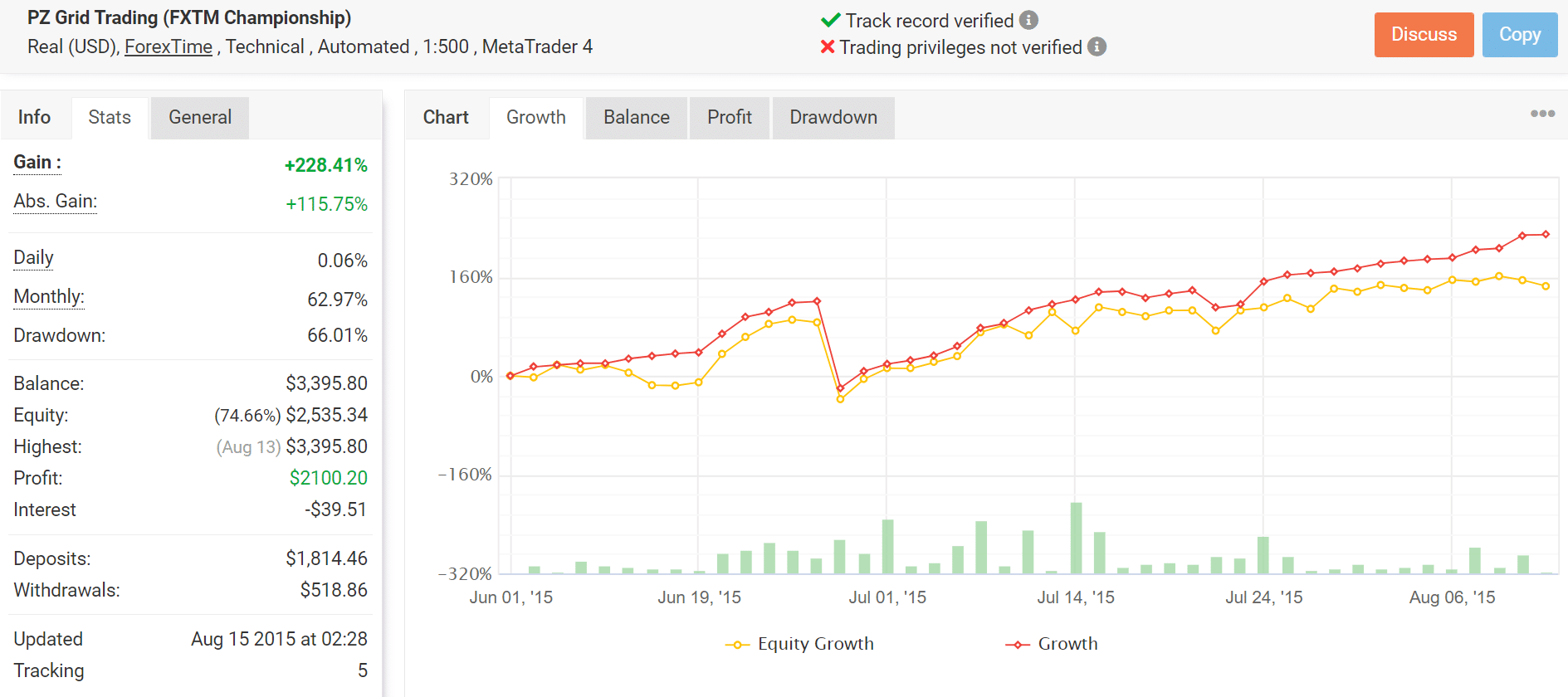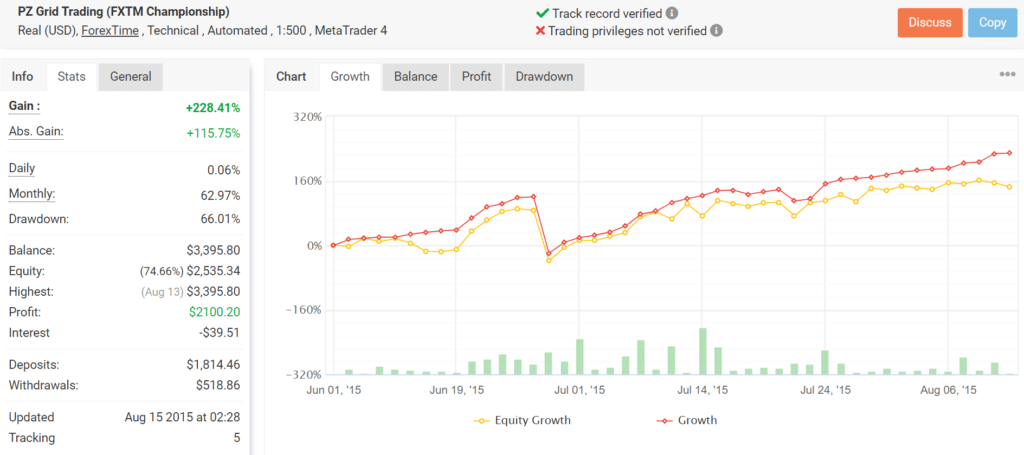 On the official website of Point Zero Trading, we also have the link to a Myfxbook account showing the live trading results for the Grid Trading EA. One thing about this account is that it traded only for a few months in the year 2015. It hasn't been updated since then.
A total of 228 trades were placed through this account, out of which 209 were won, which means the win rate is 92%. The daily and monthly wins are at 0.06% and 62.97%, respectively, while the drawdown of 66.01% is significantly higher, compared to the backtest.
Other Notes
Point Zero Trading offers the cashback functionality, where you can earn bonus rewards by opening a brokerage account through the website. Here, you receive a part of the commission paid by the broker to Point Zero Trading. 70% of the rebate amount is shared with the customer through this scheme.
People Feedback


On the Forex Peace Army website, we found several positive reviews on Point Zero Trading. It has a rating of above 4.555, which tells us that most users trust their expert advisors and indicators. They have praised the professionalism of Arthur Lopez and stated that he provides extra services at no additional costs.
Conclusion
Advantages
Live trading results verified by Myfxbook
Backtesting data shared
Strategy explanation provided
Disadvantages
Live trading accounts not updated since 2015
High drawdown
Summary
After investigating the various aspects of Point Zero Trading, we have come to the conclusion that it is a trustworthy source of Forex EAs and indicators. The vendor has shared live trading results and backtests for all the EAs. Moreover, the positive customer reviews tell us that the services offered are quite satisfactory.