Disclaimer: The information provided here does not constitute any form of financial advice. Readers are fully responsible for conducting their due diligence before making any investment decisions.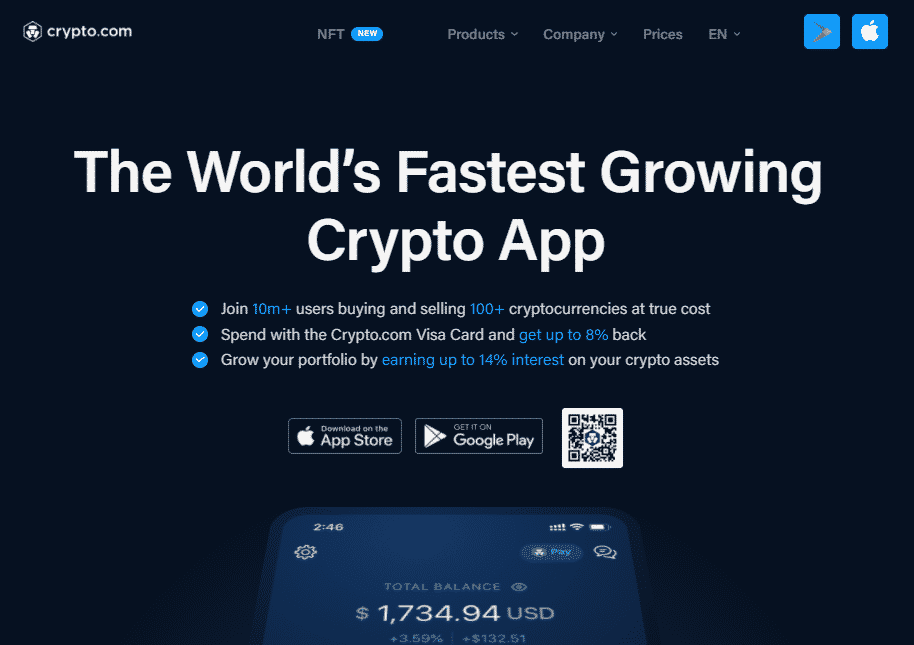 Cronos: Market іentiment
The Fear & Greed Index (FGI) is the primary sentiment tool used by crypto analysts, having a significant influence on the coins in the top 20 like Cronos. We can see the FGI's readings over the past week below, with a current figure of 23.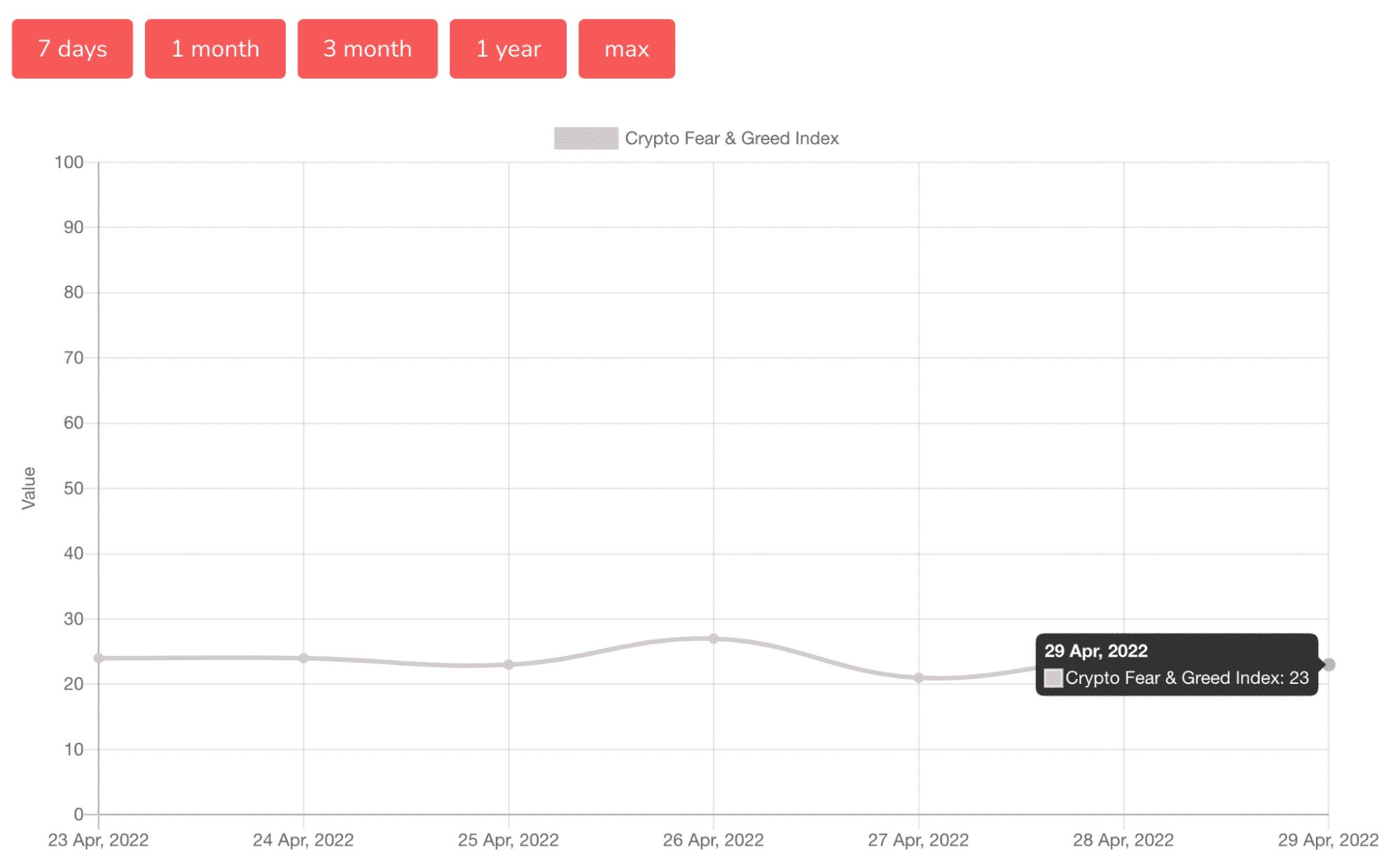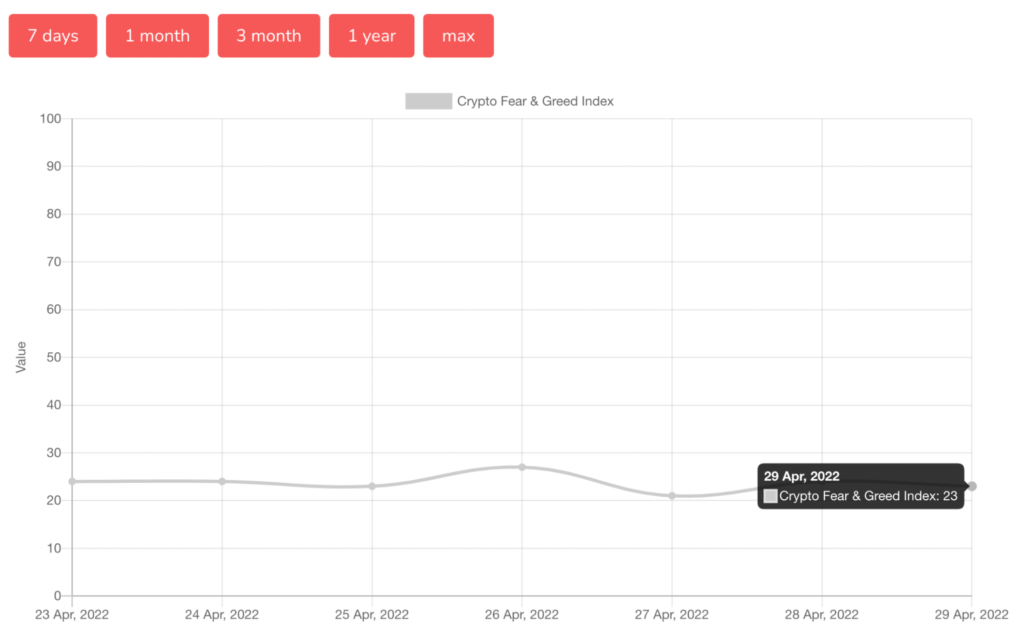 So, what does 23 mean? This figure sits in the 'extreme fear' category, indicating forthcoming buying opportunities. However, ironically, many coins have been on a downward spiral within the past week for reasons relating to rising inflation, geopolitical issues, etc.
While the index is relatively reliable, we should not ignore what's happening from a technical perspective, which we'll explore next.
Technical analysis
The aim here is to see whether the technical analysis aligns with the extreme fear sentiment. As with countless other altcoins, CRO's chart doesn't suggest any bullishness whatsoever.
We have applied the 50-day and 200-day moving averages on the daily chart below for Cronos.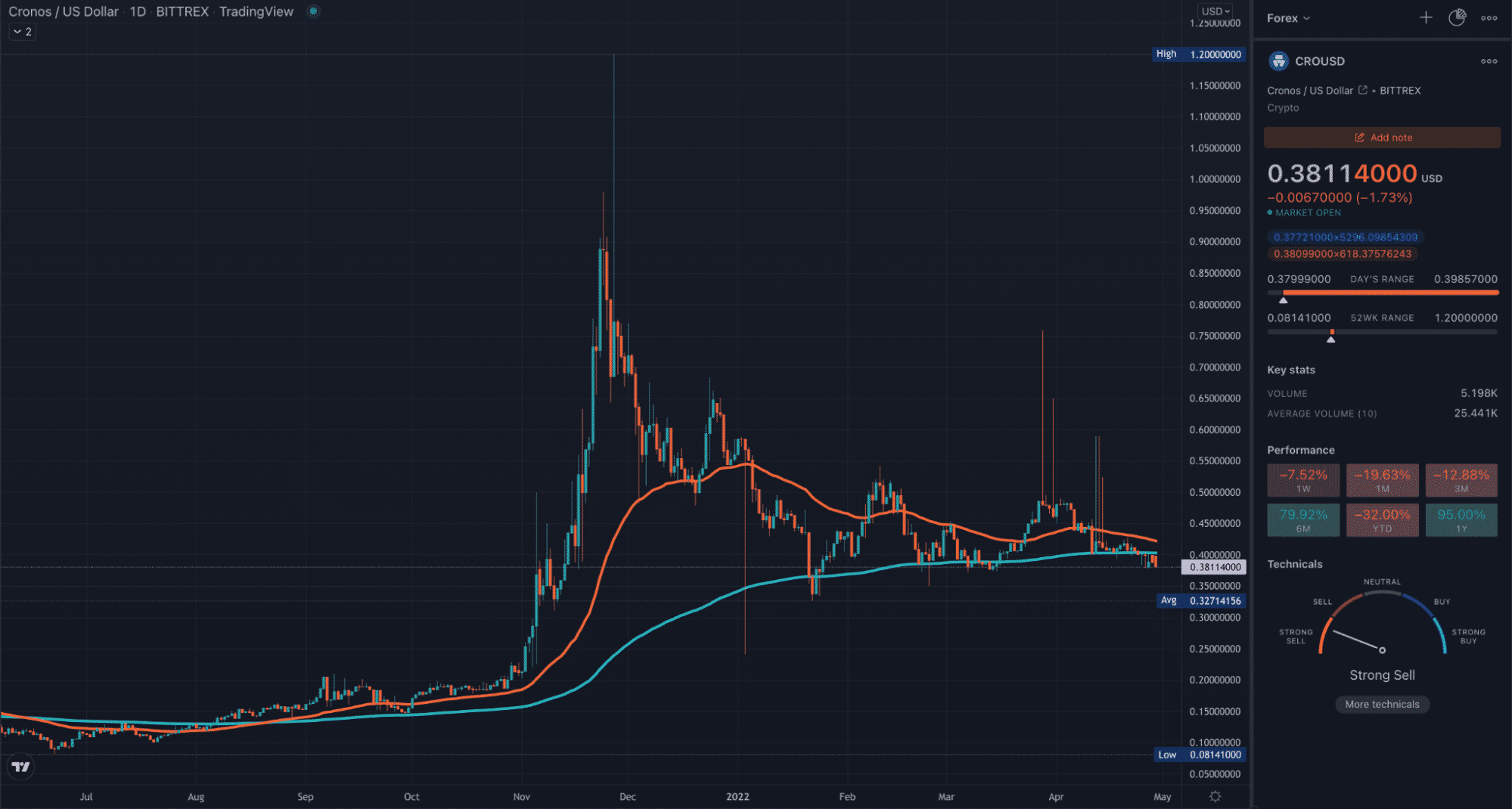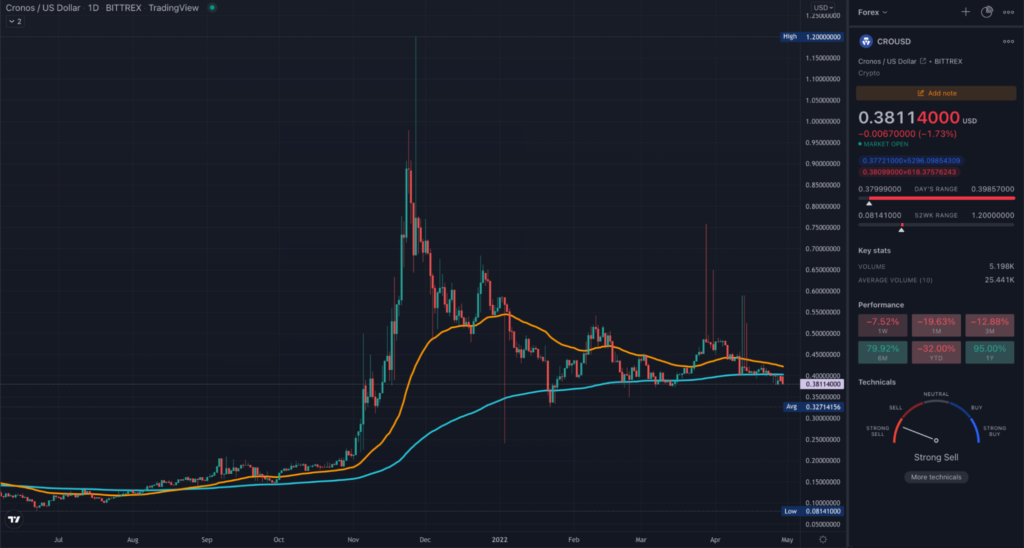 With the market trading below the moving averages, this is clearly indicative of a downtrend, and that price may continue dipping lower over the next few days. Fortunately, this doesn't mean CRO has lost its long-term value appeal, as we'll look at the positive fundamentals of Crypto.com (the exchange) and the token.
Fundamental analysis
Based on our research, the decline in CRO's value wasn't caused by any negative news related to Crypto.com. This allows us to focus on what makes this token attractive from a fundamental valuation perspective.
Here are some of the attractive aspects of CRO and why it may be a good bet for the future:
Crypto.com continues to be one of the fastest-growing exchanges globally, competing with the likes of Binance, Coinbase, and FTX.
The company has signed lucrative partnership deals in sports with the UFC, Philadelphia 76ers, Serie A, UFC, etc. More notably, the Staples Center was renamed the Crypto.com Arena in late 2021, in a deal rumored to be worth around $700 million.
After the Binance Coin, CRO is the second-most traded exchange token. It provides numerous benefits, such as trading fee discounts and merchant cashback offers. The most attractive incentive is staking rewards of up to 10% yearly.
Following in the footsteps of Binance, Crypto.com has its own blockchain (the Crypto.org Chain), which went live in March 2021. This feature means more usage for CRO aside from the previously mentioned benefits.
Lastly, CRO is a deflationary token with a maximum supply of 30,263,013,692 (with about 83% or 25.26 billion in circulation presently).
Cronos (CRO) Price Prediction: 2023-2025
Let's explore where Cronos' value could feasibly be in 2023 and 2025.
2023 forecasts
The consensus from the many forecasting resources we observed suggests CRO should be worth around 65 cents on average, almost double its present value. Here are a few of the websites we explored (and their respective predictions):
$0.53 minimum price from PricePrediction.net
$0.55 to $0.62 from Tech News Leader
$0.46 to $0.53 from Wallet Investor
Gov Capital is one of the most optimistic of the lot, with forecasts ranging from $0.47 to $0.63.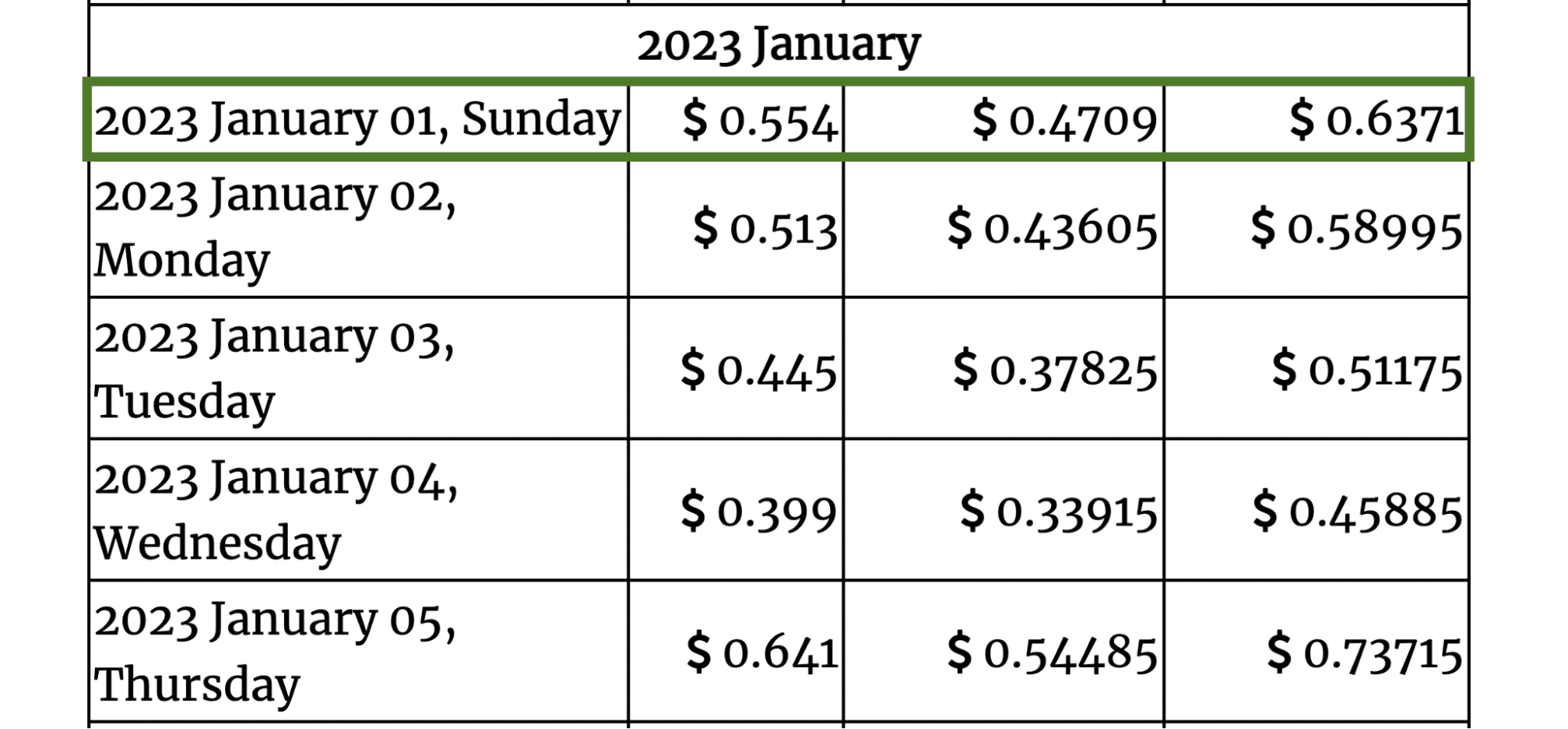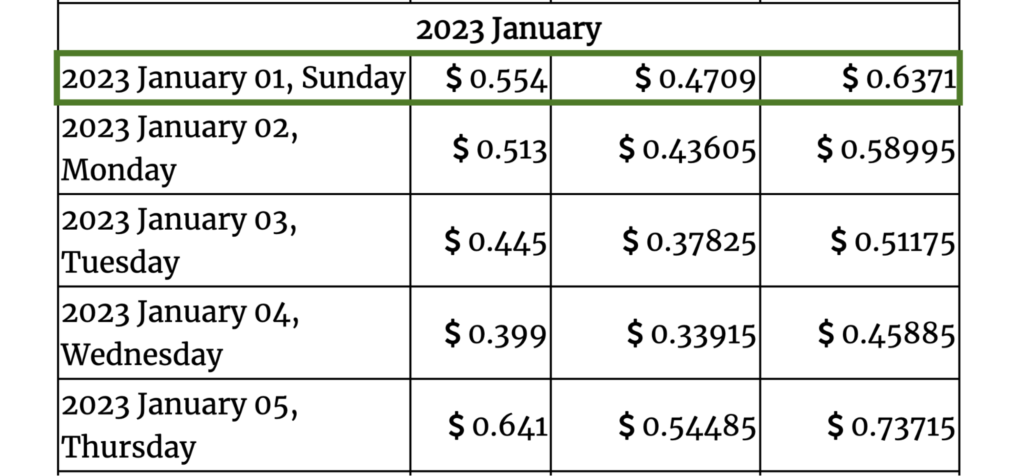 2025 forecasts
Investors will be pleased to know that the average estimate we derived here was $1.43, more than twice the previous. Here are a few of the websites we observed (and their respective predictions):
$1.25 to $1.92 from Tech News Leader
$0.76 to $0.98 from Wallet Investor
This time around, PricePrediction.net is the most bullish among the sites we observed, estimating at least $1.70 with a peak value of $2. In our opinion, such forecasts are pretty conservative.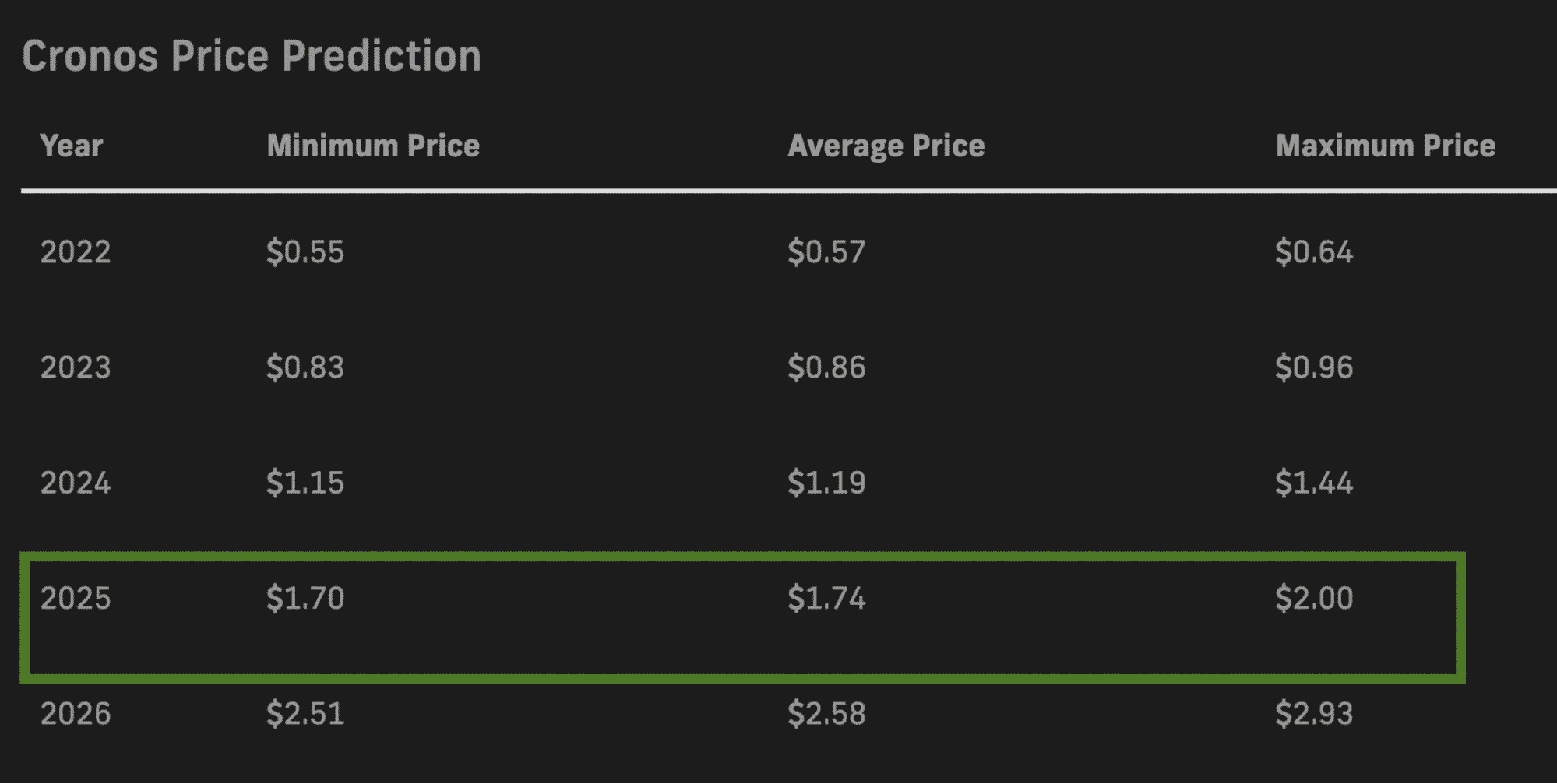 Cronos Frequently Asked Questions (FAQs)
Is Cronos real?
Yes, the token has been around since late 2018 and remains the second-most traded exchange utility coin presently.
What is the CRO price today?
$0.38, or 38 cents.
Will CRO's price reach $10?
The price would need to increase by about 29 times to reach $10. This is highly unlikely to happen in the next few years based on many forecasting resources. With growing adoption, $10 is feasible over several years (although it's still a far stretch).
Should I buy CRO?
Assuming you've accepted the risks of buying any coin generally, CRO may be a lucrative investment based on Crypto.com's growing popularity and dominance.
Where do I buy CRO?
Aside from Crypto.com, Coinbase, KuCoin, Huobi, Gate.io, Bittrex, Poloniex, and OKX are just some of the numerous exchanges to purchase Cronos.