Progressive EA is a Forex trading system, advertised as the one designed to make money and provide traders with a 50%-200% monthly gain. The robot adapts to the market conditions and uses Hard SL for account protection. Unfortunately, this information is everything the developers want us to know about their product.
Is Progressive EA a Good Choice to Invest?
Their website is pretty basic and includes only a one-page presentation, which consists of short product info, live myfxbook trading results, pricing details, and a contact form. There is no word said about who the developers are, where they are located, or what trading history they have in the Forex market. However, we've decided to conduct additional research and find at least something about the website. As a result, on the whois.domaintools.com we have found that the website was created on November 6, 2020: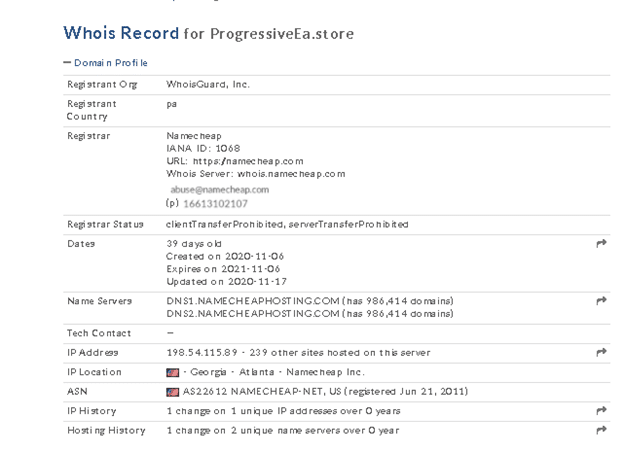 We could find bare minimum information on the features of Progressive EA and the requirements for traders who are willing to start trading with this expert advisor:
It is 100% automated trading software
It is designed to provide incredibly high profits – over 50-200% per month
With the help of an advanced algorithm, the robot can trade in any market conditions
All trades are automatically closed by the robot at the end of the day
It uses Hard Stop Loss for account protection
The developers recommend us to use Roboforex as the broker house
It trades 2 currency pairs: GBPUSD and GBPJPY
Traders have to run the robot on an ECN account
To decrease the risk of potential slippages, the developers recommend VPS services
Traders are provided with 24/7 customer support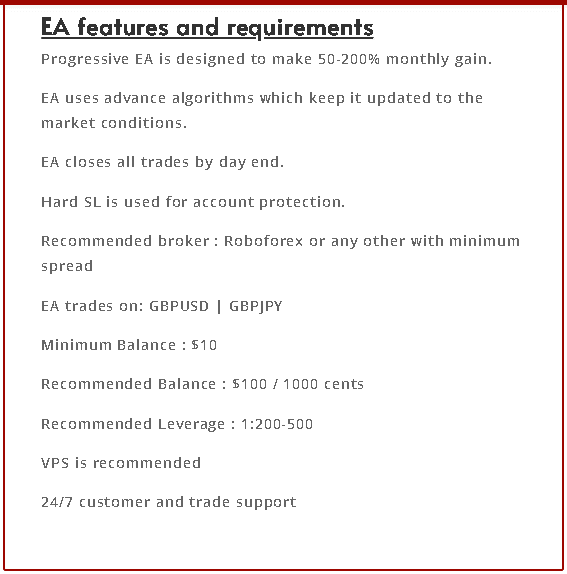 Unfortunately, the devs failed to disclose a trading strategy behind the system. The website only represents the bare minimal information about the product. It only mentions the use of advanced algorithms and adds that all trades are automatically closed by the end of the day with Hard SL to protect the trader's account.
How to start trading with Progressive EA
This Forex trading tool is available in 3 different packages: at a weekly rate – €50, monthly rate – €160, and a one-time payment – €999. This price is too high and does not provide effective trading results or functionality to speak about. We think that €1K price for a newly launched EA is too high.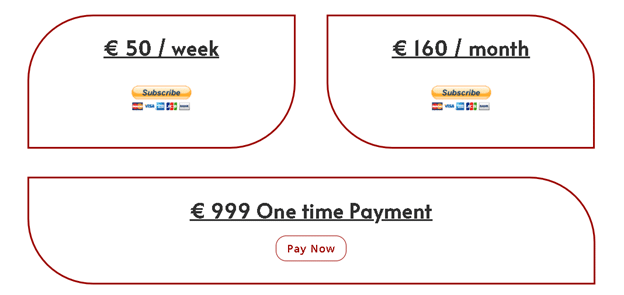 There is no money-back guarantee provided. So, who wants to invest 1000 euros in the suspicious product without a money-back guarantee? It means that in case you find the EA ineffective and decide to ask for a money refund, you will not be able to get your money back. So, say 'goodbye' to €999. Do you still want to invest in this EA?
In addition to this, the developers failed to provide detailed information and tell us how the system works. They merely say that Progressive EA uses advanced algorithms and Hard SL to keep the system updated to the market conditions.

The recommended minimum balance by the vendor is $10. The recommended balance to trade with this robot is $100. They advise trading with a 1:200-500 leverage to obtain better trading results.
Progressive EA Backtests
Unfortunately, the official page does not have any backtests analysis. Lack of trading strategy insight and backtests results is a red flag for Progressive EA. Backtests help traders better understand how the system worked in the past as well as understand the strategy used and its effectiveness.
Trading Results
The vendor provides us with one live trading account verified by myfxbook.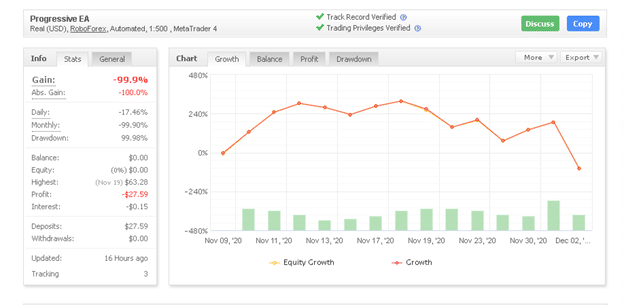 This Real USD trading account was working on the MT4 platform with RoboForex brokerage. It traded with a 1:500 leverage. The track record was verified. The account was launched on November 09, 2020, and deposited at $10 (it seems that the developer did not trust the EA). To tell the truth, the deposit of 10 dollars looks like a bad joke, as they ask €999 for a copy.

For over a month of trading, the robot has obtained a -99.9% gain. The monthly gain and drawdown also equaled -99, 90%, and -99, 98%.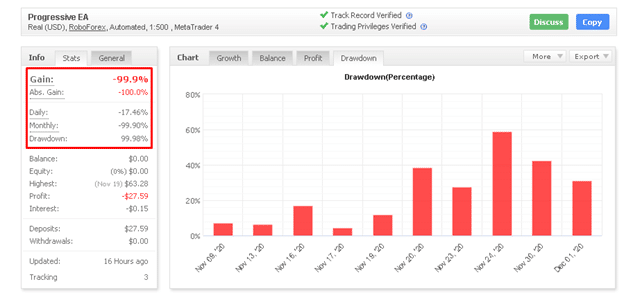 The robot placed 168 trades and -69.9 pips. The average loss in pips is twice higher (-19.83 pips) than the average win (8.78 pips). The win-rate for Longs was 73%, for Shorts – 56%. The average trade length was 1 hour and 13 minutes. The profit factor was low – 0. 80.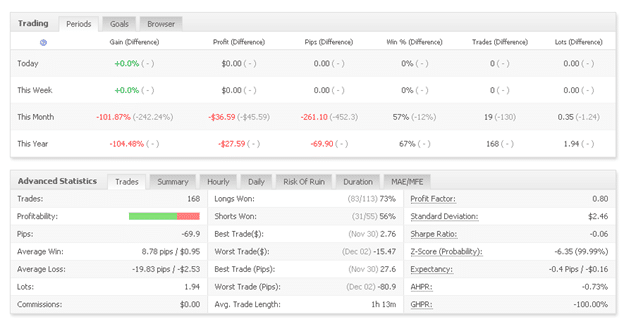 The last trading activity was on December 12, 2020:

As you may see on the screenshot above, the last-placed trades were unprofitable ones. Trading 0.01-0.02 Lots on the account with less than $100 was a huge mistake. The last trades were stopped within a minute.
The account was ruined and lost not only earned but also deposited funds: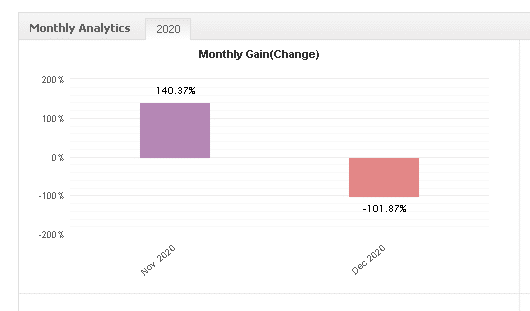 Hidden Trading Activity
The developer decided to hide trading activity data. Why? What did he want to hide from us? What was wrong with this EA? The developer wanted to mask some unsavory details.

People Feedback
Progressive EA has its page on FPA. However, there is no customer review. With extremely high pricing and poor trading performance, it is highly impossible to see positive reviews from customers.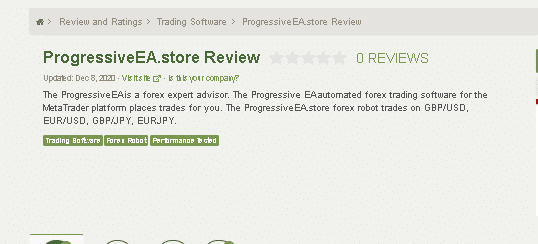 Wrapping Up
Advantages
Live trading results provided
Disadvantages
Extremely high price
No money-back-guarantee provided
Undisclosed trading strategy
Absence of backtests
Extremely high drawdown
Lack of vendor transparency
No customer feedback
Summary
Wrapping out our Progressive EA review, we could not find any significant and positive feature about this EA to recommend it to the public. The robot zeroed the trading account for a month. The devs failed to provide detailed trading strategy insight, setting explanation, backtest results, and other important info on their website. We do not know who the developers are and where they are located. Lack of money-back guarantee is another drawback of this EA. It is not a good option to invest.