Promax is a new Forex Grid trading expert advisor released under the SinryAdvice team. The My EA Academy shop, which is also under the guidance of SinceAdvice, claims that the robot uses a 'smart news filter which allows this EA to analyze both technical and fundamental news'. The robot is represented as the first gold trading system to feature full automation. When buying this expert advisor we can rely on 20-40% of monthly income, a fully automated hands-free trading, and a money management system optimized for trading XAUUSD (Gold) on the MT4 terminal. How good is this EA? What trading risks does it involve? Keep on reading our unbiased Promax Gold EA review to find out the answers.
Is It a Reliable Robot?
We've analyzed this EA and grouped all its features in the list below:
It's a 100% automated FX trading tool that can provide hands-free trading
The system comes with an automated lot selection and money management feature
It was designed and programmed to trade with only for above 88% accuracy
In case of drawdowns, the system uses a smart grid to close deals in breakeven without loss
It is programmed to analyze the market and also fundamental news
It promises from 20% to 40% of monthly profit
Trades only 1 currency pair – XAUUSD (GOLD)
Runs on the popular MetaTrader 4 platform
The robot performs on M5 timeframe
Trading with default settings is recommended by the vendor
The system comes with a full and detailed setup guide
Installation takes 5 minutes only
The EA is fully programmed and does not need any changes
How to start trading with Promax Gold EA
To start trading with Promax Gold EA we have:
After purchase, we need to download the zip file after order and unzip it
Then we have to drag and drop the expert file into an expert folder of our MetaTrader4
Open XAUUSD chart
Put it in the M5 timeframe
Add the expert file to the chart and get the alert error
Then we have to send info about a number of our demo and real MT4 account to [email protected], asking to activate the account
That's all
The other recommendations the vendor provides are as follows:
The minimum account balance to start trading with Promax EA is $1000 or above
ECN account with the leverage of 1:500 and Opoforex broker is recommended
Mini or Cent types of accounts are not allowed
Using other EAs on the same account you are using Promax Gold EA is forbidden
The regular price of Promax Gold EA is $390. Now it is sold with a $192 discount and interested in the system traders can easily buy a lifetime license of 1 Demo and 1 Real account for $198. It also includes an installation guide and free updates. A refund policy of 14 days is also provided.
Promax Gold EA Backtests
Unfortunately, there are no backtests provided on the site of the developer. It's a huge con as we cannot say whether the system was properly tested before being offered to the public. Moreover, we cannot compare the past trading activities of this robot with the ones we have in present days.
Trading Results
The dev provides 2 live trading accounts on the page where the robot is sold. Let's analyze one of them in detail.
This is a Real (USD) account trading under HF Markets SV brokerage and using technical indicators in trading. It trades with a 1:500 leverage and works on the MT4 platform. It was launched on myfxbook.com on March 01, 2021, and since that time it has been showing a total gain of 62, 85% and the same value for its absolute gain percentage. The daily and monthly gains stay at 0,51% and 16,73% (not 20-40% as was promised by the developer). The peak drawdown was 28,14%. With a deposit of $1,000, the EA could generate $628.45 of profit. Now the balance equals $1, 628.45. The growth chart you see in the screenshot below looks good and shows a constant growth of profit.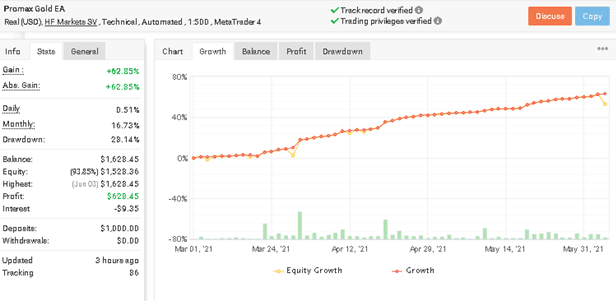 The robot had 304 trades, 244 out of which were closed with profit. The average loss (-509.02 pips/-$7.88) is higher than the average win (176.41 pips/$4.51). The profit factor is high – 2.33. It trades only Long trading positions having a win rate of 80%. Trades are closed within 4 hours on average.


It opens Grid orders and trades with a fixed 0, 02 Lot size.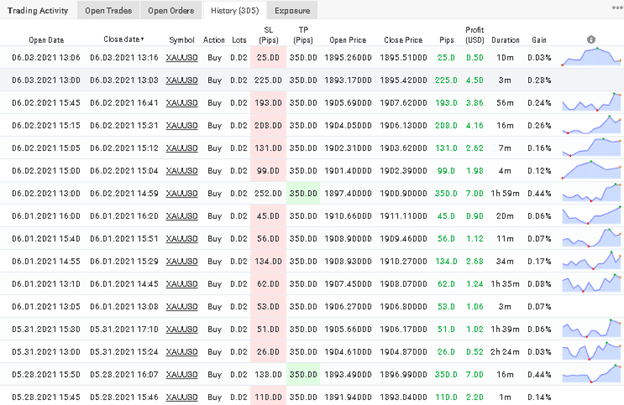 People Feedback
There are 52 reviews written on the website of developers and, undoubtedly, all of them are positive. Forty-seven reviews are five-starred, four reviews are four-starred and only one review has a low 3-star rating.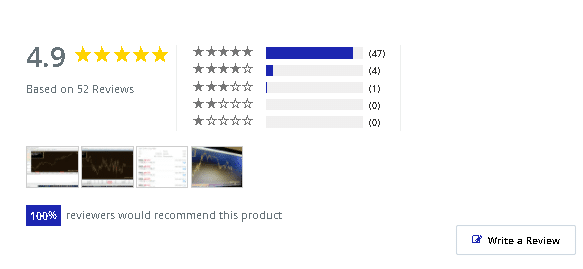 We can't trust these testimonials. Historically testimonials written on devs' websites are paid, concocted, or manipulated. There are no reviews on reputable third-party websites like Quora, Trustpilot, or FPA.
Conclusion
Advantages
Live trading results provided
Disadvantages
Undisclosed trading approach
No backtest report provided
No customer reviews on third-party websites
Poor customer support
14-days money-back guarantee
Summary
Promax Gold EA is an expert advisor that trades only XAUUSD and uses Grid for trading. Neither trading approach, nor backtesting report were represented by the vendor. The absence of proper support options is another drawback, indicating the unreliability of the vendor. With so many disadvantages, we are not in a position to recommend this EA.