Low US nonfarm payroll data was likely supported by a high insured unemployment rate in the final week of May 2021. 
Australian iron ore prices rose 10.3% on June 2, 2021, to US$209.10 a ton despite China's trade pressure. 
The Australian S&P/ASX 200 (AXJO) index surged 0.40% due to strong mining earnings.
The AUD/USD traded at a +1.08% price change on June 4, 2021, from the previous day. The pair closed at a high of 0.7741 after opening at 0.7648. The anticipated nonfarm payroll data for May 2021 failed to inspire the US dollar against the Aussie even after surging 101.08%.
The data went against the consensus estimate at 559,000 instead of 650,000 signaling dismal job creation in the nonfarm industry post-stimulus. Nonfarm payrolls in the private sector also increased to 492,000 instead of the expected 600,000 from a previous reading of 219,000. US factory orders for April 2021 (month-on-month) also declined at -0.6% from a high of 1.4%.  
Low employment rate
US employment rate declined to 5.8% in May 2021 from the previous month's recording to 6.1% watering down economists' perception of labor recovery post-stimulus. 
With the vaccination rate at 41.6%, almost half of the American population (about 137 million) has been vaccinated fully. With the high vaccination rate, the growing labor output appears to be a bridge between contraction and expansion.
April 2021 saw inflation hit an annual high of 13% with the personal consumption expenditure (PCE) index inch up 3.1% (excluding prices of energy and food).
The Federal Reserve is also considering the reduction of its purchase of mortgage-backed security currently at $40 billion. Additionally, monthly purchases of treasury bonds at $80 billion by the Fed are also likely to be tapered to tighten the monetary policy.  
The week leading to May 29, 2021, saw weekly claims of unemployment insurance decreased to 385,000 from the previous week's record of 405,000.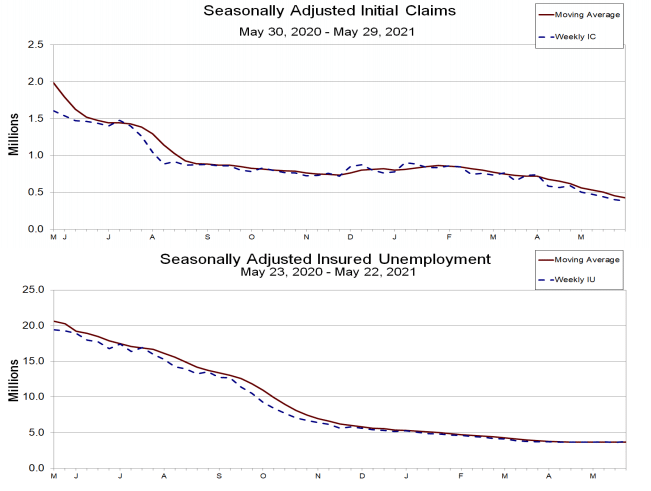 US Unemployment insurance weekly claims
In the week leading to May 22, 2021, the unemployment rate (insured) surged 0.1% to 2.7% to settle at 3.771 million from 3.602 million. The increase in the insured unemployment levels in the final week of May 2021 supported low nonfarm payroll output.
Iron ore prices
Australian iron ore prices rose 10.3% on June 2, 2021, to US$209.10 a ton. Prices had risen by 5.9% a day earlier indicating a break from the expected downtrend after China's trade setback. 
May 2021 had seen iron ore's price hit a high of $230 per ton with China decrying the high cost of the raw material. Despite China's intention to exploit the mineral's availability in Africa, the former's high demand means that Australian steel exporters will still be the main source of the commodity in 2022.
According to Fastmarkets MB, the 62% Fe (benchmark ore brand) exported into Northern China inched up 1% on June 3, 2021, to trade at $210.00 per ton. Australia's iron ore export rakes in annual revenue of AUD 136 million ($105 million). An increase in the commodity's price is expected to bring it at par with Brazil and Russia's iron ore revenue. Australia's GDP rose to $ 1.43 trillion (AUD 1.86 trillion) as Brazil's fell to $1.42 trillion (AUD 1.83 trillion) in 2021. 
The Australian index S&P/ASX 200 (AXJO) surged 0.40%, adding 35.30 points to close at 7,295.40 on June 4, 2021. The index was supported by mining earnings and global infrastructure expenditure driven by China's growing demand.
Technical analysis
The AUD/USD closed higher than the 9-day Exponential Moving Average (EMA) at 0.7730.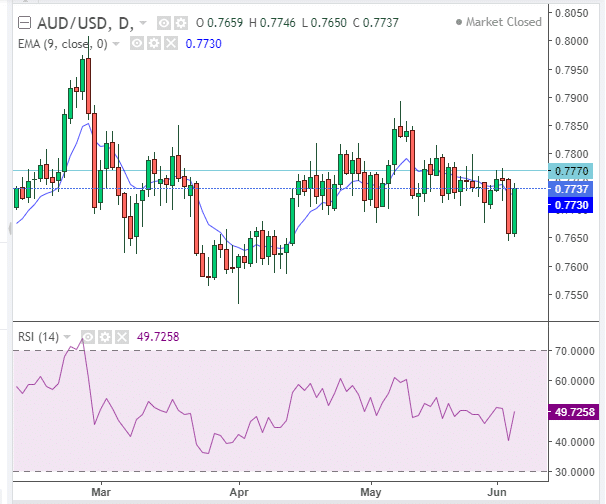 AUD/USD trading chart
The 14-day RSI indicated a slight increase in buying momentum at 49.7258 below the overbought benchmark of 70.0000. The pair can either sustain upward momentum towards 0.7770 or drop to 0.7730 as there is room for a potential downside.