Red Hawk is a Forex EA launched on 12th October that is said to have several months' worth of live results showing steady profits and low drawdown. It does not use risky trading strategies and runs automatically without manual filters. It is a user-friendly system that is compatible with both the MT4 and MT5 platforms.
Is this a Perfect Forex Trading Robot?
Red Hawk doesn't have an official website, but on its MQL5 page, the vendor has talked about what sets this system apart from others. There are links provided for the recommended VPS and broker, along with recommended settings, and instructions on how to set up the software.
The creator of Red Hawk is Wim Schrynemakers, a trader based in Belgium who has developed several Forex robots in the past, such as Grid King, Night Owl, Gecko, Swing Trade Pro, etc. We don't have any further information on this person, and we cannot verify whether he is who he claims to be. There is no mention of a service team, and we strongly believe that this person is working alone.
Using Red Hawk, you can deal in pairs like USD/CAD, EUR/AUD, AUD/JPY, AUD/CAD, EUR/GBP, EUR/CHF, USD/CHF, GBP/USD, and EUR/USD. The vendor mentions that the trading strategy involves taking profit and safety stop loss for each trade. In order to gain the maximum profits while taking the minimum risk, several trailing stop loss techniques are used by the system.
There are no further details about the trading strategy, so we don't know what kind of indicator Red Hawk uses or how it spots profitable trading opportunities. The absence of technical details may deter some Forex traders from investing in the robot, especially those who are very particular about the technical aspects of the strategy.
How to Start Trading with Red Hawk
Red Hawk is available for $299, and the vendor also provides a couple of rental options. You can rent the Forex EA for 3 months by paying $149. There is also a 1-year rent option that will cost you $199 and let you save 67%.
If you wish, you can also try out the free demo version of the system. This price is not very compared to other Forex robots in the market, but that is only natural since it was only launched recently.
The recommended timeframe for Red Hawk is M5. For low, medium, and high-risk settings, the recommended balance is $250, $125, and $60 respectively. Automatic lot size can be selected either by balance or by risk per trade.
Even a technically inexperienced person can set up this EA without any problems. It uses several filters and avoids trading when the market conditions are not favorable. The vendor recommends not trading with the system on days where major events are scheduled to happen.
Red Hawk Backtests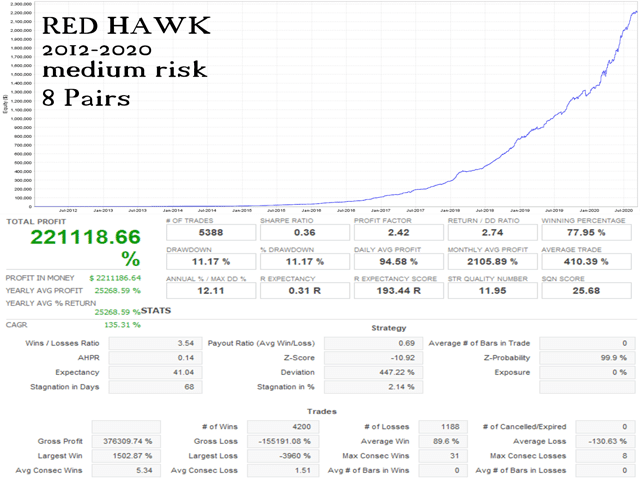 Here we have the backtesting results for 8 pairs with minimum risk setting. Conducted from 2012-2020, this result shows an incredible gain of $22118.64. A total of 5388 trades were placed during this backtest, 77.95% of which were won by Red Hawk.
We can also see that it has a low drawdown of 11.17% and a high profit factor of 2.42. When the profit factor is over 2, you know the system performs exceptionally well. The daily and monthly average profits are 94.58% and 2105.89%, respectively. Although the backtesting data is quite satisfactory, we need to compare it with the live trading results to get a clearer idea about the system's profitability.
Trading Results
Although the vendor claims that Red Hawk has a live track record of several months showing stable profits, he has no furnished any proof of the same. We don't have any live trading results available for this system, so although it performs well on historical data, we are not sure whether it can reflect the same performance in the live market.
Installation Settings
You just need to use this Forex EA with your trading chart on MT4 or MT5. Set files are not required, since the settings are already in-built into the system. You can change the risk and GMT settings at your convenience. The GMT value is critical because you should run the Forex EA at the proper hours.
People Feedback
Even after going through several popular review websites, we couldn't find any customer reviews for Red Hawk. It seems not enough people trust in this system as of now, and to be honest, we don't blame them.
Wrapping Up
Advantages
Lets you trade in 8 pairs
Disadvantages
Lack of strategy details
No verified live trading results
No customer reviews
Summary
To summarize, Red Hawk is not a Forex EA we recommend for traders. It is mentioned that their strategy requires fast execution, so you can easily miss out on profits if you are not careful. Moreover, there are no live trading results where we can check the robot's performance.