The FOMC may reconsider its stance against raising interest rates in its March 2021 meeting.
The $1,400 stimulus checks may be spent on cryptocurrencies and the purchase of stocks.
Switzerland intends to increase its bilateral engagements with China, especially in digital finance.
The USD/CHF trading pair has grown 4.49% in the month leading to March 16, 2021, after the 2.9% contraction of the Swiss economy in 2020. The decline was still light as economists had predicted a 3.3% contraction. Major European economies like Germany narrowed 5% while France declined by 8.3%. This decrease has caused the EUR/USD pair to move 2.45% lower in the same period owing to increasing US bond yields.
The Federal Open Market Committee (FOMC) is expected to meet on March 16 and 17, 2021 following a successful package of the $1.9 trillion stimulus package by the Biden Administration. The question of raising interest rates may come sooner than expected, seeing the $1,400 payments may have a direct impact on inflation.
Inflation close to 2%
Inflation is likely to hit the FOMC's target of 2% in 2021. The US unemployment rate may also fall to the desired target of 4% from 6.2% recorded in February 2021. Passage of the stimulus plan in 2020 led to the decline of unemployment from the annual high of 14.7% in Q1 2020 to 6.7% in Q4 2020.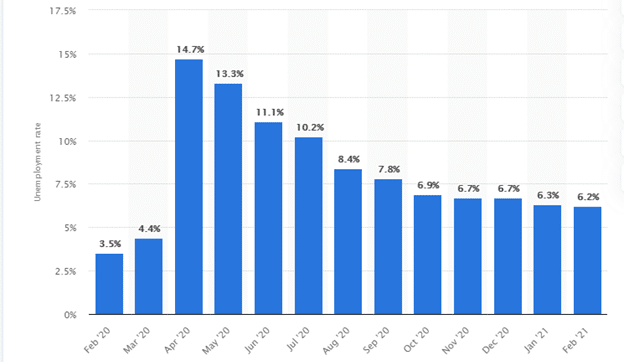 Biden's stimulus plan contains an extension of the $300 weekly unemployment benefits expected to reach millions of Americans. Also included is the vaccine distribution fund totaling $14 billion. An additional $130 billion was set aside for in-person learning in primary and secondary schools. The President intends to complete at least a single dosage administration for all Americans by May 31, 2021, a move that will clear systems for full reopening in Q3 2021. According to the Centers for Disease Control and Prevention (CDC), close to 94 million doses have been issued, with those fully vaccinated reaching 32.9 million. 
Stimulus checks expenditures
More Americans are likely to spend their $1,400 stimulus checks on Bitcoins and the purchase of stocks. According to a market survey, out of the $380 billion sent out as direct checks, $40 billion (almost 10%) will be allotted to stocks and cryptocurrencies. We expect to see growth in US stocks as bond yields fall.
Swiss rates may remain negative
The Swiss National Bank (SNB) is expected to meet on March 25, 2021, and the policy rate may remain -0.75% (the world's lowest interest rates). The rates have been constant since 2015. The consumer price index (CPI) increased slightly in February 2021 to 100.22 from the previous monthly reading of 100.06. The CPI in March 2020 stood at a high of 100.8 before the country went into lockdown. The Producer price index (PPI) also rose to 100.26 in January 2021 from 100 a month before.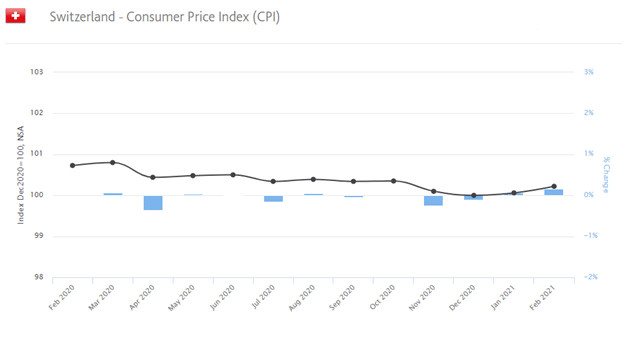 To speed up its economic progress, Switzerland intends to capitalize on the trade fallout between the US and China by opening a colossal market with the latter. Both China and Switzerland are building cryptocurrency reserves for their financial market. This move may provide a correlation to the free-trade agreement existing between these two countries. The digital central banks for the two countries may be a new frontier for blockchain technology since their mode of operation transcends decentralization.
Technical analysis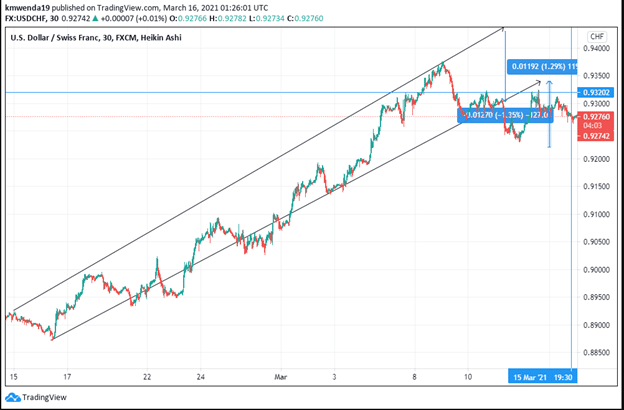 USD/CHF Analysis Chart
The pair has broken strong support at 0.92760 and may push towards 0.92742. However, the pair still targets 0.93202, with the 200-day EMA offering a buy option at 0.9261. The 14-day RSI supports a sell position at 41.012. We expect to see the pair retest support at 0.93000 as Americans continue receiving the direct stimulus checks.