As per the vendor, Shell Forex EA offers a simple and safe way to make profits in Forex. As such, the system will make your trading successful and lucrative whether you are a fresh beginner or veteran trader. Then, let's evaluate the EA to ascertain if these assertions are trustworthy.
Is Shell Forex EA a trustworthy system?
The creators of Shell Forex EA are not introduced. Therefore, their professional background, trading experience, location, and physical address are unclear. This lack of openness is disappointing, to say the least. How do these devs expect traders to trust them when they are unwilling to reveal basic info about themselves?
On matters strategy, the vendor indicates that this EA applies low, medium, and high return strategies. Sadly, no more details are provided. The devs fail to specify which trading approaches they are referring to. But our assessment of the system's trading history led us to discover that the grid is part of the trading plan.
How to start trading with Shell Forex EA
The features of this robot are listed in this section:
The system does not utilize grid, arbitrage, or martingale strategies.
It is independent of brokers.
It is compatible with the MT4 platform.
The system provides free updates and unconditional refunds.
It is easy to use, and only requires 5 minutes to install.
It comes with tested and proven set files.
It is auto adaptive.
We don't know the cost of purchasing this robot. The vendor does not include the pricing details. This is odd. Obviously, the presentation is meant to convince traders to acquire it, so the lack of pricing plans beats logic.
Shell Forex EA backtests
The EA lacks backtest results. It is probable that the vendor didn't conduct this test. This is unfortunate considering that a backtest can assist in deciding if a strategy is appropriate for trading real money.
Trading results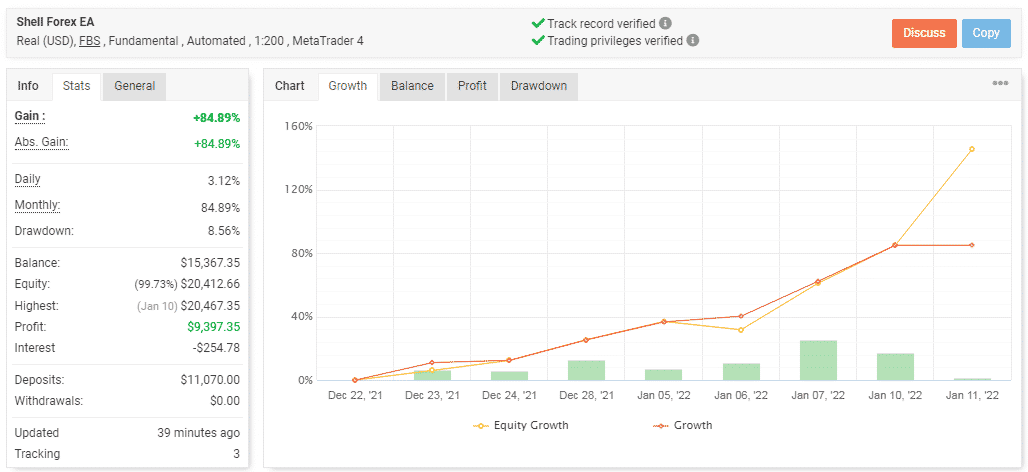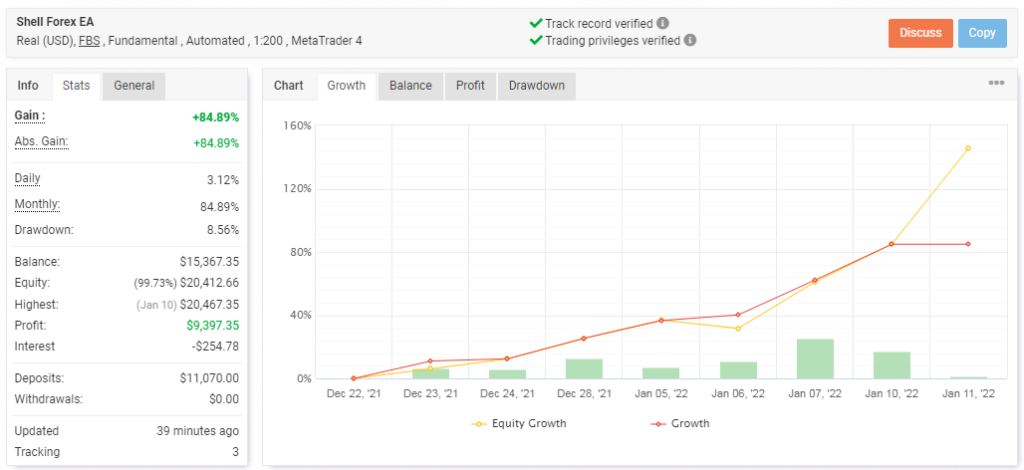 This is a real USD account that was opened just recently, December 22, 2021. It was deposited at $11070, and to date, the EA has made a profit of $9397.35. The monthly profit is 84.89%, and the drawdown is 8.56%. So, there is a favorable risk/reward ratio of 1:9.9. The balance currently stands at $15367.35.

The system has already completed 120 trades, and the profit factor generated is 5.06. The performance of the long positions (84%) is better compared to that of short ones (75%). On average, the robot holds a trade for a long period — 19 hours and 53 minutes. From 1599 pips made, the average win is 20.70 pips, whereas the average loss is -14.70 pips.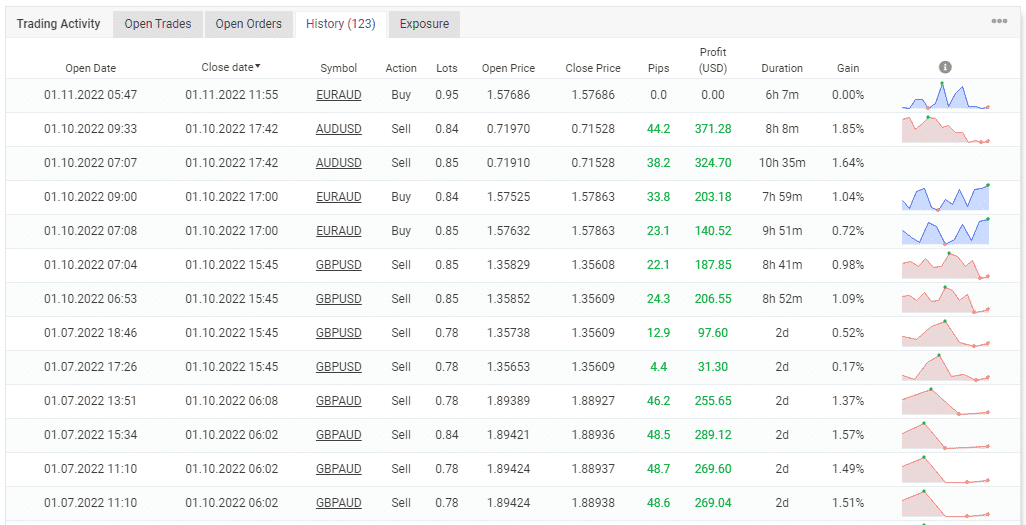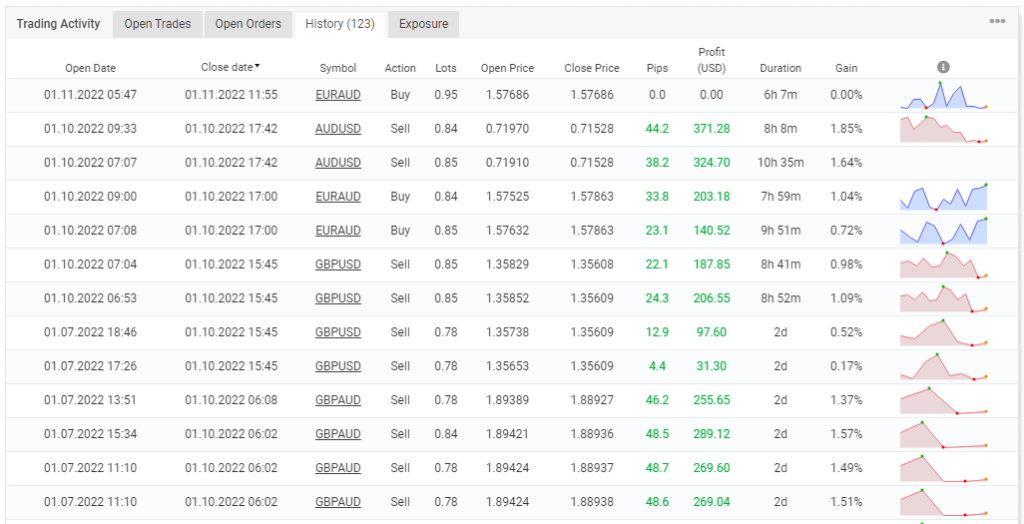 The EA works on long timeframes and uses big lot sizes. Grids of orders are placed as well. The profits obtained are large.
Other notes
In case you want to contact the EA's support team, all you need to do is to fill in the contact form provided in the sales pitch. However, the company's email address is unavailable, and the response time is unknown.
People feedback
We found one customer review for this robot on Myfxbook. This trader is wondering how the system can open 15 trades simultaneously at 0.78 lots for a total of 11.7 full lots with a leverage of 1:200. According to him, this doesn't make sense. Unfortunately, there are no other reviews that could give us more insight into the performance and workability of the EA.

Wrapping up
Advantages
Easy to use
Live trading stats are present
Disadvantages
Backtest results are missing
Short history of trading
Pricing details are not indicated
Grid on the board
The main advantages of this system are that it is user friendly and runs a live account on Myfxbook. Though the trading results look promising, you should remember that the system has only been trading for 3 weeks. So, we are not sure if it can sustain this impressive trend. Also, the vendor says that the grid approach is not used, but the live results tell otherwise. This strategy can be dangerous for an account in the long run.