Silent Master is a fully automated Forex expert advisor that was launched on 21st July 2021. As per vendor claims, the robot can accurately assess the current market scenario with the help of machine learning. Since it is a new EA, we must be extra thorough while analyzing its different performance factors.
Is this a robot that can win you profits?
Silent Master is sold on the MQL5 marketplace, where the vendor has provided a very short introduction to the EA, followed by links to trading signals and the Telegram channel. We also have the vendor recommendations and a list of EA parameters. Finally, the vendor has shared the screenshots for the backtesting results. The presentation is not very informative, and the vendor is not entirely transparent regarding how the EA works.
Evgeniy Machok, the developer behind Silent Master, is based in Russia. Their MQL5 profile tells us that this person has experience of more than 7 years, but we have no information about their service history. Other expert advisors developed by this individual include South Night, Yellow, SZ Scalper, Fair Signal, and MIB Pro.
The only recommended currency pair for this robot is EUR/USD. It trades during the night and in markets where the volatility is low and uses DD parameters and Stop losses for protecting trading positions.
While trading with this EA, you have the option of enabling the AutoLot parameter to let the EA calculate the lot size automatically based on the account balance. You can also set the risk percentage and the maximum drawdown. Other customizable parameters include the maximum number of orders, maximum spread, type of order execution, maximum holding time for an open position, etc.
Unfortunately, the vendor has not provided an explanation for the trading strategy used by this robot. We don't know how it analyzes the market scenario or how frequently it trades. The lack of strategy insight is not a sign of a reliable EA and we think it would discourage most traders from investing in this robot.
How to start trading with Silent Master
Silent Master is available for the price of $99. The vendor offers a free demo version of the software that you can use for testing purposes. However, there is no money-back guarantee for this robot.
Silent Master does not require any manual intervention on the trader's part. You can sign up with any broker with fast order execution and small spreads. The vendor recommends using it with M5 charts and starting with an initial deposit of $100.
Silent Master backtests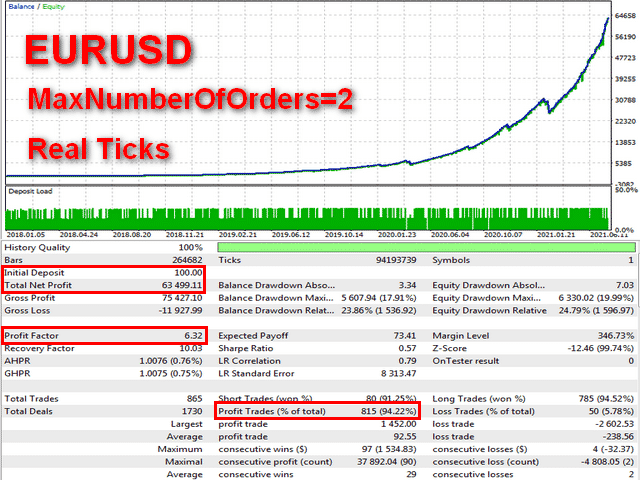 This backtest was performed on the EUR/USD pair from 2018 to 2021. The robot started with an initial deposit of $100, placing 865 trades and generating a total profit of $63,499.11 after winning 94.22% of all trades.
We can see a high relative drawdown of 24.79%, which indicates a risky trading strategy. The profit factor for this backtest was 6.32. There are 97 maximum consecutive wins and 4 maximum consecutive losses.
Trading results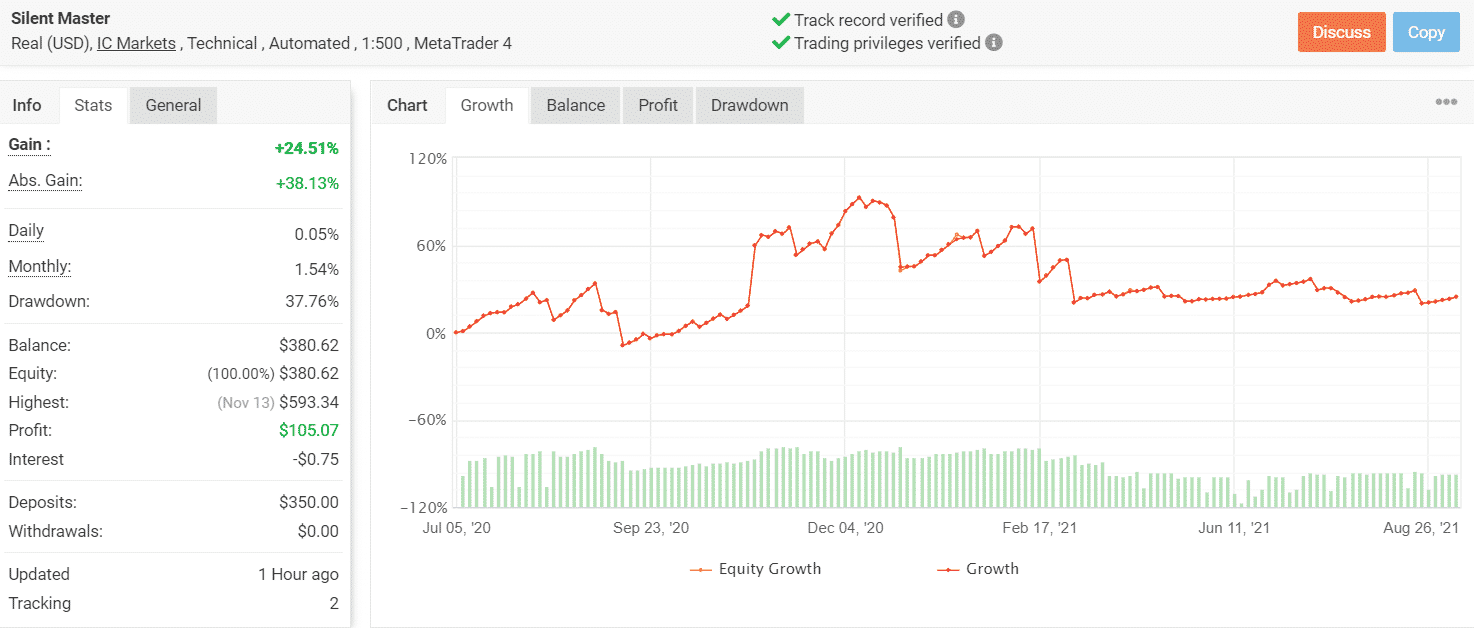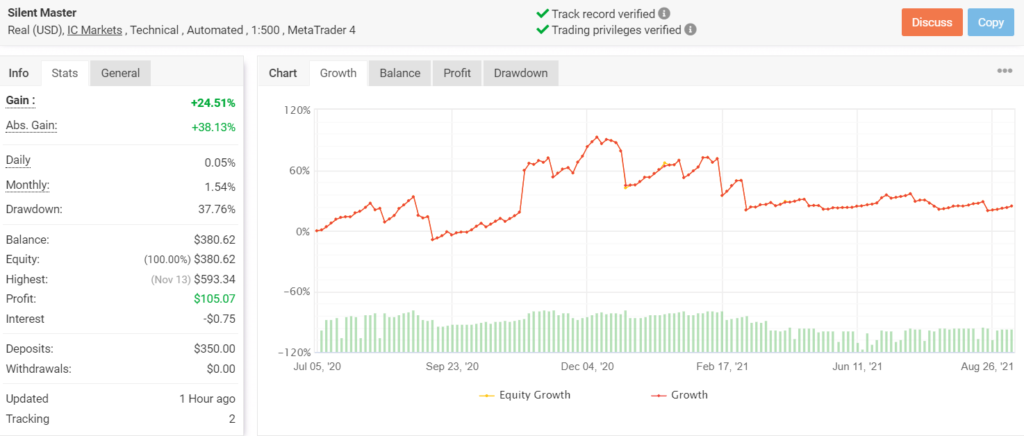 Here we have a live trading account for Silent Master on Myfxbook. The vendor has not shared the link to any verified accounts on MQL5, and we found this after doing our own research. To date, the EA has placed 284 trades through this account, winning 79% of them. The win rate, therefore, is significantly lower in comparison to the backtest.
Currently, the total profit generated through this account is only $105.07. Its daily and monthly gains are 0.05% and 1.54%, respectively, which makes it less profitable in comparison to other EAs on the market. Also, it has a high drawdown of 37.76%, which means there is a high risk of ruin while trading with this robot.
Other notes
The EA parameters are set for 4-digit servers. It calculates the parameters for 5-digit servers automatically. You should set the AccountFillingType parameter to a value that the broker supports, otherwise your orders may not get executed properly.
People feedback


There are no verified user reviews for this robot on websites like Trustpilot, Forexpeacearmy, Quora, and Myfxbook. We found a single user review on MQL5, but we cannot consider it authentic.
Conclusion
Advantages
Disadvantages
High drawdown
Lack of strategy insight
No money-back guarantee
Silent Master is not a Forex EA you should consider investing in. Its live trading performance has not been too great and the vendor does not entertain refund requests. Furthermore, we don't know what kind of strategy it uses, which makes it an even riskier investment.