Stenvall Mark III is a Forex robot that is sold on the MQL5 marketplace. It was launched on 26th June 2021 and is compatible with Metatrader 4 and Metatrader 5. On the MQL5 product page, the vendor has mentioned that the system is suitable for long-term private investors. Of course, we need to investigate the various aspects of this robot to gauge its profitability.
Is this the perfect Forex robot in 2021?
On the MQL5 page, the vendor has shared a list of facts about this Forex robot. They have also provided some links for live signals and explained in brief how the system works. We also have installation instructions, an FAQ section, and directions for manually adjusting the risk.
Gennady Sergienko, the developer behind Stenvall Mark III, is based in Russia. According to their MQL5 profile, this person has experience of more than 5 years. While they have an official Telegram channel, there is no official contact information. Also, we know nothing about the developer's background. Other robots from this developer include Alexis Stenvall, Franc Pacific, North Star, and Ruxzo.
This is a robot that trades the EUR/USD pair for the M5 timeframe. It is not sensitive to broker, spread, and requots. It remains active 24/7 holding the positions for a long time and performing complex wave analysis. For each trading position, the EA uses a stop loss. The average size of the take profit is 150 pips, while the average deposit load is 5%. In the beginning, you need to make a minimum deposit of $50.
The strategy used by this EA is a combination of counter trend and trend. It avoids using grid and martingale strategies. The vendor has not shared any further details on the trading strategy, which is a bit disappointing. Some traders tend to be technically inclined, and they wish to get a deeper insight into the trading scheme.
How to start trading with Stenvall Mark III
Stenvall Mark III is currently available for $980. It is much more expensive compared to other robots on the market. If you don't wish to pay the large fee at once, you can choose to rent the EA for a monthly charge of $399, even though this is not exactly cheap. A free demo version of the system is available, but unfortunately, there is no money-back guarantee.
Stenvall Mark III backtests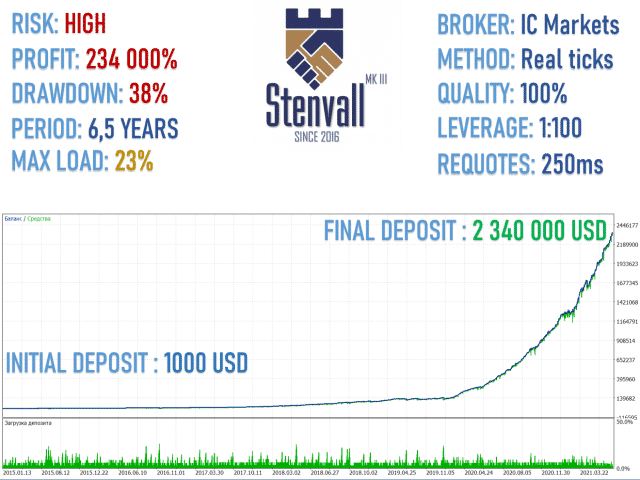 The vendor has not shared the backtesting results in the proper format, so there is doubt about the authenticity. This particular test was conducted with a high-risk setting using 100% modeling quality and a real ticks method. The duration of the test was 5-6 years.
For this backtest, the robot generated a profit of 234,000%. Such a high-profit figure seems highly unrealistic. It had a high drawdown of 38% and used a 1:100 leverage during the testing period.
Trading results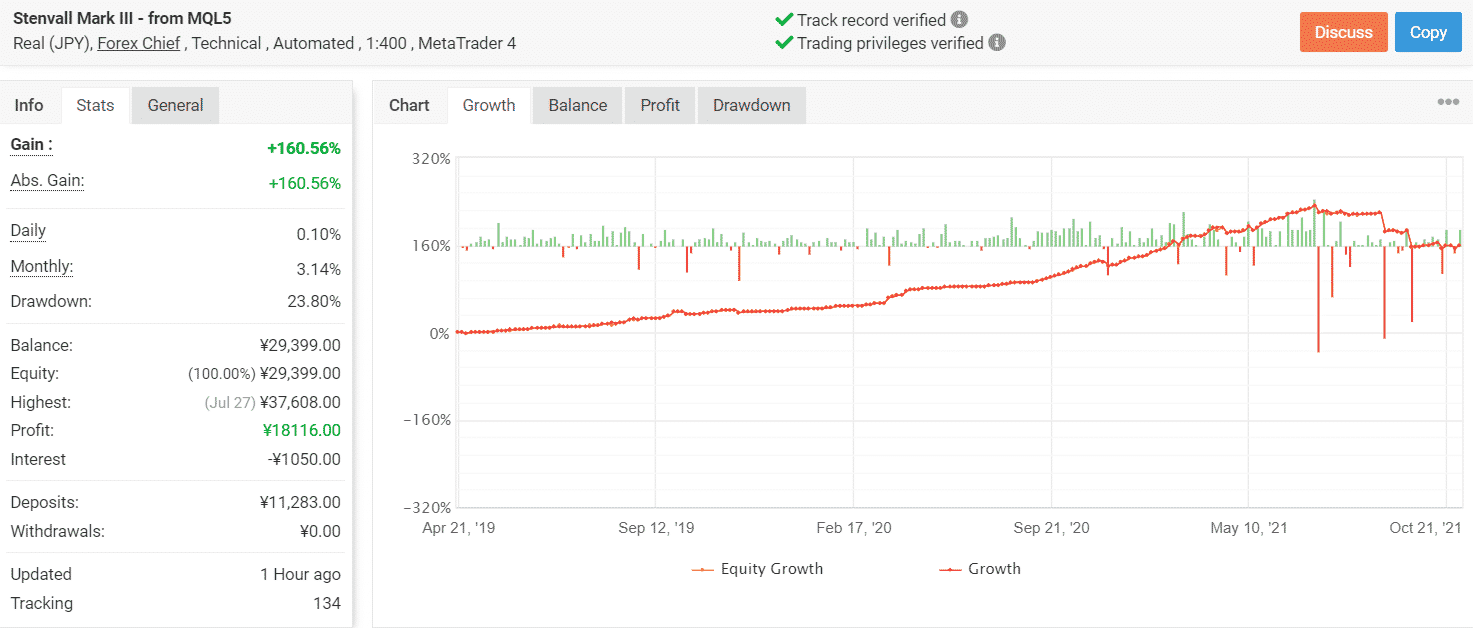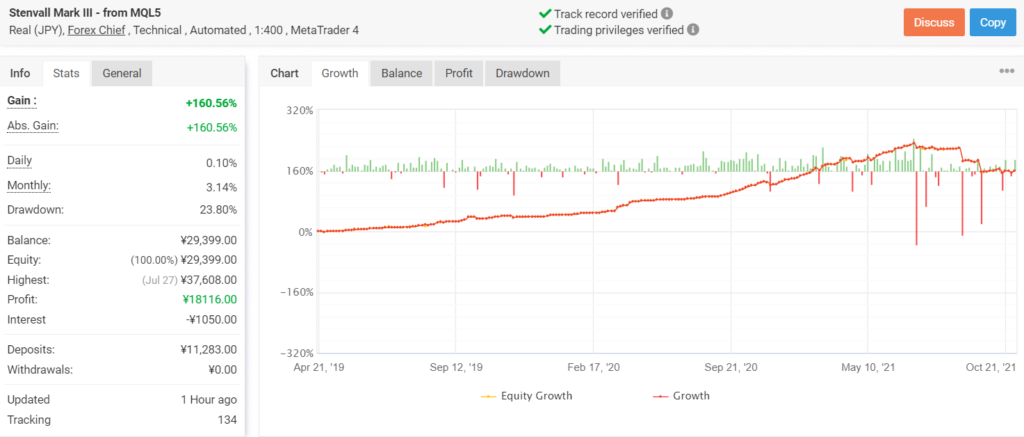 Since April 21, 2019, Stenvall Mark III has conducted 511 trades through this account, generating a total profit of ¥18116.00. The win rate for this account is 65%, while the profit factor is 1.57. On average, the robot generates a profit of 0.10% every day and 3.14% every month. The drawdown for this account is a bit high at 23.80%, although compared to the backtest, it is not much. Nevertheless, this indicates a high-risk strategy that can lead to huge losses.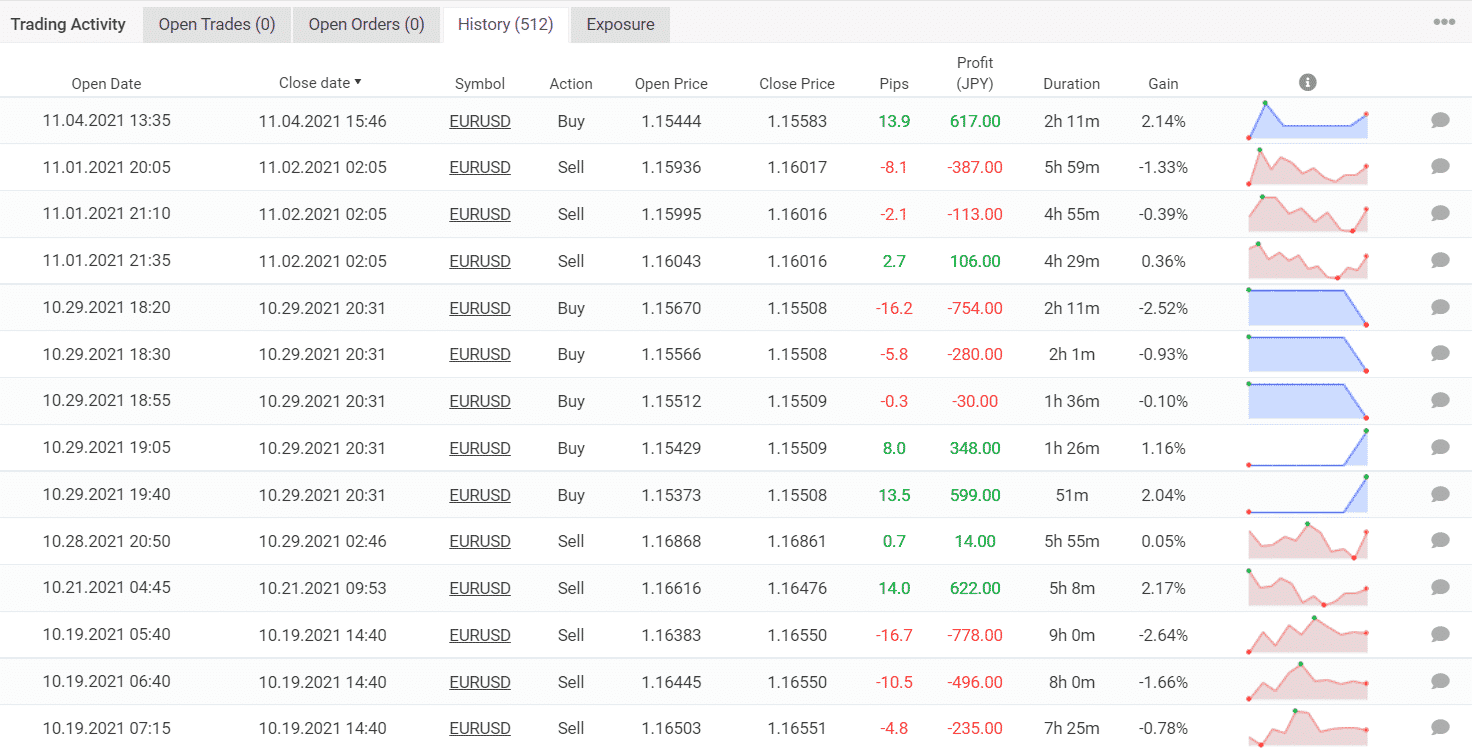 We can confirm this by checking the trading history where several consecutive losses can be seen. Thus, we cannot consider this a safe trading system.
Other notes
Before installing the EA, you need to download the provided set files for the different risk settings, namely fix lot, low risk, mid risk, and high risk. Next, you need to set the EA and upload the appropriate set file. In the general tab, you need to enable algorithm trade.
People feedback


While there are no reviews for this robot on trusted third-party websites, a few users have left some reviews on MQL5. Here, they have complained about the huge losses suffered by this EA. Clearly, it does not have a great reputation.
Conclusion
Advantages 
Verified trading statistics
Disadvantages 
Too expensive
High drawdown
Lack of strategy insight
Stenvall Mark III is not a robot that you should use for live trading. First of all, it is extremely expensive and is sold by a developer who has zero reputation. Due to the high drawdown, you can end up suffering substantial losses.