Disclaimer: The information provided here does not constitute any form of financial advice. Readers are fully responsible for conducting their due diligence before making any investment decisions.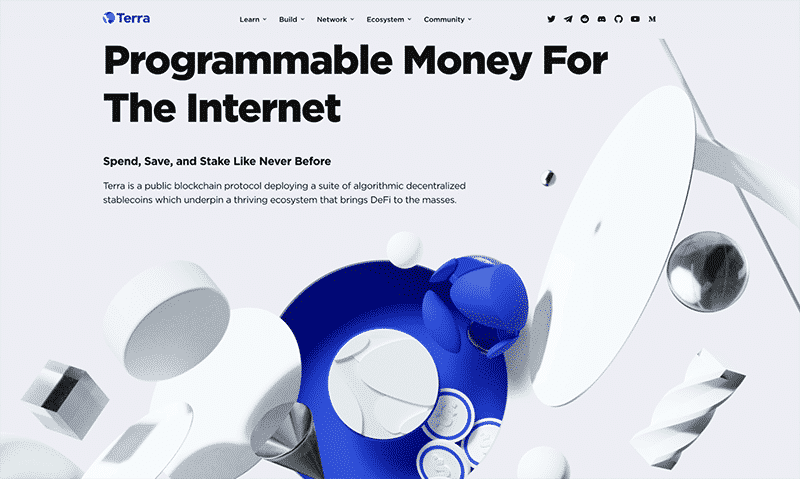 Terra: Market Sentiment
As with any financial instrument, sentiment can be influential in price movements; crypto is no exception. Despite there being well over 14 000 different cryptocurrencies in existence, most coins more or less move in tandem with one another.
The leading indicator is the Crypto Fear & Greed Index (FGI), particularly impactful with large-capped coins like LUNA. 50% of this index's make-up takes into account volume/momentum and volatility occurring in the crypto market daily, along with social media behavior, Google searches, and market capitalization.
The result is a score ranging from 0 to 100. Readings from 0 to 50 are seen as a fearful market, while 50 to 100 is regarded as a greedy market. After hovering around the 50 mark, which would have been considered somewhat neutral, the current reading is 30 (image 1).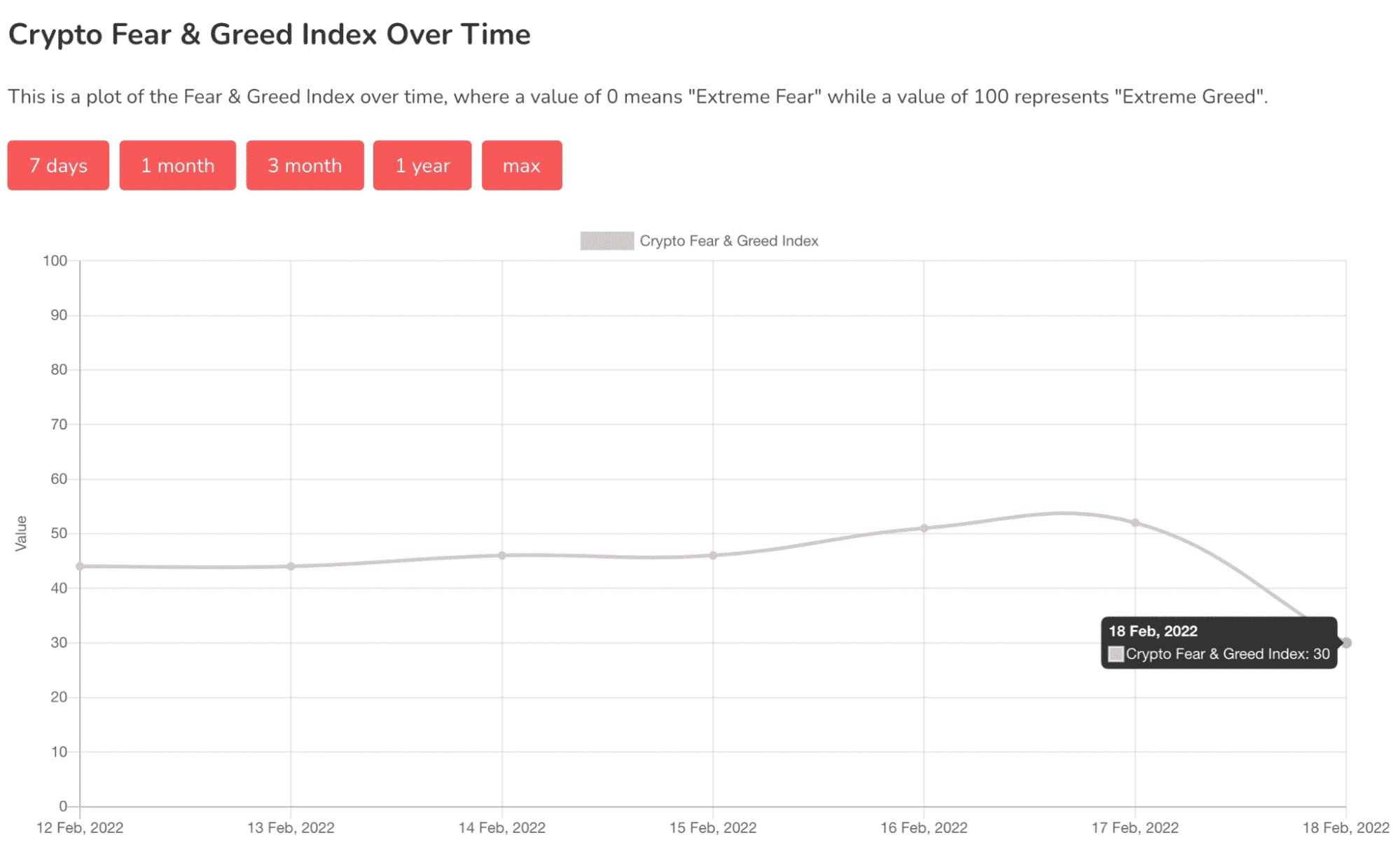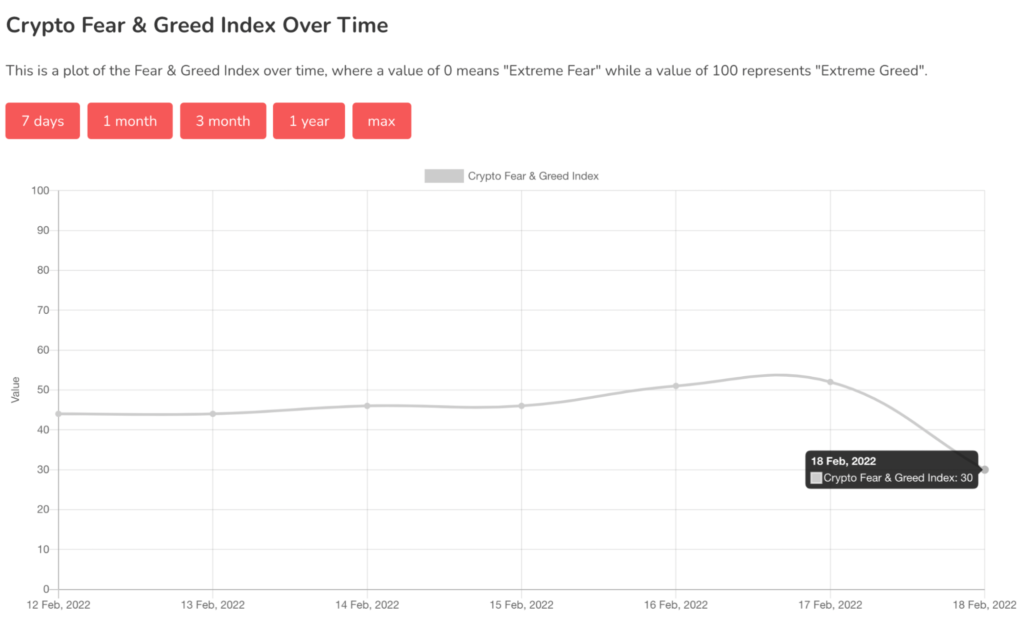 This image is close to 'extreme fear' (0 to 25). Any fear signals investors may become worried. Of course, the index only provides us a clue for now and doesn't suggest buying LUNA.
Let's explore the technical analysis to answer this question.
Technical analysis
Unfortunately, the chart is telling us a different story. Using the 50-day (orange) and 200-day (blue) Moving Averages, we can see that the price is below both, and the 50 MA hasn't crossed above the 200 one (image 2).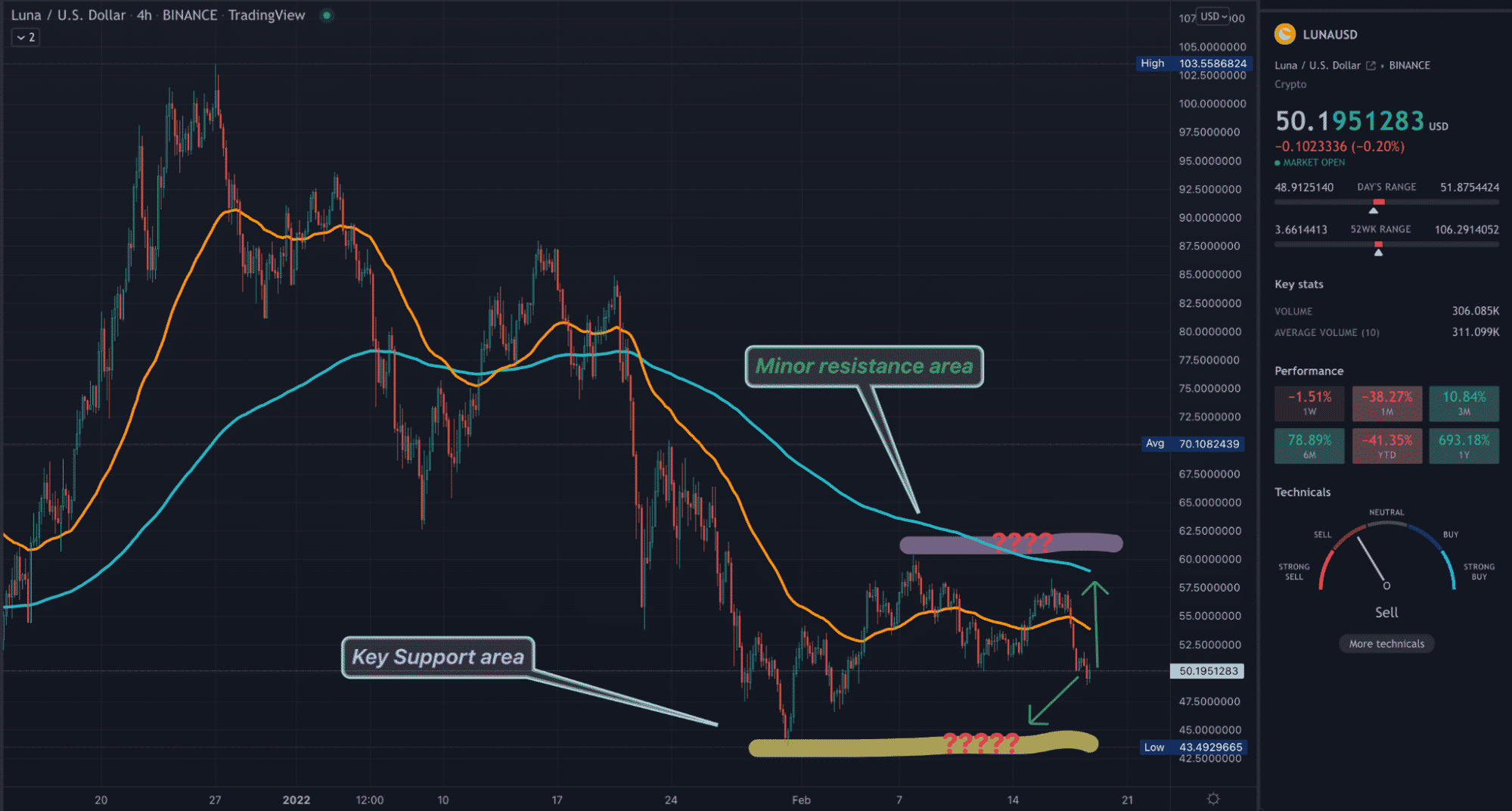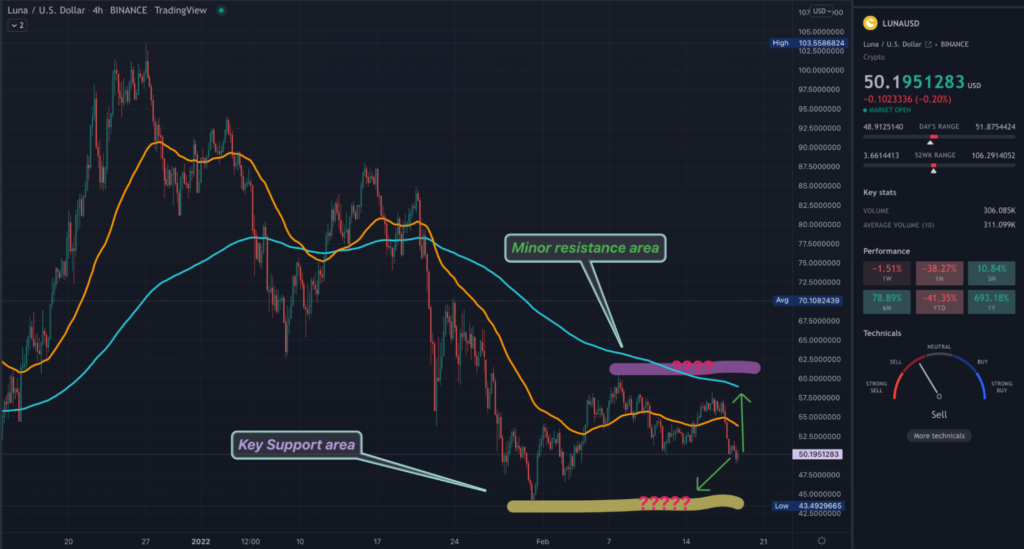 TradingView's technicals (on the bottom right corner), which consider a lot more indicators than Moving Averages, also suggest a 'sell.' This provides us even more confirmation that LUNA, along with many other coins of its caliber, is bearish presently.
Areas of interest for this coin are the key support level around $43.49 and the minor resistance zone around $60.50. A break of any of these zones can move the value quite a distance. Let's explore whether Terra is still fundamentally sound like a project.
Fundamental analysis
Fundamentally, there isn't anything particularly remarkable about Terra. Over the last few days, most experts have pointed to the tensions between Russia and Ukraine as the main cause of the temporary sell-offs in some of the crypto markets.
Other than this, everything still seems to be going well with Terra, with the project being one of the better-performing projects in the last year. Recently, Nordic Growth Market listed a unique exchange-traded product for LUNA, which will allow investors a different type of exposure to this coin.
Terra is still one of the most dominant cryptocurrencies as it's ranked #10 in CoinMarketCap rankings with a market cap of roughly $19.7 billion. Projects in this range typically have low competition.
Terra is a platform with numerous stablecoins, the most prominent of which is TerraUSD (UST). UST is in the top 20 most traded coins overall and the 4th most for stablecoins.
According to DefiLlama, about $15.36 billion is the total value locked (TVL) in DeFi protocols using Terra coins (roughly 7.7% of all TVL). Overall, a project of this scope consistently has high trading volume, relatively low volatility, steady growth, and an immense user base, making it a safer long-term investment.
Terra (LUNA) Price Prediction: 2023-2025
Having reached an all-time high of $106 for the first time since inception, investors will understandably expect more in the near future, with $500 and $1000 as being the next anticipated targets.
2023 forecasts
The few forecasting sites we observed present an average of about $130. PricePrediction.net provided the lowest estimate of $97.73. Gov Capital approximated between $111 and $150.
On the high end, Wallet Investor sees LUNA being valued between $136 and $161 when that year begins (image 3).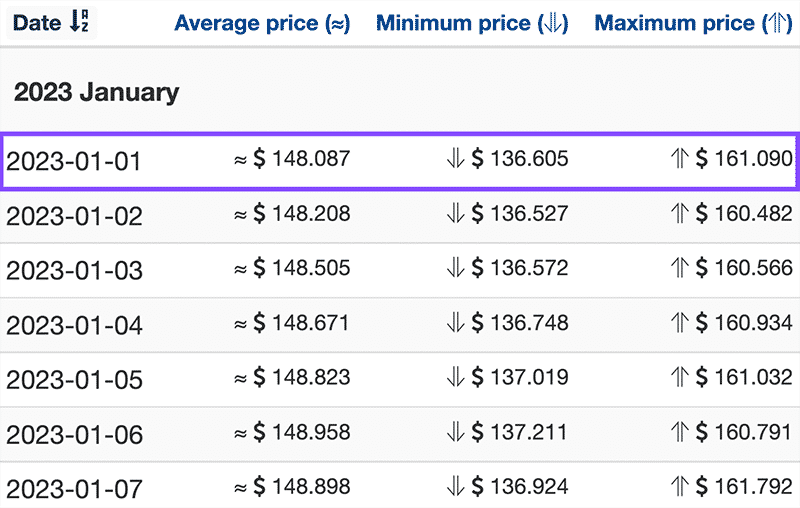 2025 forecasts
Most of the 2025 predictions suggest LUNA could realistically be worth between $300 and $500, which is possible within the next few years. A poll on CoinPricePredict saw users give an average prediction of $493.
PricePrediction.net is, again, the least optimistic with a minimum forecast of $207; Wallet Investor estimates between $278 to $397. This time, Gov Capital is the most favorable, with a minimum and maximum valuation of $329 and $446, respectively, when 2025 starts (image 4).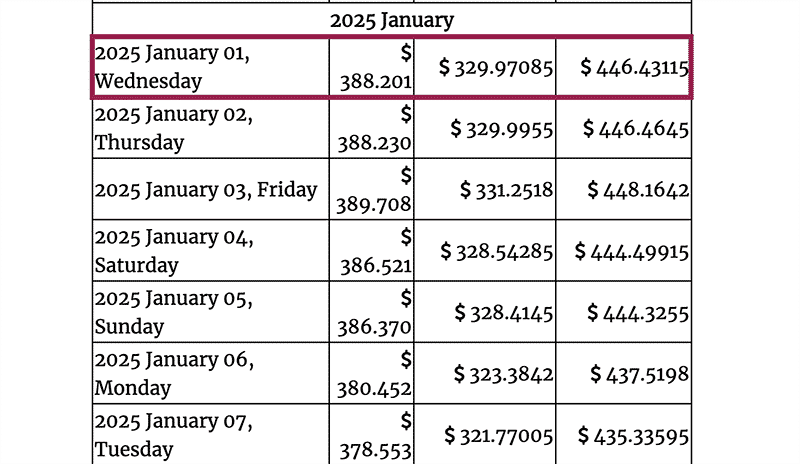 Terra Frequently Asked Questions (FAQs)
Is Terra real?
Yes, this project has been around since 2018 and is a significant player in the world of stablecoins.
What is the Terra price today?
Presently, the price is $52.45.
Will Terra's price reach $1000?
If the coin's market cap gradually grows over time, $1000 is possible.
Should I buy Terra?
Terra may be a good bet if you understand all the risks involved with investing in any cryptocurrency.
Where do I buy LUNA?
Binance, KuCoin, Bitfinex, Huobi, Bybit, Gate.io, Coinbase, Bithumb and Kraken are some of the many exchanges to buy LUNA.