Disclaimer: The information provided here does not constitute any form of financial advice. Readers are fully responsible for conducting their due diligence before making any investment decisions.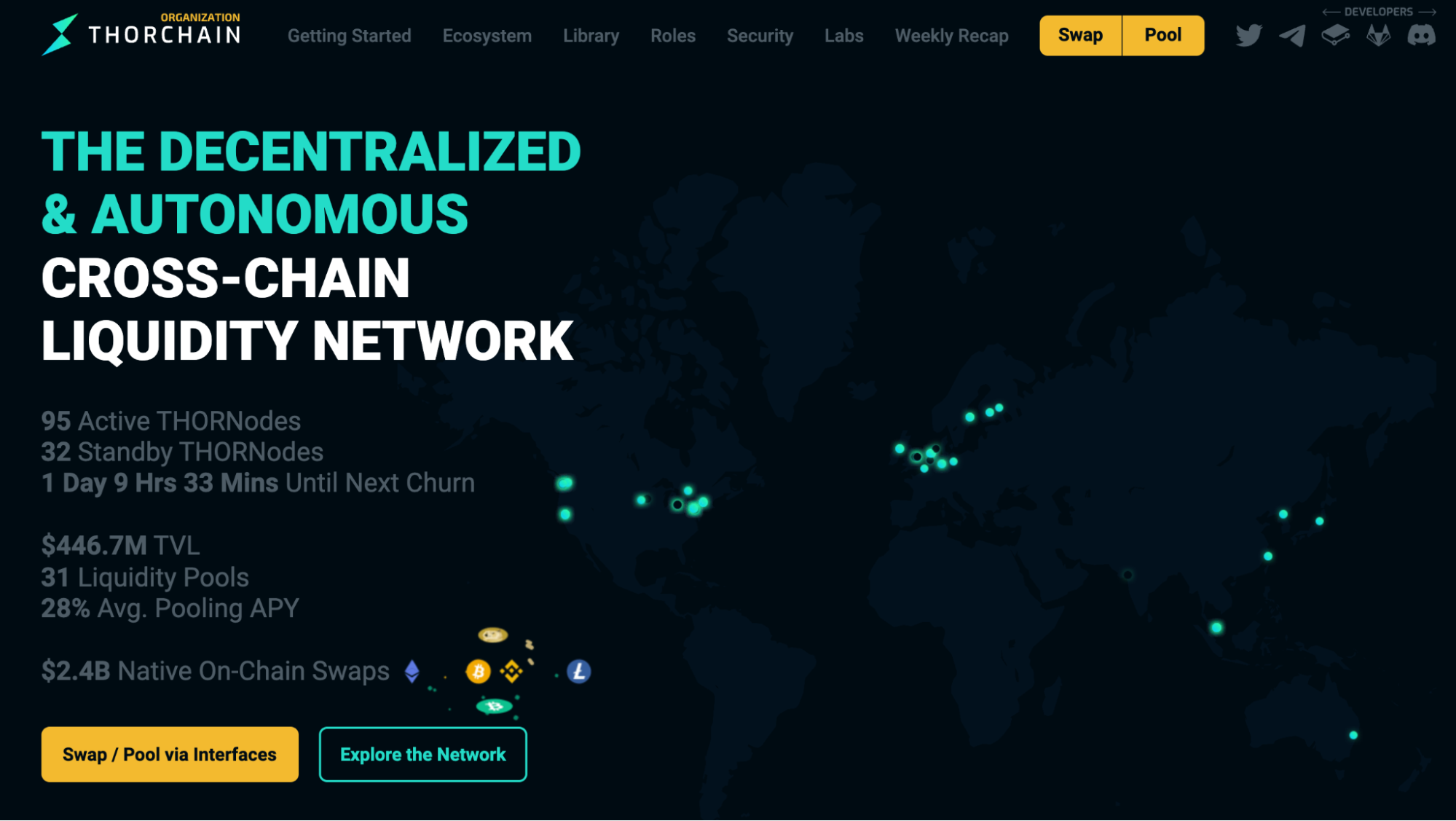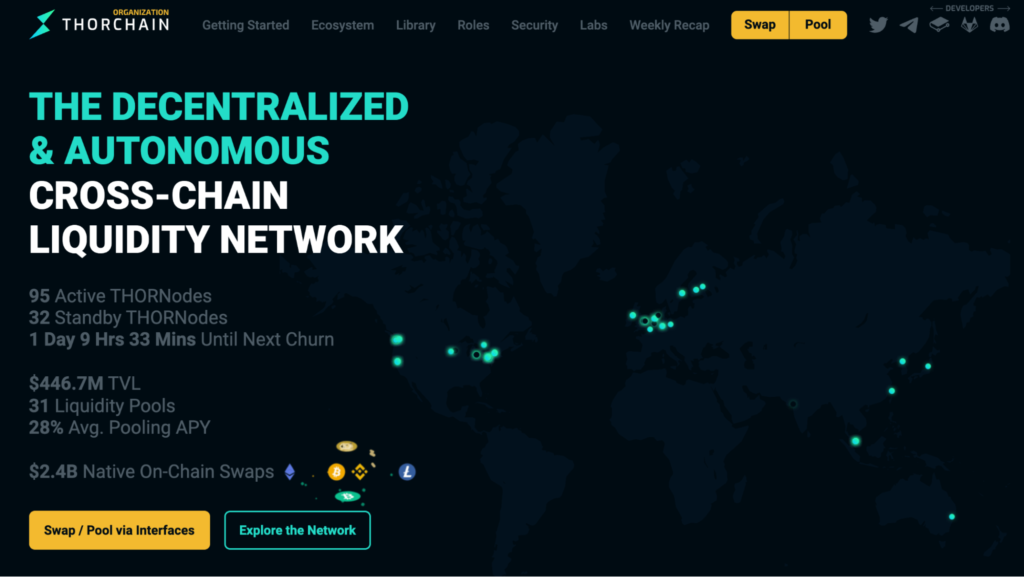 THORChain: Market sentiment
For understanding market sentiment around THORChain, we can look at two indicators. The first is the recent social media engagement around this project, as per hourly-updated data from LunarCrush (see below).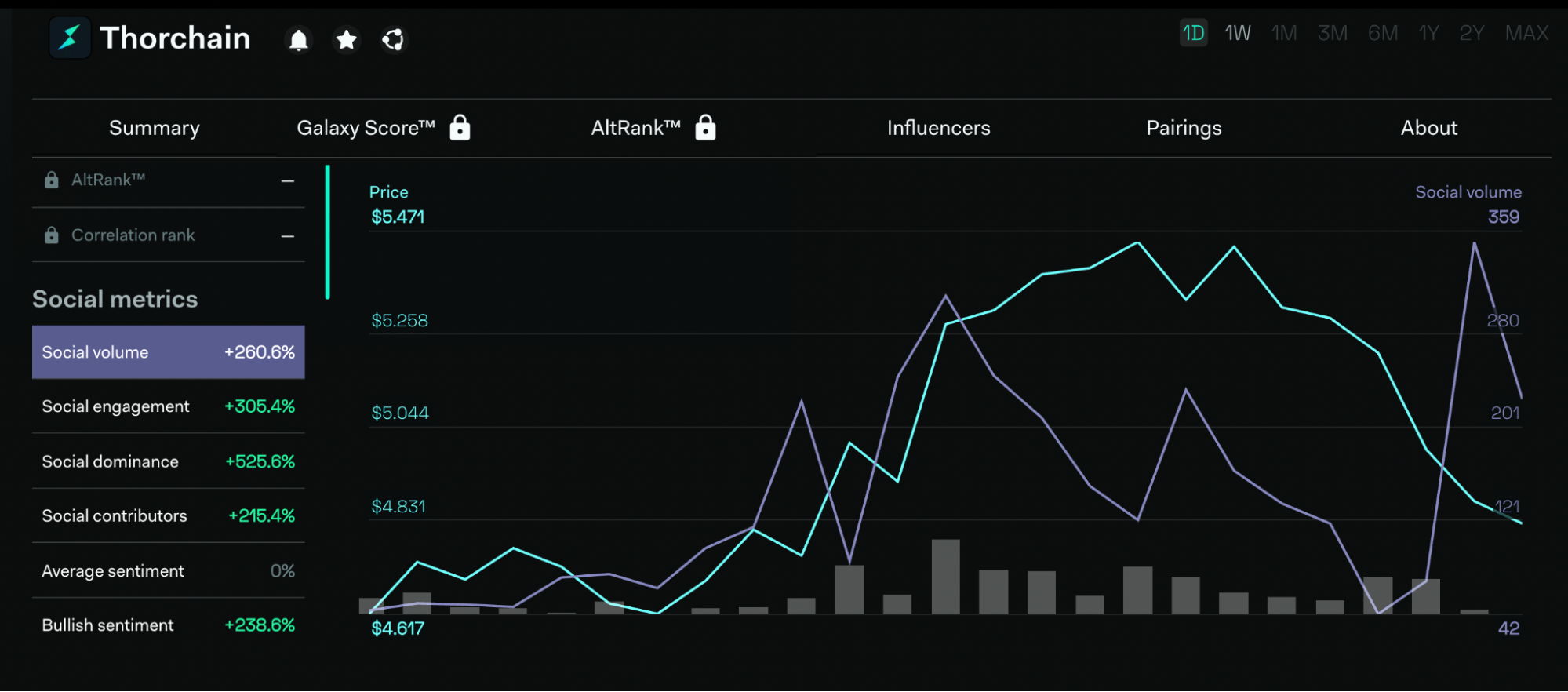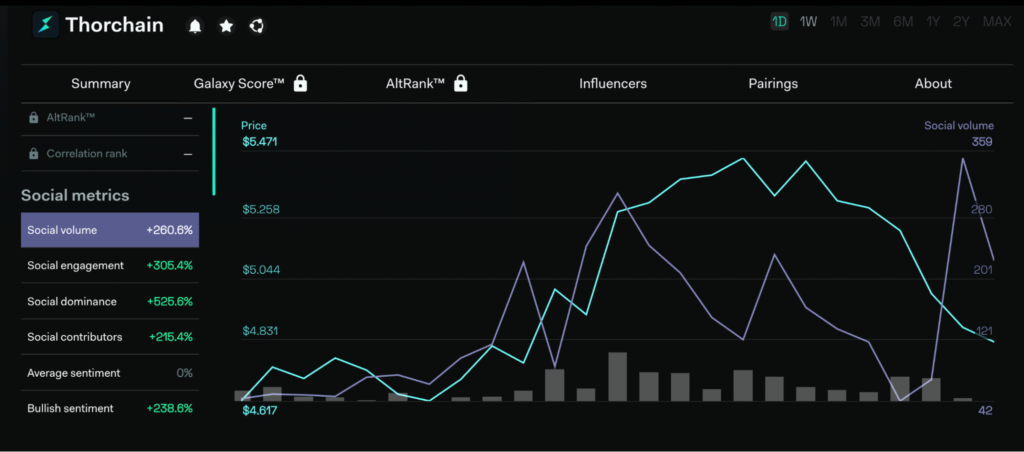 More often than not, an increase or decrease in the number of online searches for RUNE correlates according to the price. Presently, the volume has gone up from a score of 42 to 359 before dipping down to 201.
Overall, this indicates some interest for RUNE, meaning we may see some bullishness. The second tool to analyze is the Crypto Fear & Greed Index from Alternative.me, which looks at the broader market sentiment in cryptocurrencies.
The index is updated daily and quantifies the level of fear and greed in Bitcoin trading, which generally moves in tandem with most other cryptocurrencies. It presents a score between 0-100.
Currently, the reading is at 28 (suggesting fear), indicating buying opportunities. Below is the FGI for today (see below).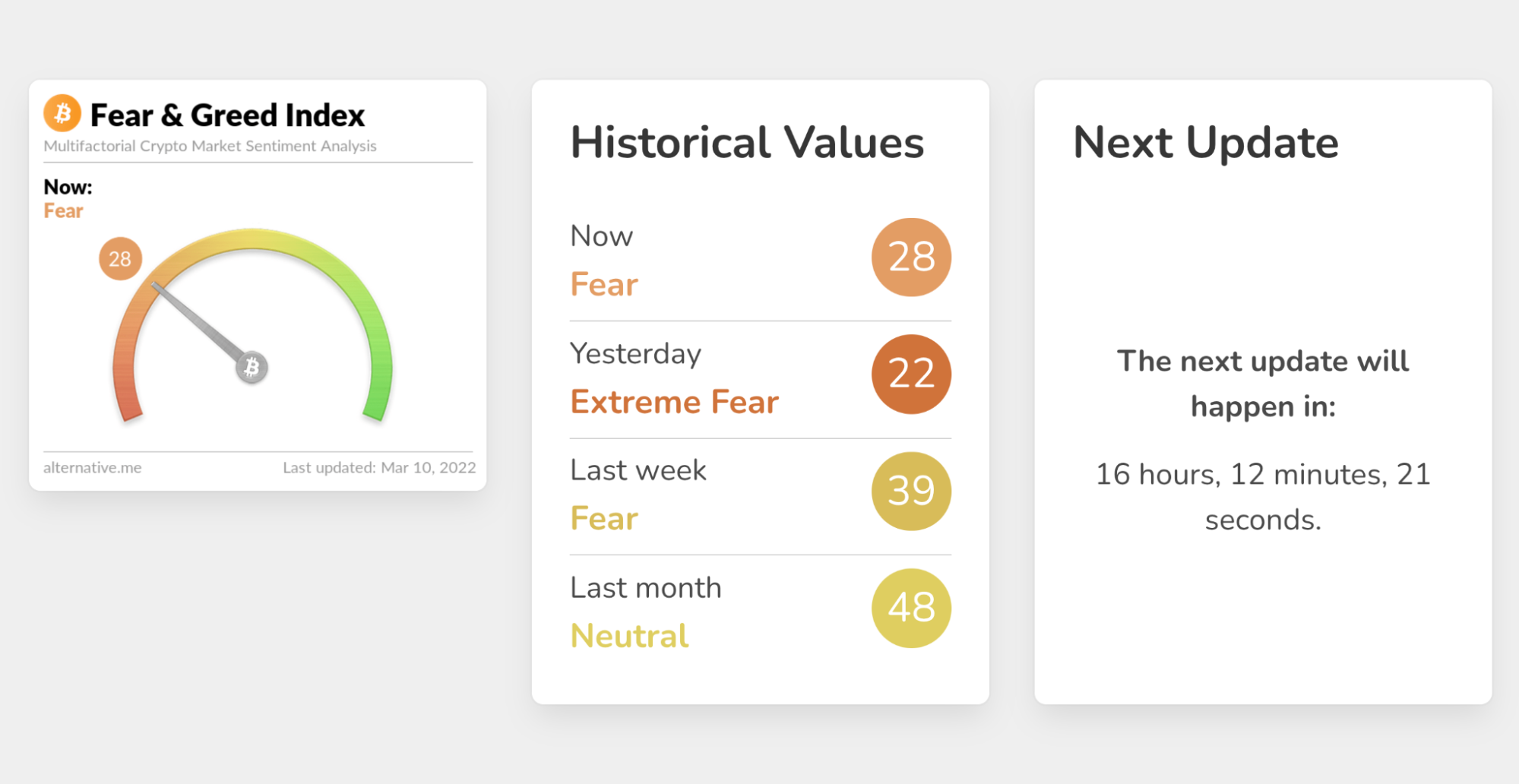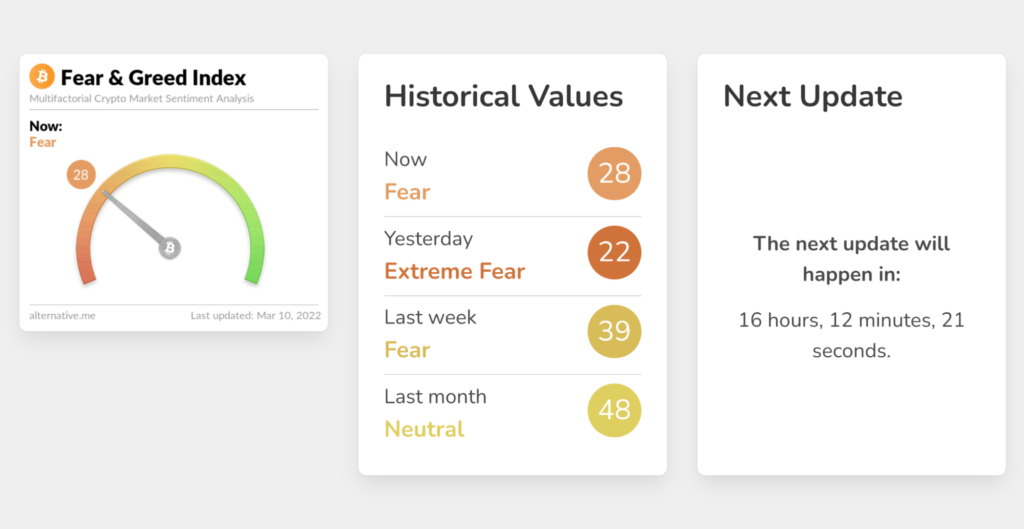 Having analyzed both tools, we have some evidence to show bullish sentiment for THORChain.
Technical analysis
Fortunately, the technical analysis presents a buying opportunity, and we have two points of reference for this idea. On the chart below, we have applied the 50-day (orange) and 200-day (blue) moving averages to show a crossover system.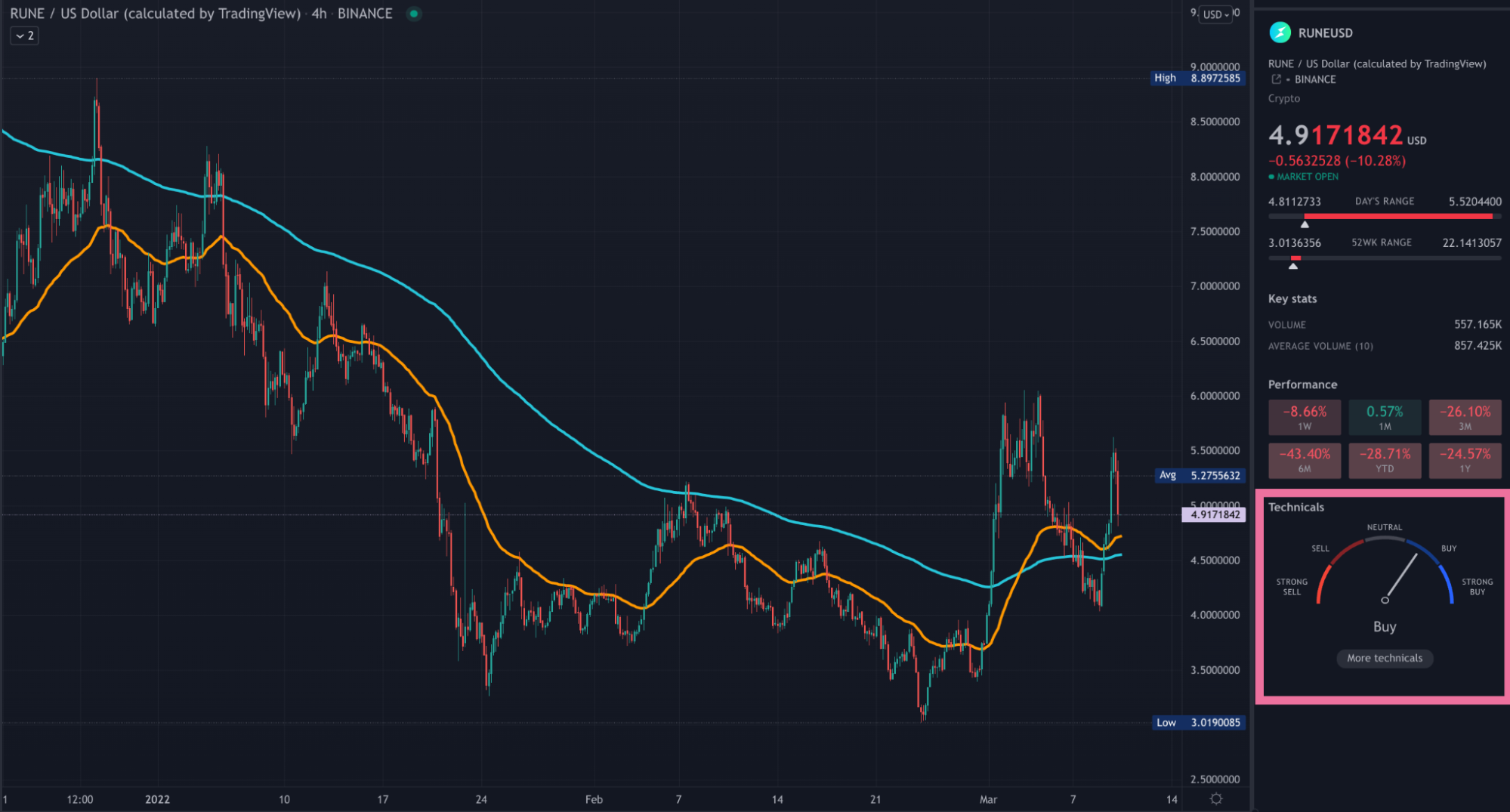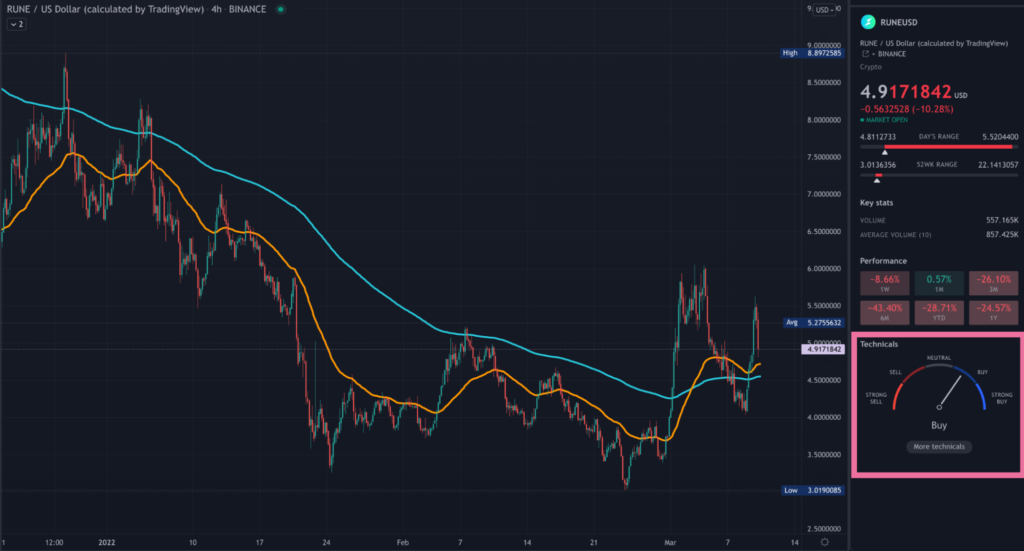 The price is above the MAs, and the 50 is above the 200, which are the two entry triggers for this strategy. This is proof that the market is probably in a bullish phase. Besides, TradingView's technicals (in the bottom right corner of the chart) suggest a 'Buy.'
Fundamental analysis
The one positive change to THORChain was the addition of synthetic assets trading to its platform. This event caused RUNE to increase by as high as 37%.
The introduction of synthetics will amplify usage, increasing pool depth and the total value locked (which is about $452 million, according to Defi Llama). Furthermore, it will provide potentially higher income for liquidity providers.
Currently, there is no other news to observe concerning RUNE. THORChain remains fundamentally strong for a few reasons:
While presently a competitive field, THORChain is increasingly becoming a significant player in the decentralized finance (DeFi) space.
THORChain is also focused on being interoperable with other blockchains since it allows for swapping numerous coins from different networks.
RUNE has a maximum supply of 500 million, with about 66% or 330 million presently in circulation. Scarcity is particularly attractive when evaluating any cryptocurrency's future supply and demand.
With a market cap of about $1.6 billion (according to the latest CoinMarketCap data), RUNE sits in the mid-capped range. These projects are slightly riskier than large-capped coins. However, they have the potential to generate higher returns.
THORChain (RUNE) Price Prediction: 2023-2025
So, where could RUNE's price be in 2023 and 2025? Let's find out.
2023 forecasts
The average 2023 estimate we got from numerous forecasting resources was $11. On the low end, Wallet Investor presents prices ranging from $5.71 to $12; PricePrediction.net suggests a minimum of $10.72, with an average of $11.08.
One of the more optimistic predictions comes from Gov Capital, approximating from $11.35 to as high as $15.35.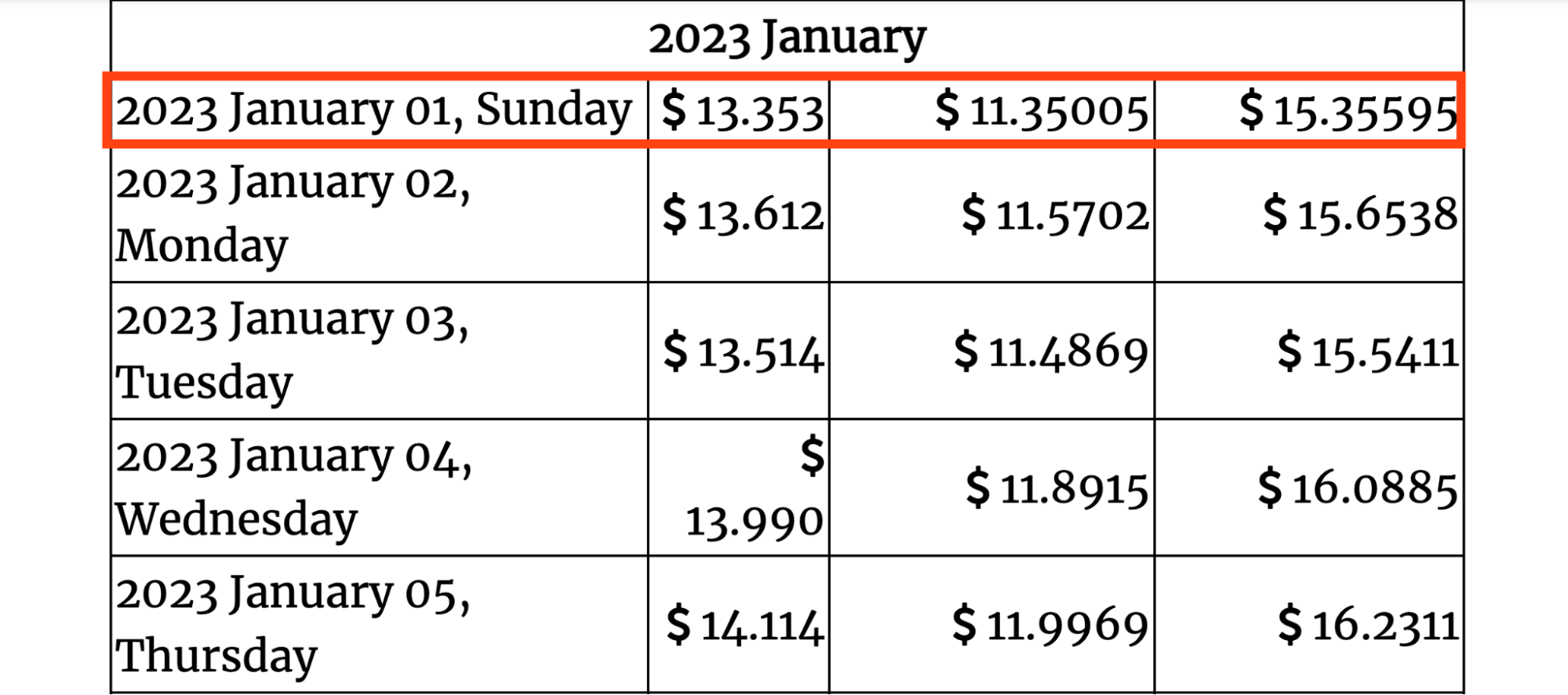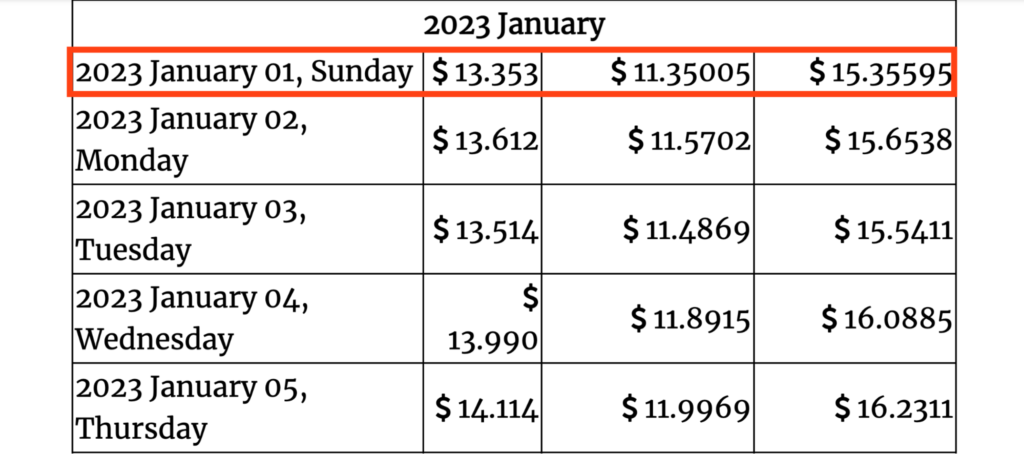 By 2023, it wouldn't be unreasonable for RUNE to go up by 2 or 3X, considering that it hit an all-time high of $21.26 in May 2021.
2025 forecasts
Much of the predictions we observed show RUNE being comfortably worth double figures.
Wallet Investor was, again, the less optimistic of the three, with estimates from $16.28 to $23.84. PricePrediction.net suggested a minimum of $22.81, with an average of $23.63.
Gov Capital is predictably the most bullish, with valuations from $52.30 to $70.76.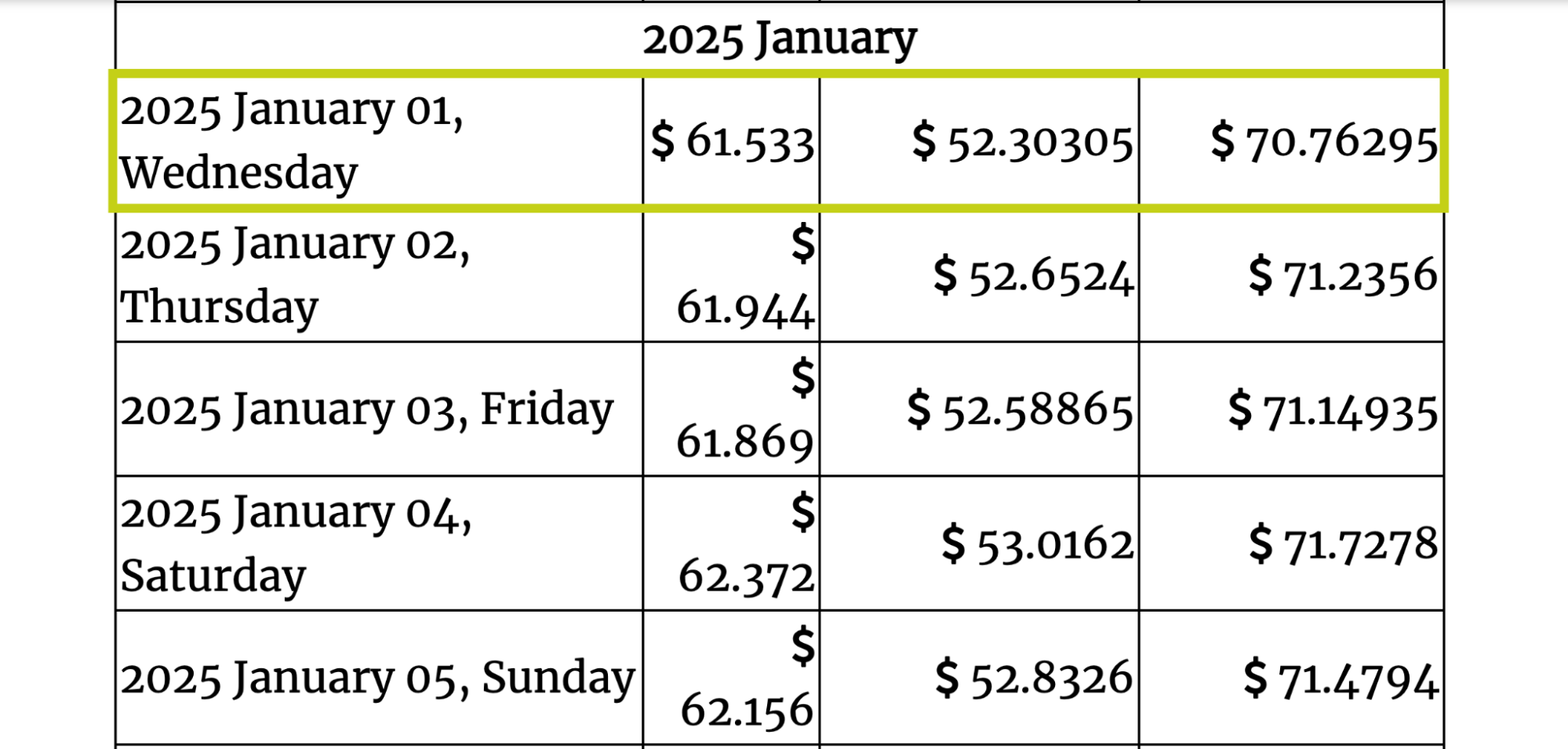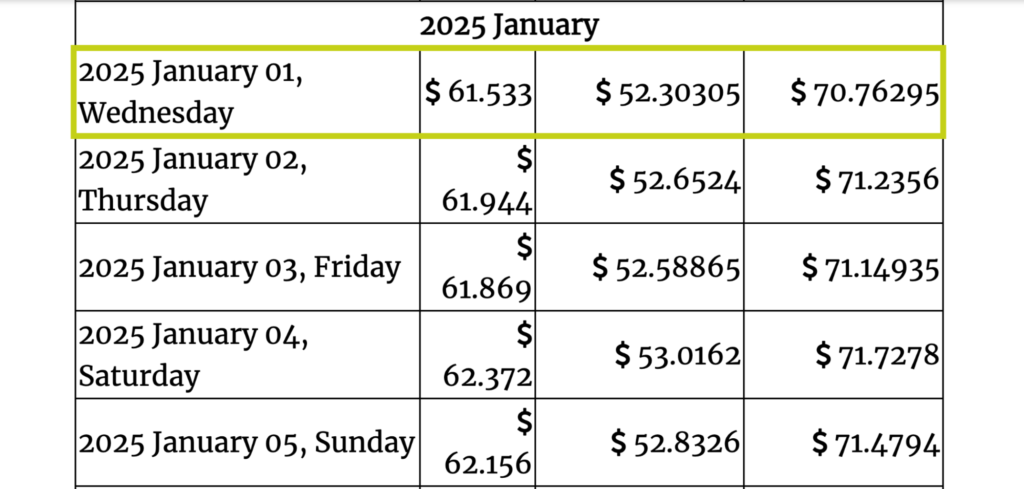 Ultimately, these 2025 forecasts are more speculative and unreliable, considering the number of years ahead. Therefore investors should only use the predictions as a guide because anything can happen going forward.
THORChain Frequently Asked Questions (FAQs)
Is THORChain real?
Yes, it's a well-known DeFi protocol that's been around for a few years with a substantial user base and media presence.
What is the THORChain price today?
$4.90
Will THORChain's price reach $100?
Over the next few years, $100 is possible. However, it would take about a 20X gain, which is substantial.
Should I buy THORChain?
You should understand that buying RUNE remains a speculative endeavor since there are no guarantees you will make any profit.
Where do I buy RUNE?
You can buy RUNE from many established exchanges such as KuCoin, FTX, Binance, Bybit, Gate.io, AscendEX, and numerous others.