Tiburon EA is an MT4 tool that mostly works on the EUR/USD pair. It is an FX EA that combines a variety of trading strategies to allow for quick entries and exits while remaining unaffected by market fluctuations. Tiburon EA is a completely automated trading system that claims to produce outstanding results when utilized on the H1 timeframe.
Is it a reliable FX robot for investing?
Tiburon EA is a system that belongs to the MQL5 community. The EA was first published on September 1st, 2021. This FX EA was developed by Elizaveta Erokhina, who is based out of Russia and has created 6 products, 10 signals, and 112 demo versions.
According to the developer's profile information on the MQL5 website, this EA strives for long-term stability. The MQL5 website states that the trading strategy of this FX robot is based on numerous indicators, including one created by the developer.
Plus, the combination of EAs enables the system to remove misleading signals and concentrate solely on profitable signals. The expert advisor, as per the developer, is simple to use and has a high level of accuracy in its entries.
However, other than an email address and a chat option on the MQL5 website, the developer provides no other support channels. We could not find any information on the location, phone numbers, or anything else. Thus, this is not a trustworthy EA owing to insufficient assistance and a lack of vendor transparency.
How to start trading with Tiburon EA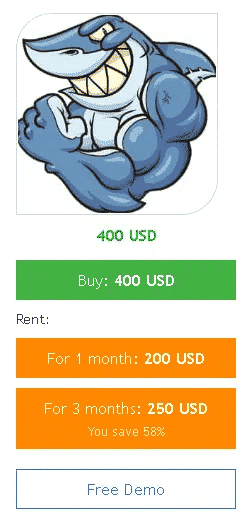 You will have to spend $400 to get your hands on this FX Robot. It is not a cheap deal. The EA has a few renting options. Its official site offers a one-month renting option for $200 and a three-month renting option for $250, as well as a free demo offer.
According to the developer, the price may soon rise to $500. Furthermore, the EA does not offer any refund policy if something goes wrong. However, it should be noted that the system can be downloaded for testing purposes. We can do backtests and check parameters.
According to the creator, this EA identifies acceptable order entries by using the standard crossing with oversold and overbought areas. It assists in identifying possible price fluctuations at certain levels with the aid of the indicators. The primary indicators that facilitate effective trade execution are stochastic and RSI.
This FX robot operates on a one-hour timescale, and the developer recommends ECN brokers. It is user-friendly, so users do not have to worry about lacking the necessary trading expertise. It features broker compatibility and employs a dynamic TP mechanism for its transactions.
Tiburon EA backtests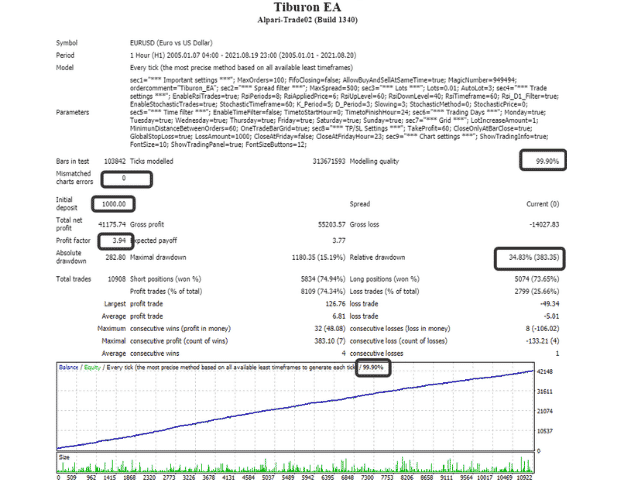 The MQL5 website features a few backtests. One of the backtests has a modeling quality of 99.90 percent. We can observe from the statistics that the test was conducted from 2005 up to 2021. The total profit produced for a $1000 deposit was 41175.74.
Moreover, the profitability was 74.34 percent with a profit factor value of 3.94. The relative drawdown was substantial at 34.83 percent. According to the findings, the FX EA did not perform successfully, resulting in modest profits and a significant drawdown.
Trading results
The MQL5 website features a sample trading account.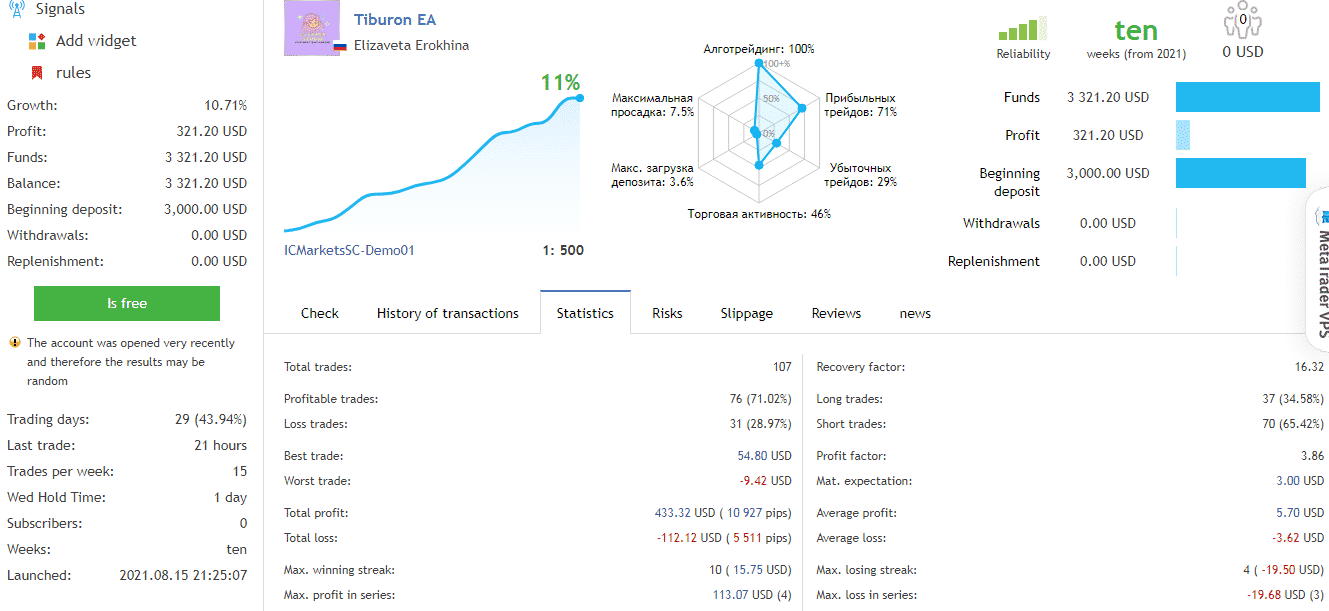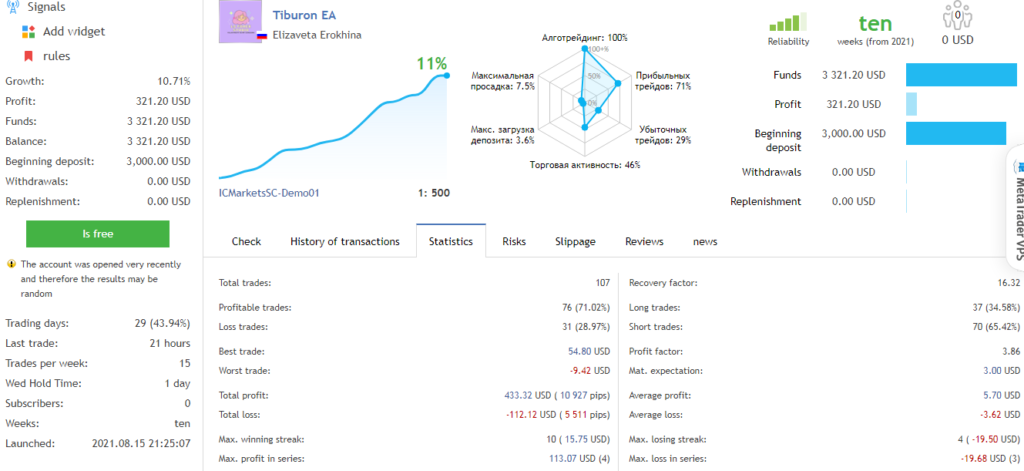 According to the trade statistics, the growth rate for the demo account that began in August 2021 is 10.71 percent. The profit earned on a $3000 deposit is $321.20. There is a 7.5 percent drawdown and a profit factor of 3.86. The account has a profit margin of 71.02 percent. Profits are not high despite the minimal drawdown.
The small sample size also may not accurately reflect the EA's real performance. When we compare the backtests to the live demo trading results, we find that the backtests outperform the demo results. This demonstrates that the performance in the backtests cannot always be anticipated to be replicated in real-time trading outcomes.
Vendor transparency
The developer of Tiburon EA, Elizaveta Erokhina, has got a rating of 824 as a trading system vendor, which is not very high. She is from Russia and offers six products, 145 demo versions, and 10 signals. Erokhina has 60 subscribers and her products have a rating of 4.4 as per 11 reviews.
People feedback
We could not discover any customer reviews for this FX EA on reputable third-party sites such as Forexpeacearmy, Trustpilot, and so on. The absence of comments suggests that this is not a well-liked product. Even though there are some reviews on the MQL5 website, the reviews cannot be trusted because the site advertises the product.
Summary
Advantages
Completely automated EA
Personalized indicator
Disadvantages
Improper description of the trading strategy
Limited sample size
No refund guarantee
Based on our assessment of the performance, trading strategy, and other aspects of this FX EA, we conclude that it is not a reliable product. While the creator discusses the usage of indicators, neither approach nor description is provided.
Furthermore, the EA only has a demo account, indicating a limited sample size. We think this is not a trustworthy expert advisor as it does not have live trading results on third-party websites such as Myfxbook and FX Blue.