True Range Pro is an EA that guarantees a 5-10% monthly profit for the EURUSD pair and up to 20-40% monthly gains for the GBPUSD symbol. The system was introduced to the public on September 9, 2020. However, it is suspicious that it has only been activated 10 times only. Traders seem to have preferred using the demo version instead. This review will help you understand more why this is so.
Is True Range Pro a reliable trading system?
True Range Pro has the following features:
Fully automated
Fixed and auto volume
Dynamic basket take profit
Hard stop loss for each position
High spread protection
Runs on the MT5 platform
Works with the GBPUSD and EURUSD currency pairs
True Range Pro is the creation of a person named Aleksei Ostroborodov from Russia. He is the founder of Smart Forex lab, a company we know nothing about. He is also the creator of systems like Traffic Pro, Absolute FX MT4, Euphoria MT4, Candelabrum EA and many more. Aleksei's qualifications, achievements, and experiences are still mysterious since this data is not provided.
This EA applies what the vendor calls accurate and night/intraday scalping & smart grid system. This combination of strategies is not good. It is well-known that the scalping method makes small profits. On the other hand, grid is very risky as one wrong turn in the market is enough to make things start going south. So, in the worst case scenario, the small profits made by the EA can end up being eroded if the grid approach holds a losing position for a long time.
How to start trading with True Range Pro
True Range Pro is an expert advisor. Therefore, it is programmed to initiate and carry out trades automatically for you. If you want to use it, you can easily purchase it at $195 on the mql5 website. However, a money-back guarantee is not provided.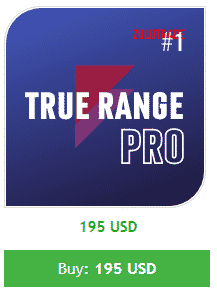 The recommendations for this robot are:
A leverage of 1:100 and above
TradingFx VPS IC Markets Raw Spread, Weltrade and ForexChief DirectFx brokers
FxCash rebate
A 1-minute timeframe is used for the GBPUSD currency pair
A 5-minute time frame is appropriate for the EURUSD symbol
True Range Pro backtests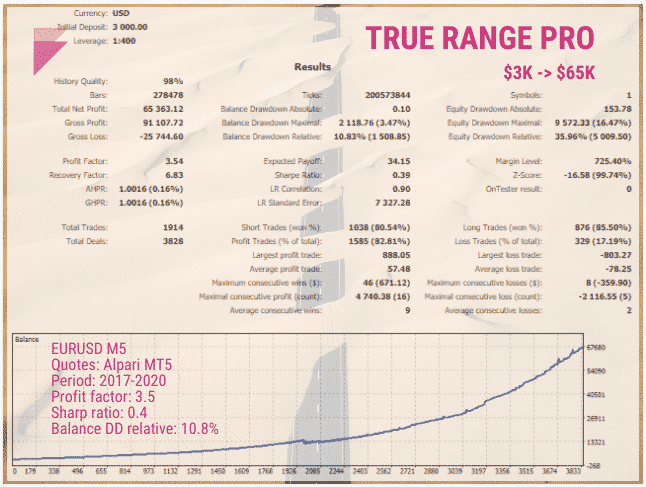 From the results above, we can see that the robot was tested between 2017 and 2020 using the EURUSD currency pair. A deposit of $3000 was placed and the total net profit of $65,363.12 was created. The profit factor stood at 3.54. The relative drawdown which was 10.83% was within safe levels.
The trades conducted amounted to 1914. Out of these, the short trades win rate was 80.54% whereas the long trades win rate was 85.50%. The average profit trade ($57.48) was lesser than the average loss trade (-$78.25). In short, the robot made losses on most occasions.
Trading results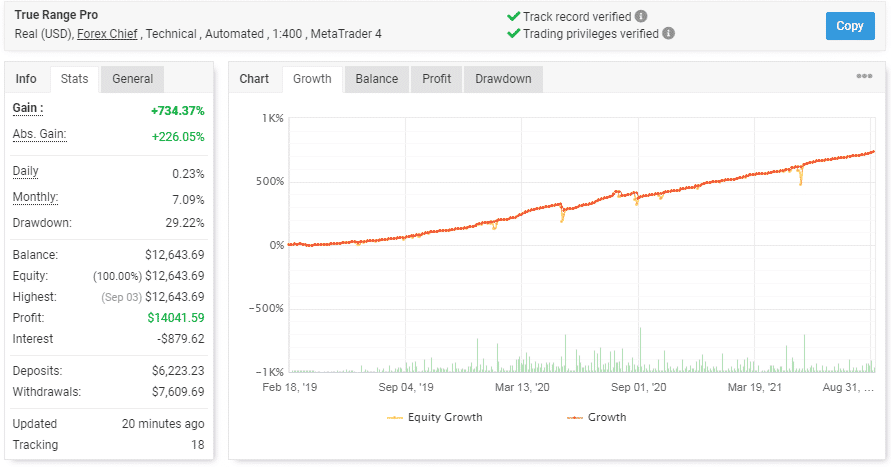 This real USD account has been active for quite a long period, i.e., since February 18, 2019. It was initially deposited at $6,223.23 and the resultant gain is 734.37%. The profit made is $14,041.59 but a total of $7,609.69 has been withdrawn already. So, the balance is now $12,643.69.
The daily and monthly profits are 0.23% and 7.09% respectively. The drawdown level (29.22%) is rather big. It is also almost 3 times higher than the one on the backtest report. Obviously, the live market presents more dangers. Furthermore, the strategy on board is riskier in real conditions.

The system has executed 1267 trades with 10783.2 pips. Just like in the backtest statement, the average win (16.28 pips) is lesser than the average loss (-21.13 pips). It is clear that even in the real market the robot is struggling to win trades. The profit factor is 2.43.
The win rates for long positions are 78% and 79% for short ones. These outcomes were not that encouraging. The lots (195.01) traded are large and they increase the account's risk of suffering losses.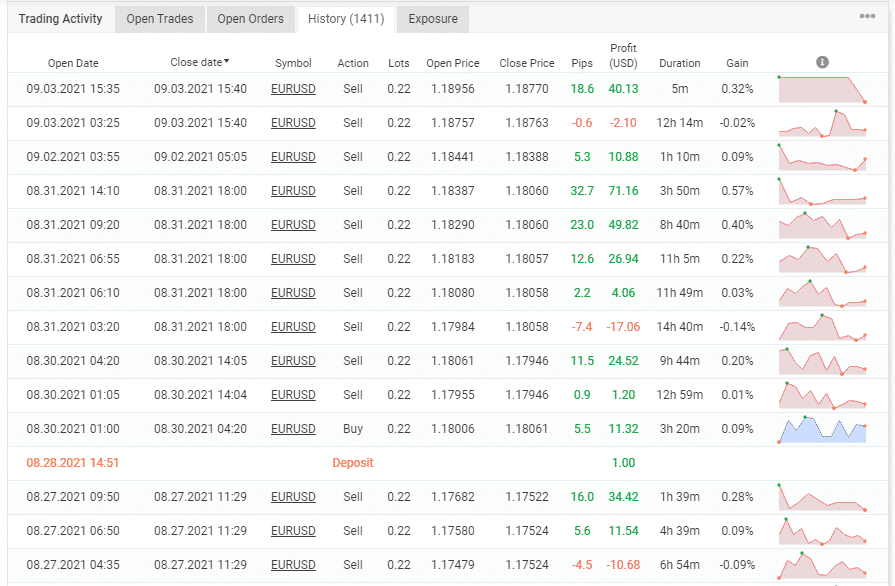 The lot sizes were fixed. Scalping and grid strategies were on board. The EA did not manage to make significant gains.
People feedback
True Range Pro has received a bunch of positive reviews from customers. This feedback can be found on mql5. Nonetheless, we think that the testimonials are not honest. The clients could have been paid to leave positive comments. We searched other websites like Trustpilot and Forex Peace Army to see if we could find reliable reviews but we found none.
Summary
Advantages
Backtest data and live trading results are provided
Disadvantages
Grid on the board
High drawdown
Lack of vendor transparency
Our review has led us to conclude that True Range Pro is far from being a reliable tool. It is unable to generate significant gains since it applies scalping. The grid strategy also threatens to obliterate the profits made. The high drawdown is proof of that. Therefore, we advise you to take your time to study this EA before you decide to buy it.