Disclaimer: The information provided here does not constitute any form of financial advice. Readers are fully responsible for conducting their due diligence before making any investment decisions.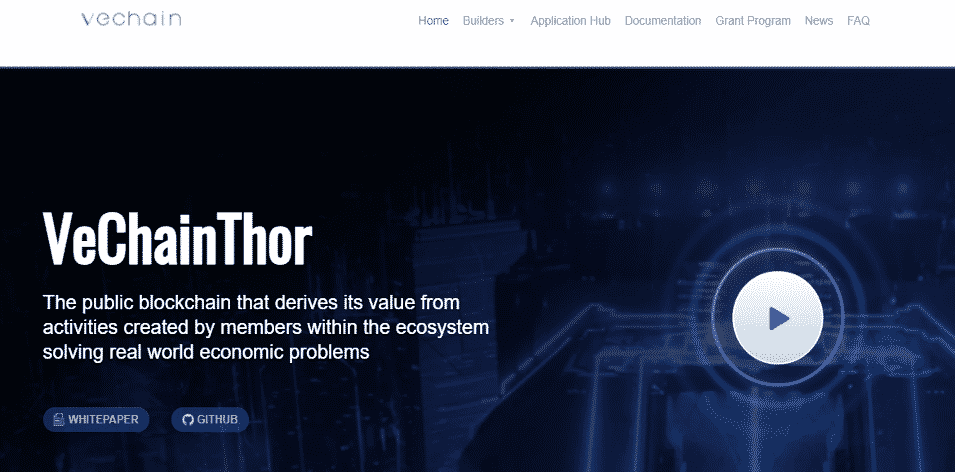 VeChain: Market Sentiment
We can look at the social media data from Bitts Analytics and the broader sentiment of cryptocurrencies using Alternative.me's Fear & Greed Index (FGI). The former tool observes the number of social media mentions received for VeChain.
This activity strongly correlates with prices. When more users talk about a project, the coin's value is likely to increase, and vice versa. The image below shows the direction of price (blue) and social media volume (orange).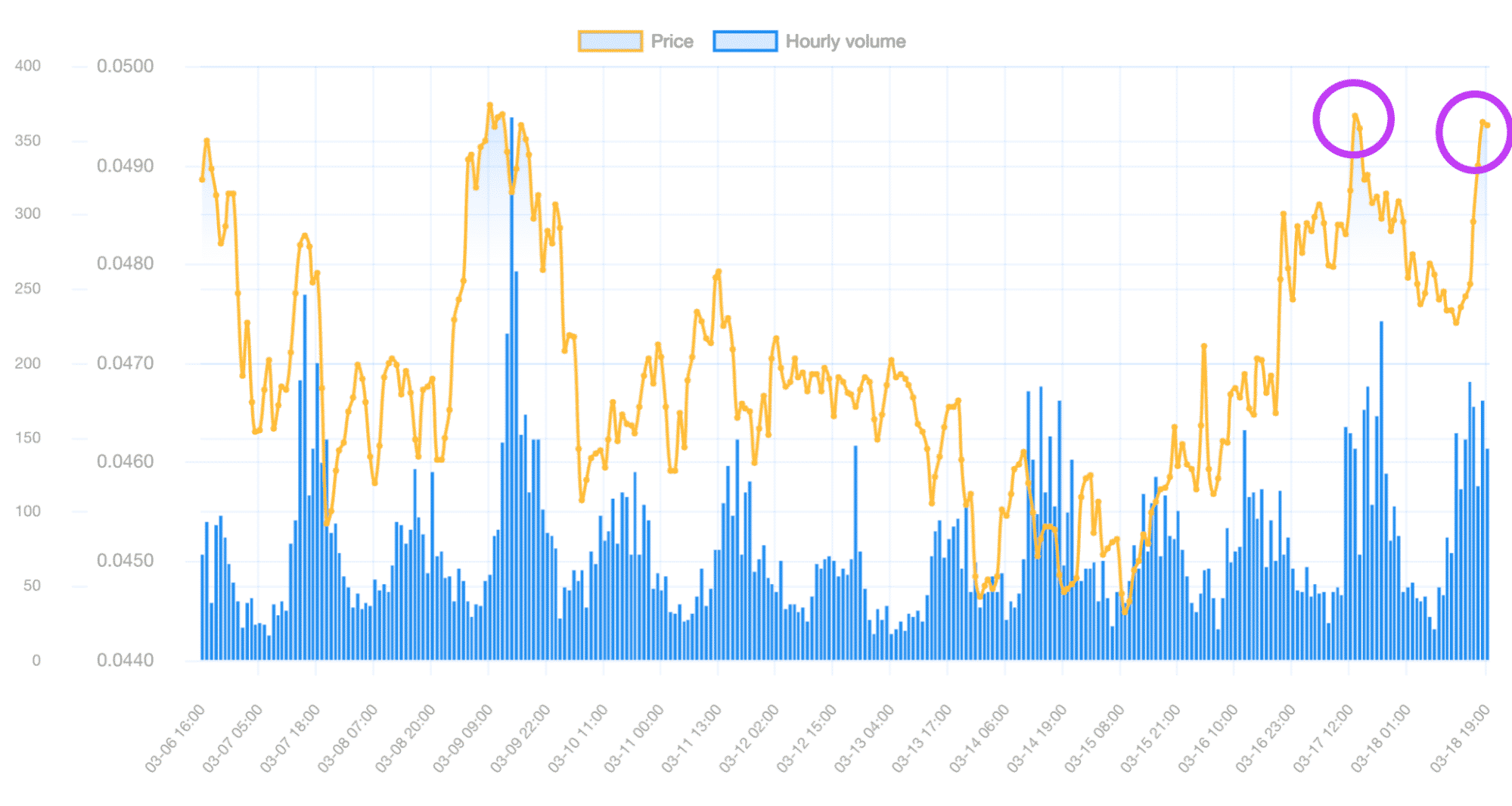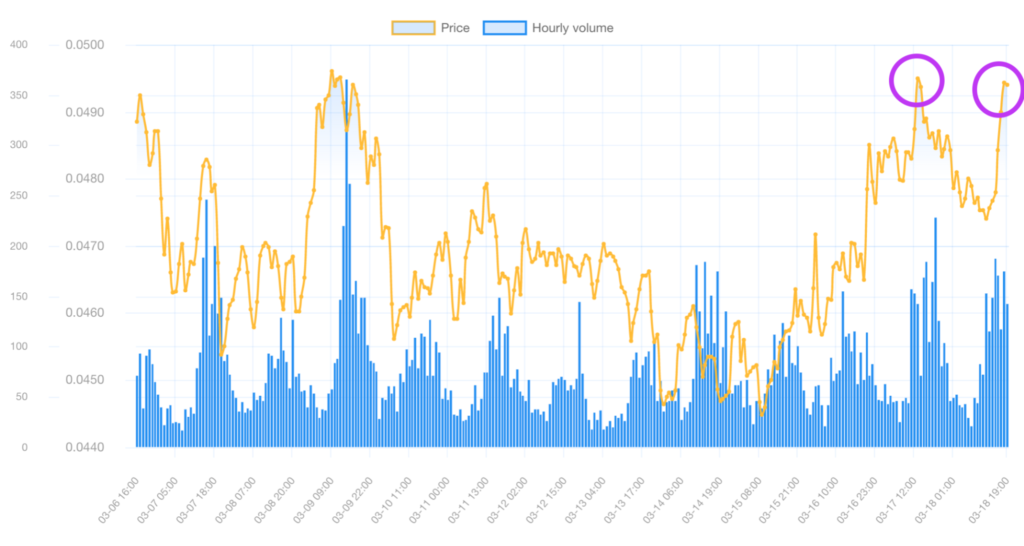 We have circled the points to show that the volume hasn't decreased that much, suggesting some bullishness for VET.
The Fear & Greed Index is also quite positive. Presently, the reading is 25, indicating fear (figures between 0-50). This result generally means buying opportunities as investors become worried.
The graph below shows us that the FGI has hovered around the 25 mark over the past seven days.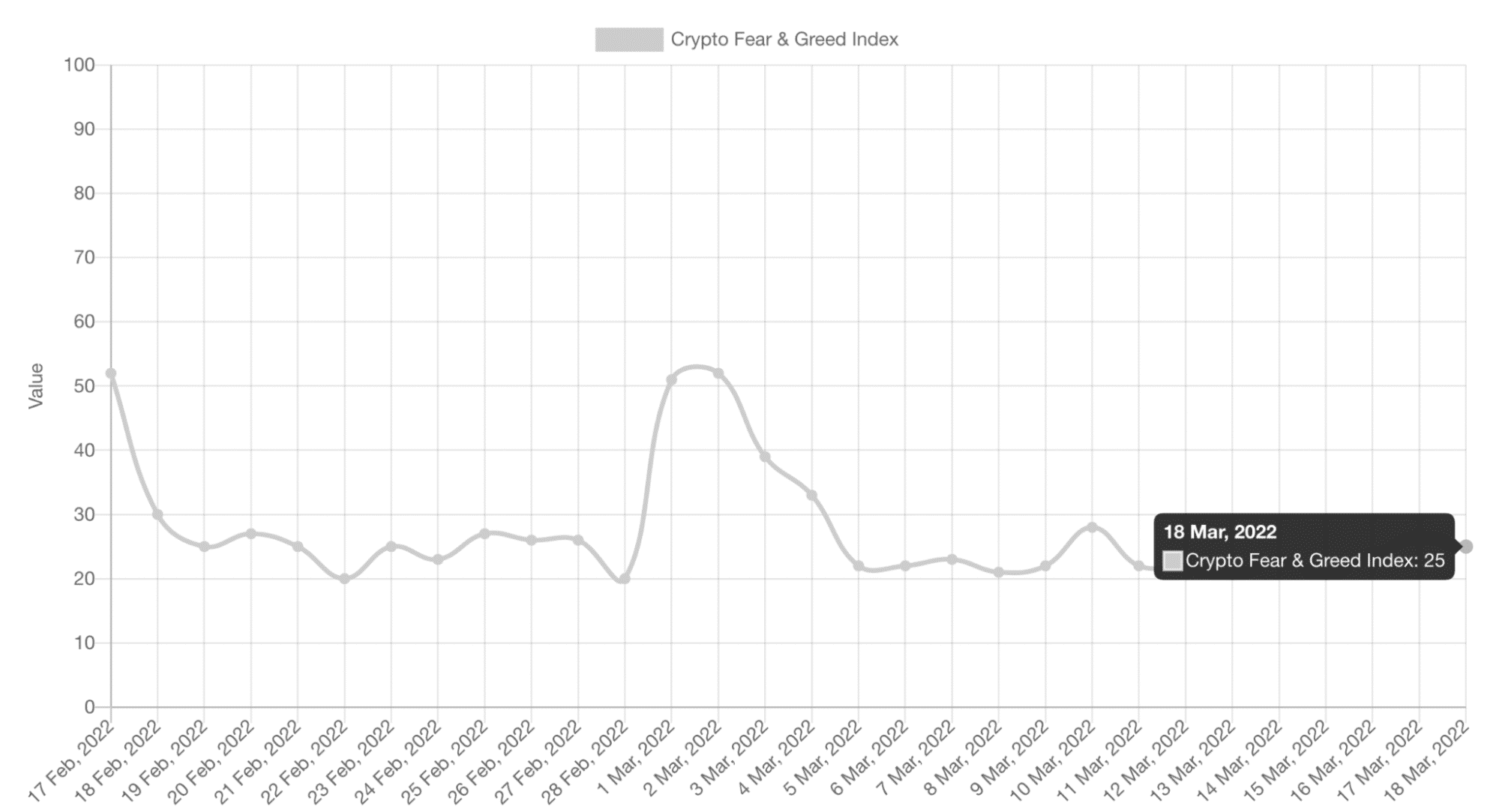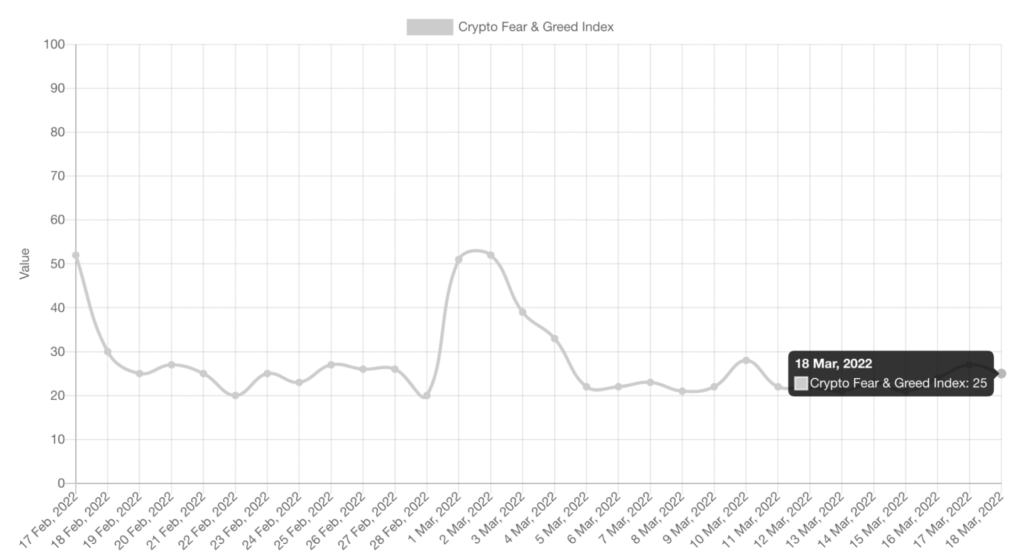 This suggests buying opportunities for many cryptocurrencies are imminent, including VeChain.
Technical analysis
On the 1HR chart of VET, we can see a precise bullish scenario, which is in line with the previously analyzed market sentiment. We have applied the 50-day (orange) and 200-day (blue) moving averages to present a simple crossover system.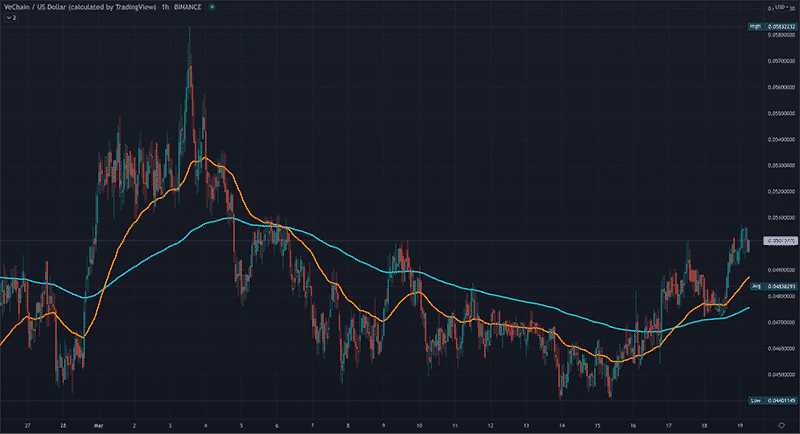 The 50 has crossed above the 200, while the price is above both moving averages. These are good signs that the market may begin trending higher in the coming days.
Although the higher time-frames don't confirm the same signal, the 1HR chart does provide an early clue. Yet, if you look at the daily chart below, we can see VET has retraced from the support level at around $0.047, another excellent sign that price may begin rising.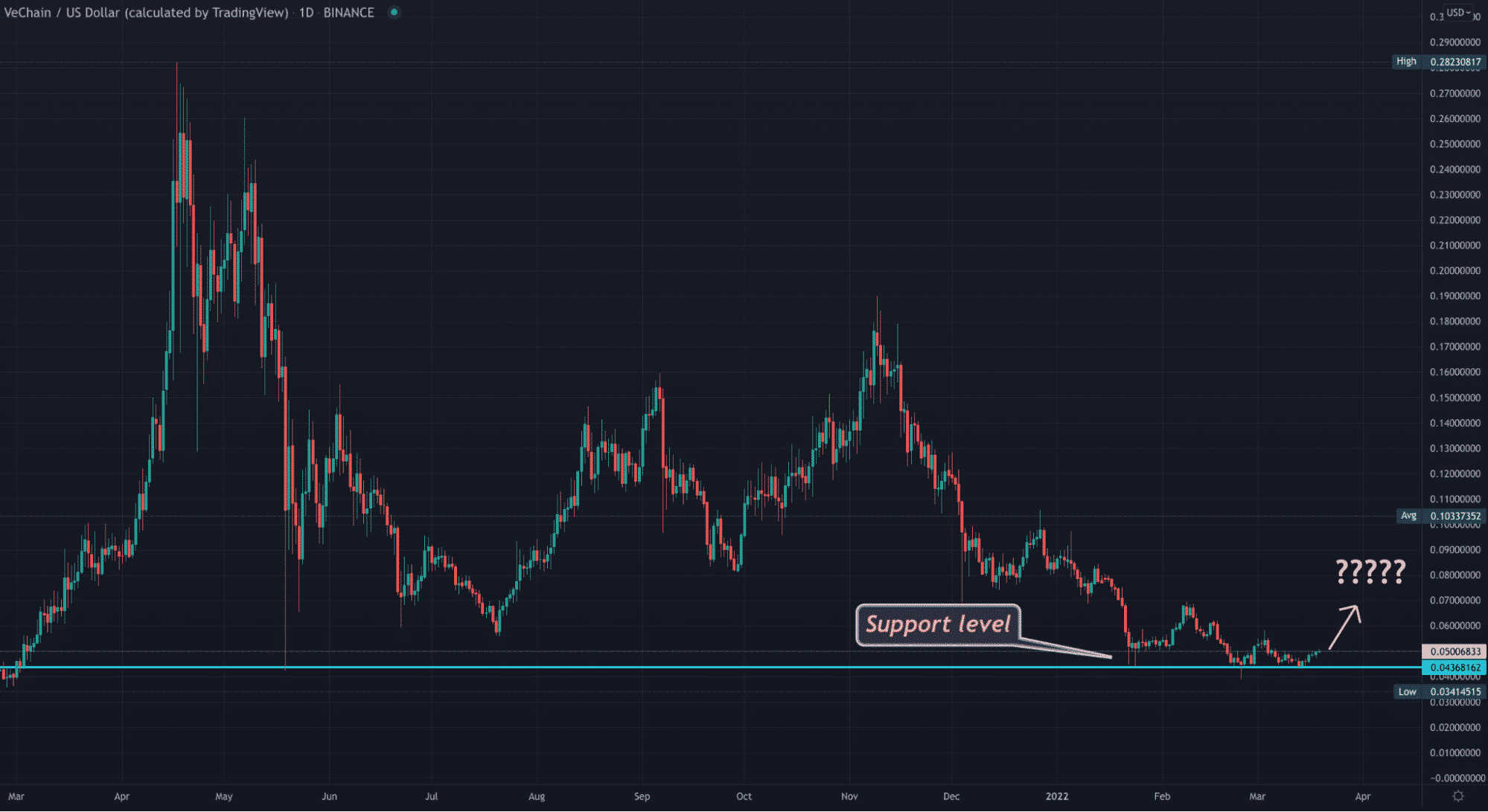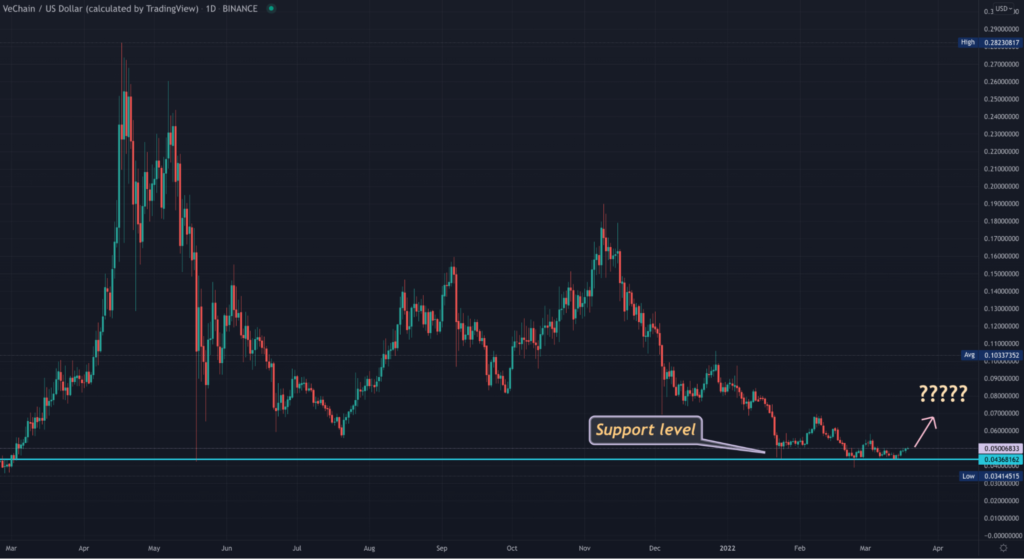 Fundamental analysis
In observing fundamentals, we first need to explore whether there has been any news regarding VeChain, of which we found none. We can now look at why VeChain is still structurally an excellent project.
VeChain serves a niche industry in supply chain. It has been one of the leading projects in this sector, meaning it has a first-mover advantage.
Supply chain management is a necessary component of business processes and logistics, considering the importance of delivery, quality tracking, transportation, etc.
However, VeChain is a much better alternative to the traditional way that supply chain is carried out. Currently, this space has been struggling with data communication issues, leading to a lack of transparency and the prevalence of fraud.
VeChain already has identifiable use cases with many high-profile corporations like BMW, LVMH, and Walmart currently using its platform.
Since its inception, the developers have been on a mission to combine IoT (internet of things) and distributed ledger technologies for industries to transfer and store data.
Another attractive fundamental aspect of VeChain is its deflationary feature, meaning it has a finite supply. Only 86.71 billion VET will exist, of which about 74% or 64.32 billion is presently in circulation.
VeChain (VET) Price Prediction: 2023-2025
Let's now explore 2023 and 2025 price predictions for VeChain.
2023 forecasts
The average estimate we got from analyzing numerous forecasting sites was $0.14. It's fair to assume that value is likely to at least 2X by the time 2023 begins. This increase would be reasonable within this period.
PricePrediction.net gave a maximum estimate of $0.11; the highest from Wallet Investor was $0.11. Gov Capital showed slightly better forecasts, pegging at least $0.093 to $0.126.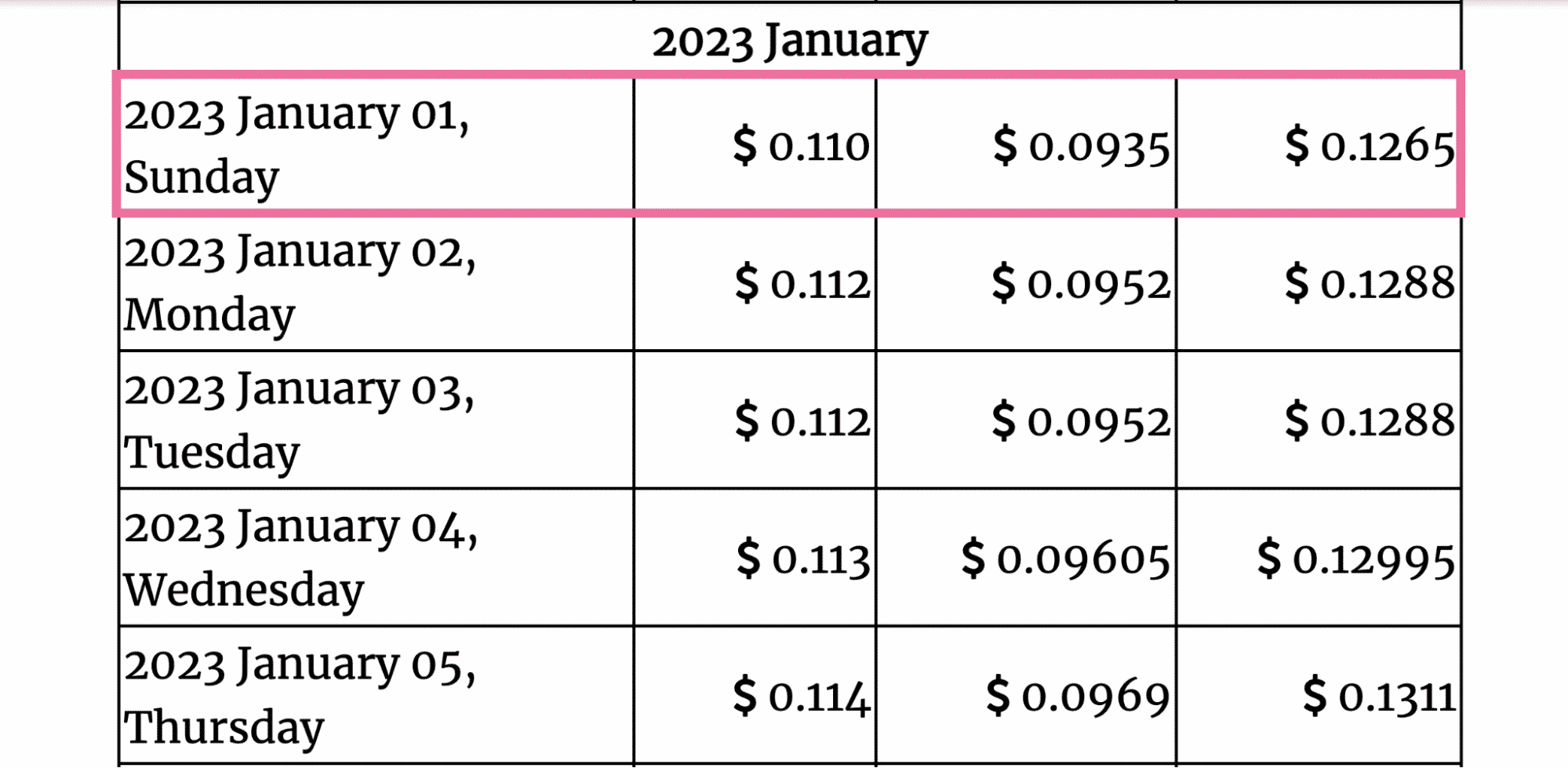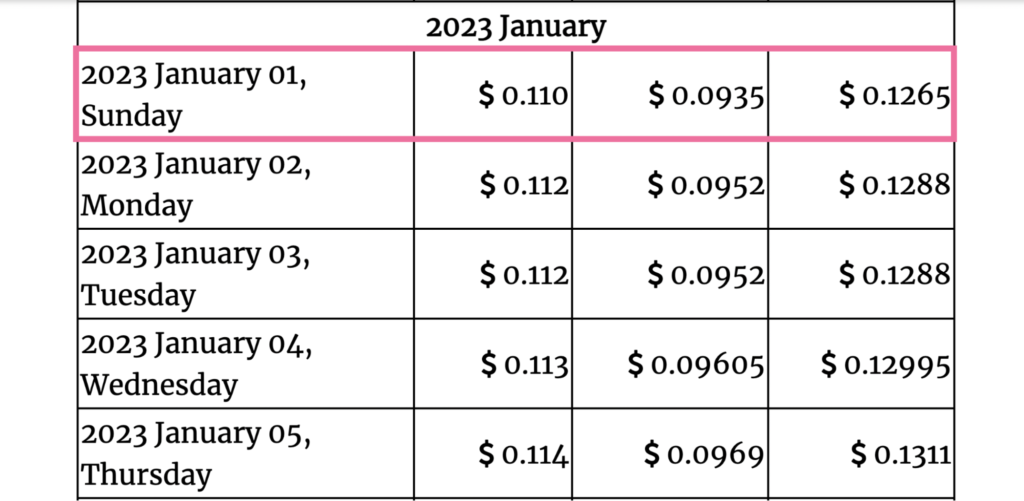 2025 forecasts
For 2025, the average we derived was $0.28. This would represent an increase of close to 500%, which, in a few years, is not far-fetched for any altcoin (and might be conservative).
PricePrediction.net presented a maximum of $0.20; $0.23 is the maximum from Wallet Investor. Gov Capital is, again, the most optimistic with the lowest and highest values of $0.35 and $0.48, respectively.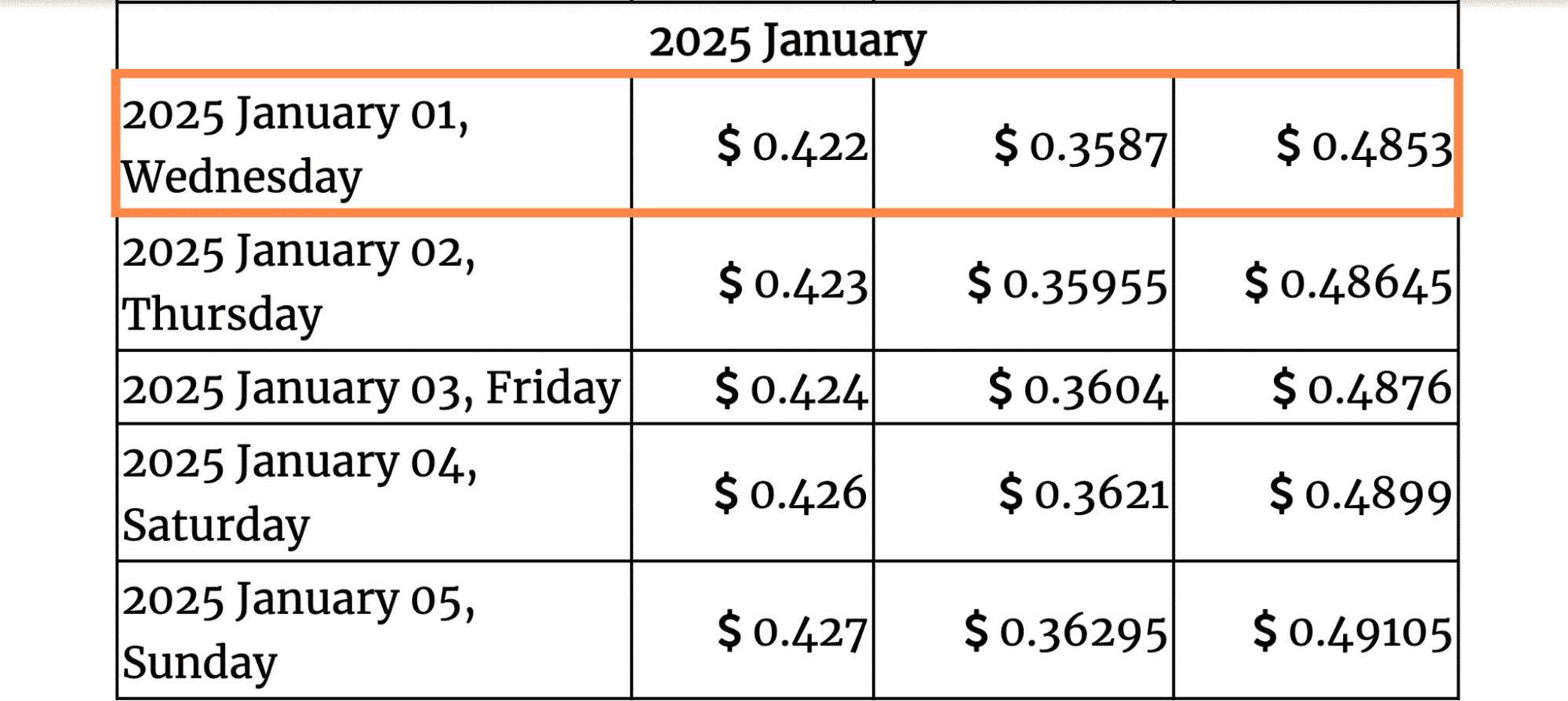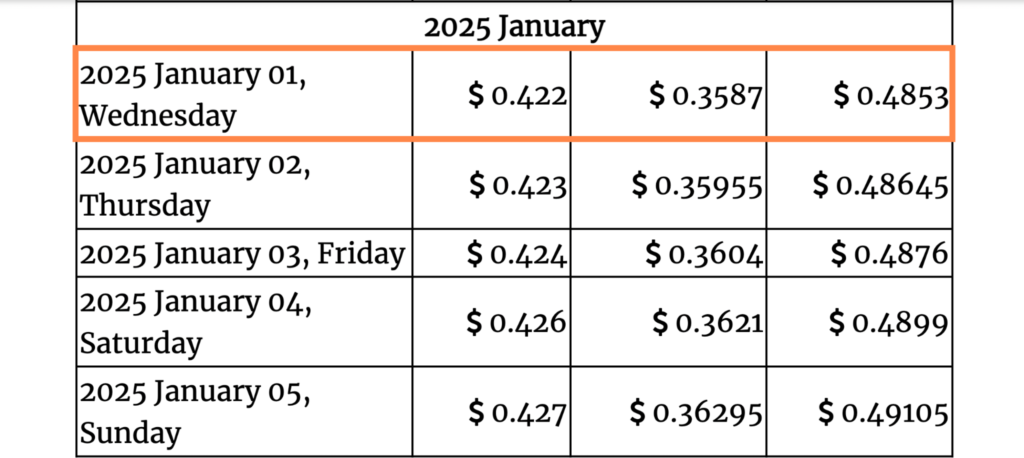 VeChain Frequently Asked Questions (FAQs)
Is VeChain real?
Yes, this blockchain project has been in existence since 2018.
What is the VeChain price today?
$0.049.
Will VeChain's price reach $1?
Most forecasting sites have not pegged $1 for VET within the next few years. However, because predictions are speculative, anything is possible.
Should I buy VeChain?
Ultimately, VeChain remains a risky bet, despite some evidence suggesting that it might be a good bet.
Where do I buy VET?
You can buy VET from numerous established exchanges such as Binance, Gate.io, Huobi, Bitfinex, KuCoin, Crypto.com, etc.