Very Well Trader is a robot that allows us "Discover The Winning Forex Adviser." The system works "like a clockwork generating stable profits every month without making any loss." 


In today's Very Well rader review, we are going to check what is true and what is fake.
Is this service a viable option?
It's a young trading solution to say something for sure. We recommend you to wait and check the trading results of this expert advisor in several months before making a final decision.
How to start trading with Very‌ ‌Well‌ ‌Trader

The robot is introduced in three packages: Standard, Most Popular, and Private.
The Standard pack costs $149 for a lifetime license. It includes one real and one demo account license for MT4 trading. The Most Popular pack costs $249 for a lifetime license. It provides us with two real and two demo MT4 licenses. The Private package is the most expensive – $299. We'll get four real and four demo licenses. The packages are also featured with support, free updates, and a 30-day money-back guarantee.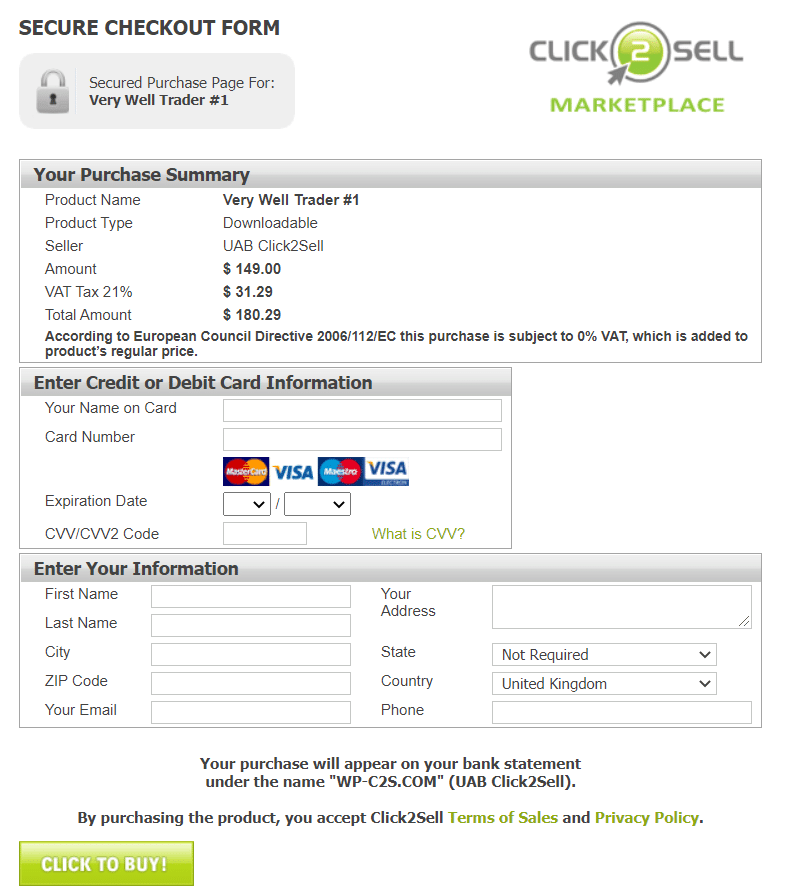 The robot is sold through Click2Sell. It means we can truly rely on getting or money-back if something happens.
The robot has few features explained:


Very Well Trader works automatically.
The installation will take around five minutes.
The robot is adapted for trading on 4 and 5-digits brokers.
There's responsive support provided.
The system provides a broker stealth feature. It hides SL and TP levels from eating by a broker.
The developers have over "15 years of our trust."
Very Well Trader trades four currency pairs: AUD/USD, EUR/USD, GBP/USD, and USD/JPY.
The robot works on the M5 time frame.
The system has money-management. It calculates lot sizes automatically for each trade.
It uses conservative Stop Losses to not sit in the long-term drawdowns.
Very‌ ‌Well‌ ‌Trader backtests
The developers decided not to provide backtest reports. It's a huge con because we can't check how the system handled past year tick data.
Trading results


The system runs on the real USD account. The balance is $16976. The account was created on November 10, 2020, and deposited at $3000. Free Margin is $15512.


The EA works with AUD/USD, EUR/USD, GBP/USD, and USD/JPY. It has been running the account for 105 days. The total net return is +465.9%. An average monthly return is +62.5%. The maximum drawdown is low – 0.1%. The average win-rate is 71.1%. The Profit Factor increased to 3.96 from around 2. The robot trades fifteen deals a day.

The Risk to the Reward Ratio is 1.56. The average win is +16.08 when an average loss is -$9.98. An average closed trade is +$8.54. The average trade length is over one day. The risk of ruin is insanely high – 44.3%.


It trades AUD/USD, EUR/USD, GBP/USD, and USD/JPY currency pairs. The most frequently traded is GBP/USD – 665. GBP/USD is also the most profitable symbol – $2131.23. The highest Profit Factor is 2.68 on EUR/USD.


The robot prefers trading the SELL direction (1073) over the BUY one (563 deals).


The system runs three strategies: #12324, #16794, and #22222.

The most-traded days are Wednesday (640) and Friday (338 deals).


Very Well Trader trades during the European trading hours.


February 2021 is going worse and worse compared with the beginning.
Other notes
The company hides everything about itself. We don't know who the developers are. They do not share any profiles on social networks or other sites.
People feedback
The presentation doesn't have any testimonials. There are no pages on TrustPilot, Forex Peace Army, or MQL5.
Wrapping up
Advantages
Real account trading results provided
Common offer
The 30-day money-back guarantee provided
Disadvantages
No team revealed
No strategy explanations provided
No settings explanations provided
No money-management advice given
High-risk trading
No backtest reports provided
No pages on well-known feedback sites created
Summary
Very Well Trader is a scalper that trades with sky-high risks quite frequently. The presentation looks semi-professional. It lacks many useful information about settings, details, strategies, indicators, money-management tips and so on. Trading results have shown that the account is run with high risks.