Multiple time frame analysis (MFA) is a type of technical and price action analysis that involves looking at a currency pair across several time frames. The strategy, also known as a multi-time analysis, is widely used by all types of professionals, including scalpers and swing traders. In this article, we will look at the best strategies to use when conducting this type of analysis.
Time frames in forex trading
There are four main types of forex traders. These traders use multiple time frames based on their risk appetite and trading strategies. They are:
Day traders – These are forex traders who buy and sell currency pairs several times a day. They always ensure that they don't leave their open trades overnight.
Scalpers – These are day traders who buy and sell currencies within a few minutes. Their goal is to make a small profit for each trade they initiate.
Swing traders – They are thematic traders who buy and sell currency pairs within a few days.
Position traders – These are people who buy or sell currency pairs and hold the positions for several days.
These traders use different types of charts on a daily basis. For example, scalpers tend to use ultra-short time frames that range from 1 minute to five minutes. They are generally not interested in the long-term trend of a chart. Similarly, position traders usually use long-term charts like daily or weekly charts. An ultra-time frame chart is not useful to them.
In general, scalpers focus on charts that are less than 10 minutes, while day traders use charts that are less than 1 hour. Swing traders, on the other hand, use between 4-hour and daily charts while long-term or position traders use daily and weekly charts. This is summarized in the chart below.
Typical time frames for different types of traders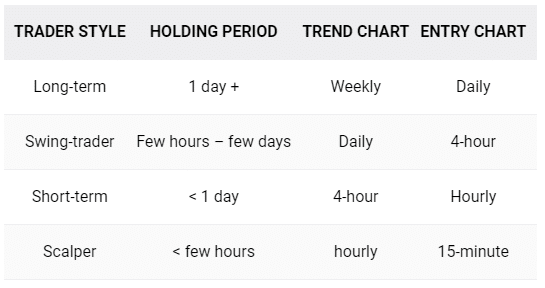 The chart below shows a EUR/USD chart with 1-hour, 30-minutes, 10-minutes, and 5 minutes.
Multi-time EUR/USD chart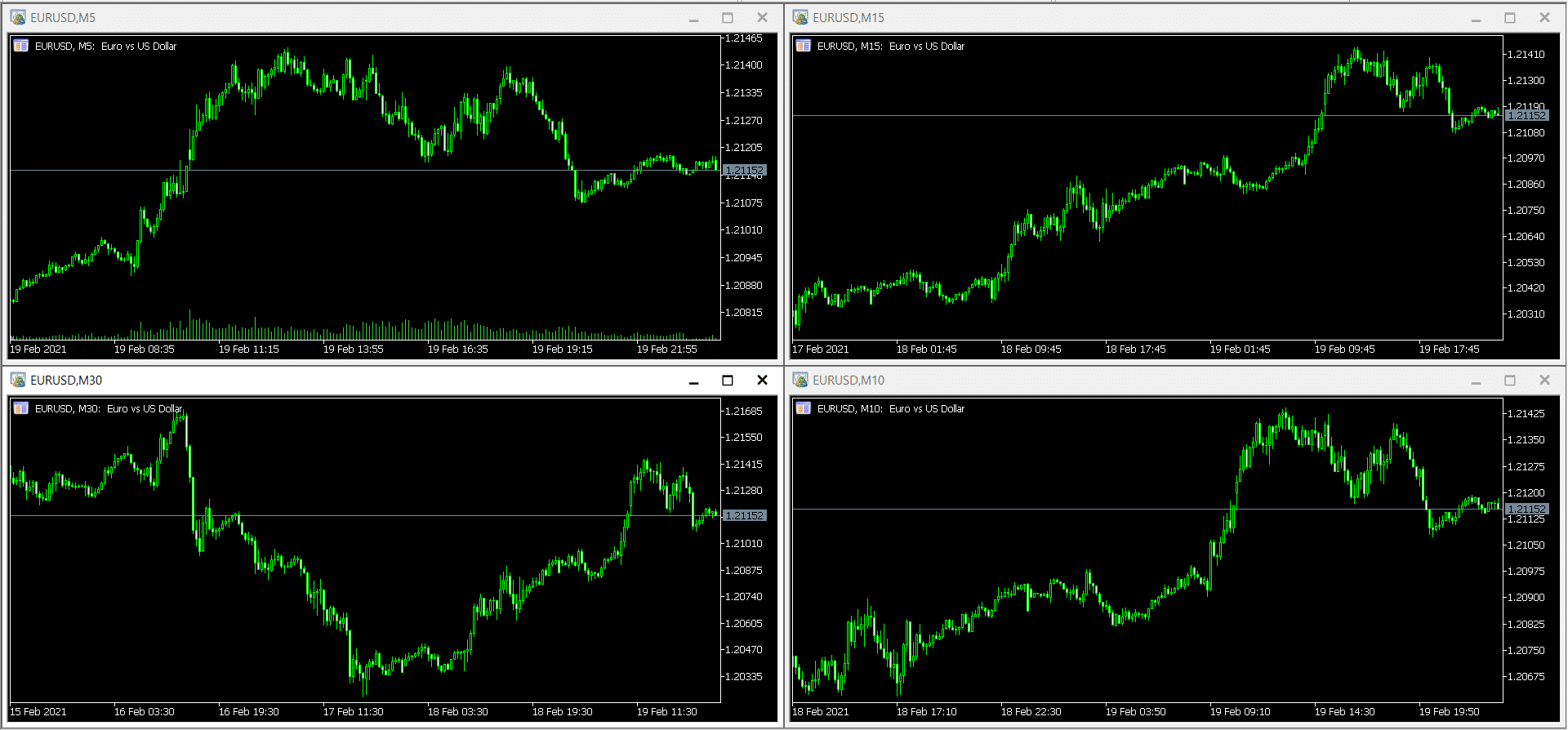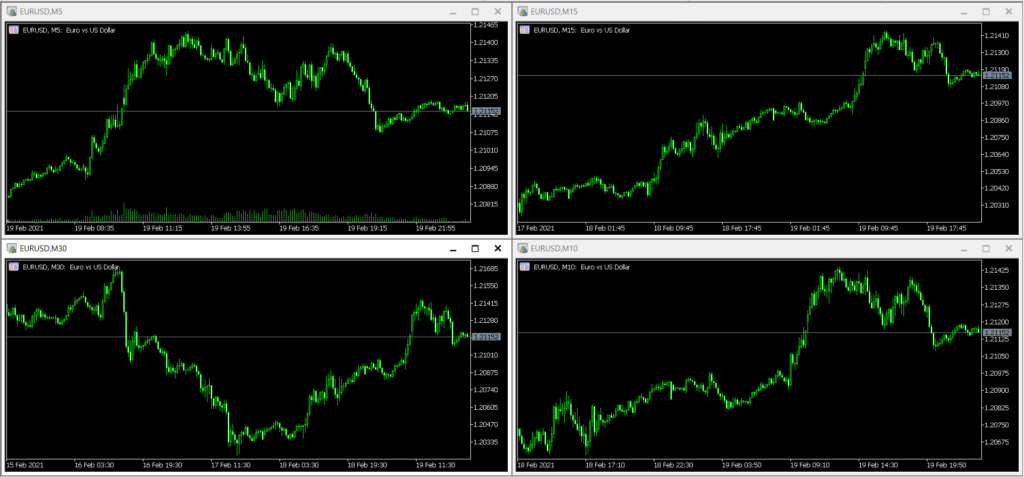 How multi-time analysis works
All trading platforms like the MetaTrader and TradingView have sections that help you change chart time frames.
A key difference between MT4 and MT5 is the number of time frames that are offered. The MT5 platform has more time frames ranging from 1 minute to monthly. MT4 does not have some specific minutes. The chart below shows how you can change the time frame in MT5.
Time frames in MT5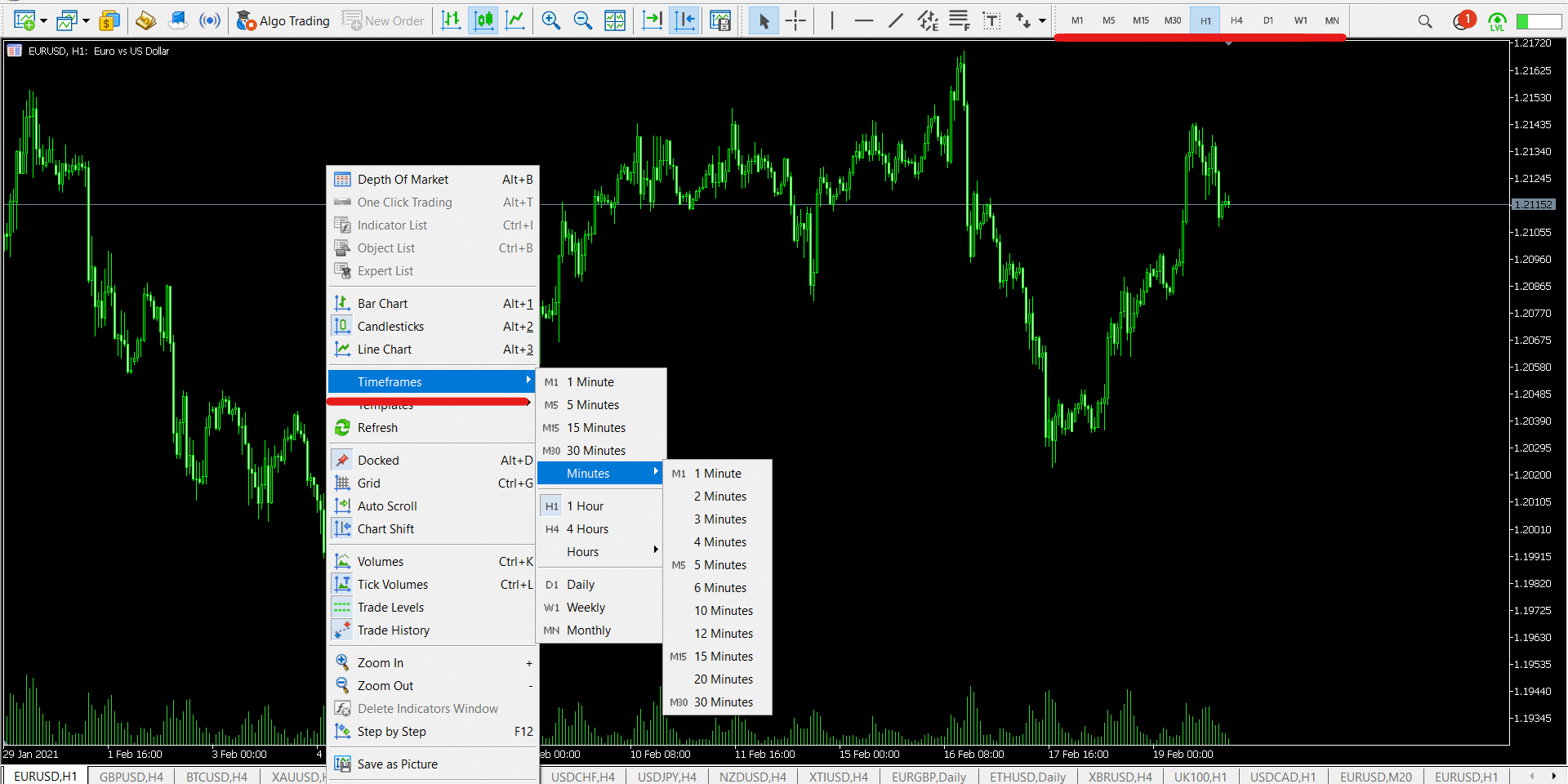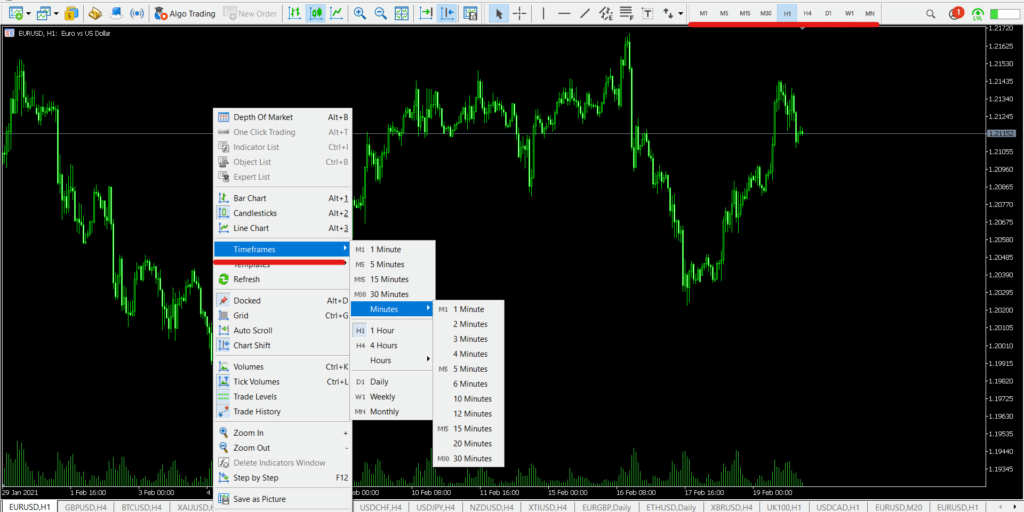 The chart below shows how to change time frames in TradingView.
Time frames in TradingView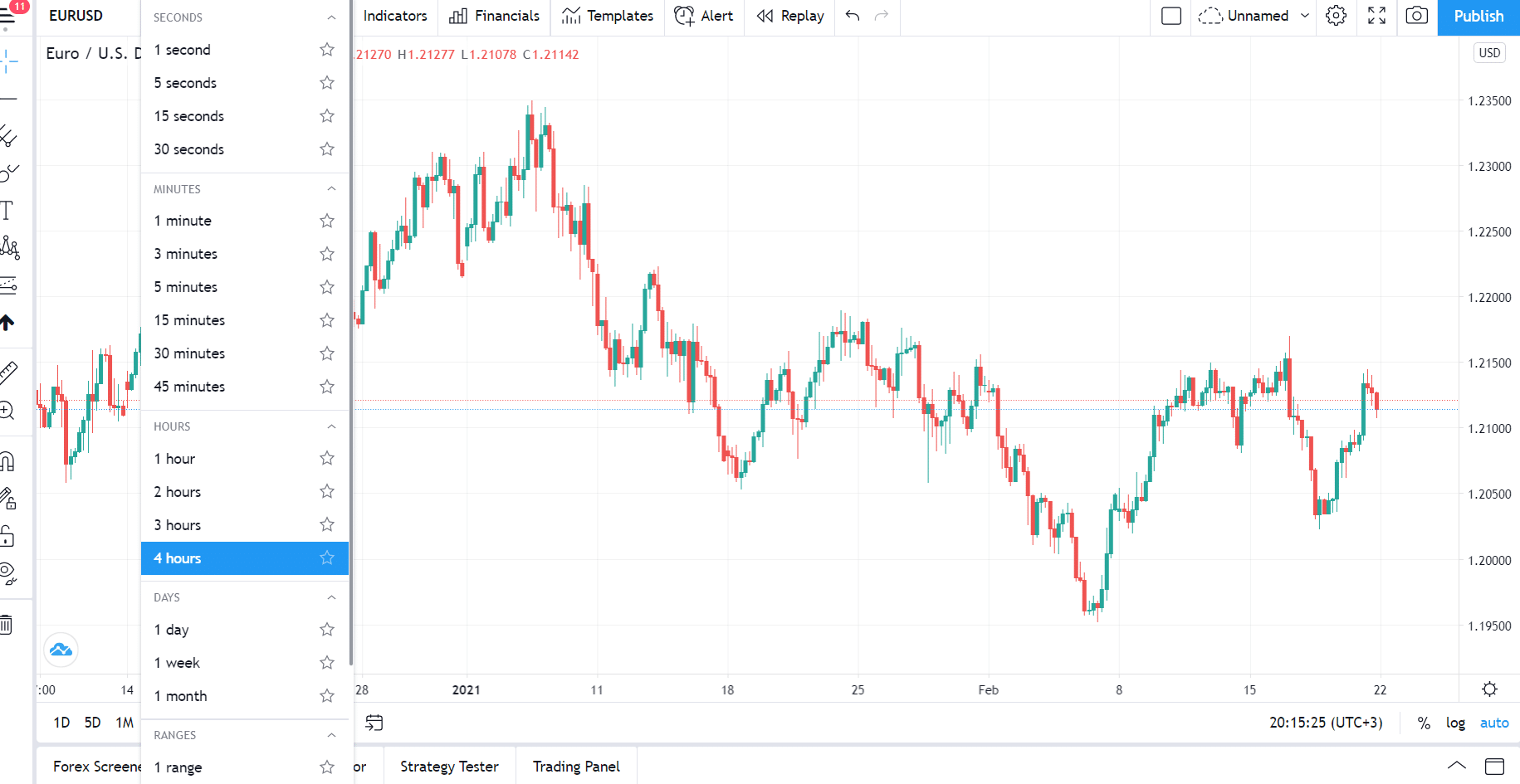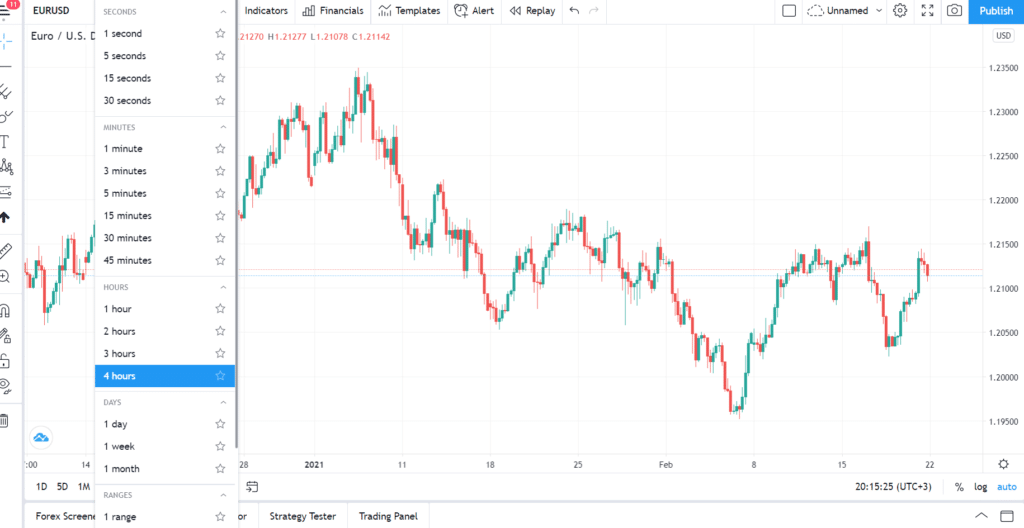 There are two main ways of using the multi-time frame analysis in forex trading; top to bottom and bottom to top.
In top to bottom, you start with a longer time frame chart and move down to the shorter time frame chart. On the other hand, in bottom to top, you start with a shorter time frame chart and expand it to a longer time frame chart.
Multi-time analysis for day traders
As mentioned, day traders focus on opening and closing trades within a day. They always avoid leaving their trades overnight. In most cases, these traders use charts that are less than one hour to identify entry positions.
For scalpers, a multi-time frame analysis can mean starting with an hourly chart and identifying key support and resistance levels. You then move to a 30-minute chart and identify more such levels. Then move to the 15-minute, 5-minute, and then to a 1-minute chart.
There are two main benefits of using this approach. First, by starting with a long-term chart, you are able to identify the overall trend. Second, using the process helps you identify key support and resistance levels.
For example, the hourly chart below shows that the USD/ZAR has formed a bullish flag pattern. We have also drawn key support and resistance levels in black. Further, we have added the 25-period and 15-period exponential moving averages on the chart. In it, you can see that the price is above the two EMAs.
Hourly chart with support and resistance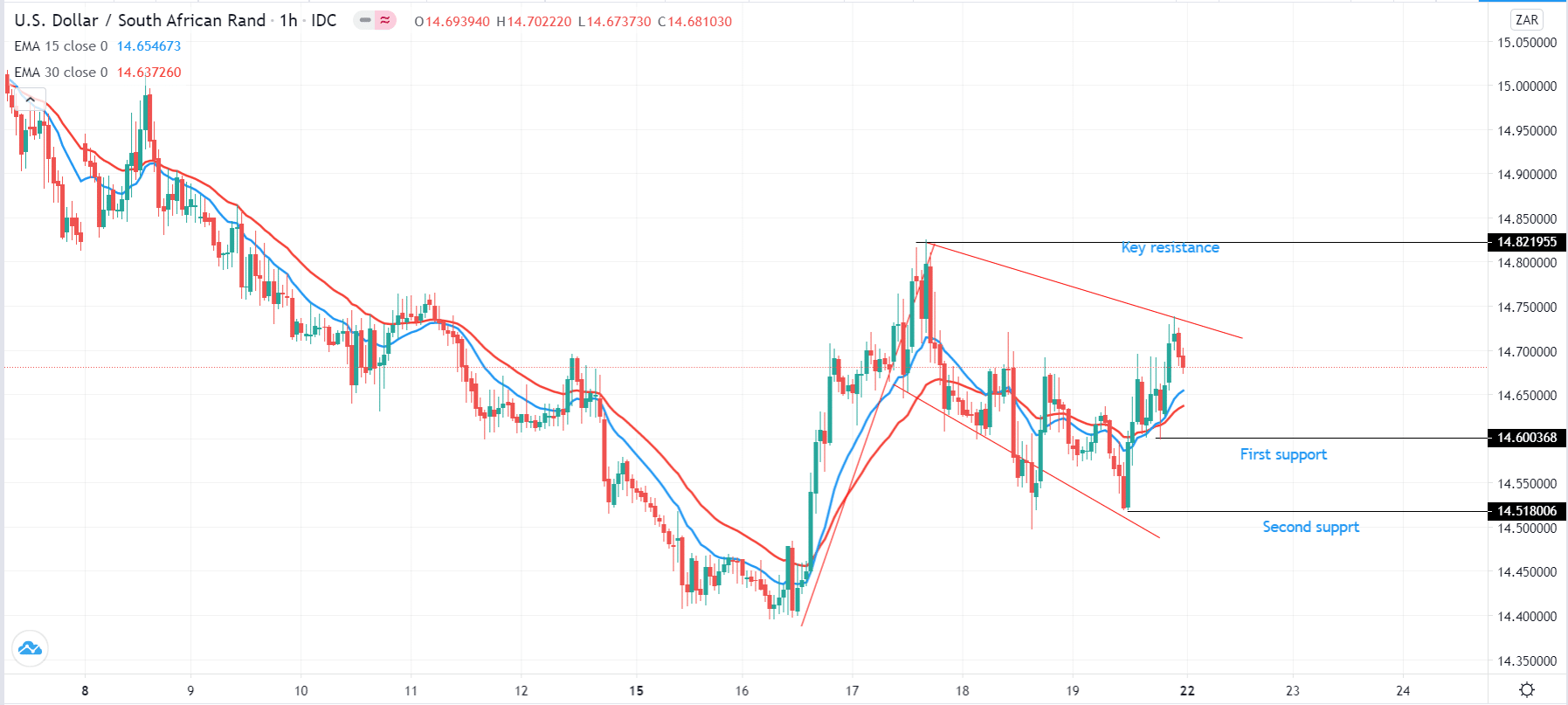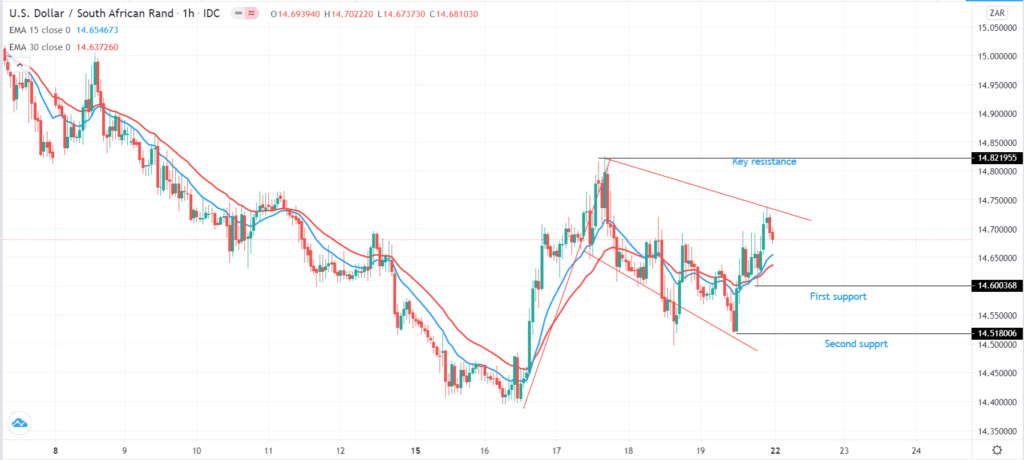 The chart below shows the same chart on the five-minute chart. Therefore, as a scalper, you can use the support and resistance lines identified in the hourly chart to position your trades. Also, the two moving averages have made a bearish crossover. As such, this is a sign that the pair may continue falling in the short term as bears target the support at 14.66.
USD/ZAR 5-minute chart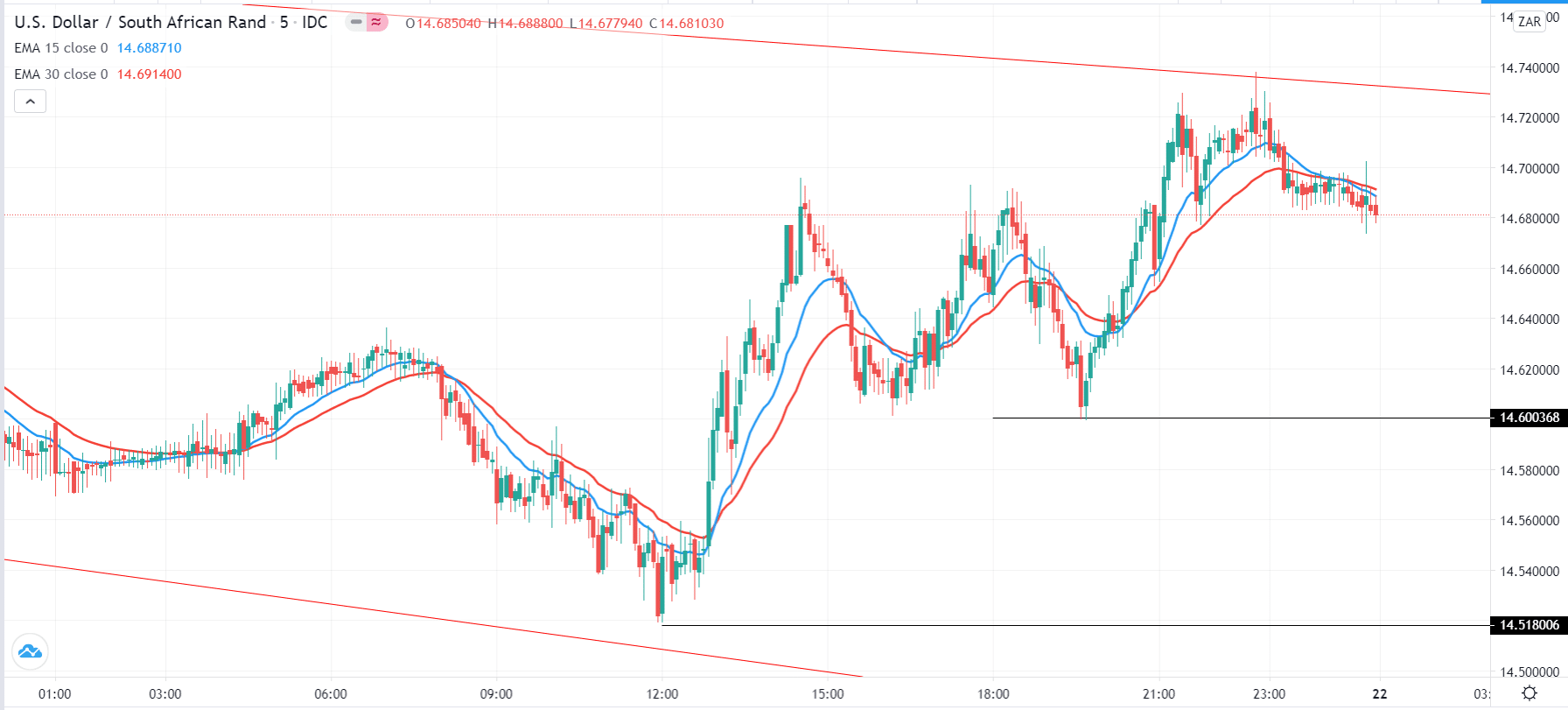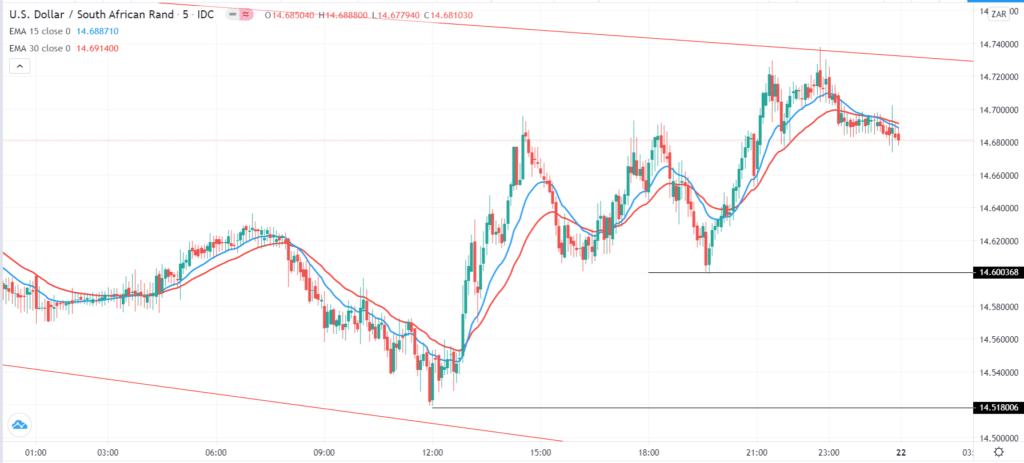 Multi-time frame analysis for swing traders
Swing traders use longer time frames since they usually hold their trades for several days. In most cases, they use charts ranging from 30 minutes to 12 hours. Therefore, in multi-time frame analysis, they can start with the daily chart. This will help them understand the overall trend of the currency pair. They can then narrow it to a 12-hour chart, 6-hour chart, 4-hour chart, hourly, to 30-minutes.
A good example of this is in the GBP/USD chart below. On the daily chart, we see that the pair is in an uptrend and has formed an ascending channel shown in black. The price is slightly above the upper side of the channel, which means that there is a potential for a pullback.
GBP/USD daily chart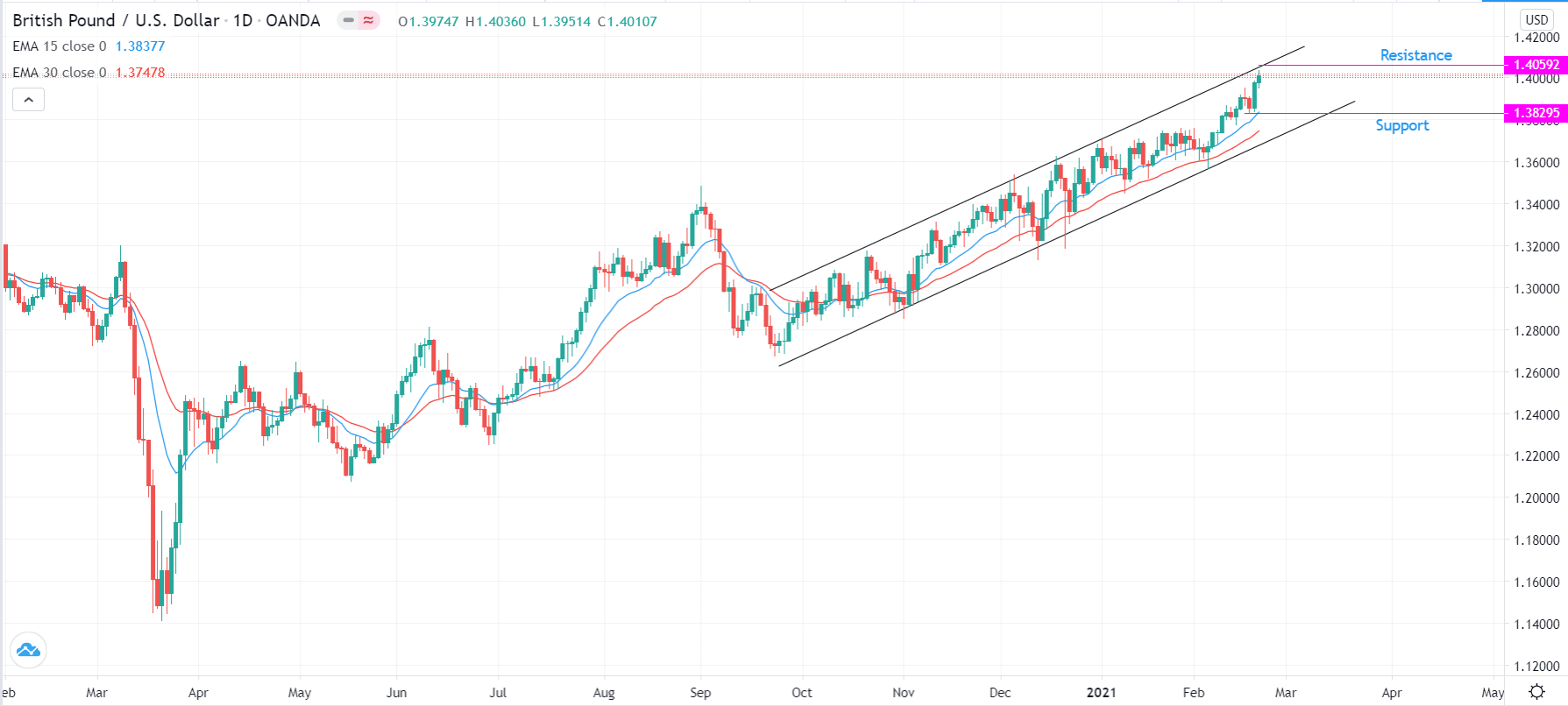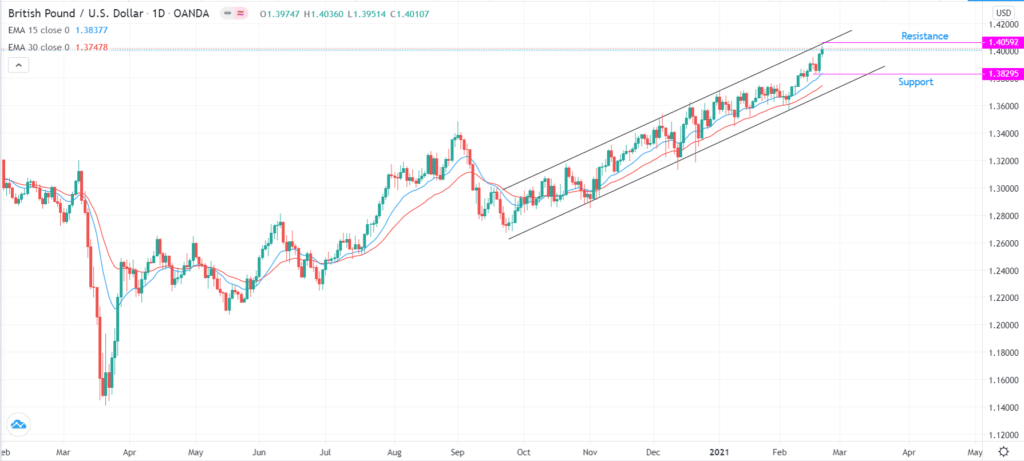 The four-hour chart below shows another support (1.3950) that is not visible on the daily chart.
GBP/USD four-hour chart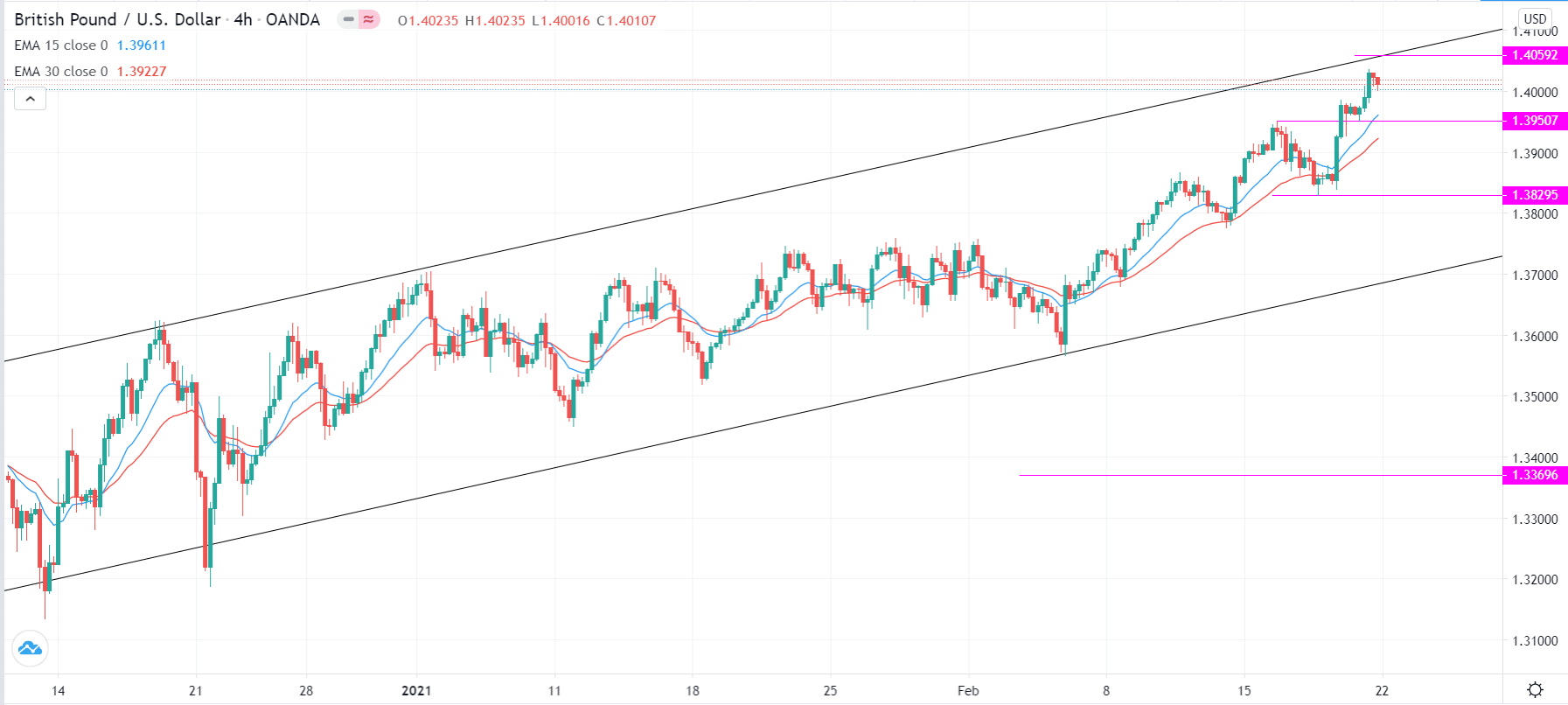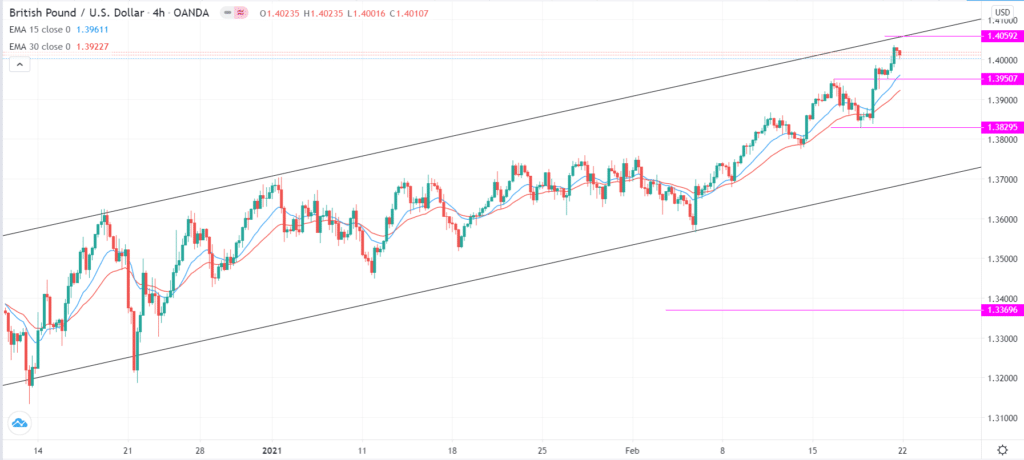 Multi-time frame analysis for long-term traders
These day traders or investors buy or sell their positions for a few days, weeks, or months. In their multi-time analysis, these traders start with a monthly chart and identify the long-term trend. They then narrow it to the weekly chart and then to the daily chart. Some even move further lower.
In the monthly chart, we see that the GBP/USD has been in a strong uptrend. But it is nearing a key resistance at 1.4383. Notably, the short and medium-term moving averages have also made a bullish crossover.
GBP/USD monthly chart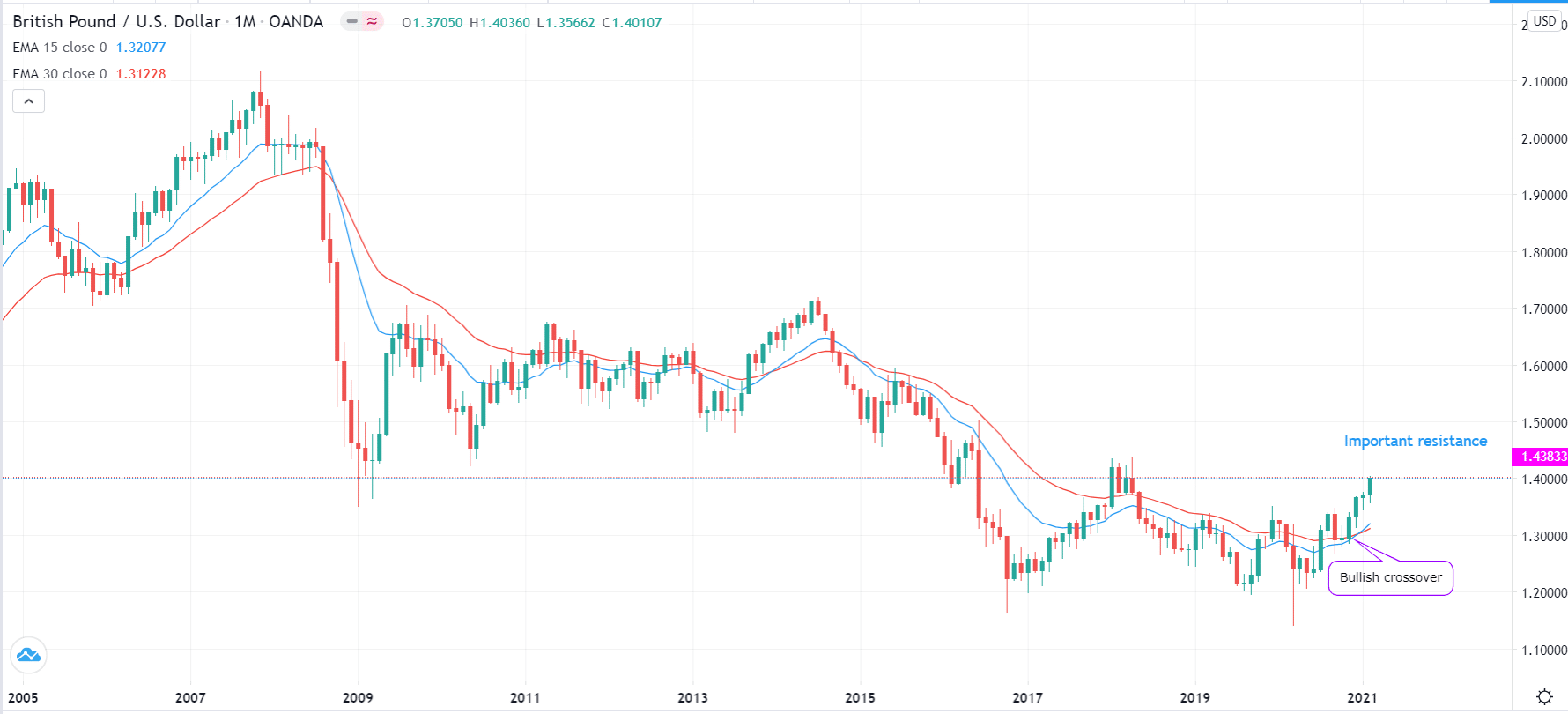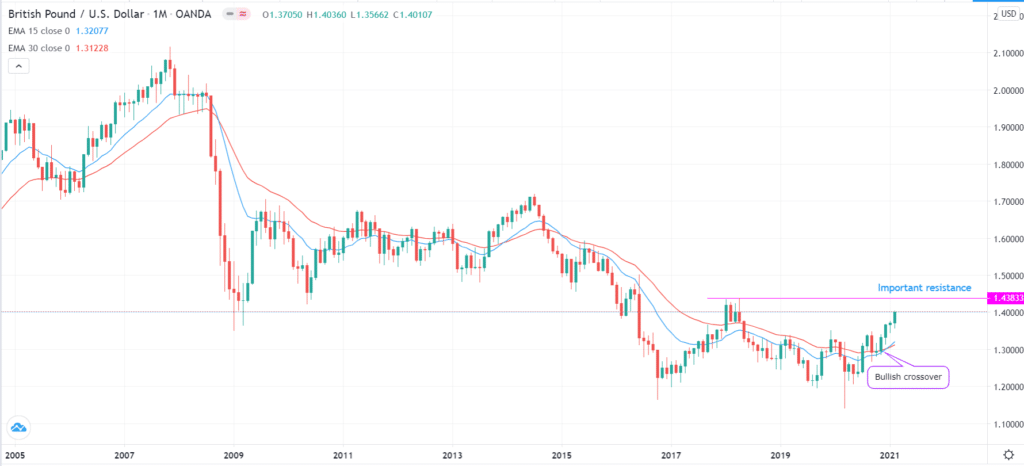 The weekly chart also reveals the above level as a key resistance. But it also reveals 1.3489 as a key support level. Therefore, a pullback to this support is possible in the near term.
GBP/USD weekly chart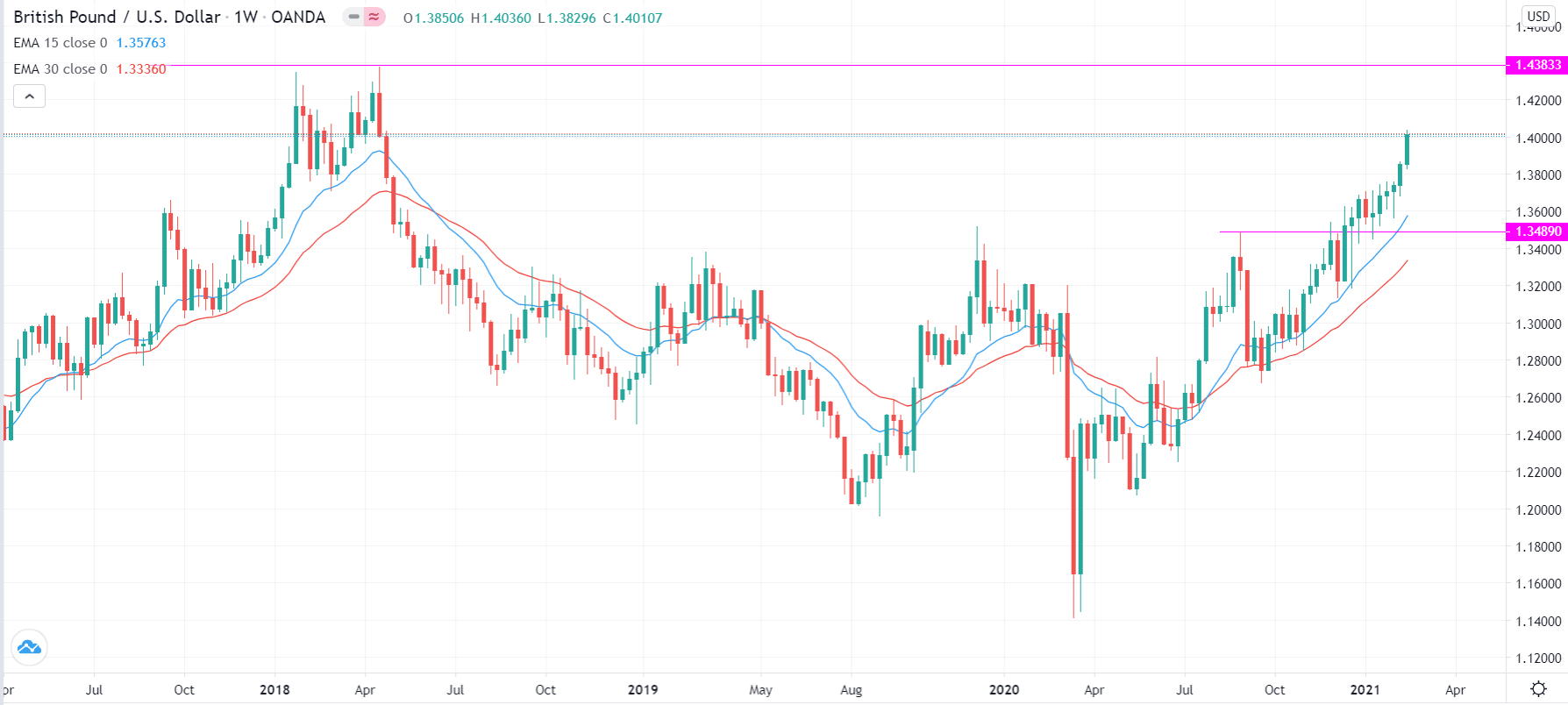 Summary
Multiple time frame analysis is an important strategy because it shows you the bigger picture of a currency pair or any other asset. It also helps to show you the key support and resistance levels of the asset. We recommend that you always use the process in your analysis.