The Swiss franc is a popular currency around the world today. It is often viewed as a safe-haven currency because of the stability and neutrality of the Swiss economy. Most importantly, for years, Swiss banks like UBS, Credit Suisse, and Julius Baer have been popular places for wealthy people to park their money.
Therefore, in most cases, the currency tends to do well during periods of high volatility. In this article, we will look at some of the top features of the Swiss franc and strategies to trade the USDCHF pair.
Unique characteristics of the Swiss franc
The most important feature of the Swiss franc is the fact that it is often seen as a safe haven. This quality comes from the fact that Switzerland has adopted a unique stance where it is a neutral country on most issues. This quality changed slightly in 2022 when the country decided to cut ties with Russia after its invasion of Ukraine.
Still, Switzerland does not get involved in most geopolitical events. For one, it is not a member of the North Atlantic Treaty Organization (NATO) and the European Union. Despite all these, the country enjoys a close relationship with all European and Nato countries.
Another feature of the Swiss franc is how the central bank is structured. Unlike in most countries like the United States and the UK, the Swiss National Bank (SNB) is a private institution that makes investments around the world. While most of its assets are in cash and bonds, the SNB holds vast amounts of stocks such as Apple and Microsoft. It also holds 1,040 tonnes of gold.
What moves the USDCHF pair?
There are multiple key drivers of the USDCHF pair. First, the pair tends to react to the actions of the Swiss National Bank and the Federal Reserve. In most cases, the two banks tend to take divergent views.
For a long time, the SNB has maintained a dovish view to the extent that its interest rate is at -0.75%. The bank also regularly intervenes in the market with the goal of devaluing the franc. In 2021 alone, it spent over $21 billion in forex interventions. Its goal is to ensure that the franc is undervalued in a bid to boost its exporters.
Second, economic data from the US and Switzerland have an impact on the USDCHF pair. Some of the most important numbers to watch are the US non-farm payrolls (NFP), manufacturing and services PMIs, and consumer inflation data.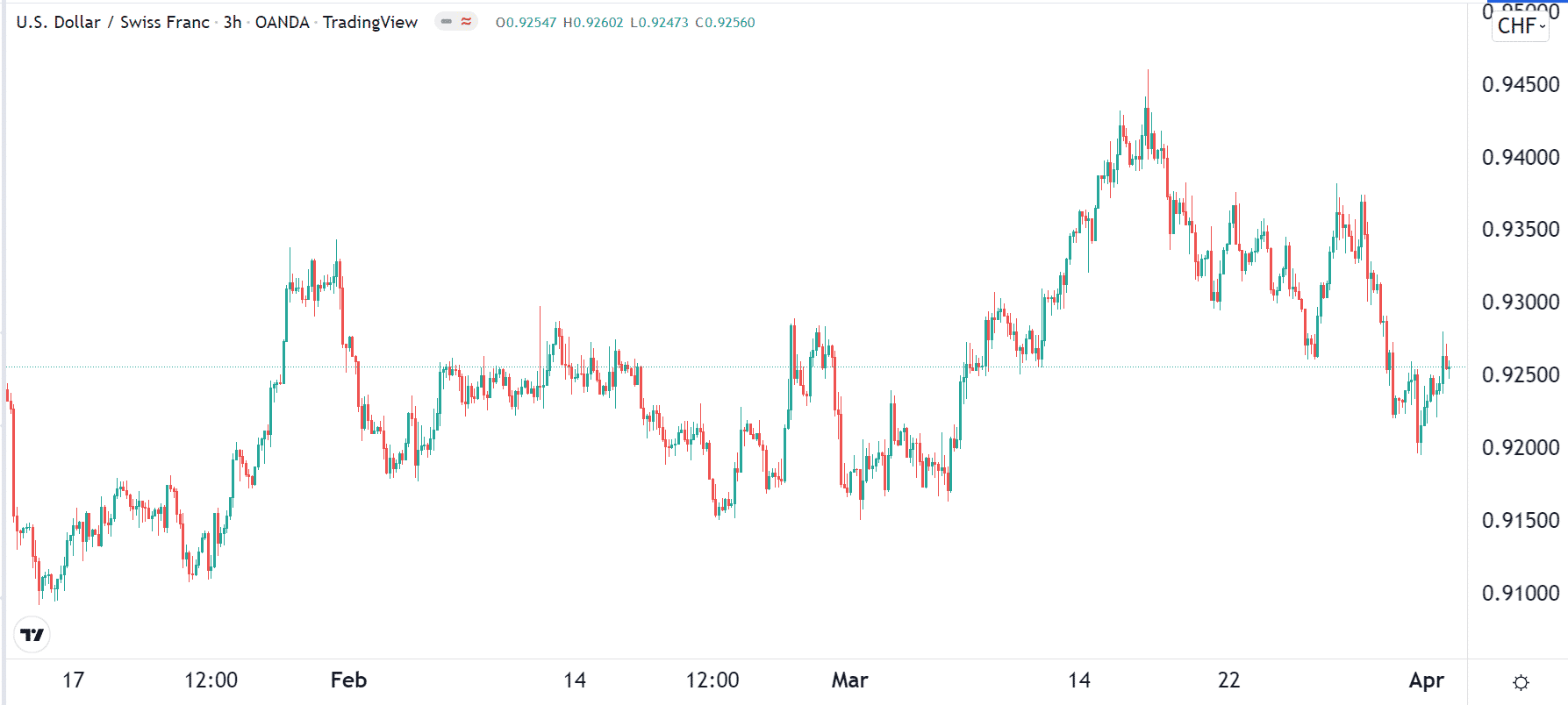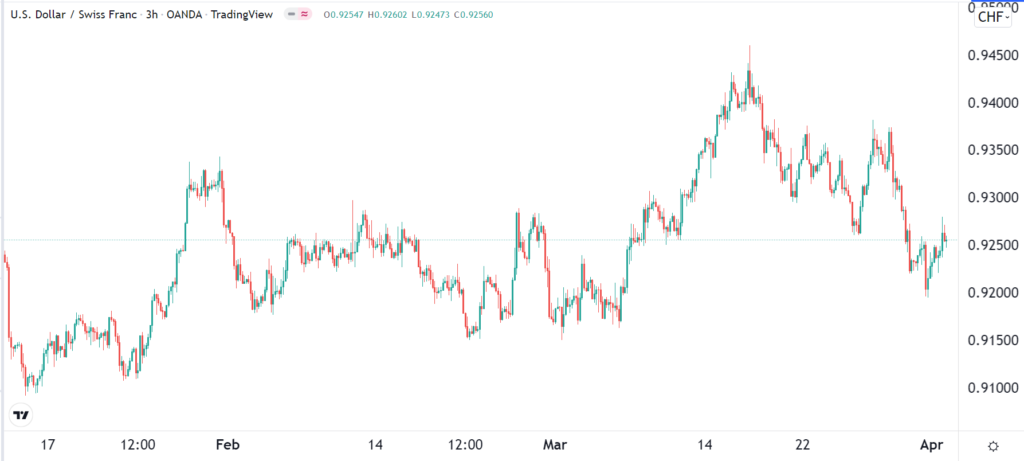 Further, the pair is moved by geopolitical events. In periods of high volatility, its movement is usually muted because the US dollar and the Swiss franc are both seen as safe havens. A good example of this is what happened in Q1 of 2022 as geopolitical risks escalated.
USDCHF trading strategies
There are several trading strategies that are popular among day traders. Some of these popular strategies are listed below.
Carry trade
Carry trade is a trading strategy that is popular among large investors and hedge funds. Its goal is to take advantage of interest rate differentials between countries. In this case, historically, the SNB has managed to leave its interest rates in the negative zone for a long time.
At the peak of the Covid pandemic, the bank decided to lower rates further to -0.75%. This is also partly due to the fact that Switzerland has defied the so-called Philips Curve situation. While its unemployment rate is one of the lowest, inflation has remained stubbornly low for a long time.
The Federal Reserve, on the other hand, tends to raise interest rates regularly. In March 2022, the bank decided to raise interest rates by 0.25%, and it signaled that it would deliver 6 more hikes.
Therefore, in carry trade, one can decide to borrow the Swiss franc and then invest in the better-yielding US dollar. In this case, they will receive a profit in terms of the interest rate spread.
Swing trading
Another trading strategy for USDCHF and other forex pairs is known as swing trading. It is an approach that involves buying and holding a currency pair for a few days. One of the best ways to do this is to use trend indicators like Moving Averages and Bollinger Bands.
With a medium-term chart like hourly or 4H, one can add a MA and then initiate a trade. In this case, the pair will maintain a bullish trend as long as it is above this MA.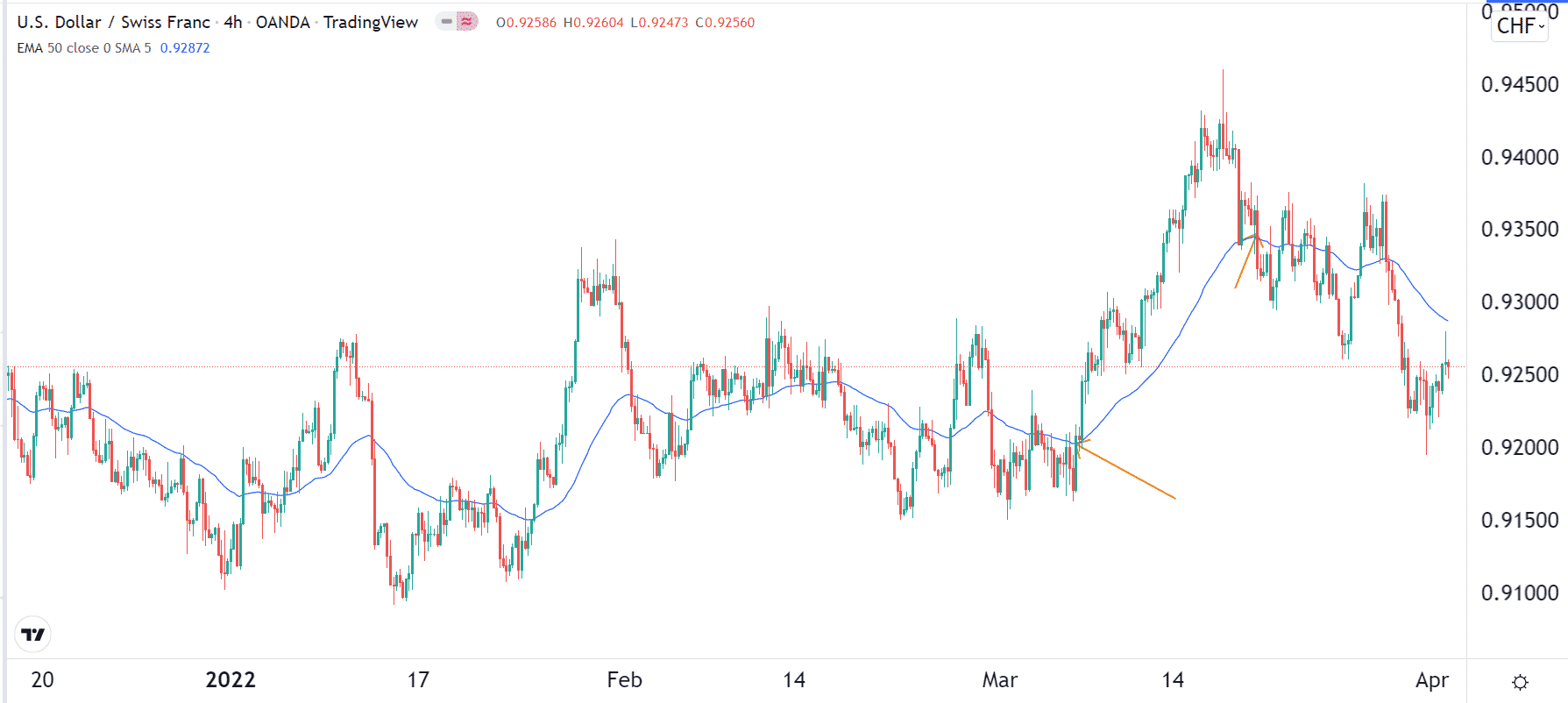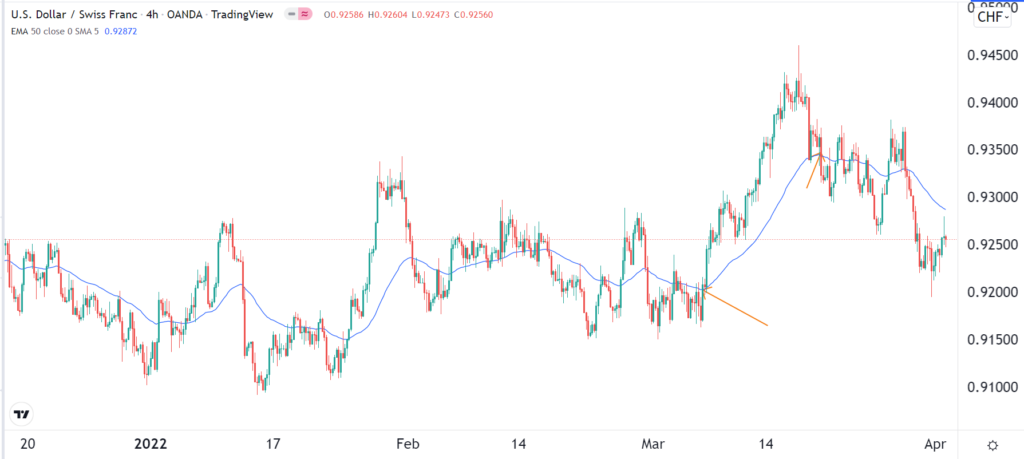 Swing trading is often riskier because of events that happen in the overnight session. The pair may be in a strong bullish trend during the day and then see a major pullback when you are asleep.
USDCHF scalping
Another popular strategy among day traders is known as scalping. This is an approach where a trader focuses on very short-term periods ranging from 1-minute to 5-minute. By doing this, the trader's goal is to identify unique patterns and implement trades that they will hold for a few minutes.
USDCHF scalpers use several strategies. For example, there are those who use the Volume-Weighted Average Price (VWAP) crossover pattern. Here, a bullish comeback is triggered when the price moves above the VWAP indicator, as shown below.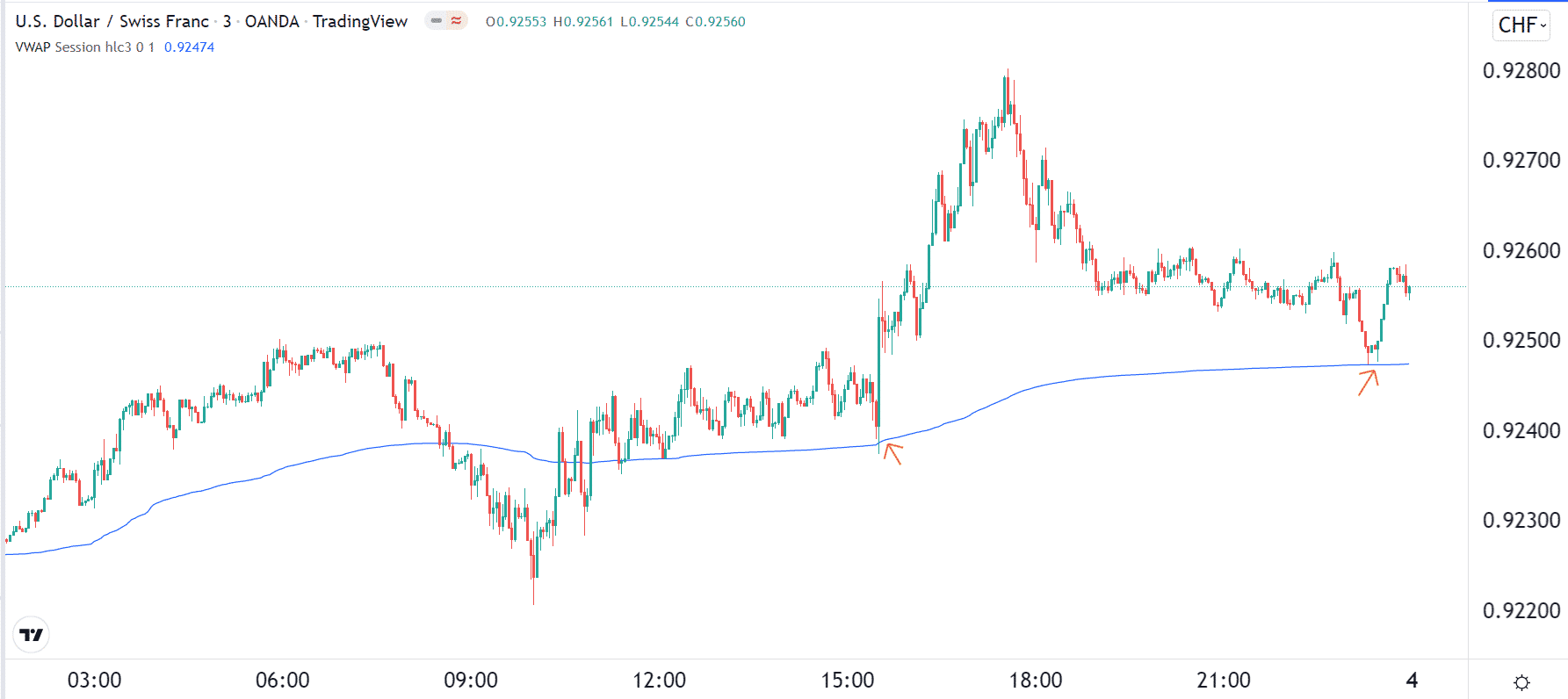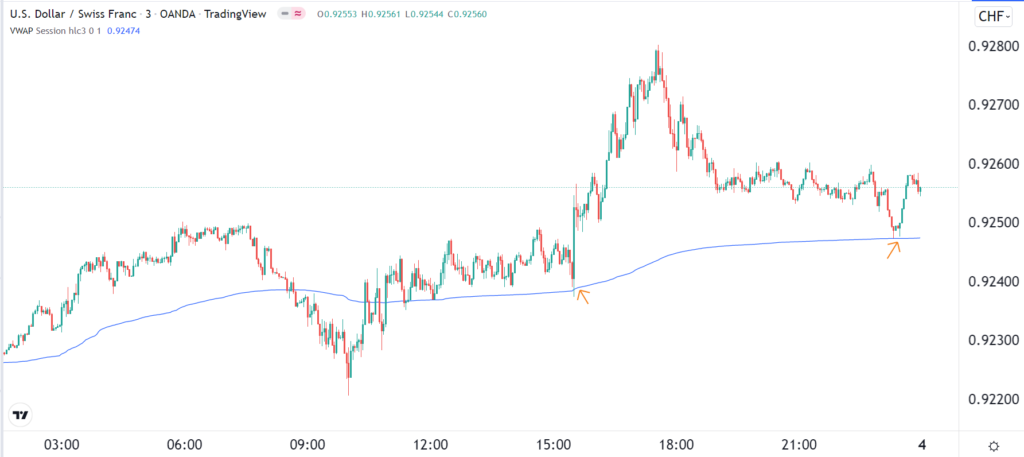 Some traders use chart patterns like triangles, wedges, head and shoulders, and bullish and bearish flag and pennant patterns. For example, ascending and descending triangles are usually continuations, while wedges and flags are signs of reversals.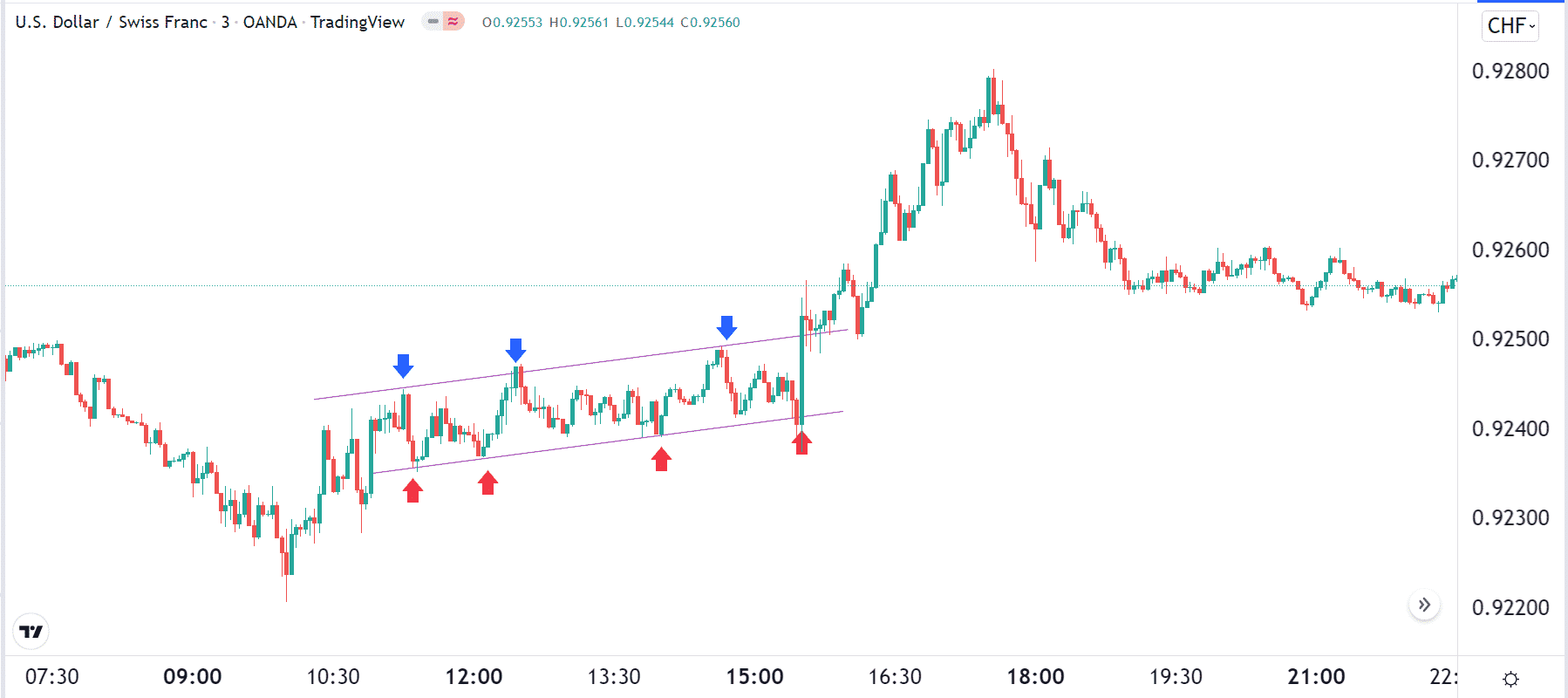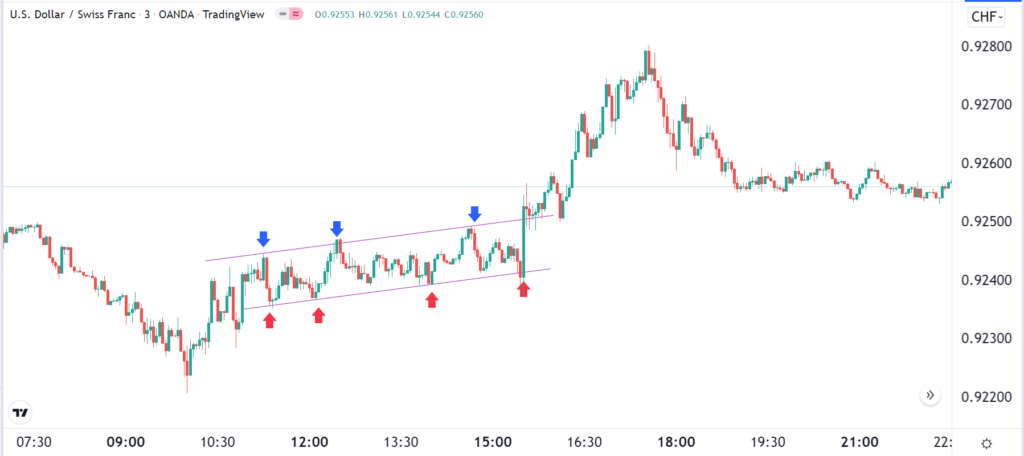 Another common pattern is known as channels, where traders buy when it moves to a support point and sell when it tests the resistance, as shown above.
Summary
There are other trading styles for the USDCHF pair. For example, some traders use robots or expert advisors while others focus on pairs trading. The latter involves looking at forex pair correlations and then executing trades, respectively. In a perfect correlated situation, you could buy the USDCHF pair and sell the other pair.