Waiting Night is a trading solution that was designed to make profits on the Forex market. The presentation includes explanations about settings, features, customizations, etc. We decided to sum everything up.

Marat Baiburin is a developer from Russia with a 4276 rate. His portfolio rate is 4.7 based on 18 reviews. The developer is available on Skype and we can write a letter to him.
Is a Waiting Night robot still good to go?
Trading results showed that the growing chart isn't smooth and predictable. So, we need more upcoming data to be sure that the system is secure and stable.
It's possible to trade USDCAD, USDCHF, USDJPY, EURCAD, EURCHF, EURUSD, EURGBP, EURAUD, GBPUSD, CHFJPY, AUDCAD, and AUDUSD in the expert mode.
How to start trading with Waiting Night
The presentation includes information about the system and how it should be used. We decided to customize everything up in the following list:
The system can provide us with automatic orders execution.
So, we may do nothing in addition, just overwatch.
There are several copies available with a 50% discount.
Then, the price will be increased to $399.
The ultimate price will be $2000.
Developers provide us with live signals to check.
There are explanations about GMT settings provided.
It performs night scalping on our account.
It works with a price action strategy too.
We can manage risks that we want to work with.
The robot can be used on any broker house.
There are five setting points.
The system works with pending orders that reduces slippage.
It doesn't work with risky strategies like cost averaging, martingale, etc.
An average trade length should be 3-5 hours.
All orders are covered by SL and TP levels.
It doesn't have a news filter applied.
It follows FIFO rules in trading.
The system has to be used on an ECN account and on a VPS with low ping.
We should have $100 on the balance to work with 0.01 lots.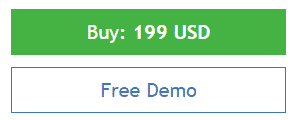 The system can be purchased for $199 for a single account copy. The developers don't provide us with rental options. Anyway, we can download a robot for demo usage for free.
Waiting Night backtests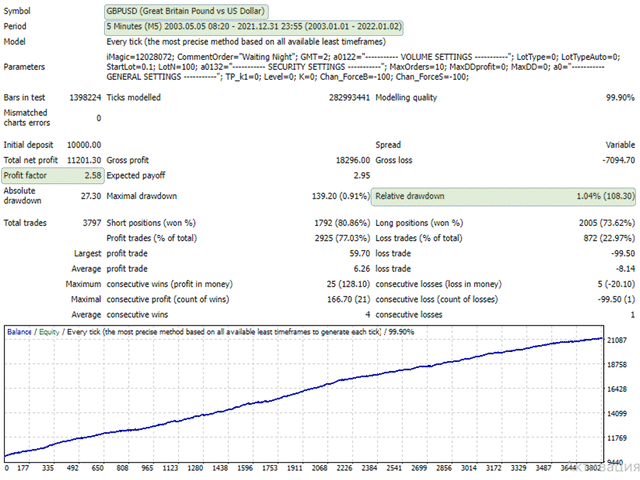 The advisor was tested on GBPUSD on the M5 time frame. The data period was from 2003 to 2021. It has a modeling quality of 99.90%. An initial deposit was $10,000. The total net profit has amounted to $11,201.30. The profit factor was 2.58. It works with the maximum drawdowns of 0.91%. There were 3797 deals executed with the win rate of 80.86% for shorts and 73.62 for longs.
Trading results


The system has been working on a real IC Markets account on the MT5 platform with 1:500 leverage. The maximum drawdown is 4.9% when the maximum deposit load is 13.6%. It works with the win rate of 73.1%. An initial deposit was only $100. The absolute growth has become 12.17%.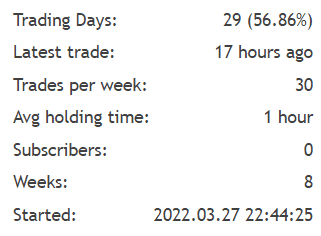 An average trading frequency is 30 deals weekly. The average holding time is one hour. The account was registered on March 27, 2022.


The robot has closed two months in a row with low profits. Anyway, the growth chart looks unpredictable.


The robot works without Grid and Martingale strategies.


The system has traded 93 deals. The best trade is $1.58 when the worst trade is -$1.85. It has the recovery factor of 5.03 and the profit factor of 1.97. An average monthly growth is 7.99%.


The system traded GBPUSD most frequently among other pairs–17 deals.
Other notes
The system works for a short period of time. So, we can't be sure that it keeps being profitable for half a year or so.
People feedback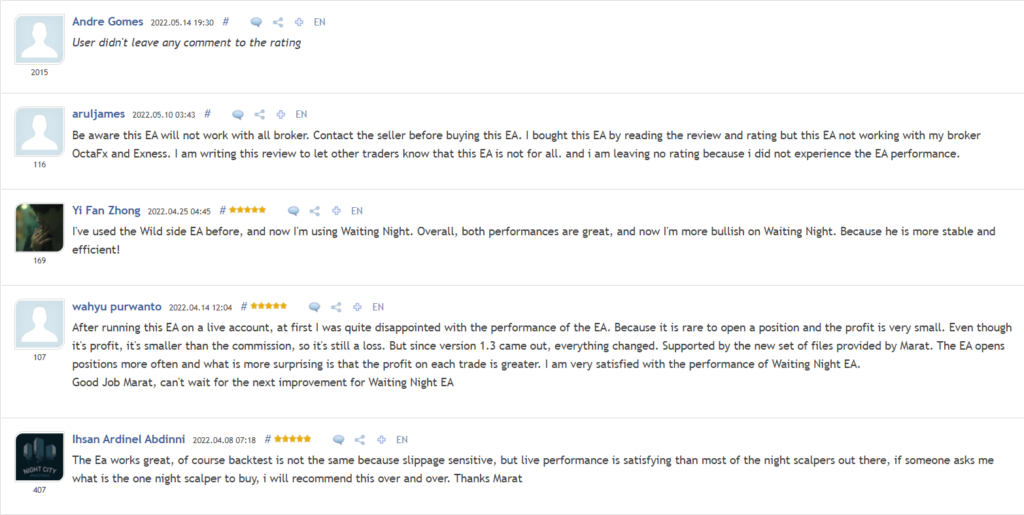 The presentation includes positive testimonials about clients' profitable experince of using the system.
The Review
Waiting Night is such a young trading solution that works on the market scalping little profits. The robot doesn't involve in high-risk trading with Grid and Martingale usage. The presentation provides acceptable level of information to make a decision. We have a welcome pricing with a 50% discount applied. We can give the system a safe try, using it on a demo account and execute backtests.
PROS
Risk advice given
Backtest reports provided
Trading results revealed
No Grid or Martingale on the board applied
People's testimonials available
Acceptable pricing
CONS
The robot works for a short period of time
The growing chart doesn't look smooth
Its pricing keeps growing until $2000
No rental options availble
No refund policy applied