Bitcoin and Ethereum down 50% plus
Cryptocurrency accumulation spree
Bitcoin and Ethereum competitive edge
Cryptocurrencies imploded after an impressive run in 2021 to record highs. Double digital percentage losses have affirmed how investors are increasingly shunning the industry, opting for safe havens. Any bounce back or break out has only attracted more short sellers that have come into the fold and pushed the coins lower.
Bitcoin is one of the coins that has felt the brunt of investors shunning speculative assets in favor of safe havens. The flagship token is down by more than 50% from all-time highs and looks increasingly bearish in the short term. Ethereum has also felt the pressure correcting by more than 50% from all-time highs.
Amid the sell-off, there is no doubt that Ethereum and Bitcoin are deep in oversold territory. However, while the prospect of further price losses is high, it is also possible that the tokens could bounce back as the sell-off dust settles.
Bitcoin accumulation
Accumulation appears to be the central theme as Bitcoin trades near the $30,000 psychological level. Any drop below the level has only attracted more buyers resulting in the price edging higher. While Bitcoin has struggled to power through the $33,000 level in recent months, short-sellers have also struggled to fuel any strong move below the $30,000 level.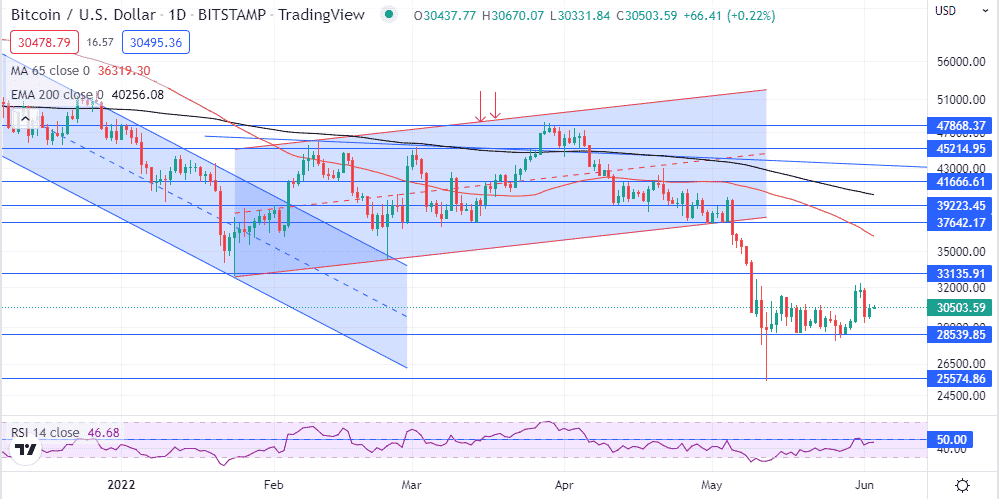 With the coin range bound near the $30,000 level, there is growing talk that Bitcoin has reached a bottom after the 50% correction from all-time highs. As a result, institutional investors have been ramping up positions, as depicted by increased capital inflows.
Ethereum has also started showing signs of bottoming out after months on the receiving end. The $1700 area has emerged as a pivotal support level from where accumulation appears to be taking place, signaling a potential bounce back.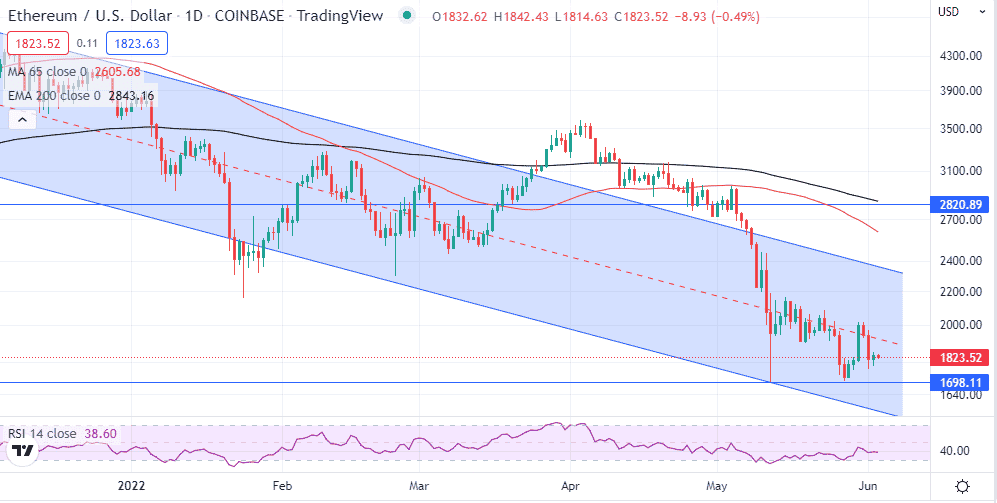 ETHUSD rallying and finding support above the $2,000 level could be the early sign that the coin is poised to edge higher as a bounce-back play. Bouncebacks below the $2,000 level have come at the backdrop of solid volume, affirming bulls are increasingly flooding the market.
Why Bitcoin and Ethereum could rally
Bitcoin is down by more than 50%, but that does not erase its growth prospects as a store of value. Often considered as a hedge against inflation, it is one of the coins well-positioned to explode on the overall sector bottoming out.
In addition, it is proving to be an ideal tool for diversifying investment portfolios away from mainstream assets. Once the stock market bottoms out after the recent correction and the risk-on mood kicks in, BTC will be one of the digital assets to attract big investment dollars. Its strong brand continues to earn it strong interest from institutional investors and organizers, most of who are increasingly ramping up positions at the discounted levels.
As the second-largest cryptocurrency, Ethereum is also a big brand that continues to attract strong interest from investors and developers. Its blockchain has become a preferred platform for developing decentralized applications, powering decentralized finance ecosystems and non-fungible tokens platforms.
As we slowly transition into a world where decentralization is an important aspect of how people operate online, Ethereum is one project well-positioned to benefit a great deal. Demand for Ether, the native token, will always be high given the blockchain's broader use.
Final thoughts
Bitcoin and Ethereum's short-term outlook is not encouraging. However, the two coins could turn the corner soon as they appear oversold at current levels. Their growing popularity as the flagship cryptocurrencies is one factor that affirms their long-term prospects amid growing utility around payments and the development of decentralized applications.