Ethereum dominance under pressure
Cardano growing prospects on dApps
Solana the Ethereum killer
Ethereum, the second-largest cryptocurrency by market cap, is also home to one of the largest and most used blockchains. Ethereum's popularity has grown immensely, a preferred domain for developers, helping propel the native token Ether to new heights.
Ethereum under pressure
While Ethereum has been flying high as a hot spot for decentralized applications, it is under immense pressure. The native coin has lost a significant amount of market value in recent months amid concerns that Ethereum is losing its edge after the emergence of Solana and Cardano as preferred domains for decentralized finance (DeFi).
ETHUSD has been trading in a downtrend in recent months after shedding more than 40% in market value from all-time highs. The coin is already down by more than 17% year to date. Recently, the coin has struggled to find support above the $3,000 handle amid stalled bounce back.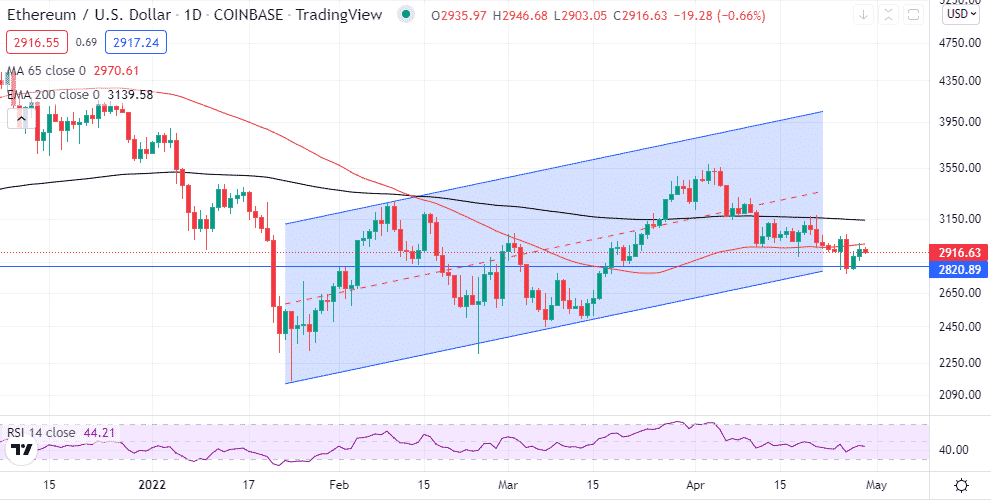 While the overall cryptocurrency sector has corrected significantly from all-time highs, Ethereum has also paid a hefty price due to its Blockchain's underlying issues. Congestion issues and high transaction fees are some of the factors that have hurt the Blockchain's sentiments among developers. As it stands, the Ethereum blockchain can only process 14 transactions a second, which is quite low, compared to other competing projects.
Cardano, the Ethereum killer
Cardano poses one of the biggest risks to Ethereum. It is increasingly emerging as a preferred project for smart contracts and the development of decentralized applications. A thorough development process is one factor that sets Cardano apart from the rest.
New developments are constantly being integrated into the Cardano blockchain through a resource-based peer-reviewed system. Conversely, it can address all the weaknesses. In addition, Cardano leverages the proof of stake consensus compared to the proof of work consensus protocol for Ethereum. Therefore, it can process more than 250 transactions per second, greater than 14 for Ethereum.
The high number of transactions that Cardano can process has made it a preferred platform for hosting decentralized finance applications. In addition, the high throughput has also seen it attract more real use cases in diverse industries. Currently, its blockchain is being used in supply chain tracking in the agriculture structure. It is also being used to track counterfeit medicine in the healthcare sector.
However, Cardano still has a long way to catch up to Ethereum's dominance. Its coin has been under immense pressure amid the correction in the market. It is already down by more than 30% year to date. ADA is also down by more than 50% from all-time highs.
Nevertheless, given the high throughput, Cardano's growth prospects in decentralized finance could be the catalyst to fuel an uptick in ADAUSD price going forward.
Solana the Ethereum killer
Solana's credentials as an Ethereum killer are further affirmed by the fact that its native token SOL has appreciated more than 10% since 2020. It is currently one of the labrets cryptocurrencies. It poses one of the biggest dangers to Ethereum dominance on the use of a proof of stake system to verify ND adds new transactions on the blockchain.
In addition, it leverages proof of history protocol that speeds up processing times allowing its blockchain to process up to 50,000 transactions per second. The tremendous processing speeds make it an exciting prospect in decentralized finance. The Introduction of Solana Pay is also poised to strengthen its edge on payments, an area with tremendous potential.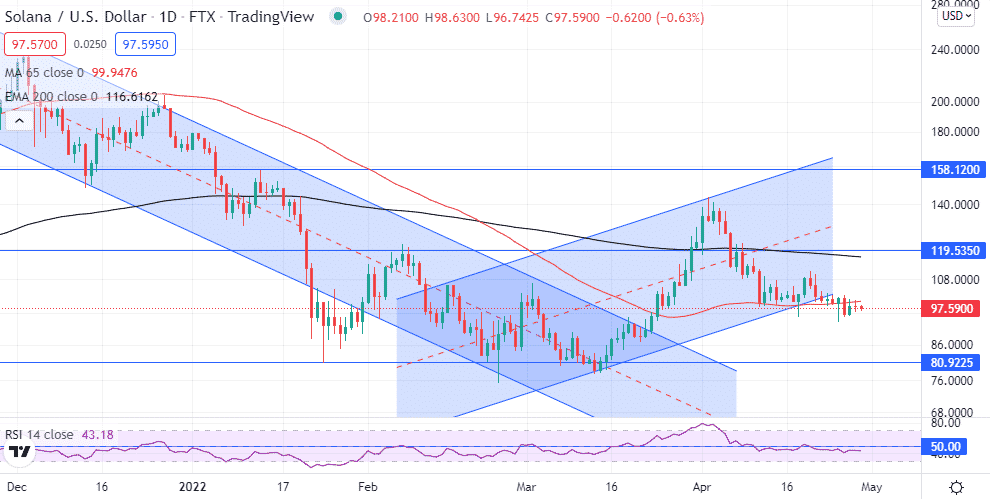 Amid the solid underlying fundamentals, SOLUSD is still down by more than 40% year to date. Nevertheless, the volatile nature of cryptocurrency means the coin has what it takes to bounce back and appreciate significantly as investors take note of its tremendous potential in powering the world of DeFi.