Wrenfx EA is a fully automated Forex robot that trades in multiple currency pairs. According to the vendor, this system can improve the user's trading performance and deliver better results. This is something that needs to be investigated at our end.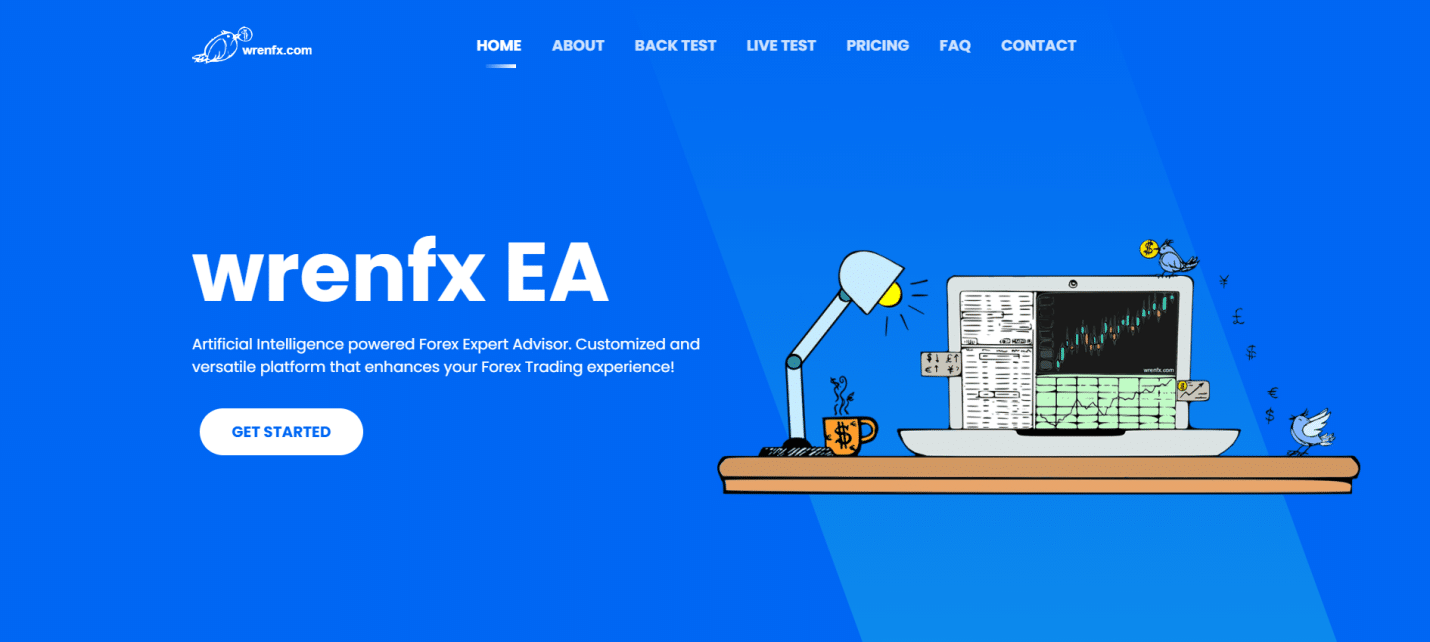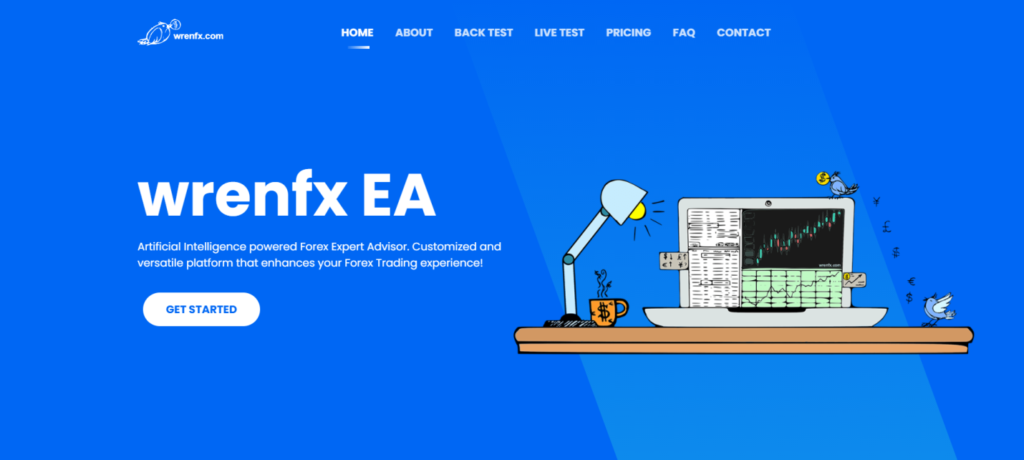 Is This The Forex EA You Need?
On the official website of Wrenfx EA, the vendor has provided some information on the Forex market and how auto-trading makes things more convenient for traders. We have a list of all the main features, followed by several sets of backtesting data. Other information presented on the website includes the live trading results, pricing plans, and frequently asked questions.
There is no information provided on the website about the company behind this robot. We don't know whether this is a licensed and registered company with relevant experience, so from a vendor transparency perspective, we are not too impressed. The vendor should have provided more information on the company and revealed the identities of the team members.
You can use this robot for trading in pairs like USD/JPY, EUR/CHF, USD/CHF, and EUR/USD. It has a smart money management feature that attempts to reduce the risk by adjusting the trading lots. Wrenfx EA works on all types of accounts like micro, standard, and ECN. The customer support team is available 24/7.
The robot follows different trading strategies, with the general one involving following the trend on higher time frames. It searches for reversal points on the lower time frames for making its entries. The vendor has not elaborated further on this strategy, so we don't know what kind of indicators the system uses for gauging the strength of the trend.
How to Start Trading with Wrenfx EA
There are three pricing plans for Wrenfx EA, namely Basic, Pro, and Enterprise, with the prices for these being $299, $399, and $499, respectively. These plans differ in terms of license duration and number of trading accounts. The vendor offers a 30-days money-back guarantee for all the plans.
For a standard account, you should start with a balance of $200. The EA has preconfigured rules based on which it manages all the tasks assigned to it. These include opening orders and adjusting take profit and stop-loss levels. As per vendor claims, it does not use risky short-term schemes like hedging and scalping.
Wrenfx EA Backtests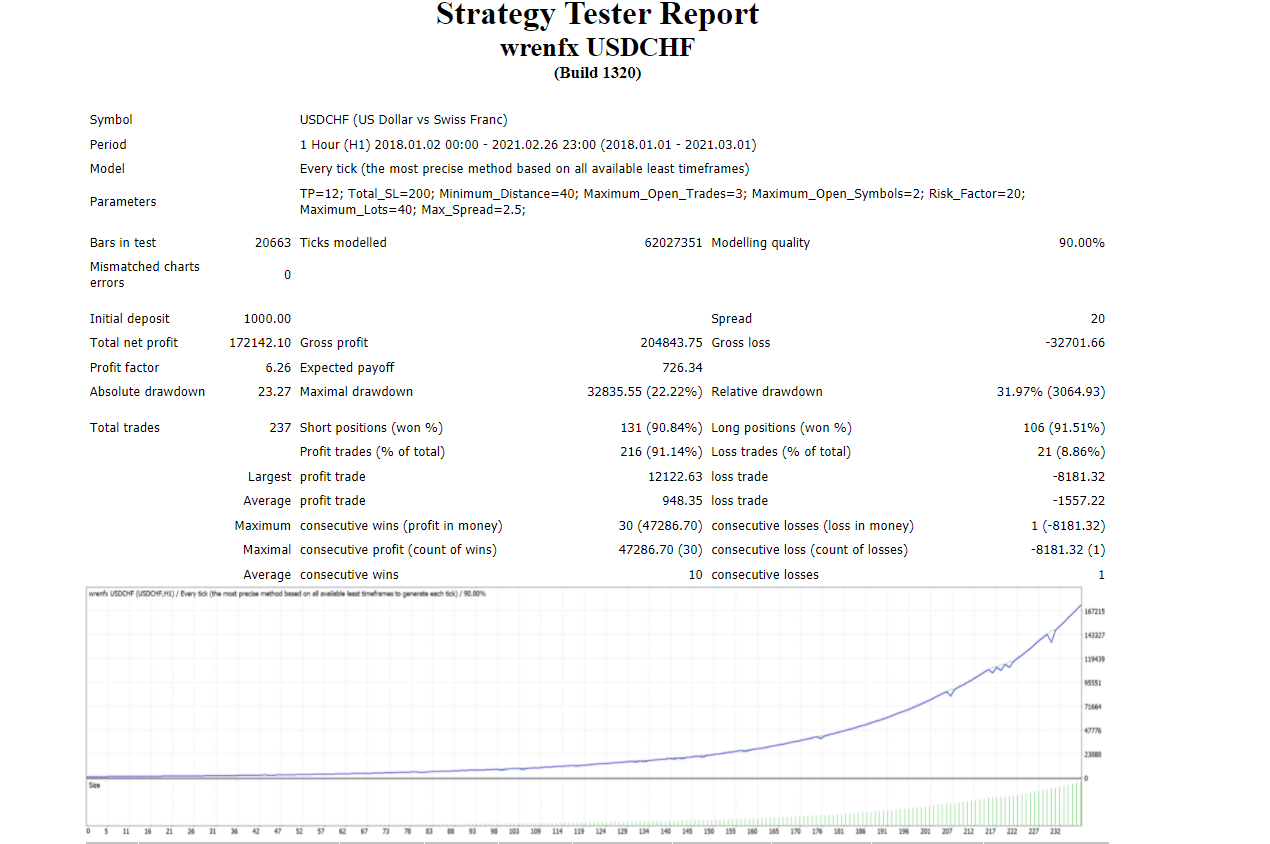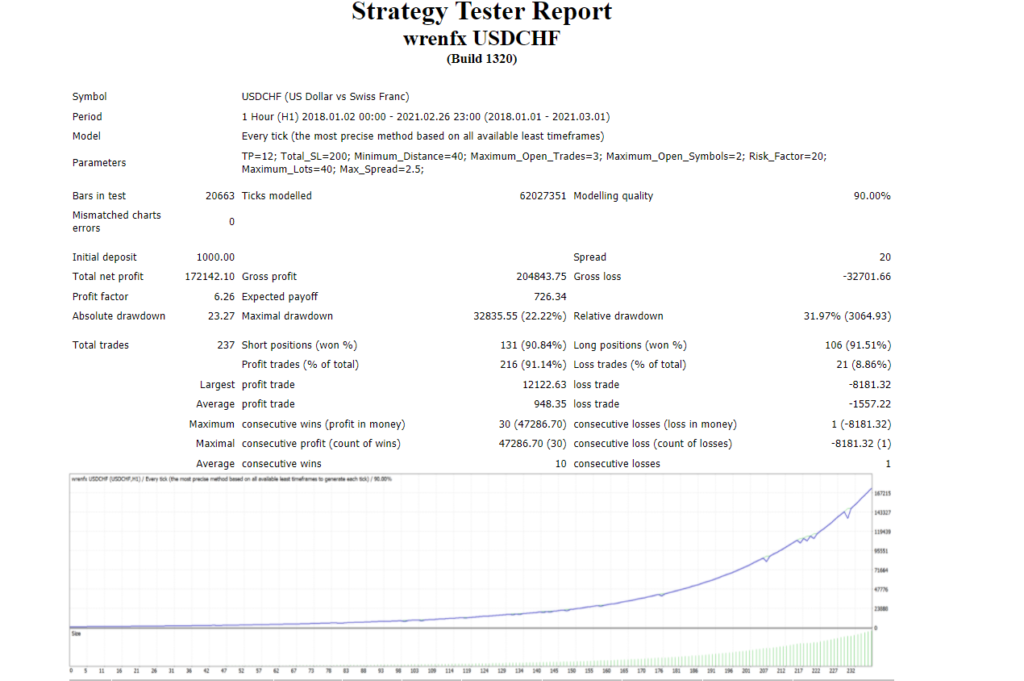 This backtest was conducted on the USD/CHF pair from January 2018 to March 2021 for the H1 timeframe. During this test, the robot generated a total profit of $172142.10 using an initial deposit of $1000. It placed a total of 237 trades, winning 216 out of them.
Here we must mention the high relative drawdown of 31.97%, which indicates a fairly risky trading strategy. The profit factor for this backtest was 6.26.
Trading Results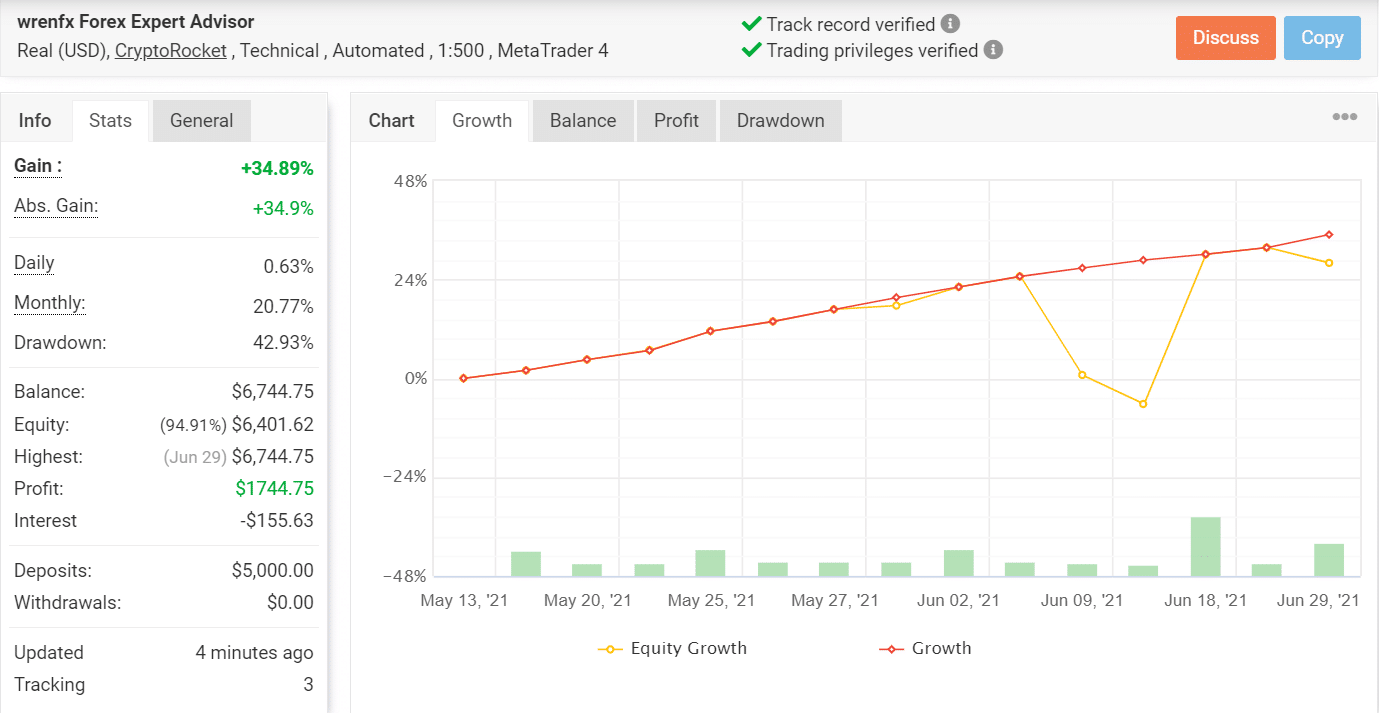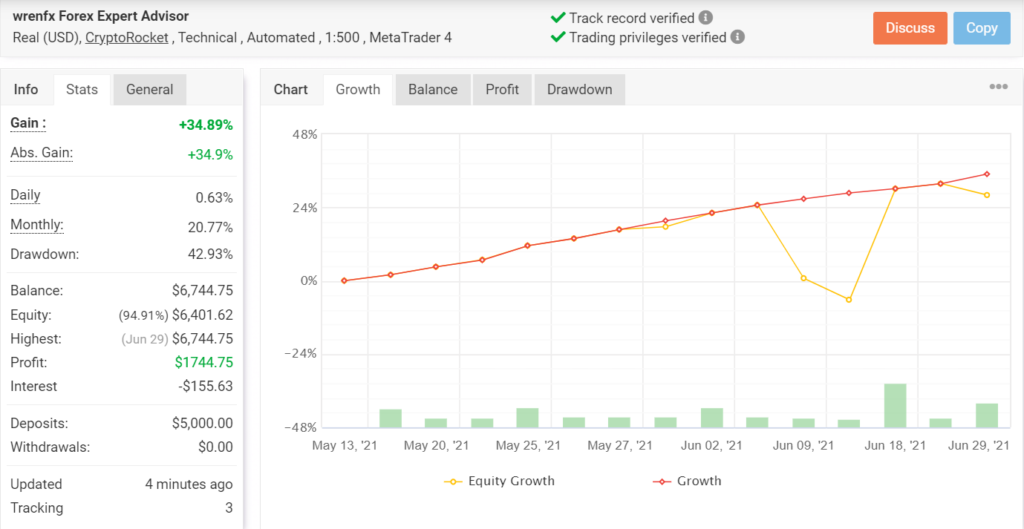 Here we have the live trading results for Wrenfx EA presented in a verified trading account on Myfxbook. This account has been active since May 13, 2021, and to date, the EA has placed only 22 trades through it. So no matter the performance of this account, we cannot assign too much importance to it. A Forex EA needs to trade for several months before any opinion about its profitability can be formed.
Currently, the daily and monthly profits for this account are 0.63% and 20.77%, respectively. Here also, we can see that the drawdown is pretty high at 42.93%. Compared to the backtest, the live trading account has a lower win rate and high drawdown.
Other Notes
After you complete your payment, you will get an email where you need to share your MT4 account number. You will be able to use the EA on this platform within 12 hours. Additionally, you can choose to remove one account number and register a different one.
People Feedback
We were unable to find any user reviews for Wrenfx EA on third-party review websites. It is obvious that not many people have heard of this EA. Therefore, we can say that it suffers from a lack of reputation.
Wrapping Up
Advantages
Money-back guarantee
Verified live trading results
Disadvantages
High drawdown
Short trading history
Lack of vendor transparency
Summary
After conducting a detailed analysis of the different performance aspects of the system, we have reached the verdict that this is not a trustworthy robot. We know little or nothing about the vendor, and the trading performance is not quite impressive. The EA has only been trading live for a little over a month, so it has not been adequately exposed to the market yet. It would be extremely risky to invest in a robot with such a high drawdown.