Business investments in the UK dipped 16.9% in Q1 2021.
The subsidy control bill in the UK will help to boost employment and investment in the green economy.
Switzerland's (KOF) economic indicator index for June 2021 (MoM) declined 7.17% to 133.4.
The GBPCHF traded at a +0.48% price change on June 30, 2021, from the previous day's close at 1.2737.
The pair traded to a high of 1.2808 after the UK's balance of payments as of Q1 2021 indicated a decline to £12.8 billion from a previous record of -£26.3 billion. 
The current account beat forecasts at -£13.3 billion. The metric represents an increase in exports as opposed to imports between January to March 2021.
Business investment
Annual comparison of business investments in the UK, showed a 16.9% decline in Q1 2021 with the gross fixed capital formation (GFCF) also dipping 3.2%. Quarterly, it fell 10.7%- about 17.3% shy of the pre-pandemic level highs reached in Q4 2019. 
To help spur business growth, the UK government announced the subsidy control bill (introduced post-Brexit) that will help to boost employment and investment in the UK. In the pre-Brexit era, all countries under the EU were required to seek the Union's permission before deploying government aid for businesses. 
This law is expected to come into force in 2022, and businesses are expected to demonstrate a proper restricting plan before they are eligible for subsidies. For private businesses, cases that will be considered for support will need to have "level up" strategies (in competition/ profit-making) and move towards the decarbonization goal. 
The Bank of England (BoE) indicated that it would consider green projects in its Corporate Bond Purchase (CBP) program. Corporate bonds held in the CBP scheme amount to £20 billion.
Leading sales
E-commerce sales in the UK jumped 35.6% in the five months leading to May 2021, after a 41.6% rise in the same period in 2020. There was a surge in online sales involving up to 8 million UK shoppers (about 28% of all households) into June 2021. 
E-commerce shopping in the UK is not abating soon after April 2021 saw sales surge 11.7%. This was after the UK government announced the reopening of brick-and-mortar stores. Drivers of new orders in the online space include groceries, pharmaceutical industries, and automotive sectors.
Economic barometers
Switzerland's KOF economic indicator index for June 2021 (MoM) declined 7.17% to 133.4 after it had risen to a high of 143.7 in April 2021.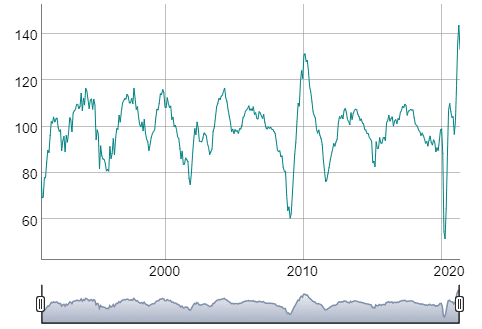 KOF Indicator
Q1 2021 saw the indicator rise from lows of 96.66 as the Swiss GDP emerged from a 3% decline in GDP in 2020.
After easing Covid-19 restrictions on June 26, 2021, the Swiss government announced that travelers from countries with the Delta variant will still be allowed into Switzerland. However, the tourists will be required to show proof of vaccination or a negative PCR test before entry.
Switzerland has stepped up its vaccination rate with up to 34.3% of the population fully inoculated. Out of the 7.24 million doses up to 2.93 million people have been vaccinated fully. 

Covid19 deaths in Switzerland
As of June 27, 2021, there were no new Covid-19 cases in the country, with two deaths recorded on June 29, 2021.
The decline in tourism revenues means that the world will grapple with $1.7 trillion-$2.4 trillion in 2021. 
Technical analysis
The GBPCHF pair has maintained a trading range and stayed between 1.2783 and 1.2569 since April 9, 2021.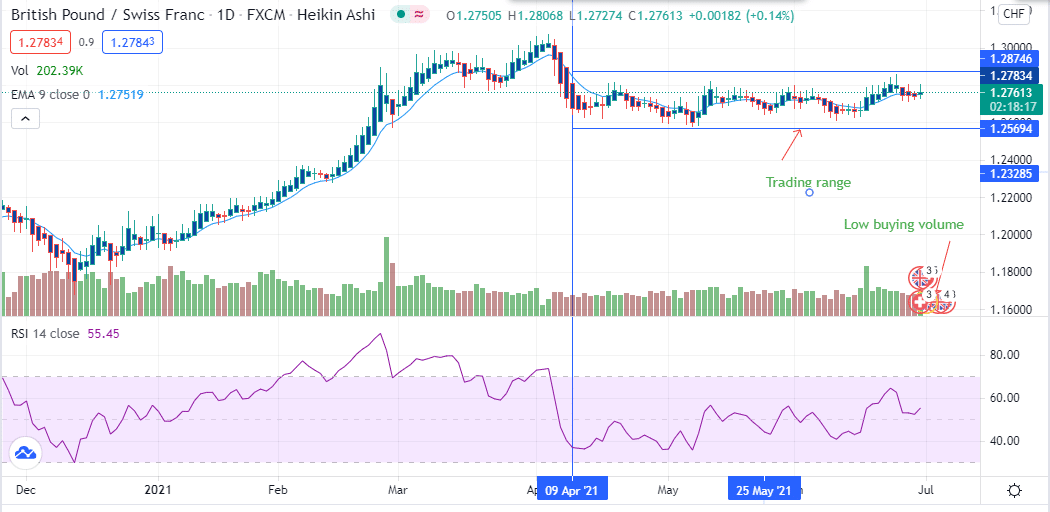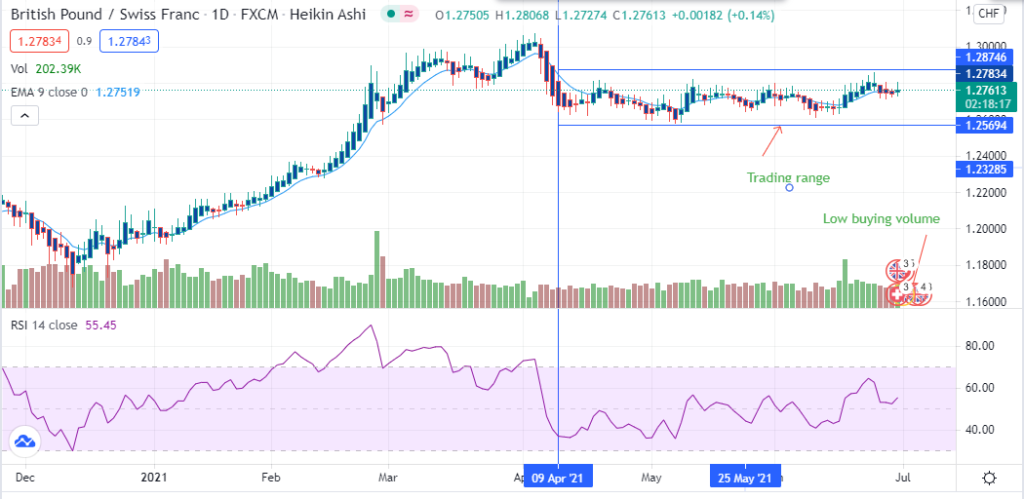 There is a low trading volume in the pair. The 14-day RSI is at 55.45, suggesting that increased buying may cause the price to rise towards 1.2875 after breaking the ceiling of the trading range. The price action may also reverse and move towards 1.2569.