Is XFXea a viable robot to trade?
The devs introduced it to us as a robot "is aimed at bringing regular profits regardless of the market situation." The system is enhanced by algorithms that allow it almost doesn't have loss periods. As well, there's a special algorithm that allows recovering quickly after losses. The EA doesn't use Martingale as a trading strategy.
Entering positions devs explained like this "XFXea calculates an entry point by evaluating in a special way a certain number of bars and then forms an important range. Based on this range, it determines how and when to start trading."
The robot trades just two currency pairs:
AUD/USD and EUR/USD.
Backtesting robot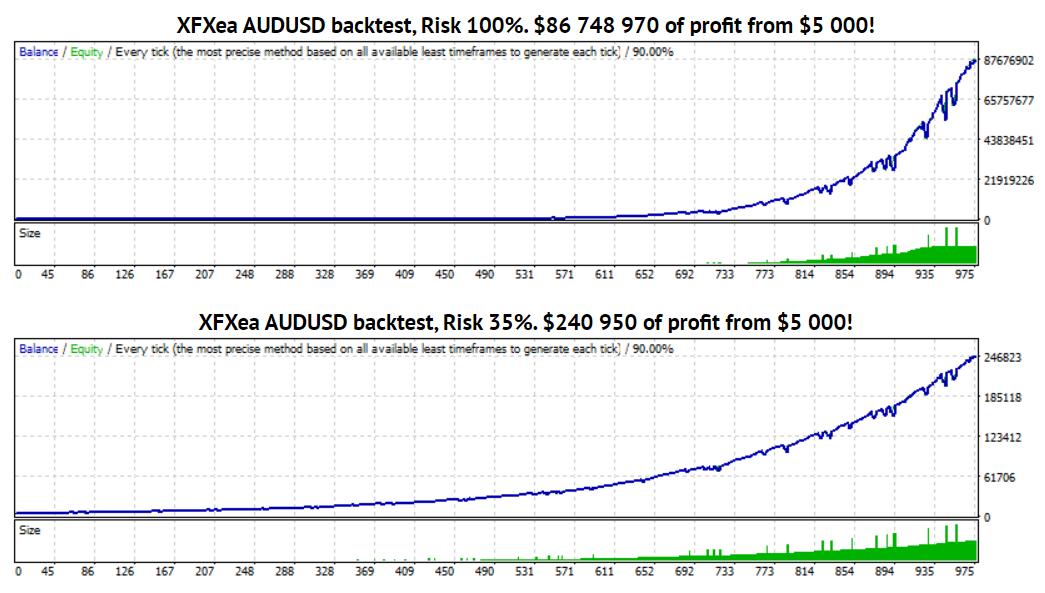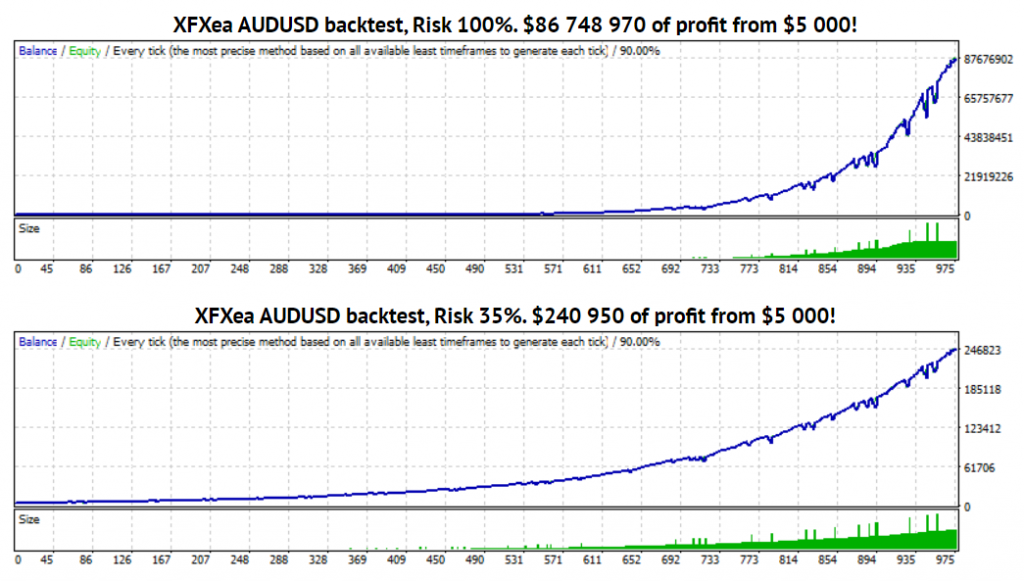 The devs provide four backtests on every pair with 35% and 100% risks.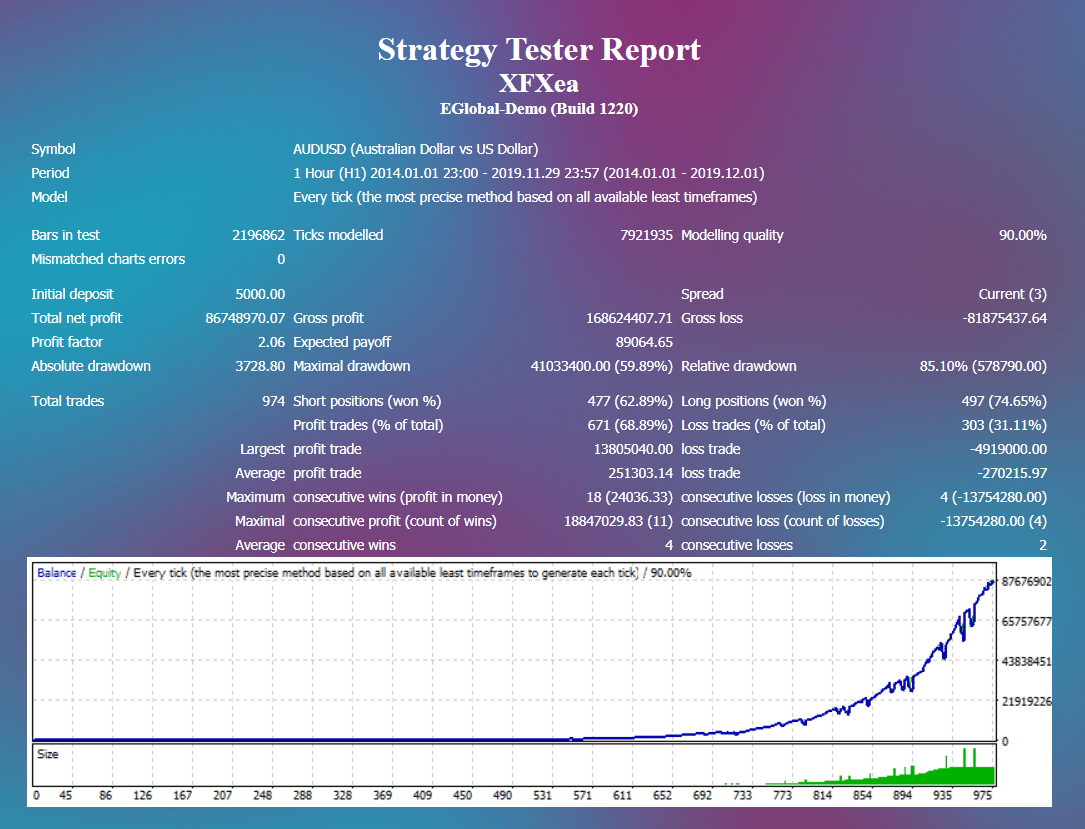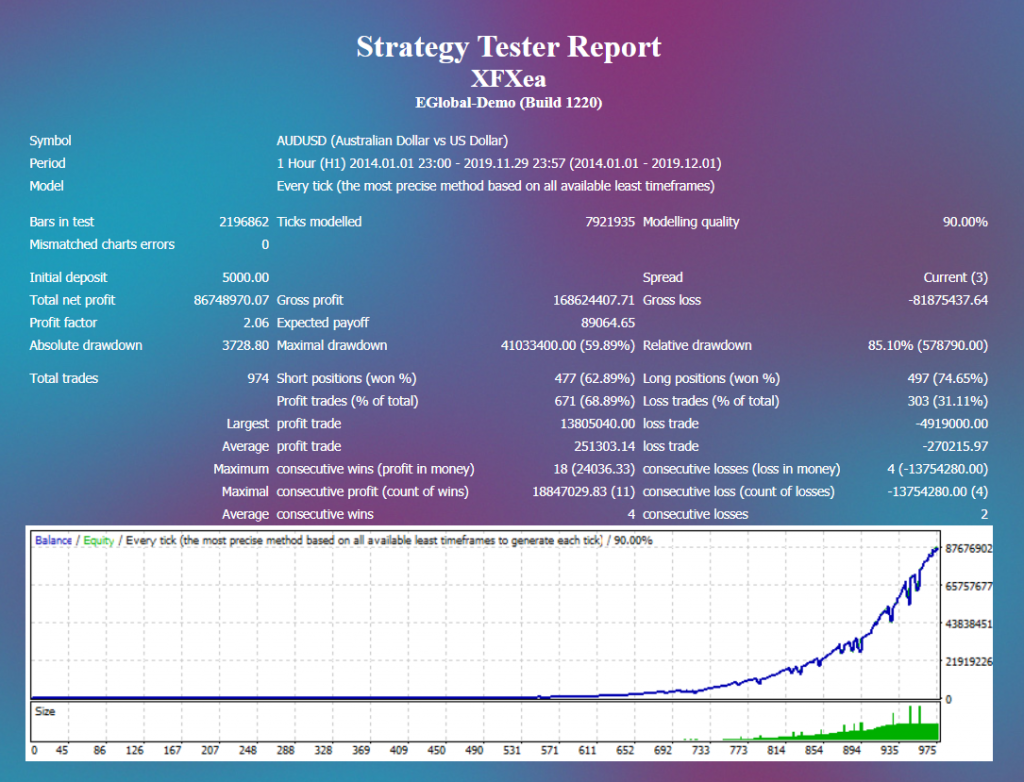 As we can see from the screenshot, the robot has been tested on the AUD/USD currency pair on the H1 time frame with 100% risks. During 5 years the EA could manage to grow the account balance from $5000 to $86.7M. The profit factor was 2.06, the maximal drawdown was 59.89%, short positions win-rate has been almost 63%, for longs it was almost 75%.
Real account trading results
There are two accounts.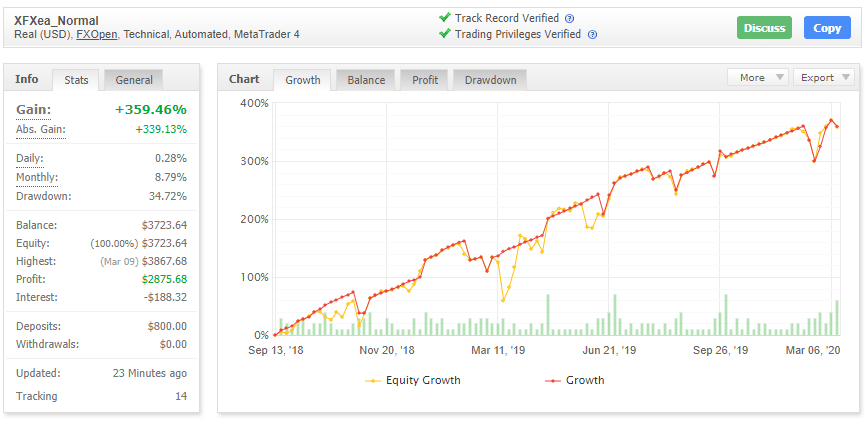 On the real USD account devs trade with normal risks. The account has been launched in September 2018. It works with the FXOpen brokerage company on the MetaTrader 4 platform without leverage. During the period, the XFXea provided +359.46% of the gain. The monthly gain equals 8.79%. The max drawdown was 34.72%.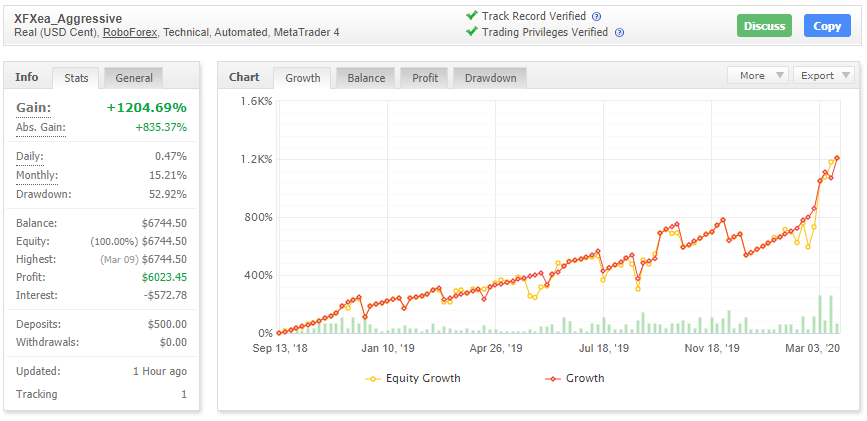 On this one, devs trade aggressively because it's a Cent account. The EA runs through the RoboForex brokerage company on the MetaTrader 4 platform. During the period, it could grow the account balance from $500 to $6023 (12 times).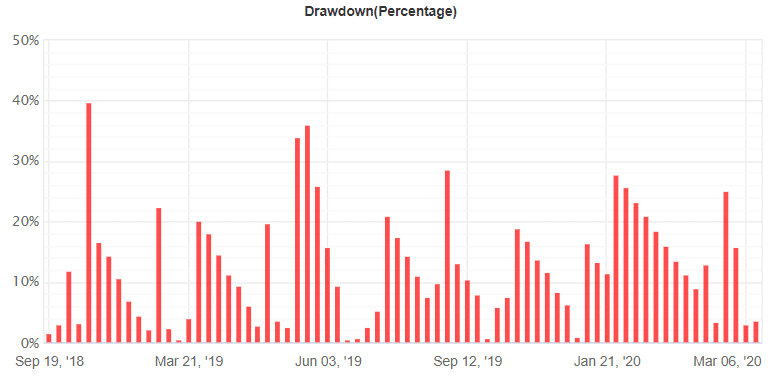 XFXea runs with a high level of drawdowns 52.92%.


During just two and a half months the robot can provide half of the previous year's annual gain (+70.7%/-75.82%) and brought more profit than the 2019 annual profit (+$2701.9/+$430.52).


There have been traded 197 trades with 1729 pips. The average win ($96.11) is a little bit lower than the average loss (-$126.48). The win-rate across longs and shorts equals 69-71%. The profit factor is 1.82.


The most of profit ($2325) has been brought by longs trades on the EUR/USD currency pair and shorts ($2538) on AUD/USD.

XFXea trades all day including scalping hours.

As you may see, the win-rate so vary depending on a weekday.


The EA trades with mid risks of ruining account, but with no leverage, so, it's okay.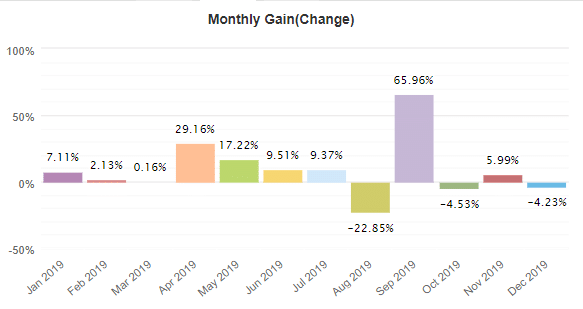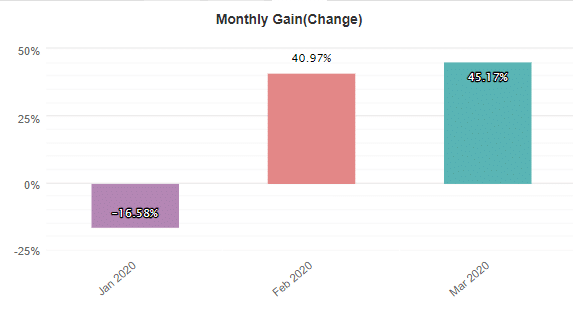 The robot trades differently. Some of the months have been ended with big losses, the others were mediocre ones, but some of them like the last two had huge growth.
The offer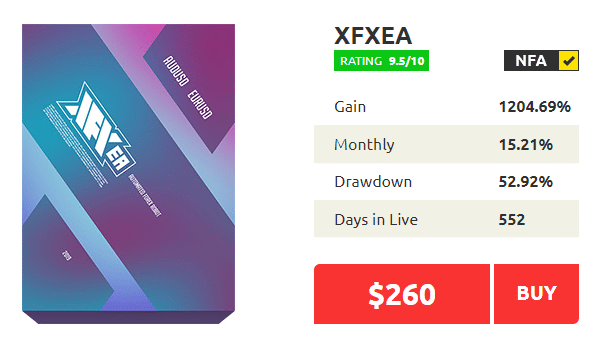 EA trades through Forex Store. It's got an extremely high rate (9.5/10). So, paying $260 what'll we get?
NFA brokers allowed trading
One lifetime license
Two currency pairs trading
User Manual
Free updates
24/7 welcome support
According to the refund policy, there's a 30-day money-back guarantee. Also, if DDs are higher than 35%, "a refund will be initiated immediately, on condition that you have used our recommended settings."
XFX EA Review Summary
Pros
Backtests provided
Two real accounts with both packages of settings provided
High gain
High monthly gain
Trading with no leverage
High win-rate
High "profit factor"
EA has got good-designed recovery settings
Trading all day every day
NFA trading supported
High rate on Forex Store
Mid-price offer
Free updates and support
Cons
Lack of strategy explanations
Lack of setting explanations
Two currency pairs supported
High drawdowns
Monday and Friday's win-rates are lower than for the other days
Some of the months have been ended with huge losses
Mid-price offer
No demo accounts provided

XFXea is a good robot to try. As you can see, everything depends on the settings a trader applied. We mind it's possible to trade safely and with 3-9% of the monthly gain with low drawdowns. So, if you want to try, go ahead. If something goes wrong at least we've got a 30-day money-back guarantee.