XXL Real Profit is yet another automated expert advisor that promises to earn you big profits in Forex. The robot is supposedly up-to-date and ready for the current market conditions. The vendor also confirms that the strategy used is safe as it doesn't apply grid and martingale.
Is XXL Real Profit a reliable system?
The features of the EA as described by the vendor are outlined below:
It has live daily results on FXBlue and Myfxbook.
It is easy to use, purchase, install, and trade.
The system works on standard, mini, micro, and ECN accounts.
It watches the markets 24 hours for you.
On matters strategy, the information is that the trading robot comes with inner indicators that analyze the market. It also applies price action, support and resistance, and trending approaches. No technical details on any of the aforementioned methods are provided, though. A strong money management system is said to be present.
The vendor of this system is anonymous. There's no information on the website about the mother company or the devs behind the tool. Subsequently, we can't determine the team's reputation or if it has created other similar systems.
How to start trading with XXL Real Profit
You can get XXL Real Profit free of charge. So, if you want to start trading using the tool, the first step is to open a real live account with the ForexMart brokerage. After that, you are required to send the devs an email that lets them know you have been registered. They will then forward to you an account number and a password.
XXL Real Profit backtests
The vendor has not posted the backtesting data for this expert advisor. This puts traders who would want to know if the strategies used are efficient or not at a disadvantage. Furthermore, it would be hard to make out what to expect in terms of profitability, trading frequency, risks, win rates, averages, etc.
Trading results
XXL Real Profit has a short trading history — 22 days. To date, a loss of -$36.45 has been made, causing the balance to reduce from $750 to -$713.55. The peak drawdown is 8%, whereas the monthly and weekly returns are -6.3% and -1.5%, respectively.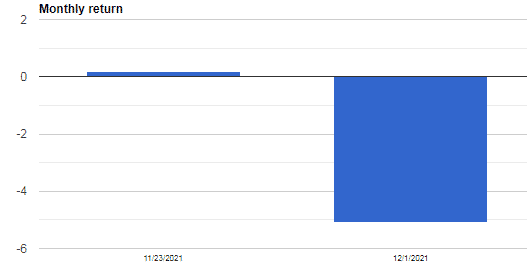 November was the only profitable month.
The average trade length is 3.6 hours, and from the risk/reward (-2.54) value, it is obvious that the EA ends up with losses whenever it places trades. This has, in turn, caused the account's risk of ruin to sky-rocket to 100%. Therefore, the account may not survive for long.

The EA has conducted the highest number of trades so far. However, the losses made during this period are way more than the wins. That's why we have a profit factor of 0.54.
Customer feedback
There's only one customer review for this robot on FPA, but it is negative. This client tells us to watch out because he has discovered that XXL Real Profit is a scam. He claims that the robot has a habit of piling up lots, which can cause you to lose a lot of money. Furthermore, the vendor completely ignores traders who complain about the losses made through email.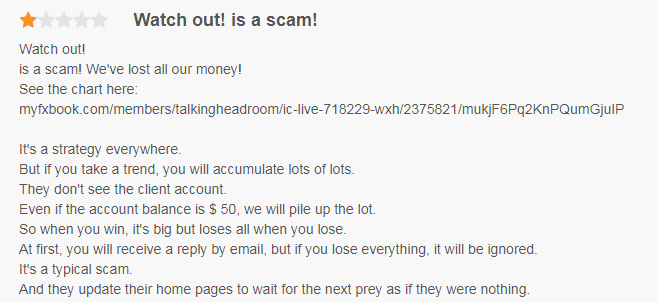 Summary
Advantages
Is free of charge
Easy to use
Disadvantages
No backtest report
The vendor is unknown
Negative feedback from a trader
Ineffective strategies present
XXL Real Profit is easy to use and can be acquired for free. Despite the vendor's reassurance that the EA uses safe approaches, the live trading results tell a different story. Apparently, the strategies can cause many losses. In fact, one trader who has written a review on FPA calls this system a scam after losing money through it.