We'd like you to read a review about Yeti Forex Robot. The presentation welcomes us with a photo of the winter monkey.
Is Yeti Forex Robot good to go in 2021?
The devs disclosed some details of the trading strategy:
Yeti Forex Robot doesn't use Grid, Martingale, and other risky strategies.
It performs a trend trading strategy.
We can expect to get 10% of the monthly gain.
It works on the long-term time frame – H4.
How to start trading with Yeti Forex Robot


Let's talk about the robot's features:
The robot trades automatically on the MetaTrader 4 platform.
It supports all types of account sizes: Standard, Micro, and Mini.
It allows trading on 4 and 5-digit charts.
There's an advanced money-management system.
It'd be great to run it on ECN-account with the lowest possible spreads.
The EA is featured by an advanced time management system.
It supports NFA-rules.
The system includes a broker spy module that allows hiding Take Profit and Stop Loss levels from brokers.
It's featured by high-spread protection to not open deals during high market volatility.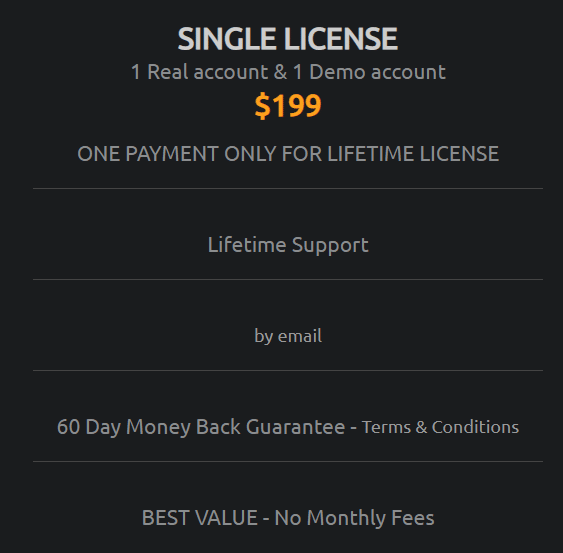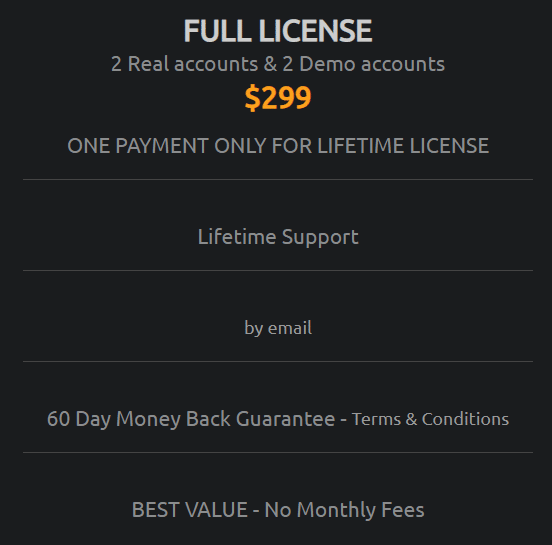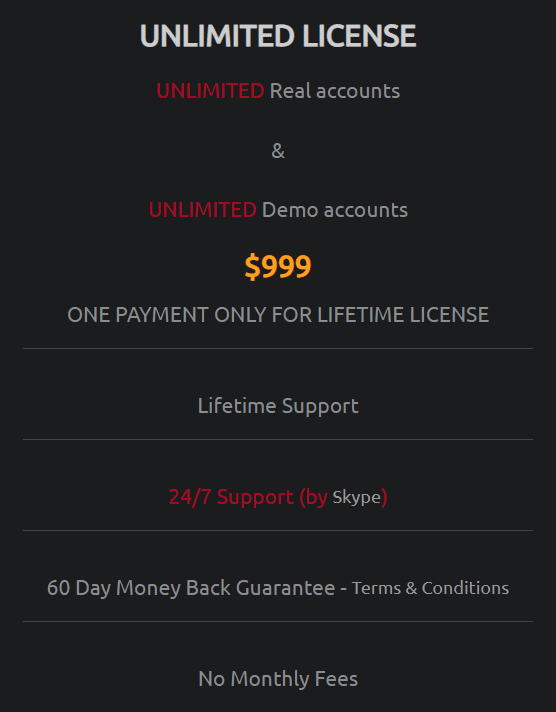 The robot is introduced in three packages: Single License, Full License, and Unlimited License. How we can see from the name, they vary by the number of licenses. The Single License pack costs $199 and includes one real and one demo account. The Full License package costs $299, and it's featured by two real and two demo licenses. Both packs have only email support. The Unlimited License pack costs $999. It includes unlimited real and demo licenses and 24/7 support via Skype. All packs include a 60-day money-back guarantee and no monthly fees.
Yeti Forex Robot backtests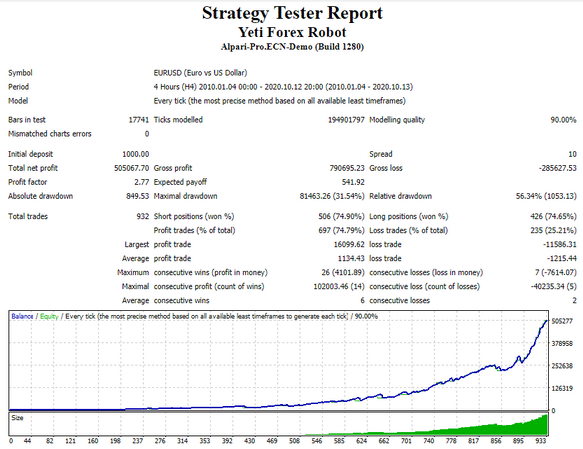 There are three backtests of EUR/USD with different risks from conservative to aggressive. This is a high-risk report on the H4 time frame for over ten years. The modeling quality was 90% with a 10-pip spread. An initial deposit was $1000. The total net profit has become $505k. The Profit Factor was 2.77. The maximum drawdown was high – 31.54%. The EA closed 932 deals with 75% of the win-rate. The win-streak was six deals.
Trading results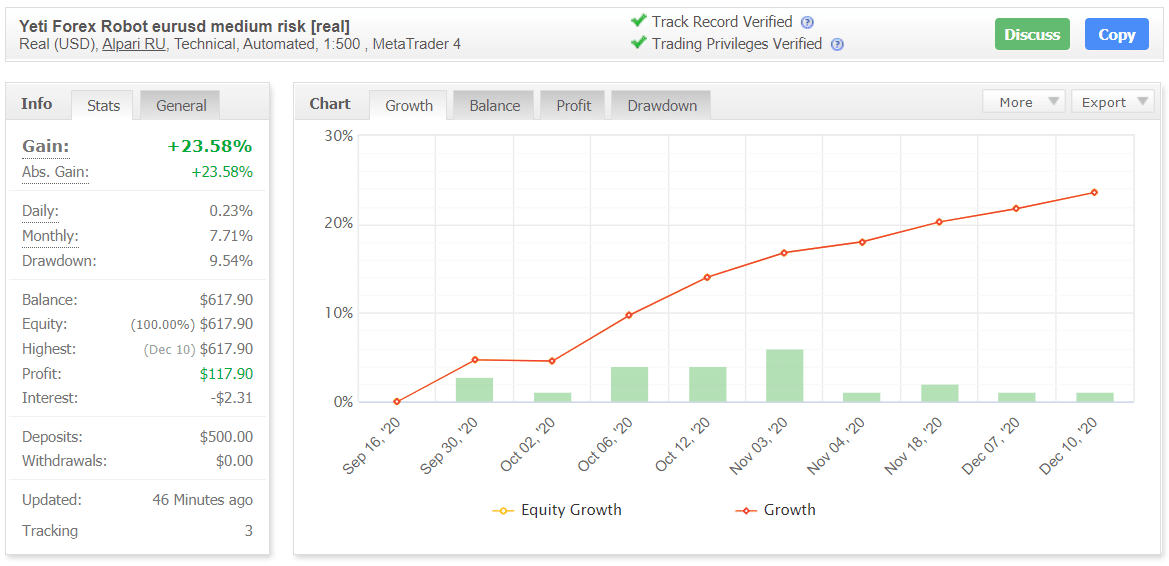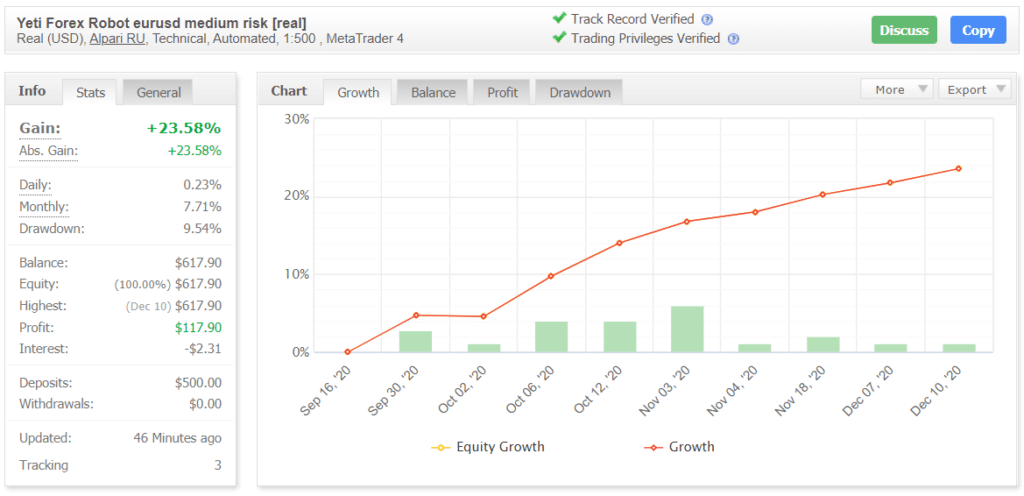 Yeti Forex Robot runs a real USD account on Alpari RU automatically using technical indicators. The leverage is 1:500. It works on the MetaTrader 4 platform. The account has a verified track record. It was created on September 16, 2020, and deposited at $500. The absolute gain has become 23.58%. An average monthly gain is 7.71%, with a low maximum drawdown – 9.54%. The account is tracked by three users.


The EA closed 24 deals with a solid number of pips – 448. An average win is 21.89 pips when an average loss is -16.40 pips. The win-rate varies for Longs (88%) and Shorts (93%). An average trade length is over one day. The Profit Factor is 12.18.


It works only with EUR/USD. The SELL direction is traded twice frequently, and it's more than twice profitable.


The robot trades mostly during European and American trading sessions.


Thursday and Friday are the days with the lowest trading activity. It's smart because not to pay swaps for trades that stay over a weekend.


The account runs with the lowest possible risks. For losing 10%, the EA has to lose twelve deals in a row.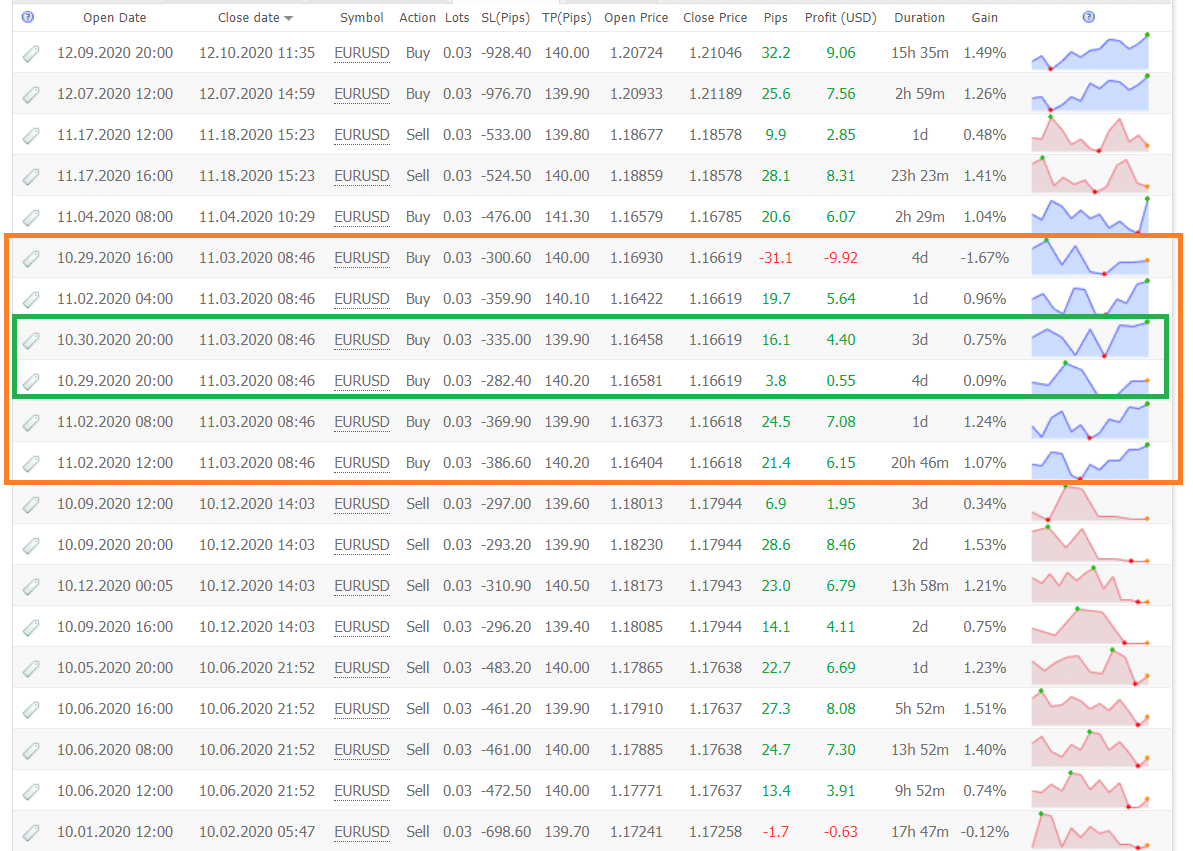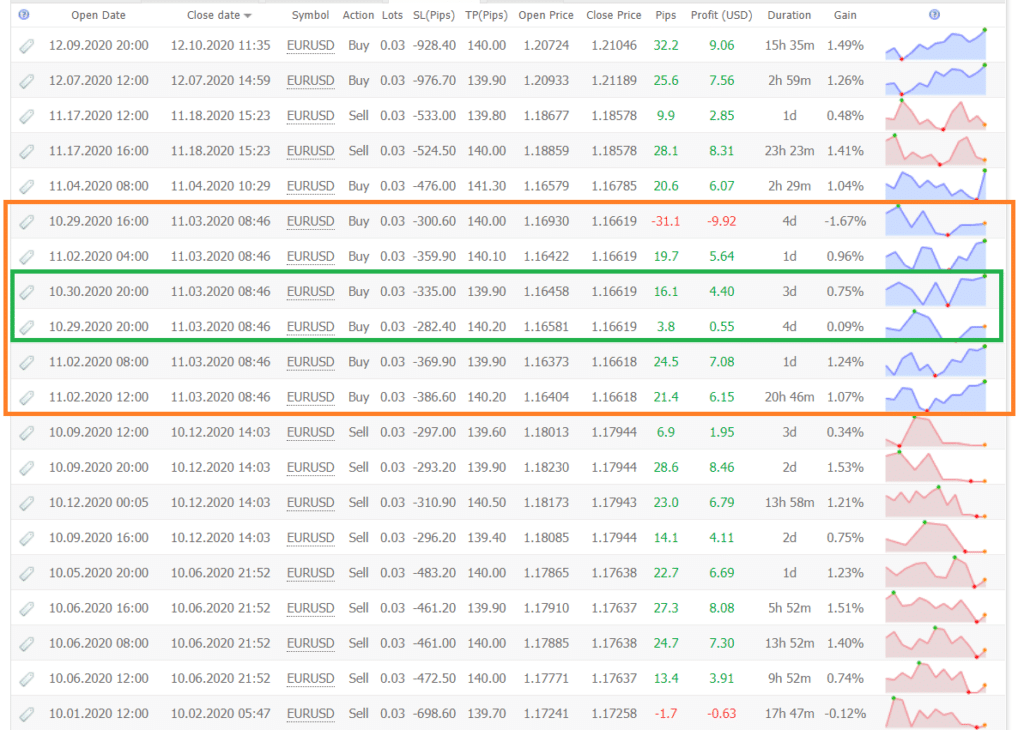 As we can see, there are Hedging (Green) and Grid (Orange). So, the devs laid to us about risky strategies on the board.
Other notes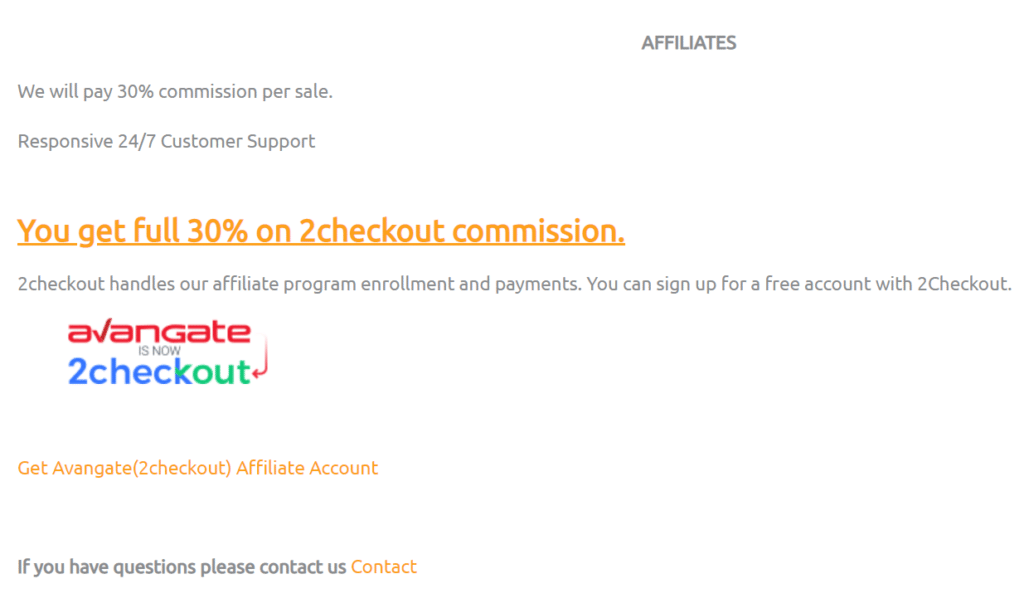 The company has its own affiliate program powered by a 2CheckOut third-party company.
People feedback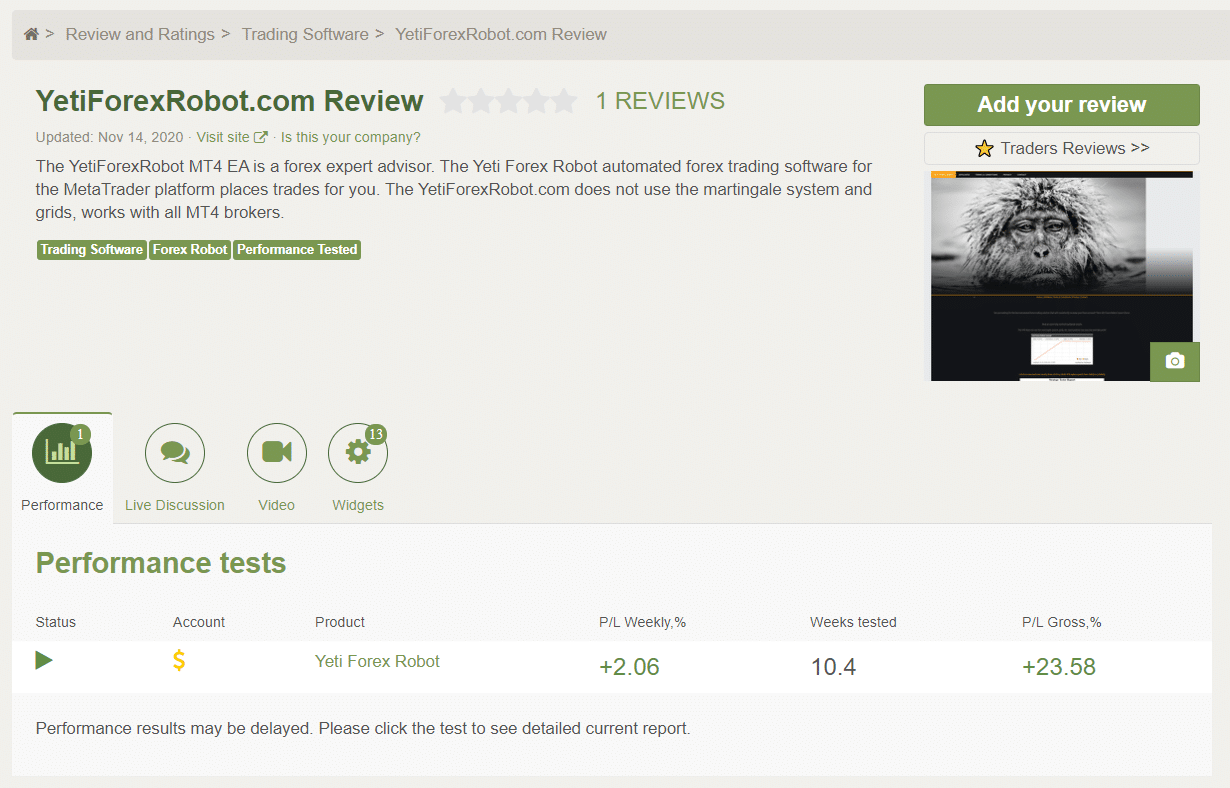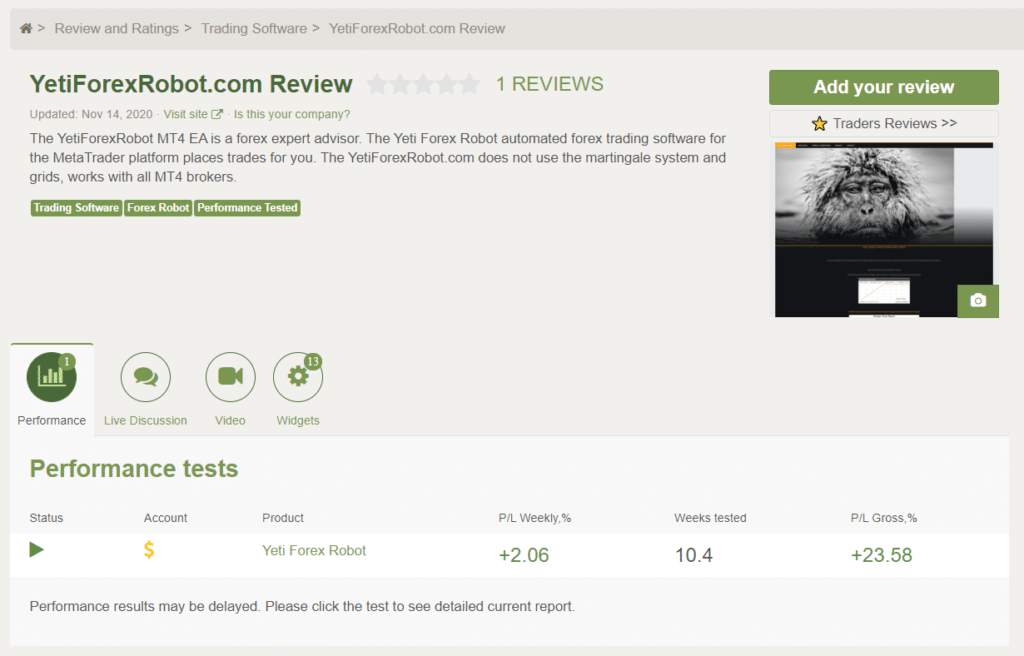 They've got a profile on Forex Peace Army with one review on the board.


The person experienced a fraud activity from the vendor side when he wanted to change a real account to run the EA and, after declining, asked for a money-back guarantee.
Wrapping up
Advantages
The strategy was well-explained
Backtests were provided
Real-account trading results
Acceptable pricing 
Disadvantages
No team revealed 
No deposit requirements advice provided
No settings explanations provided
Risky strategy on the board
Negative feedback on Forex Peace Army
Questionable money-back guarantee
Summary
Yeti Forex Robot is a robot that trend-trades on the long-term time frame – H4. The devs mentioned there are no risky strategies on the board, but we've found Hedge and Grid of many orders. There's little feedback on the web as for these trading results. One person said that the devs acted like a scam company. They answered nothing back.